The Punter's In-Play Blog: Can Ben bounce back?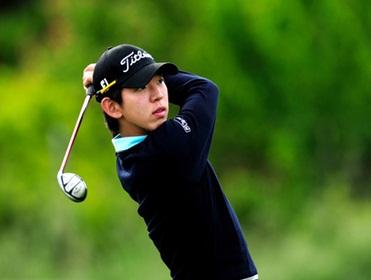 Seung-Yul Noh - two clear at the Zurich Classic
Alexander Levy has held on in China and India's Anirban Lahiri has just eagled the last to win the weather-delayed Indonesian Masters so our man's now concentrating on round four in New Orleans. How's the book looking and who does he fancy to win? Read his final in-play update here...
"If I had to pick a value play at this stage I'd probably plump for Ben Martin who could relax in round four and bounce-back nicely but in truth, it's devilishly hard to call."
11.45 - April 27, 2014
Mikko Ilonen was a disappointment in China but I managed to get most of my in-running states back at the two events out East when I layed back Lin Wen-Tang a couple of times for small stakes at a shade of odds-on in the Indonesian Masters. He'd led by two strokes with just five to play but finished poorly after the almost obligatory weather delay. 
At the Zurich Classic, I did decide to meddle with my book last night and I shouldn't have done. I'd have been far better off to have waited until this morning but never mind. Here's the leaderboard with prices to back as at 11:15, together with the exact standing of my book.

Seung-Yul Noh -18 2.8415/8 38p!
Keegan Bradley -16 3.45 £13.88
Robert Streb -15 14.5 £298.53
Ben Martin -14 16.015/1 £364.53
Jeff Overton -14 18.017/1 £967.78
Andrew Svoboda -14 28.027/1 £301.38
Paul Casey -13 24.023/1 £282.34
Charley Hoffman -13 28.027/1 £219.42
Tommy Gainey -12 90.089/1 £967.78
-11 and 110.0109/1 Bar


As you can see, I haven't got any losers in the book but a first PGA Tour success for Seung-Yul Noh or another title for Keegan Bradley, won't kick-start a celebratory party!
It's going to be a bit more of a test today with winds due to blow steadily throughout the afternoon.  Both the leaders are fine wind exponents though so that wouldn't put me off them but whenever it's testing there's always at least one player that goes against the tide and shoots a really low one. If it's one of the ten players on -11 or -10 we might yet get a strange result (and a profitable one for me) but with seven players tucked in between that pack and the leading duo, there's a lot of traffic to pass. 
I'm happy to take the front two on and see what happens. Noh should feel the heat today and Bradley has been somewhat erratic in-contention of late. If I had to pick a value play at this stage I'd probably plump for Ben Martin who could relax in round four and bounce-back nicely but in truth, it's devilishly hard to call.

14.10 - April 26, 2014
Things didn't go anywhere near as well as I'd hoped they would overnight with both Bernd Wiesberger in the Indonesian Masters and Richie Ramsay in the Volvo China Open going backwards. And to make matters more frustrating, Alvaro Quiros, who I very often back and who I very nearly did this week, has moved right in to contention in China.
At the Indonesian Masters, impressive young Australian, Cameron Smith, on -14, leads by one over India's Anirban Lahiri, with my man Wiesberger way back in a tie for 12th on -8. If I had to pick the winner I'd favour Lahiri who has so much more experience but it's not an event to get heavily involved in and I've had a very small bet on the halfway leader, Lin Wen-Tang at 25/1 on the Sportsbook.
After a disappointing level par 72 he trails by four but it's often the case that halfway leaders bounce back in round four and he has the mettle to win, he once beat Francesco Molinari and Rory McIlroy in a playoff for the Hong Kong Open.
At the Volvo China Open, I've got a feeling the leader, Alexander Levy, might just run out of gas. He holds a three stroke lead over the experienced Alvaro Quiros and he leads Mikko Ilonen by four, with Mike Norman's Adrian Otaegui clinging on for a place, tied for 4th alongside Tommy Fleetwood on -11, five behind. Joe Dyer's each-way fancy, Simon Dyson is seven off the lead and in 6th on his own.
Levy has been in front for a long time now and front running is hard and doubly so when you're looking for your first European Tour title! Good luck to him if he can hold on but I fancy he's opposable. 
The first thing I did this week was input a back of Quiros at 65.064/1 but for reasons I'm still struggling to come to terms with I changed my mind. According to the market, he's the most likely to benefit should the Frenchman struggle but he hasn't been in-contention in a while and there's trouble all over this course. I can see the likeable Spaniard pressing too hard and maybe making a few too many mistakes and for me, the value is in Finland's Ilonen at anything over 7.06/1. I haven't gone mad by any means but I thought he was worth a small play at 7.26/1.
Over in the States, at the Zurich Classic, things have gone really well with my lay book and after some deliberation I've decided to put myself into a profitable position. After two days traipsing around London sightseeing I'm more than happy to give myself a bit more downtime and so I've layed a few more. None of the front six on the leaderboard were under a triple-figure price before the off so none of them were layed before the off but they're all in the book now.
My worst case scenario as things stand is a profit of £126 and the best case is a win of £875. What I do from here on in is still up in the air. I may just leave it alone completely and chill out this evening or I may well meddle a bit more. PGA Tour rookie, Ben Martin, is showing the way by three over fellow rookie, Andrew Svoboda and like Levy, he may well find it hard to lead all the way, but frontrunners have a fair record in this tournament and with the opposition none too fearful, he might just get the job done.

00.30 - April 26, 2014
I know it's very late, or very early, depending whichever way you view it, but I thought I'd get the In-Play Blog started. I've been away for a couple of days in London so I haven't seen any play as yet and I've barely gotten involved so this first post is basically just a re-cap.
At the Indonesian Masters, my sole pre-event pick, defending champ, Bernd Wiesberger, started really well and he's already been matched at just 2.8415/8 but a lacklustre second round has seen him drop five strokes off the halfway lead, held by Lin Wen-Tang on -10. It wasn't ideal to see him lose ground like that but he was in a similar position last year so he's certainly not out of it yet. And the same can be said of one of my Volvo China Open picks, Richie Ramsay...
Frenchman, Alexander Levy, is four clear at the halfway stage of Volvo China Open, after a sensational ten-under par 63 in round two but there's a long way to go yet and tucked right in behind the leader are three of this week's each-way picks. Joe Dyer's fancy, Simon Dyson, is on -6, tied for 7th and eight behind Levy and the aforementioned Ramsay sits in tied 5th, seven off Levy's lead, so Joe and I are happy enough with our respectable starts but there's no doubt who's the star of the show so far this week...
Mike Norman's 200/1 fancy, Adrian Otaegui, following rounds of 68 and 66, is on -10 and sitting in second. The each-way column has been in magnificent form this year already and is almost £800 in profit but with a bit of luck that figure could change significantly come Sunday. So good luck Mike, what a great pick!
As highlighted in the preview, I did something a little differently in the States this week, laying everyone under 100.099/1 before the off, and with PGA Tour rookie, Ben Martin, streaking away in front, the tactics have worked out nicely so far.
Having set out my book, I started the tournament with a plus or minus of just a shade under £400 and when I saw Martin was leading and trading at around 6.05/1 after round one, I did toy with getting him in the book, before eventually deciding not to and I'm glad I waited...
The first time I looked at the scores yesterday was after Martin had played his first four holes in four-under-par and it was at that point I decided to get him layed - at just 2.546/4. It looked like a masterstroke when he dropped three shots on holes 17 and 18 but he recovered well and like Levy in China, he leads by four.
I also layed Sueng-Yul Noh today at 10.519/2 and I'm more than happy with my book going into the weekend. Martin and Noh are still winners in the book, my worst case scenario is a loss of £132, and there are number of players in-the-mix that win me £600 plus. 

Indonesian Masters Pre-Event Selection:
Bernd Wiesberger @ 9/1 (Sportsbook)
In-Play Bet
Lin Wen-Tang @ 25/1 (Sportsbook)

Volvo China Open Pre-Event Selections:
Pablo Larrazabal @ 33/1 (Sportsbook)
Richie Ramsay @ 60.059/1
In-Play Bet
Mikko Ilonen @ 7.26/1

Zurich Classic Pre-Event Selections:
Boo Weekley @ 120.0119/1
Lay Book
Double-figured players layed to lose a shade under £400

*You can follow me on Twitter @SteveThePunter
Discover the latest articles