The Punter's Open Championship In-Play Blog: Westwood hits the front and England expects but can the Worksop Wonder deliver?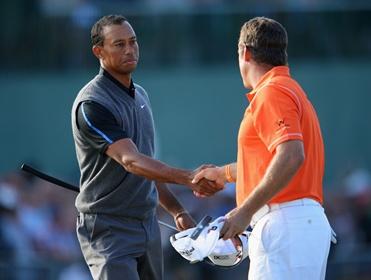 Tiger Woods and Lee Westwood after round three yesterday
Our man takes a look at the main contenders with a round to go. Can Westwood win his first major? Can Tiger win his 15th? Or will we see someone win from off the pace? Read Steve's thoughts here...
"There's no room for sentiment I'm afraid and I've been compelled to take Westwood on. We saw yesterday how easily it can all go wrong when Jimenez plummeted from 1st to tied 11th and I've layed him in the top-5 market at 1.4640/85."

09.55 - July 21, 2013
After another enthralling day at Muirfield, which wasn't without controversy with Japan's Hideki Matsuyama getting penalised for slow play, this year's Open Championship still looks wide open to me.
Halfway leader, Miguel Angel Jimenez, slowly wilted under the Scottish sun and Lee Westwood and Tiger Woods swapped places at the head of affairs all afternoon, with the popular Englishman ending the day in front by two. Here's the third round leaderboard with prices to back as at 9.30am, together with fourth round tee-times.
Lee Westwood -3 3.1511/5 2.20pm
Tiger Woods -1 3.953/1 2.10pm
Hunter Mahan -1 8.615/2 2.20pm
Adam Scott Level Par 8.615/2 2.10pm
Angel Cabrera +1 36.035/1 1.50pm
Henrik Stenson +1 25.024/1 1.40pm
Zach Johnson +1 40.039/1 1.40pm
Ryan Moore +1 48.047/1 1.50pm
Phil Mickelson +2 27.026/1 1.30pm
Francesco Molinari +2 85.084/1 1.30pm
+3 and 80.079/1 bar
The whole of England will be behind Lee Westwood today as he bids to win his first major at the age of 40. He'll draw inspiration from good friend Darren Clarke's success at Royal St.Georges two years ago and fellow Englishman, Justin Rose's US Open win last month but the pressure he'll be under will be immense and I can see him struggling.
In his early days, Westwood was a ruthless in-contention player - closing out event after event with ease but getting across the line hasn't been as easy of late and the last time he found himself in-the-mix, at the BMW PGA Championship at Wentworth, he was really poor. After he'd made three birdies in the first four holes to overtake the third round leader, Alejandro Canizares, Westwood hit a low of 1.392/5 but he made back-to-back bogeys at 6 and 7 and the wheels fell off completely on the back-nine and he needed a birdie at the final hole to finish tied 9th!
There's no room for sentiment I'm afraid and I've been compelled to take him on. We saw yesterday how easily it can all go wrong when Jimenez plummeted from 1st to tied 11th and I've layed Westwood in the top-5 market at 1.4640/85.
Second favourite, Tiger Woods, has looked impressive all week and for me he's the likeliest winner but he still looks short enough. I wrote yesterday how poor his record has been over the weekend's at majors just lately and he failed to break par again yesterday - though there was no shame in that!
There's the crazy stat about him not winning a major when trailing after three rounds but that's just an anomaly, and there'll be plenty of talk about him being paired with Adam Scott and his old caddie, Steve Williams, but I think that's irrelevant too. My biggest doubt about Tiger is that he hasn't been quite aggressive enough so far and there are plenty of quality players on the premises too.
Adam Scott and Hunter Mahan have been flip-flopping for third favouritism since yesterday afternoon but I much prefer Scott. We didn't see much of him yesterday but what we did see was impressive. I only saw one putt fail to reach the hole and following his win at the US Masters, he'll be brimming with confidence. As detailed in the preview, a number of players have doubled-up at the Open Championship after winning the US Masters and I can easily see Scott doing it today but I wouldn't be at all surprised if someone won from a bit further back and I've shaped my book accordingly.
After a good day's trading yesterday, I'm against Westwood, Mahan and Woods but if any of the three win it won't be a disaster, far from it, (especially Woods) and I'm now with everyone else within range for a decent profit.
I layed back my Dustin Johnson wager when he shortened-up a couple of points before he'd even teed off yesterday for a nice free bet and I backed Hunter Mahan @ 44.043/1 after he'd birdied the first two holes. Of course that could have gone pear-shaped but fortunately it didn't and I layed Mahan back later in the day at 9.08/1 and got with a few others. I backed Scott at 10.09/1, just before the end of his round, and I backed Angel Cabrera, Zach Johnson and Ryan Moore, after they'd finished theirs at odds of 42.041/1, 55.054/1 and 65.064/1 respectfully.
In addition to shaping my outright book, I also nibbled away at Ernie Els for a top-ten finish yesterday and although he has a lot to do I'm still hopeful.
I'm happy with my lot now but no doubt I'll be doing some fiddling about in-running and I'll certainly be keeping an eye on the likes of Francesco Molinari and Jason Day who are still small losers. If I had to pick a value play now I'd say Scott but it's still incredibly tough to call and I thought there'd be far more separation by now.
Whatever happens today it's sure to be extremely exciting and we're bound to see plenty of drama. I'll be back late tonight or early in the morning with my De-Brief to look back on it all.

09.00 - July 20, 2013
It's always nice to get to halfway at the Open Championship, the first two days are always exhausting and this year has been no exception, even though I've barely gotten involved in-running.
I layed back my Tiger Woods wager at 4.57/2 yesterday morning, after he'd pared the first two holes, and I traded Martin Laird and Ryan Moore after they'd finished their rounds but that was it. And last night I added just one more player to the portfolio - Dustin Johnson @ 15.014/1, but I'm not sure how long I'll keep with that trade either.
Here's the halfway leaderboard with odds to back, as at 8.30am, and third round tee-times.
Miguel Angel Jimenez -3 19.018/1 3.20pm
Henrik Stenson -2 11.010/1 3.20pm
Tiger Woods -2 4.03/1 3.10pm
Lee Westwood -2 8.27/1 3.10pm
Dustin Johnson -2 14.013/1 3.00pm
Martin Laird -1 27.026/1 3.00pm
Rafael Cabrera-Bello -1 70.069/1 2.50pm
Zach Johnson -1 28.027/1 2.50pm
Angel Cabrera -1 22.021/1 2.40pm
Ryan Moore Level par 60.059/1 2.40pm
Notable others
Phil Mickelson +1 21.020/1 1.45pm
Adam Scott +1 23.022/1 2.20pm
Charl Schwartzel +1 32.031/1 2.20pm
Ian Poulter +1 40.039/1 1.55pm
Jason Day +2 46.045/1 1.35pm
Webb Simpson +1 50.049/1 2.10pm
Bubba Watson +1 70.069/1 1.55pm
100.099/1 Bar
What can we expect over the weekend? Well according to Phil Mickelson, carnage, and he could be well be right. CBS announcer, Peter Kostis, tweeted what he thought, "If course and weather conditions don't change then over par is the winning score." And there are plenty that will agree with his assessment too.
History tells us that the winner is likely to come from the group of five at the top - the last six, and seven of the last eight winners at Muirfield have been first or second at halfway but it can't be that simple, can it?
It wouldn't surprise me at all if one of the frontrunners did win, as it's going to be very difficult to make up ground - there were just four rounds in the 60s yesterday. Some light rain is forecast today and the pin positions look the merest fraction more favourable for 'moving day' but if anyone currently under-par shoots level par, they won't go backwards.
Here's my take on the leading contenders.
Tiger Woods is understandably heading the market but he's too short for me. He hasn't shot under-par at the Open Championship at the weekend since 2007 and his weekend record at his last six majors is dire. He's shot a combined 11 under-par over the first two days but 19-over-par over the weekend. Major title number 15 is becoming ever more elusive and although he's obviously the likeliest winner, he's no value.
Lee Westwood, playing with Woods, is the second favourite but he's still looking for his first major at the age of 40 and as much as I'd love him to do it, I can't back him to do so. Nerves are a big problem for Lee nowadays and if he were to have a bad day today, it wouldn't be a surprise.
After two steady one-under par 70s, pre-event selection, Henrik Stenson, finds himself in a great position at halfway. He's ranked second for both fairways found and greens in regulation so far and in theory he has a great chance but like Lee, he's attempting to win his first major and he's also bidding to become the first Scandinavian major winner so he too could easily succumb to nerves.
Dustin Johnson was too big at 15.014/1 at the close of play last night and I'm not surprised to see he's shortened up a bit since. He'll make mistakes today but he has the game to make birdies too. He has a great record in this championship already and he looks the value, if there is any, at this stage.
Paul Krishnamurty picked out Miguel Angel Jimenez after round one and he'll be delighted to see him holding sway at halfway but will he still be in front come Sunday night? He's attempting to be the oldest ever winner of a major and that has to be against him. He's an absolute legend and like Westwood, I'd love to see him win, but I can't see it happening.
If ever there was an orthodox Phil Mickelson round of golf it was yesterday. Bones and Phil conferred in depth over every single shot and he made numerous lengthy putts but, as there so often is, there were a couple of catastrophes. Ernie Els drove the second green and Charl Schwartzel was pin-high - it was a chance to score. I thought Lefty might have a go himself but he took the cautious approach and layed up off the tee - into a fairway bunker! A scruffy double-bogey followed and then just as he looked safe for the day, he four-putted the 16th green!
He drives you bonkers when you've backed him and him and I envisage yet more heartache over the weekend. I'm onside from the off but I wouldn't advocate backing him now as I can't see how he eliminates the silly errors.
After that it's tough. Angel Cabrera is as liable to have a disaster as Phil, Zach Johnson must be weary after being in-contention last weekend and a poor day yesterday, Martin Laird has putted the lights out so far (can he keep that up?) and Adam Scott and Charl Schwartzel can't afford too many mistakes.
Ian Poulter played well yesterday after all his protestations on Thursday but if there's value in his price at 40.0039/1, I can't see it.
My plan is to monitor the early play, to try and catch any early movers, if indeed there are any, and to do what the players will need to do, exercise patience. This looks an incredibly difficult event to call but it also looks like it could develop into an absolute cracker and I can't wait. I have a feeling tomorrow could be very special indeed.

21.20 - July 18, 2013
With some borderline pin positions and fast crusting greens, on a hot and steamy day one at the Open Championship, a few tempers have frayed.
Charl Schwartzel snapped a club after yet another encounter with the knee-high wispy rough and Phil Mickelson was far from happy with the pin positions.
"Hopefully the R&A will let go of their ego and set it up reasonable on Friday, but you just never know."
Strong words from lefty, but, just for a change, it was Ian Poulter that was the most vocal.
"Unfortunately the guys this afternoon will struggle with a few pin positions. 8th hole is a joke, 18th needs a windmill & clown face." He quipped after his one-over-par 72, and when Tiger Woods de-greened the 14th before going on to make his only bogey on the back-nine, Poults added, "Enough said, the best putter that's ever played the game just putted it off the green. I rest my case..."
David Lynn applied his usual good humour on the situation, replying to Poulter, "the're what I like to call gin and tonic flags Poults, they set em after far too many of em."
It was tough and the greens were crusting and fast but maybe we saw today why every Muirfield winner since the Second World War had been top-class? And maybe they should all stop moaning and just get on with it - at least they're playing, unlike the very unfortunate first reserve, Joost Luiten...
The disconsolate Dutchman sat about all day without getting in despite rumours about the wellbeing of a couple of players. I read numerous tweets that both Peter Hanson and Louis Oosthuizen were injured and it's hard to imagine how upsetting it must have been for Joost to see the pair withdraw after five and eight holes respectfully.
Anyway, that's enough about the moaning and the unlucky non-runner, back to the play itself.
After a most impressive five-under-par 66, morning starter Zach Johnson leads the way after day one. He was briefly headed by Shiv Kapur when the Indian played the first seven holes in an incredible six-under but he's since, unsurprisingly, slipped back, finishing the day on -3, still the best round of the later afternoon starters.
It didn't take long for me to decide that the best course of action today was to do nothing but with the benefit of hindsight, that plan hasn't worked - I really should have got Tiger Woods onside before now.
I toyed with backing a few of the morning starters, once they were safely in the clubhouse, as I could see that the afternoon players were going to find it tough, and they did, they averaged nearly two strokes worse, but I changed my mind. As today's morning starters will play in the afternoon tomorrow, I thought it safer to wait until tomorrow morning but what that plan didn't need was Tiger playing out of his skin this afternoon...
After a wobbly start, the world number one was matched at a high of 17.5 but he got has act together quite beautifully on the back-nine and ended the day on two-under par. He's most definitely the man to beat at this stage and I've had a small stakes-saving wager at 5.59/2.
Of my pre-event bets, Henrik Stenson impressed the most with a one-under-par 70 in the afternoon, and Mickelson shot two-under before the moaning started but that's as good as it gets.
The plan now is to get a bit more aggressive tomorrow, concentrating on morning starters that post decent scores. Seven of the last eight winners of the Open Championships staged at Muirfield have sat either first or second at halfway and with the conditions only likely to worsen, coming from off-the-pace may prove tough again this year.
Other than last week's winner, 19-year-old Jordan Spieth, whose two-under-par 69 was nothing short of sensational, the leaderboard is jam-packed with experienced players and a number of veterans.
Miguel Angel Jimenez, Todd Hamilton, Angel Cabrera, Ken Duke and Champions Tour stars and former Open Champions, Tom Lehman and Mark O'Meara, all figure and that shows us that today was hard, and that experience and patience counted for a lot. And so did sheer guts and determination.
What a difference there was today between the world's best two players. Rory McIlroy and Woods both shot 37 on the front nine but whereas Woods dug-in and fought, grinding-out a brilliant back-nine, Rory appeared dispirited and downbeat and he just wilted in the midday sun. He putted off the green in to a bunker on the 15th hole and he just looked lost, going on to shoot an eight-over-par 79.
This is going to be a really tough one to win this year and as the saying goes, when the going gets tough, the tough get going. Is Tiger finally going to win another major? I wouldn't bet against it at this stage.

The Punter's Pre-Event Wagers
Ernie Els @ 30.029/1
Phil Mickelson @ 30.029/1
Rickie Fowler @ 55.054/1
Henrik Stenson @ 70.069/1
Branden Grace @ 150.0149/1
Thomas Bjorn @ an average of 150.0149/1
Chris Wood @ 210.0209/1
Mikko Ilonen @ 210.0209/1
Geoff Ogilvy @ 270.0269/1
In-Play Bets
Tiger Woods @ 5.59/2
Tiger Woods layed back @ 4.57/2
Dustin Johnson @ 15.014/1
Dustin Johnson layed back @ 13.012/1
Hunter Mahan @ 44.043/1
Hunter Mahaan layed back @ 9.08/1
Adam Scott @ 10.09/1
Angel Cabrera @ 42.041/1
Zach Johnson @ 55.054/1
Ryan Moore @ 65.064/1

I'll be back again tomorrow night and I'll be tweeting regularly throughout the day.

*You can follow me on Twitter @SteveThePunter
Discover the latest articles