The Open 2015: Is improving Tiger ready to bounce back in his natural habitat?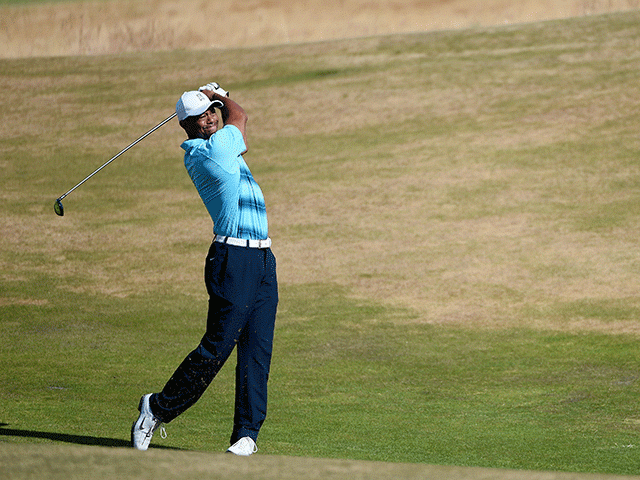 Woods you trust him? A return to form would be a bolt from the blue
After a lacklustre year, Romilly Evans wonders if the green shoots of recovery are belatedly emerging in Tiger Woods' game, as he returns to one of his favourite courses...

"We must decide whether the signs portend patience on the cusp of paying off, or more stubbornness inclined to self-destruct"
They say it's good to get out while you're still doing your best work. Tiger Woods doesn't subscribe to that theory. He subscribes to the outstay-your-welcome-until-it-gets-sad-and-desperate theory. Keep those cheques coming in.
But surely Woods' sad-and-desperate phase can't last forever. Those closest to him in the game certainly think he'll rebound at some point, having successfully assimilated his fourth round of swing changes under new instructor, Chris Como.
Friend and roving reporter, David Feherty, boldly predicted he'd return to world number one this year. Currently residing outside the global 200 (at 241) it's a long road back. Niece and LPGA Tour pro Cheyenne Woods said recently that her uncle will definitely win again this season. While old university pal and teammate, Notah Begay says he's "certain Tiger will win again, and fairly certain he'll win another major."
But the reality is that Woods' career has stalled and he needs something special to kick-start it. He hasn't won a major since 2008, or a PGA Tour event since 2013. It used to be just a question of when he'd overhaul Jack Nicklaus' record haul of 18 majors (Tiger's on 14). Now people are even questioning whether he can overtake Sam Snead's 82 Tour titles (Tiger's on 79).
Still, punters, pals and commentators alike converge in one assessment: no-one wants to rule this former Top Cat out as he returns to one of his favourite stages for what would be a third Open triumph at St Andrews. And no-one wants to miss out on that 40.039/1 to back, if Tiger rediscovers his script this week.
After all, the reasons to be optimistic are there for all to see. History recalls Woods' two previous processions at St Andrews in 2000 and 2005, where he prevailed by an aggregate margin of 13 strokes. He knows the layout well, but has been going to school on the course ever since he arrived early in Fife last Saturday.
Present-day form, however, is always the key reservation with Woods, but even that took at upturn during his last outing at the Greenbrier Classic a fortnight back. The Old White TPC is hardly St Andrews in terms of examination, but Tiger still chalked up some mini-milestones. He made the cut, avoided a bogey the first hole of his opening 18, and posted three round in the 60s.
A share of 32nd place was the aggressively average naked result (The Old White is only a par 70) but Tiger's performance was more than the sum total of its parts. His final round, in particular, was the best he's played in over a year, missing only two fairways and three greens. His closing 67, also featured six "power" lip-outs on the greens from makeable range. Had he made them, he'd have been in a play-off.
Granted, if "ifs" and "buts" were candy and nuts, we'd all have a merry Christmas. But a wider analysis of his Greenbrier performance suggests Tiger's season of goodwill could be returning earlier than many expected. He only missed 16 greens in regulation all week, while his average approach-shot proximity to the pin (a wafer under 24 feet) was the best of the field.
The Old White was admittedly in sodden shape (arguably accommodating his trademark erratic driving with soft landing areas) but St Andrews itself is also a darker shade of green this year, after some torrential downpours and with more rain expected this weekend. Tiger's returning power game and aerial attack should therefore be seen to advantage once again, even if those two courses are like chalk and cheese.
Testimony from Woods and Como is also encouraging. "It's the best I've hit it in a very long time," Tiger elaborated. "I can shape it both ways again, I have it all on call. I just need to bring it to the course again." Como also added last week that this was the first time Woods had committed his swing changes to muscle memory. In short, they're running out of excuses for poor showings now.
Naturally, spotlights don't shine much brighter than at the Open Championship. And similar tales of Tiger's resurrection in practice have subsequently turned out to be uncoupled from tournament reality. However, at least he's finally translating some of it to the course.
One swallow does not make a summer, though. Let alone a major resurgence. And with strong crosswinds forecast for the weekend, St Andrews will ask its players to adjust their trajectories and play with feel. In short, Tiger must have successfully incorporated his signature "baseline shift" and "release patterns" if he is to tame the elements.
But whatever the meaning of his meaningless jargon, Tiger's take-home message is clear: he fancies it. Our decision is to decide whether these signs portend patience on the cusp of paying off, or more stubbornness inclined to self-destruct?
For my money, and we're often quickly parted, I will take a flyer at tempting quotes. Despite the uncertainties, Woods remains the greatest strategist in the game (as evidenced by his one-driver whipping of Hoylake in 2006) and St Andrews' unique bunkers and mounds require a surgeon's approach. Ally that to some new equipment acquisitions (a driving iron and a trajectory-altered driver), Woods is clearly leaving no stone unturned to unencumber his challenge of links-related burdens.
So while it may sound sad and desperate, much like Woods himself, I'm going to pay to find out if this time Tiger's renaissance is for real.

*****

Not made your mind up who to back yet? Well don't miss Steve 'The Punter' Rawlings' stunning comprehensive preview of the Open Championship here, or visit our unrivalled Open pages here, featuring stats, analysis, course guides, in-play hints, and much much more as the week progresses.
Discover the latest articles