The Open 2015 Rewind: Zach's old-school attack tames the Old Course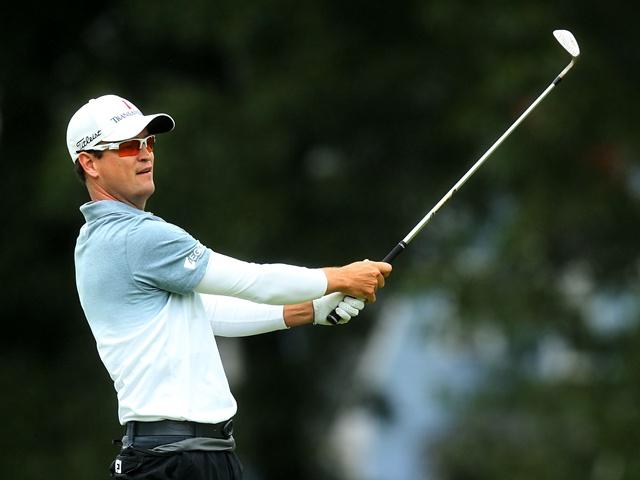 Open champion Zach Johnson
Romilly Evans looks back at a momentous week at St Andrews, where Zach Johnson defied the odds and joined the greats...

"Johnson kept his head while his namesake Dustin was losing his and the 36-hole lead"
Over the storied stretch of its 29 Open Championships, St Andrews has prided itself on producing winners who are the best of each generation, or at least among the finest talents. Then along came Zach Johnson. With an 80% strike-rate in play-offs, though, perhaps we should've seen him coming.
Monday's weather-delayed conclusion provided a thrilling final round which housed the great and the good of the sport: Jordan Spieth, bound for a third leg of a Grand Slam; white-hot Louis Oosthuizen bidding for back-to-back Opens at the Old Course; proven major winners like Justin Rose and Adam Scott; and surely-this-time nearly men in Jason Day and Sergio Garcia. In the end, though, one of the more unlikely leaderboard squatters retained the title deeds at the Home of Golf.
While Johnson may not fit the R&A's brochure for a front-cover Champion Golfer of The Year, few could argue that he isn't a formidable and deserving victor, who even possessed the burgeoning links CV (successive to-tens in 2012-13) to hint he could pull off this shock triumph, rallying from three strokes back in a crammed cavalry charge.
Johnson is one golfer who has made the most of his talents at a time when the sport's overseers' over-reliance on length over accuracy is progressively taking major venues outside the limits of his wheelhouse. However, by fusing a rare blend of straight-shooting, bullseye putting and imperious wedge-play, Johnson can still compete against the best over a bombers' paradise.
The 39-year-old had already proved the point when laying up on most par fives at The Masters in 2007, relying instead on some laser short irons from 150 yards and in. ZJ's red-letter day on the Firth of Forth required similar strategy, persistence and precision.
In a difficult week for all, with the repeated delays for wind and rain, Johnson kept his head while his namesake Dustin was losing his and the 36-hole lead. Even on a benign Sunday afternoon when all the field were scorching the hallowed turf, both Johnsons were stalling. However, while DJ bogeyed his final three holes, ZJ didn't let 13 consecutive pars derail him, birdying three of the final five. That resilience offered Zach the launchpad.
Dustin, on the other hand, needed a crashpad. After his meltdown three-putt on the last green at Chambers Bay, he did he best to blow it early in his bid for immediate redemption. The post-mortem will still record another missed opportunity, however. Not to mention a woeful record on major weekends. In his past five majors, Johnson The Longer is a jaw-dropping 31-under-par for his opening two rounds combined, but a deplorable six-over for his final two. Coincidence, or an alarming trend?
Whistling Straights, scene of DJ's now infamous "bunker grounding" incident of 2010 which cost him a play-off spot, again beckons next month for Glory's Last Shot at the USPGA. His performance there, around another course tailored to his strengths, will make the difference between being Comeback or Letdown Player Of The Year. While the prosecution rests on Johnson, the presiding jury's must remain out on his major credentials. He is simply too freakishly talented to ever discount.
Not that DJ's was the only Open epitaph that made for unpleasant reading. Scott held the lead on the back nine only to suffer a nasty flashback to 2012 where he handed the Claret Jug to Ernie Els with four closing bogeys. This time, he was five-over-par for the final five holes - caddie Stevie Williams is probably wishing he never came back on the bag.
Garcia and Day both fumbled their food again at golf's top table - immeasurably gifted, measurably incomplete. While Rose and Danny Willett never once threatened despite their top-tens. England's wait for another Open champion continues.
Those to emerge with credit include play-off protagonists Oosthuizen and Mark Leishman. Both acquitted themselves well down the stretch, with Oosty making three clutch putts in as many closing holes to join Johnson in extra-time.
Leishman's effort (a "weekend" 64-66) was all the more heroic for coming in the midst of an annus horribilis off the course, where he readied himself to retire to raise his sons after his wife Audrey was placed in a coma with a 5% chance of survival. She is thankfully on the rocky road to recovery, and Leishman certainly has everything to celebrate and nothing to commiserate.
Both he and Oosthuizen ally their big games to a relaxed disposition, fuelled by perspective. That nature should serve them well at future majors.
And speaking of perfect temperaments, Grand Slam Man Jordan still managed to maintain his, despite coming up agonisingly short in his quest for a three-in-a-row. Many will point to his four-putt on the eighth as costly. But as Spieth himself reflected: "I bounced back brilliantly and I'm not going to beat myself up too much on this one. The 17th was brutal, while I just pulled the wrong wedge on 18. You can't close them all out, and I know that." Imagine how mature and composed he'll be when he turns 22 next week.
Spieth's youth and rapid ascension atop the professional ranks also appeared to inspire a breakout peer-posse of amateurs this week.
Ireland's Paul Dunne held a share of the 54-hole lead, while England's Ashley Chesters and the US duo of Oli Shniederjans and Jordan Niebrugge (the eventual Silver Medalist) all finished inside the top 12. It should be quite a Walker Cup in September. Amateurs on this elevated stage are typically advised to lie down before they hurt themselves. Yet clearly the gap is narrowing between collegiate and pro. Spieth has given them that self-belief.
Belief, though, neatly brings us back to our champion's unswerving faith - both in his game and the good Lord above. "For me, it's been a week of patience, courage and trust," concluded Johnson. Whatever you make of his slightly sanctimonious musings, like Bible-thumping Bernhard Langer and Tom Lehman before him, they do appear to instil and inner calm and confidence in Johnson. And there can be no doubting his sincerity or congeniality.
So perhaps it's fitting that the Baptist boy from Cedar Rapids claimed the slowest Open in history. In the last, Johnson was first. Now there's a tagline for a Good Book. Forget divine authorship, however, this story was man-made.
Discover the latest articles