The Punter's Open Championship In-Play Blog: Spieth on the brink of history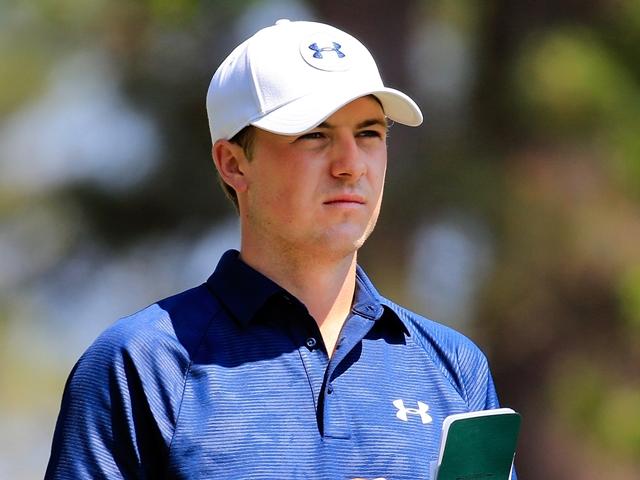 Jordan Spieth, now in with a great chance of winning his third major of the year
Dustin Johnson has fluffed his lines yet again in a major and blown the Open Championship wide open ahead of the final round on what looks set to be a magical Monday at St Andrews. Read Steve's take on the current state of play with a round to go here...

"I'd love to see Spieth keep the dream alive but if I had to pick one now at the prices I'd plump for Oosthuizen. He's not always entirely reliable in-contention but there's something about his demeanour around this venue that installs confidence."
23:20 - July 19, 2015
With the wind finally abating, a rain-softened St Andrews yielded to very low scoring today but the four men playing in the final two two-balls, Marc Warren, Paul Lawrie, Danny Willett and halfway leader, Dustin Johnson, all failed to break par so the landscape has changed dramatically. Here's the third round leaderboard with prices to back at 23:00.

T1 Louis Oosthuizen -12 4.94/1
T1 Jason Day -12 5.14/1
T1 Paul Dunne -12 25.024/1
4 Jordan Spieth -11 3.90
5 Padraig Harrington -10 27.026/1
T6 Adam Scott -9 21.020/1
T6 Justin Rose -9 26.025/1
T6 Sergio Garcia -9 28.027/1
T6 Zach Johnson -9 38.037/1
T6 Danny Willett -9 65.064/1
T6 Marc Leishman -9 65.064/1
T6 Retief Goosen -9 70.069/1
T6 Robert Streb -9 110.0109/1
T6 Jordan Niebrugge -9 260.0259/1
-8 and 65.064/1 bar

With 14 players within three of the lead, we're all set for one of the most exciting finales in Open Championship history. The storylines are numerous and all intriguing.
Can Paul Dunne be the first amateur winner since Bobby Jones in 1930? Can Jason Day fulfil his colossal potential and claim his first major championship? Will Louis Oosthuizen win his second Open Championship and emulate Tiger Woods by winning two successive renewals at St Andrews? Will Padraig Harrington win his third Open? Or will Jordan Spieth stay on track for the Spieth Slam and win his third major of the year? And that's ignoring the chance of victory for the likes of Justin Rose, Adam Scott and fans' favourite, Sergio Garcia. Mouth-watering doesn't really do it justice.
Paul Krishnamurty makes a great argument for Spieth here and as I'm already onboard both him and Louis Oosthuizen, I'm quite happy with my lot but I'm not totally convinced the front three in the market have it between them.
Although nine of the 14 winners this century have been leading or tied for the lead through 54 holes, in the last eight years we've seen Stewart Cink win from three back, Phil Mickelson claim the Claret Jug from five back and both Padraig Harrington and Ernie Els win from six adrift so coming from off the pace to win is certainly not impossible - although those four all won thanks to poor final rounds by the clear third round leaders. As Paul points out, it's hard to see all three main protagonists struggling sufficiently for someone to win from off the pace.
Of the three, I'd love to see Spieth keep the dream alive but if I had to pick one now at the prices I'd plump for Oosthuizen. He's not always entirely reliable in-contention but there's something about his demeanour around this venue that installs confidence. He looks at home here and he plays the track brilliantly and that just might be the difference when it comes to the crunch on the back nine.
Jason Day is quite rightly seen as the least likely of the market leaders to win. His conversion rate is poor and he's still looking for his first major.
I'm slightly tempted by Harrington at 27.026/1 and I still might have a tiny bet on him but I'm more than happy to go to war with Oosty and Spieth and see what the day brings. I'll be back Monday night or more likely Tuesday morning with my De-Brief.

21:45 - July 18, 2015
More than 24 hours later than expected, we've finally reached the halfway stage of the Open Championship. The third round will be played out tomorrow and for the first time since 1988, the final round will be played out on a Monday. Here's the top-20 players with prices to back at 21:30.

1 Dustin Johnson -10 3.185/40

2 Danny Willett -9 15.014/1

3 Paul Lawrie -8 32.031/1

T4 Adam Scott -7 10.09/1
T4 Louis Oosthuizen -7 12.5
T4 Jason Day -7 14.5
T4 Zach Johnson -7 26.025/1
T4 Marc Warren -7 42.041/1
T4 Robert Streb -7 70.069/1

T10 Hideki Matsuyama -6 34.033/1
T10 Luke Donald -6 46.045/1
T10 Retief Goosen -6 110.0109/1
T10 Paul Dunne -6 450.0449/1

T14 Jordan Spieth -5 14.5
T14 Justin Rose -5 32.031/1
T14 Sergio Garcia -5 40.039/1
T14 Charl Schwartzel -5 75.074/1
T14 Geoff Ogilvy -5 130.0129/1
T14 Steven Bowditch -5 180.0179/1
T14 Anirban Lahiri -5 290.0289/1

-4 and 180.0179/1 Bar

After a long, long day, Dustin Johnson sits atop of the leaderboard and he now has a fantastic chance to win his first major. Danny Willett and Paul Lawrie are the only two players within two of his lead, and without being disrespectful to either, they wouldn't be rivals he'd fear too much. Early rain tomorrow will soften the course, making his length of the tee even more of an advantage and history suggests he'll be hard to overhaul.
In the preview I highlighted where the 13 post World War II winners at St Andrews were placed after round one and below I've set out where they stood at halfway and you'll notice immediately that the last five were all at least tied for the lead and that only two winners have trailed by more than two strokes.

1946 - Sam Snead - tied 2nd and one off the lead
1955 - Peter Thompson - tied for the lead
1957 - Bobby Locke - tied 3rd and two off the lead
1960 - Kel Nagle - 2nd and two off the lead
1964 - Tony Lema - led by two
1970 - Jack Nicklaus - tied 2nd and one off the lead
1978 - Jack Nicklaus - tied 16th and five off the lead
1984 - Seve Ballesteros - tied 2nd and three off the lead
1990 - Nick Faldo - tied for the lead
1995 - John Daly - tied for the lead
2000 - Tiger Woods - led by three
2005 - Tiger Woods - led by four
2010 - Louis Oosthuizen - led by five

If you can forgive Dustin's previous misdemeanours, for want of a better word, when in with a chance of major glory, then anything around the 2/1 mark looks more than fair. My problem, if indeed it is a problem, is that I can't.
With a bit of spare time on my hands, I spend some of this afternoon looking ahead to next week's RBC Canadian Open and I began by looking at the 2013 renewal at Glen Abbey won by Brand Snedeker and straight away I recalled Dustin's tee-shot on the 71st hole. He'd come from way off the pace to draw level with two to play but drove the ball miles out of bounds on the 17th hole to blow his chance and that's just one of numerous times he's made a mess of a great chance to win. I just can't take 2/1.
I'm still fairly keen on Louis Oosthuizen and if I wasn't already on board I'd have a small wager on him at the odds available, given he plays the course so well and is clearly in good heart, but I'm more than happy to leave things as they are for now.
Of the others towards the head of the market - Adam Scott really ought to hang about for two days but I feel his chance would have been better with a trickier weather outlook. Having never won a major, Jason Day has the same pressures that Dustin does and Jordan Spieth just looks too far back - although discounting him from off the pace has been dangerous.
I'm looking forward to tomorrow and it's going to be fascinating to see how Dustin fares with the clear halfway lead when he tees off at 15:00 (tee times here) but I'm happy to sit back and see what the day brings. I'll be back tomorrow evening.

10:50 - July 18, 2015
It's fair to say things haven't quite worked out the way I'd have hoped they might so far this week. By now I was supposed to have had hours to digest the halfway leaderboard and to have tweaked my book to certain profit. I should at this very moment be out on my bike enjoying the scenery, content in the knowledge that when I got back home I'd have a spot of lunch and enjoy the third round of the Open Championship. It hasn't quite panned out like that though. Not that I'm complaining, not in the least...
After a lengthy suspension in play, due to heavy rain yesterday morning, even though play continued beyond Friday's sunset, the vast majority of those that were originally allocated a Thursday morning - Friday afternoon draw, still have holes to play but after a brief and soon aborted attempt to get round two finished early this morning, we're now all in limbo waiting for the wind to drop sufficiently to allow for a resumption. A resumption that won't be before 11:00 at the earliest.
It's far from ideal and questions will be asked as to why they didn't have a two-tee start yesterday, or why they cut the greens overnight? Jordan Spieth moaned when play stopped after he'd completed just two further holes, "We should never have started."
I do have a certain amount of sympathy with Spieth. When the draw was made on Monday, the forecast suggested a huge advantage to those drawn am/pm with Friday's forecast suggesting high winds in the morning easing in the afternoon, 24 hours after his side of the draw had enjoyed benign conditions on Thursday before the wind got up. It looked as though they'd have an advantage to the tune of several strokes and maybe as much as five or six but as it's transpired, they may even have gotten the raw deal.
My sympathy doesn't last long however. Welcome to the Open Jordan. Nobody ever said it was going to be fair and that's what makes it so special. Betting aside, this year's renewal is warming up wonderfully. We've said goodbye to two of the greatest players of all time in Tom Watson and Sir Nick Faldo and we look set for an Open Championship finish to rival any before it.
The last three Opens at St Andrews have all been dull affairs with the winner already clear by this stage so you won't hear me moaning about the suspensions, the wind will die down and when it does, we're all set for an absolute cracker. Will they get round three finished today? And if they do, who will survive today's high winds? Who will keep their cool (possibly not Spieth on this morning's evidence) and will any lead be big enough tomorrow when the wind has gone and the birdies are flying in again?
It's perfectly poised. It's what Open Golf is all about and it should be celebrated but it makes betting bloody tough! I haven't given up on my mob yet though. Geoff Ogilvy is the best of my pre-event picks and he's safely in the house on five-under-par, just four of the lead, but my in-running plans were somewhat scuppered as soon as the suspension was announced yesterday.
I added Zach Johnson yesterday but that's all I'm doing for now. The only sensible thing to do is wait and see how the land lies after round two. And it may even be wise to wait until the end of round three.
I will be eager to see the third round three-balls though. Players like Graeme McDowell, Ernie Els, Rickie Fowler, Thongchai Jaidee, Brett Rumford, Branden Grace and of course, Padraig Harrington, will all be licking their lips at the conditions and they could all be worth close examination in the three-ball markets.
Whether I'll be back with an update tonight, first thing in the morning, or around this time tomorrow I know not but I'll update when I can but it is what it is. And what it is -is magnificent.

08:50 - July 17, 2015
Almost an inch of rain has fallen at St Andrews in the two hours between 6:00 and 8:00 and as a result, play was suspended after just 14 minutes of play. The head greenkeeper, Gordon Moir, says, "We're not sure when play will start." But with the rain now abated a resumption is due at 10:00.
All this throws a gigantic spanner in the works and it could mean that those disadvantaged yesterday afternoon may even get the better of the draw now. Check out the forecast for tomorrow morning! If today's afternoon starters need to come back tomorrow and play the back-nine in the morning, they're likely to encounter conditions slightly worse than this afternoon.
I'm going to hold all my in-play positions for now but I shall be monitoring the situation carefully throughout the day.

21:40 - July 16, 2015
The weather forecast for tomorrow has been subtly changing all week but today panned out much as expected when the draw was made on Monday, with the early starters getting much the better conditions and 14 of the top-17 on the leaderboard all began their first rounds this morning.
The first and second favourites before the off, Jordan Spieth and Dustin Johnson, still occupy the first two market positions but after his seven-under-par 65, first round leader Johnson is now the firm 4.84/1 favourite. Here's the top-8 and ties with prices to back at 21:30.

Dustin Johnson -7 4.84/1 AM
Jason Day -6 11.521/2
Zach Johnson -6 21.020/1
Danny Willett -6 30.029/1
Retief Goosen -6 55.054/1
Paul Lawrie -6 55.054/1
Robert Streb -6 55.054/1
Jordan Spieth -5 6.611/2
Louis Oosthuizen -5 15.014/1
Charl Schwartzel -5 32.031/1
Kevin Na -5 70.069/1
Jordan Niebrugge -5 600.0599/1
-4 and 40.039/1 Bar

The wind getting up in the afternoon isn't unusual so today's bias is not out of the ordinary but the draw usually levels out with those that get beaten back by the afternoon winds on day one enjoying the calmer conditions on the morning of day two. Not this year though...
Tomorrow looks nasty from start to finish with wind and rain in the morning and a slightly stiffer breeze late on. It's very hard to predict who, if any, of the field will get the better of the conditions tomorrow but those teeing off at around 10:00 may get fractionally easier conditions, provided the rain isn't too strong. Nobody's going to get anything but harsh conditions though and it's almost impossible to see anyone getting close to the low rounds made today. Those with shots in hand should be advantaged and that's certainly what history suggests...
As highlighted in the preview, in the 13 Open Championships staged at St Andrews since the Second World War, only Jack Nicklaus has trailed by more than two strokes or won from outside the top-ten after round one. I think we should be concentrating on the leaders and that's not good news for any of my pre-event picks.
Branden Grace and Tommy Fleetwood did brilliantly to post three-under-par this afternoon but I hold out very little hope for them and I've given up completely on the rest. I'm not too disappointed though, the draw wasn't kind to me and my expectations were very low once I knew the draw. So what now?
Zach Johnson and Danny Willett both start in the morning tomorrow and they could move forwards but I expect the leaderboard to change very little early on tomorrow and I fancy players like Johnson and Spieth to shorten up as morning starters make no headway.
I had a couple of small wagers on Robert Streb and Paul Lawrie earlier today and they still look a little big to me now. Streb won the McGladrey Classic at the Sea Island course in Georgia last autumn where windy conditions are the norm and Lawrie's ability to play in the wind is very well known. He won the 1999 Open Championship when conditions were atrocious.
I've looked long and hard at all the leaders throughout the day and I've moved in-and-out on a few others that posted this morning but the three I'm going to stick with for now are the South African duo of Louis Oosthuizen and Charl Schwartzel and the man chasing an historic third major of the year, Jordan Spieth.
I still want to be against Dustin Johnson. If he wins then so be it but he's given up plenty of chances of major glory already and being in front after round one isn't the greatest of places to be. Looking at those 13 Opens here since WW II, only Tiger Woods in 2005 held a clear lead after day one and John Daly was tied at the top but the other 11 were all just off the early pace. Rory McIlroy was a clear leader 12 months ago but other than Wood here in 2005, you have to go back to 1988 and Seve Ballesteros to find the last clear first round leader to have the mettle to lead all the way. If you believe DJ is in the same calibre as Seve, Tiger and Rory then you may want to take less than 4/1 about him. Personally, I don't think he is and don't want to.
Jason Day is another that flatters to deceive in majors and Zach Johnson has started well in Open Championships in the past but not maintained momentum so I've left those two out too but I simply can't neglect Spieth.
All the stats say he's up against it. Playing in the States last week is a big negative. Having only played two previous Opens is not ideal either, and the fact that he's never played St Andrews before is also against him but at the prices, he's the logical pick now. I thought he was too short at a single-figure price before the off but at 6.611/2 now, with the field whittled down considerably, I think he has to be gotten onside.
As already stated, I can't see his price doing anything but shorten between now and his tee-time tomorrow of 14:34 so if he does have an iffy start and I decide to bail out, I should have a bit of wiggle room.
If you're planning to bet in-running tomorrow, bear in mind that the back-nine is considerably harder than the front-nine and that six of the the seven hardest holes on the course are in the stretch of holes between 11 and 17.
I'll be back tomorrow evening or on Saturday morning with a look at the state of play at halfway.

Pre-Event Selections:
Martin Kaymer @ 55.054/1
Brandt Snedeker @ 65.064/1
Branden Grace @ 125/1 (each-way)
Tommy Fleetwood @ 160.0159/1
Geoff Ogilvy @ 300.0299/1
Thongchai Jaidee @ 400.0399/1
Thomas Bjorn @ 400.0399/1
Mikko Ilonen @ 650.0649/1

In-Running Picks:
Jordan Spieth @ 6.86/1
Louis Oosthuizen @ 16.015/1
Charl Schwartzel @ 32.031/1
Paul Lawrie @ 65.064/1
Robert Streb @ 80.079/1
Zach Johnson @ 28.027/1

*You can follow me on Twitter @SteveThePunter
Discover the latest articles