The Open Championship: Dave Tindall rates the top 10 for course, current and major form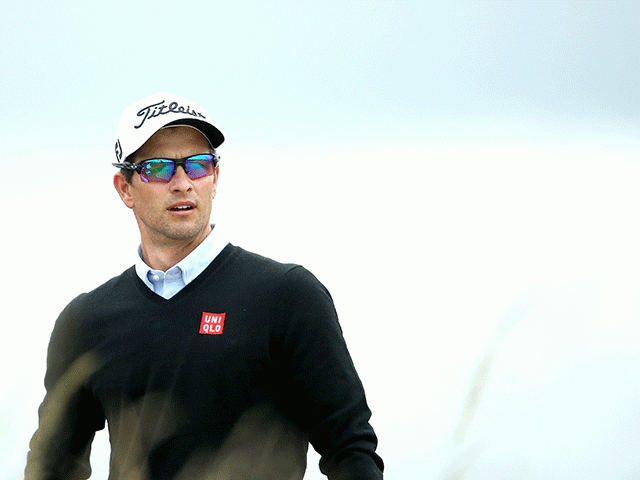 With Steve Williams on the bag, Adam Scott looks like putting together a very good Open bid
Dave Tindall arms you with the stats that matter for a punt on the Top 5 and Top 10 Finish markets ahead of the 144th Open Championship at St Andrews...
"All three of Stenson's Open top 10s were actually top threes and seven of his nine career top 10s in the majors were T4 or better. As for his last 50 starts, the Top 5 (40%) and Top 10 (44%) figures are remarkably similar so it's worth going for the more aggressive play and getting the bigger price (he's 3.55 for top 10)."
Jordan Spieth
Everything the 21-year-old touches turns to gold right now so if you want to know which side of the draw is best to be on, just check Spieth's tee-times and you'll have your answer! The remarkable American will be trying to become the first player since Ben Hogan in 1953 to win the first three majors of the year so history is perhaps his biggest opponent this week. As for his win in the John Deere Classic at the weekend, he said post-round. "I need to fine tune my driver. I love where my putting is at. Really my pace control, my speed is awesome right now. I hit some horrid iron shots this week when I had to take some off of it. And that's the definition of what you do over there when the wind picks up and the conditions are bad, you've gotta hit three-quarter pinch shots and be able to control those and have great distance control. And I don't have that yet, so I need to get over there and work with my instructor to find the solution."
Before he jetted in and played a full 18 holes on Monday evening, Spieth also spoke of a previous trip to St Andrews: "I loved it. I absolutely loved it. I love the town, I loved the R&A Clubhouse. I love the, what do you call it, the Himalayas putting green, the entire experience being there for two days was really cool."
Last four events: 1-1-3-30
Open record: 36-44
Last 10 majors: 1-1-MC-36-17-2-MC-44-MC-21
Last 50 starts - Win: 10%, Top 5: 36%, Top 10: 46%

Dustin Johnson
"I always enjoy coming over and playing the British. I feel like I play very well over here. I've always liked it since the first time I came over in college, and I just think it's a lot of fun. I like the golf, and it's very challenging, uses a lot of imagination, and this is one of my favourite Open venues with the history, and I just love the golf course. It's a lot of fun to play. I played pretty well here the last time I was here in 2010." He certainly did, finishing T14 and he's bettered that in three of his four Opens since.
DJ warmed up by playing links golf at Portmarnock and Royal Dublin last week. "I go over every year before The Open and play some golf over there and then come over. It was a nice weekend, just hung out with the boys and played some golf." With the course playing soft, the big-hitting American appears to have everything in his favour and, such is his nature, you kind of believe Johnson when he says he's already put the three-putt which cost him victory at Chambers Bay behind him. This looks a golden chance for him to land that elusive first major.
Last four events: 2-13-8-69
Open record: 12-32-9-2-14-MC
Last 10 majors: 2-6-12-4-MC-8-32-55-13-48
Last 50 starts - Win: 4%, Top 5: 24%, Top 10: 38%

Rickie Fowler
"I just want to start better than last time," said Fowler in his press conference on Tuesday, a reference to his opening 79 at St. Andrews in 2010. Of course, he fought back superbly after that, taking advantage of the best conditions to shoot 67 in round two and playing his final 54 holes in a better score than anyone else to end up T14. He's had two Open top fives since (T5 at Royal St. Georges in 2011 and T2 at Hoylake in 2014) and showed his links credentials again by winning last week's Scottish Open at Gullane.
"I feel like it is a good warm-up and a good way to get ready for a major. The game feels very good right now, and I'm comfortable with links golf and ready for the challenge," said Fowler, adding, "It's nice to finally have a multiple win season."
Those two victories - Scottish Open and The Players Championship - have come in his last five starts and with some wind and rain in the forecast this week, Fowler should be in his element and ready to throw in a big performance (he's already my leading each-way bet of the week).
Last four events: 1-MC-MC-30
Open record: 2-MC-31-5-14
Last 10 majors: MC-12-3-2-2-5-19-MC-10-38
Last 50 starts - Win: 4%, Top 5: 20%, Top 10: 36%

Justin Rose
Given his now elite status, it's hard to fathom that Rose's best performance in The Open remains the T4 he posted as a spindly amateur in 1998 at Royal Birkdale. "I've not put my finger on why it's still my best effort. I can play links golf. I won last year's Scottish Open on the links at Royal Aberdeen, I've won here on the Old Course at St Andrews in both the amateur Links Trophy and the 2002 Alfred Dunhill Links Championship. My record in The Open doesn't suggest I've come close, but at Turnberry in 2009 (T13), and even at Muirfield in 2002 (T22 but T3 after 54 holes), I was closer than my finishing position indicates. But I've had less chances than I would have liked, of course."
Having won the 2013 US Open and finished runner-up in this year's Masters, it does seem a matter of time before Rose finally gets it right. The trends are in his favour this week (seven of the last eight Open winners at St Andrews already had a major under their belt and seven of the last 10 Open champs had won previously that season) although his weekend slip from T2 to T74 in last week's Scottish Open was baffling. Rose, who won the Zurich Classic in April, was sanguine about that, however. "I've gone into major championships in hot form and it's not worked out for me in the past. The result last week was unproductive, but I learned a lot about my game."
Last four events: 74-27-2-38
Open record: 23-MC-MC-44-MC-13-70-12-MC-22-30-MC-4
Last 10 majors: 27-2-24-23-12-14-33-MC-1-25
Last 50 starts - Win: 6%, Top 5: 30%, Top 10: 40%

Louis Oosthuizen
As you might expect, the seven-shot winner of the last Open at St Andrews (2010) is glad to be back. "I feel very confident going into this week. It gives me a lot of confidence knowing what I've done here and that I can play this golf course. I just need to hit the shots I want to off the tee and put myself in good position. I'm here with my family and we're having a good time. My wife loves this town and my kids are having a great time. I'm just feeding off the memories. I think the biggest was on Monday walking down the 18th and seeing all the grandstands. I was playing with Branden (Grace) whose caddie, Zach, worked for me then. We just smiled at each other and said it was great just to do the walk and feel that bit of magic again."
Oosthuizen also shot 14-under in his two rounds at St Andrews in last year's Dunhill Links and finished like a train to secure his runner-up slot at last month's US Open so it's easy to see why his price has crashed. Has it come in too much, though, and is he now one to oppose?
Last four events: 73-MC-2-WD
Open record: 36-19-54-1-MC-MC-MC
Last 10 majors: 2-19-15-36-40-25-WD-WD-MC-21
Last 50 starts - Win: 2%, Top 5: 14%, Top 10: 28%

Adam Scott
Asked once if St Andrews suited his game, Scott replied: "Yes, absolutely, as long as the wind is down then it is there for the taking. The first 12 holes is where you make your score and then after that you just try and keep your round going." His three Opens at the Old Course are nothing to write home about - MC-34-27 - although all those came before his second place in the 2011 Masters which was a huge turning point in Scott's majors career. Before that he'd managed just one top five and three other top 10s in 39 majors. In the last 17, he's posted a win, another six top fives and a further three top 10s. He's also made the top five in the last three Opens and should have won at Lytham three years ago but blew it after holding a four-shot lead with four to play. The Aussie came with a wet sail to take T4 in last month's US Open and clearly benefitted at Chambers Bay from the temporary return of bagman Steve Williams. The Kiwi won two Opens at St Andrews with Tiger (2000 and 2005) so is a huge asset for Scott this week.
Last four events: 4-24-MC-38
Open record: 5-3-2-25-27-MC-16-27-8-34-42-MC-MC-47-MC
Last 10 majors: 4-38-15-5-9-14-5-3-45-1
Last 50 starts - Win: 10%, Top 5: 36%, Top 10: 48%

Henrik Stenson
Check out henrikstenson.com and the Swede has a page of his top 5s. While knowing that his favourite ice cream is vanilla chocolate chip (Mint chocolate chip in second) and favourite athlete is Bjorn Borg is useful for a pub chat (erm, perhaps not), what interests us is 'Best golf course'. And there, at No.1, is St Andrews. "I fell in love for real in 2010!" says Stenson. That's a reference to the 2010 Open when he finished T3 after closing with 17 pars and a single birdie on Sunday. It's worth noting that he was struggling with his game at the time. Going into the event his form was MC-61-27-69-29 and he'd slipped to 29th in the world rankings. After St Andrews his results went 80-MC-MC-MC-MC and he ended the year in 50th. Now World No. 6, everything points to a big week for Stenson. He's racked up four top fives in his last eight majors and arrives in Scotland on the back of a second place in the BMW International Open. He's also made the top three in three of his last six Opens.
Last four events: 2-27-13-58
Open record: 39-2-68-3-13-3-MC-48-34-MC
Last 10 majors: 27-19-3-39-4-14-3-2-21-18
Last 50 starts - Win: 8%, Top 5: 40%, Top 10: 44%

Jason Day
Day has had a string of near misses in the American-based majors but in this event he's never featured at the business end. In fact, in his 16 rounds at The Open, he's not even managed a score in the 60s. It would be easy to dismiss him here especially after his health problems at the US Open when he collapsed with vertigo although battled on to finish T9. It's since been diagnosed as an inner ear infection and Day revealed: "I'm on anti-viral medication and that suppresses it. So hopefully I won't have another episode here."
Talking about his prospects for the week ahead, he added: "I feel healthy and ready to go. I'm excited about playing this golf course. I feel good about my game and I'm excited about being healthy. Now I want to get in contention again, that's the plan."
Last four events: 9-MC-MC-4
Open record: 58-32-30-60
Last 10 majors: 9-28-15-58-4-20-8-32-2-3
Last 50 starts - Win: 6%, Top 5: 28%, Top 10: 40%

Tiger Woods
It's hard to know what to make of his chances this week but this is what Tiger thinks about Tiger: "I'm confident. I'm hitting the ball much more solid. I'm back to being able to shape my shots both ways and I'm very comfortable with changing my trajectories which is something you have to do on this golf course," said Woods, who won at St Andrews by eight in the 2000 Open and by five in 2005.
"You have to be able to manoeuvre the golf ball out here because sometimes it can make a 30-50 yard difference to how the ball reacts when it hits the ground. You have to be able to understand that and to play the right shot. I've always loved this golf course from the first time I played it back in '95. I just love the creativity. It's a little bit softer this year but you still have to hit the right shots."
To be honest, if there's two courses where Tiger could still be semi-trusted it would be Augusta and St Andrews. Given that he took T17 at The Masters (T5 with a round to go), it wouldn't be the biggest shock if he did something similar here so layers could be in for an anxious time.
Last four events: 32-MC-71-69
Open record: 69-6-3-23-MC-12-1-1-9-4-28-25-1-7-3-24-22
Last 10 majors: MC-17-MC-69-40-6-32-4-11-3
Last 50 starts - Win: 16%, Top 5: 32%, Top 10: 38%

Paul Casey
"It's a golf course I love. I think my golf game suits it very well. I've got enough length to carry some of the trouble, certainly on those opening holes, trying to get over some of those mounds, and I know it through playing it multiple times, obviously Opens and Dunhill Links. I hear it's soft, so maybe that gives the longer hitters maybe a little bit more of an advantage. I'm looking forward to getting started. I haven't actually over-practised which has kind of been a trend so far this year and helped me to really play some good golf."
A fresh and relaxed Casey has made the top 10 in five of his last 11 strokeplay events on the PGA Tour and that run includes two second places, a third and a T6 at Augusta. However, it's never easy to decide if he's going to have a good week or a bad week so he's a difficult proposition.
Last four events: 37-2-39-43
Open record: 47-MC-54-3-47-7-27-71-MC-20-MC-MC
Last 10 majors: 39-6-MC-47-56-33-45-MC-MC-MC
Last 50 starts - Win: 2%, Top 5: 10%, Top 10: 20%

Conclusion
Firstly, if you fear or believe in a draw bias, it's worth noting tee-times.
Tee-times
09:33 Jordan Spieth, Dustin Johnson
09:55 Louis Oosthuizen, Jason Day, Tiger Woods
14:12 Adam Scott
14:34 Henrik Stenson
14:45 Rickie Fowler, Justin Rose
14:56 Paul Casey
At the time of writing, the Met office website states:
Thursday
1000: Sunshine/cloud, wind 11mph
1300: Cloud, wind 14mph
1600: Cloud, wind 17mph
1900: Cloud, wind 18mph
Friday
1000: Rain (60% chance), wind 17mph
1300: Rain (40% chance)/sun, wind 17mph
1600: Cloud (rain 20% chance), wind 23mph
1900: Cloud (rain 20% chance), wind 24mph

Overall, there doesn't appear to be a huge discrepancy. Late/Early is likely to get more rain but also more consistent winds. Early/Late will have to deal with the strongest winds on Friday afternoon.
That forecast doesn't put me off anyone so I'll start with a Top 5 punt on Henrik Stenson at 7.26/1.
All three of the Swede's Open top 10s were actually top threes and seven of his nine career top 10s in the majors were T4 or better.
As for his last 50 starts, the Top 5 (40%) and Top 10 (44%) figures are remarkably similar so it's worth going for the more aggressive play and getting the bigger price (he's 3.55 for top 10).
Adam Scott smashes it off the tee and has the expert insight of Steve Williams to guide him around the Old Course. His St. Andrews record isn't anything special (T34 in 2005 and T27 in 2010) but he's a vastly improved performer in the majors since 2010 as highlighted by top fives in the last three Opens.
I'm a little more cautious about him making the top five so back the Aussie for a top 10 at around 5/2.
I really do fancy the cream to rise to the top at St Andrews so Jordan Spieth, Dustin Johnson and Rickie Fowler are all legitimate backs.
I'll side with a Fowler Top 10 due to price as a play at 3.814/5 means a win on any one of the three recommended bets will put us in profit.
The forecast wind and rain will be to his advantage as it'll knock others out and the fact he played the final 54 holes better than anyone in the 2010 Open here really is compelling.
Yes, all three picks come from the Late/Early side of the draw but that doesn't put me off. I have more trust in the players themselves than the weather forecast and even if they do get caught in the 'wrong' half, I'd still back one of them to hit their target.

Recommended Bets
Back Henrik Stenson for Top 5 at 7.26/1
Back Adam Scott for Top 10 at 3.45
Back Rickie Fowler for Top 10 at 3.8514/5
Dave's 2015 P/L on Top 5/10s (based on £10 per selection)
Staked: £280
Returned: £373.4
P/L: +£93.4

Discover the latest articles