The Open 2015: Time for an Englishman to climb the major mountain at St Andrews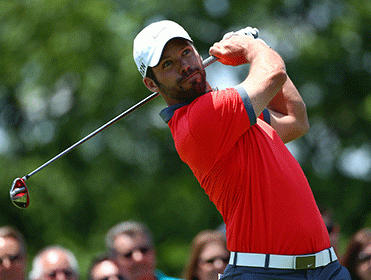 Open and shut Casey? In-form Paul is an Englishman with a St Andrews pedigree
Romilly Evans wonders if the current crop of Englishman can finally harvest an Open Championship, and end 23 years of hurt since Nick Faldo's last win...
"Faldo casts a long shadow. It's high time one of his younger countrymen stepped out of it"
The last Englishman to win The Open was Nick Faldo at Muirfield in 1992. Sir Nick claimed three Opens in total, including a five-shot romp at St Andrews in 1990. He endures as the greatest golfer our fair isle has ever produced, and provided the inspiration for most of this current crop of English players.
However, none has followed in his Footjoys at their home major championship. Lee Westwood (100.099/1 to back) and Ian Poulter (120.0119/1 to back) have finished as the runner-up in 2010 and 2008 respectively, but neither really sniffed the accolade of Champion Golfer. While Justin Rose (23.022/1 to back), Chris Wood and Paul Casey, as well as Westwood and Poulter again, have secured had top-four finishes. Close but no cigar.
In footballing terms, Faldo is the embodiment of England's World Cup-winning team of 1966. Messrs Rose, Westwood, Casey (40.039/1 to back), Donald (100.099/1 to back) and Poulter are the "golden generation" of the Noughties. Like David Beckham, Paul Scholes, Michael Owen and Stevie Gerrard before them, they just can't seem to replicate the lofty achievements of an iconic forerunner in the biggest competition of all.
Sir Nick's successes milestone were meant to act as motivational milestones. Instead, they've served as historic millstones for a golden generation of talent who would gladly trade their yellow hue for the silverware of the Claret Jug. In short, it's been 23 years of hurt. So can we finally expect some home comforts for the English this as the Open returns to the home of golf?
Only Rose has managed to capture a major of any colour, the 2013 US Open at Merion. But before we're too quick to assign the tag of "underachievers" to his peer group, it's worth remembering that if someone fails to complete a task, there are two possible explanations. Either the person doing it is not competent, or the task is hard. All these English golfers are beyond competent. The reality remains that winning majors is very hard. Even Tiger Woods, absent from the major winner's circle since 2008, has come to learn this.
Arguably, despite the past four majors being won by a couple of young upstarts in Rory McIlroy and Jordan Spieth, golf is currently at its zenith for open competition. Any number of swingers (maybe as many as 50-odd) on a career week can ride a hot putter to landmark success in one of golf's big four events. Even McIlroy concedes that it's too early to say that we're living in the "Rory-Jordan" age. "I think it's unrealistic to expect either of us to dictate. It's not the Tiger-Phil-Ernie or the Nick-Seve-Greg era. And it's certainly not the Jack-Arnie-Gary era. I think those days of dominance have gone."
The world number one is, of course, sadly absent this week with injury. And while Spieth continues to rack up the victories stateside, his St Andrews prep will have suffered as a result. Indeed, the game's golden child will chase the third leg of the Grand Slam fresh off a transatlantic flight into unfamiliar surrounds with very little links experience.
Consequently, before the sport's new dawn truly breaks, now is the time for our ageing Englishmen to grab their opportunity while it's there around a track where their combined knowledge (from annual Dunhill outings) gives them a big advantage. Since 1960, the mean age of a major maturity is 30, while nearly 85% of winners have come in under 37 years of age. Rose is 34, Donald and Casey both 37, Poults 39. Enough said.
Age is definitely against Westwood - just seven golfers have pulled up a chair at golf's highest table after reaching their 40th birthday. Yet Westwood can take heart some improved iron-play in recent weeks, and the precedent of another close friend (Darren Clarke) who finally claimed his maiden major at Sandwich at the age of 42. With his protracted personal problems now resolved, the Worksop Wonder looks more settled and happy on the course. Five top-three finishes and two 54-hole leads at least mark him out as a fine Open exponent.
Elsewhere, England's other incumbents on the world's top 100 to watch out for include: Ross Fisher (320.0319/1 to back) who finished strongly at Gullane on Sunday; Danny Willett (140.0139/1 to back) who's enjoying a proverbial career year; affable Andy Sullivan (360.0359/1 to back); bookish Eddie Pepperell (220.0219/1 to back); and white-hot Jamie Morrison (360.0359/1 to back). As Todd Hamilton and Ben Curtis can recently attest, stranger things have happened.
It's doubtful whether any Englishman can fly the flag of St George as high as Faldo did. However, in perhaps Sir Nick's final Open, it would be fitting if one of these men gathered up the mantle as England's greatest is gathered to the golfing gods. Faldo casts a long shadow. But it's high time one of his younger countrymen stepped out of it, and into the St Andrews spotlight.

*****

Not made your mind up who to back yet? Well don't miss Steve 'The Punter' Rawlings' stunning comprehensive preview of the Open Championship here, or visit our unrivalled Open pages here, featuring stats, analysis, course guides, in-play hints, and much much more as the week progresses.
Discover the latest articles