The Betfair Big Interview: Simon Wakefield on the keys to finding a winner at Royal Birkdale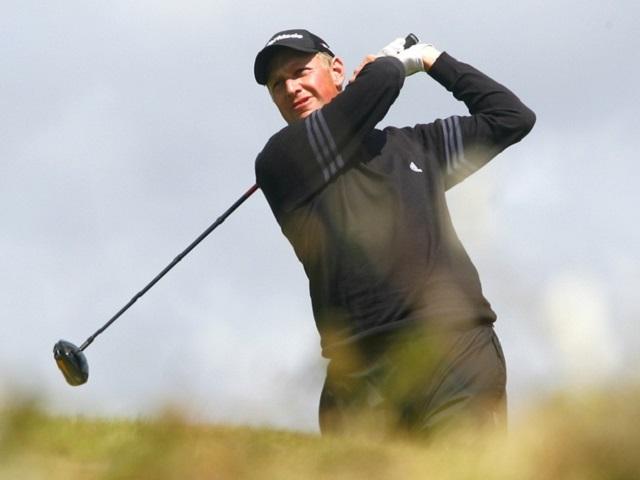 Simon Wakefield at the 2008 Open at Royal Birkdale
Royal Birkdale in 2008 hosted the only Open since 1999 to be won with an over par score. Betfair went to talk to former European tour pro Simon Wakefield, who fought through the wind and rain that year to finish in the top 20, to learn about what we can expect this time.
"Tommy Fleetwood has proved himself a world class player and would actually be my favourite if it wasn't for the fact it is in his own back yard. That will put an extreme amount of pressure on him."
Hi Simon. So the Open this week will bring back memories - a year after you retired does it make you want to pick the clubs up again?
You might think so, but not actually. Since I stopped I've been working for Chubby Chandler's ISM Group and really enjoying my new career.
Tell us about 2008. It was a brutal year for wind and rain.
It was certainly a highlight for me. I played really well at Loch Lomond the week before, but bogeyed the last three and cost myself quite a lot of money and points. Even so I went there feeling really positive. I had some good practice rounds and just kept my momentum going.
You were tied third after day one and two shots off the lead. What was that like?
I stayed at a friend's apartment and I remember being off quite late, watching everybody struggle and thinking if I could get off to a decent start and par the first couple of holes and put myself on the leaderboard in an Open that would be great. I just seemed to stick with it and made some great putts when I needed to.
What's so tough about Royal Birkdale - the only Open that's not been won under par since 1999?
I didn't realise that but I'm not surprised. You look at Carnoustie the year before and that was a brutal event, and certainly the one Ernie Els won at Muirfield was too. The weather always plays a part in the Open. You can have a day when it is 21 degrees and sunny, and the following day it can be 14 degrees, blowing a gale and pouring with rain. That is when the luck of the draw comes into play. I can remember days on tour when you had to go out in murderous weather and then the guys in the afternoon got out in sunshine and tore up the course. That's part of the game. If it starts to blow at Royal Birkdale, though, it tends to be set in for the day because the weather is coming off the coast.
What's the signature hole?
I think the start of the back nine is important. Ten is a dogleg right to left, and the next a par three, and if you can build momentum going into the back nine there is another couple of holes which tend to be downwind and reachable, and then you can hang on through 15 and 16 before 17 and 18 are downwind again. Anybody who gets off well at the start of the back nine can climb up the leaderboard.
A last thought back to 2008, Ian Poulter was runner-up. Having just put your own clubs away what do you make of the way he's fighting to revive his career?
I think it is fantastic. He's had to qualify. I know Graeme McDowell didn't do that and tried to play his way in through the Irish and Scottish and didn't succeed, so you have to give credit to Poults because he's gone to Woburn, that is his home course, and gone out and qualified. All credit to him, he's not been frightened of putting that pressure on himself. He had a great week last week at the Scottish Open, and if he can get off to a good start he has a chance of winning it.
Our market makes the big names Dustin Johnson, Rory McIlroy and Jordan Spieth favourites but they all have their problems?
They do, but the Majors are totally different and the top boys all have experience of being in contention and knowing what it is about. We all have bad days at the office, some more than others, but the top boys can brush it off a bit quicker than the journeymen. Somebody like Rory might have issues with injuries, his short game, whatever, but for the big events can just come out and brush that aside.
Tommy Fleetwood is the man in form, how do you rate his chances on his local course?
He's proved himself a world-class player in the last few weeks, and he would actually be my favourite if it wasn't for the fact it is in his own back yard. That will put an extreme amount of pressure on him. He will have a lot of family and friends, and I just think that might take the focus off what he needs to do. It is a very busy week, and he'll have to deal with a lot behind the scenes. He owes his time to the media so he'll have to do that, but it will infringe on the time he might want to spend on the practice range to iron out any problems as he goes along.
So who should we look for?
Well Jon Rahm is a young player who has certainly impressed everybody. He started off in the States and when he had some good results a few people were flagging him up. He proved himself again at the Irish Open playing phenomenal golf to win by six shots and to show that character on the last day was fantastic. I think he'll feel some nerves at an Open, but on the other side will not be expected to do anything incredible, and I think that is why you might just get him sneaking through the field at the weekend.
Simon thanks for your time, and we've a free £50 bet with winnings to your favourite charity.
Thanks. I'll nominate the Douglas Macmillan Hospice in Stoke on Trent which does wonderful work caring for adults with terminal illness - and I'll back Jon Rahm to win the Open at 19.018/1.I think that's a great price.
Discover the latest articles