The 2017 Open Championship: Sergio can star again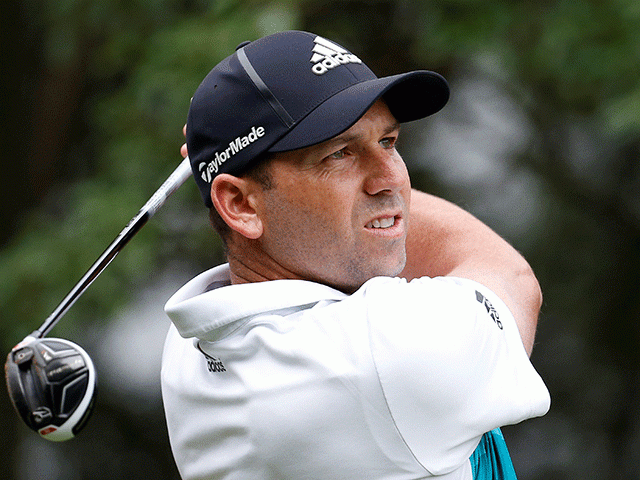 Can Sergio Garcia win his second major of the season at Birkdale?
Dave Tindall, who landed a 40/1 winner with Brooks Koepka at the US Open, previews this week's Open Championship at Royal Birkdale...

"In short, the 36-year-old is one of the finest links exponents in the game and his physical and mental powers are now at a combined high."

Main Bet: Back Sergio Garcia @ 19.018/1
Each-way terms: 1/5 odds, 8 places

A glance through the storied list of past Open winners at Royal Birkdale suggests it's fair to think that the winner will come from very near the top end of the market.

It reads Peter Thomson, Arnold Palmer, Peter Thomson, Lee Trevino, Johnny Miller, Tom Watson, Ian Baker-Finch, Mark O'Meara and Padraig Harrington.

It gave Thomson the first and last of his five Open victories while six of the other seven were already major winners.

O'Meara in 1998 carried the most recent post-major glow having won the Masters just three months earlier.

My thoughts at the time were that winning two in the same season for someone who had never tasted victory at that level seemed a bit much but I won't be making the same mistake with Sergio Garcia.

Although O'Meara was delighted to win his first major when taking the Masters green jacket, there was nothing like the same sense of relief that Sergio felt. The American veteran had enjoyed a solid majors career with seven top 10s down the years but, at the time, his press conferences featured more questions about his great pal Tiger.

Sergio, by contrast, had been dealing with years of questioning as to why he kept coming up short. Projected doubts from the media further fuelled his own self-doubts and he seemed trapped in a spiral from which a first major title would never emerge.

And then he got married. And then he won the Masters at Augusta National. And at Royal Birkdale this week he can 'do an O'Meara' and win the Claret Jug.

The Spaniard's pre-Green Jacket story is pretty well known. He was a joyful and skippy runner-up to Woods in the 1999 USPGA and then had a serious of near misses, the most heartbreaking a play-off loss to Harrington at Carnoustie in the 2007 Open.

Before the glory of Augusta, he'd racked up 22 top 10s in majors with 10 of those coming in Open Championships, by far his best major in terms of giving punters each-way returns. His last three tilts at the Claret Jug had ended with T5 at Royal Troon, T6 at St. Andrews and T2 at Hoylake.

But what of Garcia since he got that enormous gorilla off his back? Obviously there was much press to do and lots of waving and smiling but his golf has remained very solid.

After wisely taking a month off, he came back with T30 at Sawgrass, T20 at the Byron Nelson and T12 at Colonial. He was actually sat T7, T6 and T8 after 54 holes in those three events but, perhaps after his thunderclap moment at Augusta, just wasn't quite ready for another victory thrill.

A steady T21 followed in the U.S. Open before he held a piece of the lead with 18 to play at the BMW International Open in Germany, eventually finishing runner-up.

The cards didn't fall his way that day but after another mini-break and clearing of the head I honestly believe he's ready to go to Royal Birkdale this week and land his second major.

The release of pressure must be enormous and I just can't see him going the way of recent winners Darren Clarke, Ernie Els and Phil Mickelson who found they perhaps couldn't go on and top their Open wins.

Garcia has still got lots of winning to do and has to be viewed as a different animal going into this year's Open.

His T51 at Royal Birkdale in 2008 could make uneasy reading but let's not forget that it came a year on from his agony at Carnoustie when his eight-footer to win caught the lip and stayed out.

Sergio was actually T15 going into the last day in 2008 and when his chance went I expect the memories of 2007 returned and he gave up the fight. Coming home in 44 that Sunday certainly supports the theory.

In short, the 36-year-old is one of the finest links exponents in the game and his physical and mental powers are now at a combined high.

I'll happily take him at 18/1 and, although eight each-way places are nice, I'm thinking they won't be necessary.

Sergio can go all the way and win what would be a truly deserved first Open Championship.

Of the 36 players to have finished T5 or better in the last six Opens, 15 were American.

The three to do so last year were runner-up Phil Mickelson, J.B. Holmes and Steve Stricker. So, here's a quiz question, what did they have in common?

The answer is that they were amongst a very small handful of Americans who came across the week before to hone their links skills by playing in the Scottish Open. Clearly, it helped.

I also noted in my ten-year-trends preview that eight of the last 10 Open winners were over 35 and that five of the last six champions had played in the Scottish Open (Sergio didn't admittedly but he doesn't need the same refresher course in the way the U.S. players do).

Therefore, an ideal candidate would be an experienced American, who teed it up at Dundonald Links last week.

There is one player who fits the bill perfectly, 39-year-old Matt Kuchar.

I've never had any interest in backing Kuchar in tournaments when he's one of the favourites at around 14/1 and 16/1 but here he's a rather underappreciated 55/1 chance. Even if you doubt his ability to win, there's an awful lot of each-way juice in that price with eight each-way places.

Kuchar rarely drops his standards but right now he's in a particularly good run of form with five top 16 finishes on the spin. The streak started with T9 at the Byron Nelson, continued with T12 at Colonial and either side of T16 in the US Open at Erin Hills he's posted T4 in both the Memorial and last week's Scottish Open.

Talking of T4, that was also the position he occupied in this year's Masters at Augusta so he really is showing high-level consistency.

Why 55/1 then?

The price is due to the World No. 18 not really being thought of as an Open type but his record isn't that bad.

He missed his first four cuts in the event, including a halfway exit at Royal Birkdale in 2008, but he was T27 at St. Andrews in 2010, T9 at Royal Lytham in 2012, T15 at Muirfield in 2013 and has played all four rounds in his last five appearances in the event even if he didn't do much in the most recent three.

Adding to that is a really fine record in Scottish Opens. He's played it just three times since the tournament moved to links layouts, taking T10 at Castle Stuart in 2011, second place at Gullane in 2015 and, as mentioned, Sunday's T4 at Dundonald Links.

"I think it's great what they are doing, taking the Scottish Open to links golf. To me it's like Wimbledon, guys go play Queens before Wimbledon; they want to play a similar surface," he said last week.

"I think this has been great to come and get a links tune-up.

"It's great to be over here and great to be getting a feel for it. They are fun shots to hit. It's never just a standard, solid shot. You've got to play the wind and play different clubs, and it's really enjoyable."

Asked about the key next week, he reflected: "Driving the ball well. It's so important to stay out of the pot bunkers. You continue driving the ball well and it just sets up the rest of the day."

The Ryder Cup star, who has eight top 10s in the majors since the start of 2010, finished seventh for Driving Accuracy at the Scottish Open so that part of his game looks nicely tuned up.

Strong from bunkers (27th in Sand Saves), Kuchar can make a big run at this and you know fine well he'd deliver a perfect Open winner's speech. Hopefully he'll find himself in that position on Sunday evening and continue the recent trend for first-time major champions.

Of the other big-name Americans I feel lukewarm on Dustin Johnson and Jordan Spieth despite not ruling them out. Rickie Fowler has joined them at the front of the market on 14/1 but that looks short. At double the odds I'd rather back him for first-round leader given that he led the way after day one of the US Open and was second after the opening round in Scotland.

US Open champ Brooks Koepka blew away the field at Erin Hills but I prefer experience over big-hitting youth this week so am happy to pass at 25s.

At bigger prices, Steve Stricker at 125s and Tony Finau at 150s could show up well but Kuchar stands out to me at 55s.

Let's be clear, I'd be much, much happier if Noren drifted out to 50s or even 45s but he's been in my crosshairs for a while so I'm not letting him pass.

It may just be that I'm glad of the eight places although I'm not just playing him as a hopeful each-wayer.

In fact the very opposite is true and for good reason. Quite simply, no player on the PGA or European Tours has racked up more wins than Noren over the last 12 months.

Yep, that's right, not Dustin Johnson, not Rory, Spieth, Day, Rahm, Thomas or anyone else you can think of.

Noren has five wins since July 2016, his golden run starting with last year's Scottish Open, continuing with victories in the European Masters, British Masters and Nedbank Golf Challenge before hitting a new peak with a sensational win in the BMW PGA Championship at Wentworth thanks to a closing 62.

The idea that he had one hot year was firmly put to rest at Wentworth and he's taken another forward step with a T10 in the Players Championship at Sawgrass.

He added a further T10 in the Open de France at the start of July but either side missed the cut in the U.S. Open and also when defending in Scotland last week.

Those two results aren't ideal but I prefer to look at the bigger picture which shows Noren sat at No.9 in the world rankings above Fowler, Koepka, Rose, Thomas and others that are higher on many punters' radars.

One obvious negative thrown at Noren is his poor record in the majors and the bare facts don't look great. He's played in 16 and managed just a single top 10, five years ago when T9 at Royal Lytham.

But this is where it gets interesting.

His first ever start in the majors came back in the 2008 Open at Royal Birkdale and he made a strong debut, posting T19.

But digging deeper, the news becomes even more positive as he was tied fourth at the halfway point and tied fifth after 54 holes. Had he parred the final hole on Sunday rather than taken a double bogey, Noren would have finished tied for seventh.

"It's a great feeling, fantastic, I couldn't have imagined this," he told the press at the end of round three.

In a recent interview with National Club Golfer magazine, he recalled that week, saying: "I can still remember how much I loved playing in front of those crowds at Birkdale.

"I love the British crowds, because they are so good-natured and knowledgeable. There is something about them that is so nice and I've always liked playing in front of them since then."

That's not just spouting media guff either because he's won on his last two starts in England (The Grove and Wentworth) and, as stated, was T9 at nearby Royal Lytham in the 2012 Open.

At a course where he has such positive memories, it's certainly on the cards that we could see the Claret Jug stay in Swedish hands.

To be honest, defending champ Henrik Stenson could also make that happen. He's got some wonderful form on the links and last year's epic victory at Royal Troon was the 40-year-old's fourth top three finish in his last eight Opens.

I prefer him at 25/1 than out-of-form Rory McIlroy and inexperienced Jon Rahm at 18s.

Justin Rose and massively in-form local hero Tommy Fleetwood both have obvious links to Royal Birkdale and should go well at 25/1 and 18s respectively. A bit further down, I like Adam Scott and Branden Grace too.

But you can't back them all and my preference is for Garcia, Kuchar and Noren.

My trio are all in the top 20 in the world rankings, can thrive in windy links conditions and have some hot form over the last few months.

With a fair draw, and there seems no sign of bias at the time of writing (Monday evening), hopefully they can all make a big tilt at the title.
Discover the latest articles