Carnoustie Course Guide: Will the parched links suit the bombers or the schemers?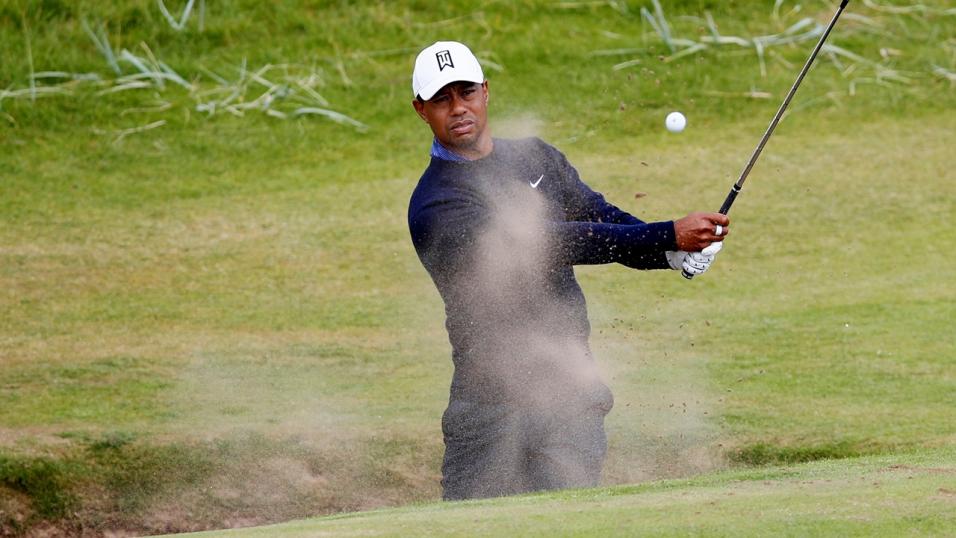 Tiger is going to manage his way around Carnoustie this week, but staying out of the bunkers is essential
Matt Cooper is on the ground in Angus, quizzing the leading stars and trying to find clues as to how Carnoustie will treat the world's best this week...
"I haven't seen one bunker yet that I could hit into and still make the green. Navigating them is definitely the biggest key this week because the rough is not very penal."

Dustin Johnson on Carnoustie's treacherous fairway bunkers
Carnoustie 1999: a beast and we knew it.
Carnoustie 2007: a heart-breaker and we guessed it.
Carnoustie 2018: a puzzle wrapped in a riddle slap bang in the middle of a maze and we're baffled. If you ask 50 people how the course will play (I have) you'll get approximately 87 answers.
A different challenge to the Alfred Dunhill Links
In the weeks leading up to the event there were questions of the extent to which Dunhill Links form at Carnoustie would be relevant this week. We knew that the set up that week is easy, but Danny Willett added a fine detail. "I've played there nine years," he said. "And I've seen the same pin positions every time. I can't wait to see some different ones."
Stephen Gallagher, a winner of the Dunhill in 2004 who played the 1999 Carnoustie Open said "The Open pins are beauties, much tougher" and added: "The visuals are very different too. Nipped in and grass high. Totally different."
Does that make Alex Noren's brilliant 64 in 2016 and Tommy Fleetwood's 63 just 12 months later redundant? When Fleetwood himself was drawn on the subject he said: "It doesn't do any harm to have a course record, but it's a completely different challenge. Shots you've hit in the past have literally no relevance."
He then elaborated in compelling fashion: "When we play the third (a 358-yard par-4) in October it's green and soft, it's a nothing tee shot: just mid-iron, wedge. But this week is so firm, the fairway undulates, the bunkers are in play, it's suddenly a very difficult tee shot. I have to hit a totally different angle."
This problem has met with a wide response. Patrick Reed was viewed hitting driver and going for the green in practice, as was Rory McIlroy, yet the threat is clear: Reed's ball cleared Jockie's Burn, short of the green, in one hop, but it's one hell of a gamble. A big reward, but a remarkable risk.
A similar problem emerges on the 17th, the 460-yard par-4. Players have to hit to a fairway bordered front and back by the Barry Burn, trying to hold a plot of land which resembles a motorway is perilous. Some prefer to go for broke, therefore, and simply attempt to bash the ball as far as possible, almost leaving it to luck if the ball skips in the water.
Some view at the back of the 16th. pic.twitter.com/51QSLstby8

? Matt Cooper (@MattCooperGolf) July 16, 2018
Whack it long or manage your way?
The heatwave has not only produced bonehard fairways, it has also burned away the rough. It's fluffy, candy floss nature offers little threat. With the exception of a patch to the left of the 14th, which is very green at its base allowing stray balls to settle among thick grass, the rough is very dry, very sparse and often wouldn't frighten a 12-handicapper nevermind world-class stars.
If the course is not narrow many would expect the long hitters to have an advantage, the belief being that they can play hit-and-hope. The threat is that the course might not be narrow, but it is shallow: to clear one set of fairways bunkers might work, but only by imparting so much oomph into the tee shot that the traps beyond it are brought into play.
The Barrie Burn - always causing the Open leaderboard to wobble. pic.twitter.com/di9yVtvcJp

? Matt Cooper (@MattCooperGolf) July 17, 2018
Tiger Woods came alive in his press conference when asked about strategy. "There's not a lot of opportunities to hit driver because the ball is rolling 80 yards," he said. "It's just hard to keep the ball in play. I think trajectory means a lot. It's going to be really interesting to see how we all manage our way round the golf course."
In contrast Brooks Koepka has been hitting: "eight or nine drivers; if you can get it to within 40 yards of the green why not?" He appears to be planning more along the lines of Reed and McIlroy.
Woods' selection of the word "manage" is instructive. Caddies are wary to reveal their player's plans, but three made the point that there is a subtle distinction to be made: where do you want to hit the approach shot from? And in that respect the pin positions are crucial.
The 415-yard par-4 fourth is a good example. If the pin is on the left smashing driver down the right allows a wide margin of error and a nice pitch in. But the same line would be folly if the pin were on the right.
What happens next will matter. Landing the ball short and running it close appears a straightforward task and yet while many got it right last week at the Scottish Open, many others didn't. Rickie Fowler hit a 460-yard drive on one hole and then missed the green with his chip (if that suggest to you that he's worth avoiding others might argue otherwise; the caddies, for example, believe those playing the Irish and Scottish have a big advantage this week because even those who got it wrong last week can put it right this).
Avoiding the bunkers is essential
Everyone agrees regularly missing the sand will be essential. Dustin Johnson said: "I haven't seen one bunker yet that I could hit into and still make the green. Navigating them is definitely the biggest key this week because the rough is not very penal."
Justin Thomas backs that up: "The bunkers here are truly water hazards. You can never hit the green from them."
He further added when the difficulties might fully reveal themselves: "I think where you'll get into trouble is if you're pressing. I'm going to hit a lot of irons (from the tee), but if I get to two or three over, then I potentially change my game plan and next thing you're five or six over."
More to Car-nasty than bunkers and OB. Don't go left of the ninth. pic.twitter.com/HxcYGq0Ptg

? Matt Cooper (@MattCooperGolf) July 17, 2018
Irish and Sottish Opens a fine preparation
Last week Chris Wood had been chatting to Padraig Harrington, wondering if a three week stretch of links golf was the right way to go after the Open de France. "You can never play enough links golf for the Open," Harrington assured him.
The 2007 Open champion was speaking in the same vein Tuesday. "Fiery golf lends itself to experience," he said. "It certainly plays into the hands of someone who can thread the ball round."
In classic Harrington fashion his next sentence seemed to contradict himself.
"The great thing about this course is you can't take all the trouble out. There's no perfect strategy to eliminate risk. You're going to have to take risks. You'll have to skirt some bunkers. It's very difficult to stay short of hazards."
Lending itself to Harrington's theory of experience is that there is unlikely to be any wind prior to Thursday morning, yet gusts of over 20mph from about 1pm onwards. Those who have only played the course in calm conditions might find their plans fly out the window if they are caught in it.
One caddie mooted that this week will be remembered as "The Hindsight Open". His theory being that a lot of players are going to be wondering why they used driver on a particular tee-box and others why they used 5-iron for the same shot. It proves how variable, and maybe even confused, everyone is.
Ultimately Harrington might have the best message.
"The beauty of the course is that there are different ways to play it," he said, eyes sparkling, playing with his crowd. "And eventually you're just going to have to grow up and hit the shots."
The closing stretch. The big stage. 16, 17 and 18 at Carnoustie. Their proximity is sensational. pic.twitter.com/5k1rIfw8QM

? Matt Cooper (@MattCooperGolf) July 18, 2018
Discover the latest articles
Read past articles