Open Championship 2019: Outright and two-ball tips for Moving Day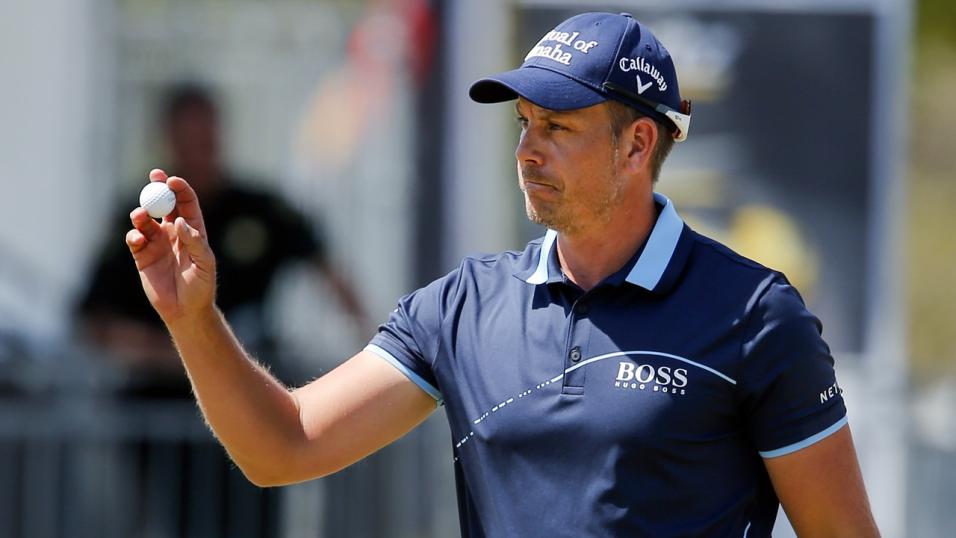 Henrik Stenson is still close enough to contend
Paul Krishnamurty says this Open is perfectly poised at halfway. Check out his comprehensive betting plan for Moving Day...
"Henrik Stenson is the perfect Moving Day trade. He was in the worst half of the draw but is still on the premises and twice his starting odds. He is hitting greens in regulation for fun."

Back Henrik Stenson 1.5u each-way @ 40/1 (1/4 odds, five places)
Yesterday I noted the potential for this being the perfect Open - at least so far as drama, entertainment and betting volatility are concerned. Ahead of Moving Day, it couldn't be better poised.
Bunched leaderboard means anyone can win
With only nine strokes separating the field, everybody left in retains a theoretical chance. Nobody within a stroke of the lead - shared by Shane Lowry and J.B. Holmes - and only one within two, has ever won a major.
More pertinently, of all the majors, this is the one where huge turnarounds are common. As a guide to how much things can change from halfway, consider last year. Francesco Molinari was 29th at this stage, six shots off the pace and trading around 100.099/1. Justin Rose rose from 65th to a share of second.
That said, whereas we already knew that Carnoustie was a good course to play catch-up, there is no meaningful evidence for Portrush. If the weather forecast is correct, low scores will be few and far between.
Tough, windy conditions forecast all weekend
Winds of 15mph plus are predicted, solidly, for both days. It wasn't far off that on Thursday and only two players bettered three under for the round. For those players on the +1 cut-line, I reckon that is the absolute minimum. To enter Sunday with any sort of chance, they'll need to reach -3 or -4 through 54 holes.
At this stage, my focus is restricted to the 24 players who've already reached the former target - within five shots of the lead. Tougher conditions should sort the wheat from the chaff, so I'm looking for those with the best long games, scrambling skills and bogey avoidance stats.
Koepka must be there or thereabouts
So far as the market leaders are concerned, 7.87/1 about Brooks Koepka makes most appeal. I'd price him a full point shorter and am very tempted to get him in the book, at least as a cover. Without doing anything exceptional, the majors king has eased to within three of the lead.
Naturally the competition up top is strong. Shane Lowry was superb for the first 30 holes before giving a couple back. My doubt with him is the extraordinary pressure of leading the Open on home soil. Perhaps he will be inspired by the crowd but yesterday's finish was nervy. Tommy Fleetwood looks back to his ball-striking best.
Justin Rose is another formidable challenger at 9.417/2, and the two outsiders he's tied with on -6 - Cameron Smith and Justin Harding - are likeable enough at dismissive odds of 40.039/1 and 55.054/1. The latter has been very prominent in the bogey avoidance stats for over a year - that must matter in tough scoring conditions.
However despite so much quality up top and the favourites certainly respected, each-way is the better route forward. There is still such a long way to go and a win-only bet at shortish odds - for example on Koepka - could look awful with one bad hole.
Yesterday's three selections are all in that group of 24, but none moved forward in the betting. Regarding Tony Finau and Tyrrell Hatton, I'm adding a couple of lay orders to retrieve the combined stake should either shorten up sufficiently. See below for details.
Matt Kuchar each-way feels like a better position and I'm pressing up at 33/1. He's second on the PGA Tour for bogey avoidance and has proved in the last two renewals that he knows how to survive a windy Open. Note the smaller stake here - accounting for the earlier position. If you're only starting to follow this book now, back him for the full 1.5 units each-way.
One short further back on -3, Henrik Stenson has the profile of the perfect Moving Day trade. Hotly fancied pre-tournament, he was in the worst half of the draw but is still on the premises and twice his starting odds. He is hitting greens in regulation for fun, which is exactly what is required this weekend. It just needs a few putts to drop.
Finally his playing partner Webb Simpson also makes the plan. Players often drive each other forward from the same group, and this is my preferred pairing to watch outside the leaders. He's a major winner who plays well in the wind. Last year on this day, Webb hit 67 to storm up the leaderboard.
Updated outright betting portfolio
Back Matt Kuchar 0.5u each-way @ 33/1 (1/5 odds, five places)
Back Henrik Stenson 1.5u each-way @ 40/1 (1/5 odds, five places)
Back Webb Simpson 1u each-way @ 66/1 (1/5 odds, five places)
Already advised - see new lay orders
Back Matt Kuchar 1u e/w @ 40/1 (1/5 odds, six places)
Back Tony Finau 3u @ 32.031/1
Back Tyrrell Hatton 3u @ 40.039/1
Place order to lay both players 6u @ 12.5
Try this quintet of two-ball picks
An excellent first round followed by a poor second round leaves me exactly level on the 18-hole betting. Here's five more picks for today.
Back Graeme McDowell 5u @ 2.01/1 (vs Watson) (Starts 09.55)
Motivation, especially as conditions get tougher, is fundamentally important over any golf weekend. Bubba Watson is not known for battling when all hope is lost, whereas Gmac is playing each shot as if it were his last, backed by massive home support.
I would have had this bet at the start of the tournament and nothing has changed, despite Bubba surprisingly making the weekend.
Back Paul Casey 5u @ 1.774/5 (vs Stanley) (Starts 11.10)
Kyle Stanley hasn't done much in five previous attempts at this major, particularly on the windy days. Note that last year and in 2012, the hardest day was Sunday and on both occasions, he hit 76. Again, nothing special is expected whereas Casey seems happier on this links course than most.
Romain Langasque 6u @ 1.824/5 (vs Park) (Starts 12.45)
This is today's nap. Langasque is in cracking form and demonstrating on a weekly basis just how well suited he is to links golf. He's fifth among these for bogey avoidance on the European Tour. Park on the other hand is making his links debut and, while performing well so far, no heroics are expected.
Back Ernie Els 2u @ 3.39/4 (vs Fitzpatrick) (Starts 13.25)
There's probably a bit of sentiment in this bet but why not? Ernie bettered his own record for Open rounds in the sixties yesterday, confirming what I've said all century - he is the best links and wind player of all time. Fitzpatrick may be miles ahead overall nowadays but he has a poor links record.
Back Erik van Rooyen 4u @ 2.1411/10 (vs Frittelli) (Starts 15.00)
Finally Van Rooyen is preferred in this South African clash. His record in links is very impressive during a short career - this golf brings out his best. Frittelli led briefly yesterday before a poor finish, that may have halted a remarkable run of six rounds. Last week's John Deere win came out of nowhere and smacks of a unrepresentative hot streak. He has little wider links pedigree.
Recommended bets
Back Matt Kuchar 0.5u each-way @ 33/1 (1/5 odds, five places)
Back Henrik Stenson 1.5u each-way @ 40/1 (1/5 odds, five places)
Back Webb Simpson 1u each-way @ 66/1 (1/5 odds, five places)
Back Graeme McDowell 5u @ 2.01/1 (vs Watson) (Starts 09.55)
Back Paul Casey 5u @ 1.774/5 (vs Stanley) (Starts 11.10)
Romain Langasque to beat Sang Hyun Park 6u @ 1.824/5 (Starts 12.45)
Back Ernie Els 2u @ 3.39/4 (vs Fitzpatrick) (Starts 13.25)
Back Erik van Rooyen 4u @ 2.1411/10 (vs Frittelli) (Starts 15.00)