Open Championship 2018: Dave Tindall rates the top 10 for current, course, Open, majors and long-term form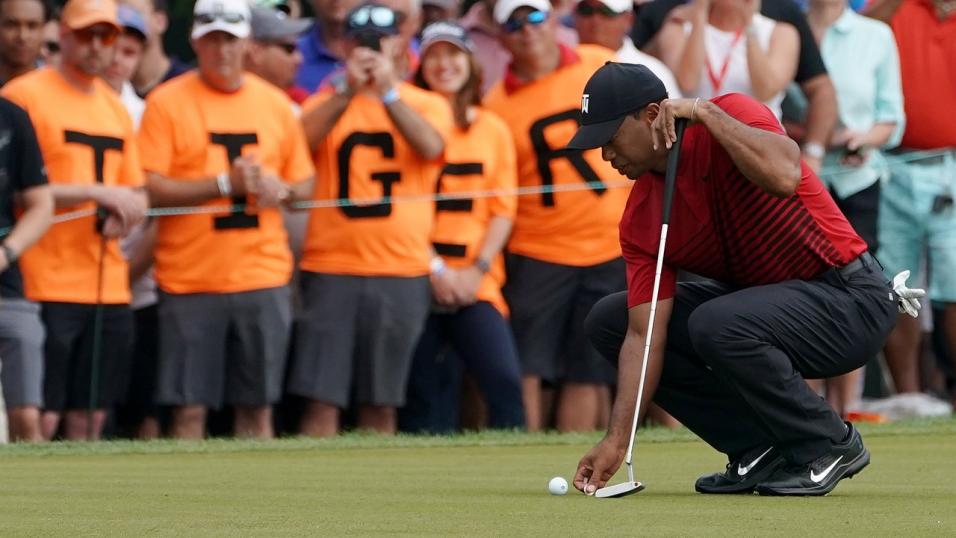 Tiger Woods looks ready to make a challenge
Dave Tindall arms you with the stats that matter for a punt on the Top 5 and Top 10 Finish markets ahead of the 2018 Open...
"Three top 10s in his last seven non-majors tells you that Tiger's game is there. An Open Championship looks the perfect stage for Woods to showcase all his skill and experience."
Dustin Johnson - DJ will bomb away
When in doubt, go long. That's DJ's usual strategy when options are available so it was no surprise to see him say in the build-up: "I'm going to be hitting a lot of drivers because I don't mind if I hit it in the rough. With it being so fast, whether you hit a driver or an iron it's tough to keep it on the fairway so if I'm going to hit it in the rough anyway, I'd rather be way down there. Wherever my ball goes, I'll just hit it." He's the tournament favourite for good reason and recent form and past Open form suggest that if his putting is up to scratch DJ will be very hard to stop. First start since he was third in the US Open.
Last four events: 3-1-8-17
Open form: 54-9-49-12-32-9-2-14-MC
Carnoustie form: -
Last 10 majors: 3-10-13-54-MC-MC-9-1-4-7
Last 50 starts - Win: 18%, Top 5: 42%, Top 10: 60%
Justin Rose - Englishman can hit World No.1
There are definite holes in Rose's links form and he hasn't bettered the top four finish he secured as an amateur in 1998. "I'm kind of comfortable with how bad my record's been here and I don't feel like there's a reason for it, either," he said in Tuesday's press conference. It's fair comment because Rose can play links golf. He's shown it by winning the 2014 Scottish Open at Royal Aberdeen, taking T6 at St. Andrews in 2015 and adding T9 at Gullane last week. To show how well he's been playing, Rose can go to World No.1 for the first time with a win at Carnoustie. His thoughts on the course? "All links courses are tough but I don't feel it's much tougher than Birkdale, Muirfield or Turnberry. These four might be among my favourites because I see them as very fair venues."
Last four events: 9-10-6-1
Open form: 54-22-6-23-MC-MC-44-MC-13-70-12-MC-22-30-MC-4
Carnoustie form: 12-MC
Last 10 majors: 10-12-MC-54-MC-2-22-22-MC-10
Last 50 starts - Win: 10%, Top 5: 30%, Top 10: 46%
Rickie Fowler - American is a major force
"It's something I enjoy. I love links golf just because you can be so creative, use your creativity, hit different shots. There are maybe five different shots that you could hit into a certain hole and all of them could work, just really picking the one that feels best and executing." Yep, Rickie loves Open Championships although it's a slight surprise to see that he's managed just a single top 20 in the last six. However, he's becoming a leaderboard regular at this level and now boasts three top five finishes in his last five majors. A top six on the links of Gullane last week suggests another is on the cards here.
Last four events: 6-12-20-8
Open form: 22-46-30-2-MC-31-5-14
Carnoustie form: -
Last 10 majors: 20-2-5-22-5-11-33-46-MC-MC
Last 50 starts - Win: 2%, Top 5: 22%, Top 10: 36%
Rory McIlroy - Putter key for aggressive Rory
"We're seeing a Carnoustie we haven't played before, where you can take clubs you would never dream of hitting under normal conditions. We're supposed to see the same wind direction for the rest of the week and if you're someone like us who can fly it over 300 yards, you can basically take all the trouble out of play on a lot of the holes. Get it down there with a wedge in your hand, with there not being a lot of rough, and you've got a big advantage." All sounds good for the Northern Irishman, who has a win and two top fives in his last three Open starts. But ultimately it could come to his putter. He struggled to adjust back to slower greens in the Irish Open but if he can quickly find the pace of these, a second Claret Jug awaits.
Last four events: 28-12-MC-8
Open form: 4-5-1-MC-60-25-3-47-42
Carnoustie form: 42
Last 10 majors: MC-5-22-4-MC-7-MC-5-MC-10
Last 50 starts - Win: 10%, Top 5: 38%, Top 10: 48%
Jordan Spieth - Defending champ struggling on the greens
"I love links golf. I always have," says Spieth. "I very much enjoy coming over here. I feel like I'm in a position now with every part of my game. I kind of attacked the places that really needed some strong work. That combination with an Open Championship, the way it needs to be played, I think, is a really good spot for me to kick back into shape." Padraig Harrington won back-to-back Opens at Carnoustie and Royal Birkdale so Spieth is trying to pull off the same trick but in the reverse order. A stat from the Golf Channel's Justin Ray must be a concern though: "Entering the 2017 Open, Jordan Spieth was 10th on the PGA Tour in putting from 15 to 25 feet. This season, he is ranked 200th of 201 players in that statistic." With no top 20 in his last seven starts, it's hurting him.
Last four events: 42-MC-MC-32
Open form: 1-30-4-36-44
Carnoustie form: -
Last 10 majors: MC-3-28-1-35-11-13-30-37-2
Last 50 starts - Win: 8%, Top 5: 24%, Top 10: 42%
Jon Rahm - Spaniard will grip and rip
Rahm is definitely favouring the big stick over irons off the tee and says he will hit "as many drivers as I can" this week. "You can lay up with an iron farther back and have 140 or 150 metres to the front and have a 7-, 8- or 9-iron in. But if you hit a good one with a driver, you're going to have nothing to the green. If you hit the rough this year, it's not as thick as other years. You actually get a lot of good lies, so you can still hit the green with confidence." Having won the Irish Open in 2017 and finished T4 when defending two weeks ago, Rahm has everything you need for links golf and after being slow to come to the boil in the majors, his fourth place at Augusta suggests he's now ready to fly.
Last four events: 4-5-MC-5
Open form: 44-59
Carnoustie form: -
Last 10 majors: MC-4-58-44-MC-27-59-23
Last 50 starts - Win: 10%, Top 5: 38%, Top 10: 44%
Justin Thomas - JT ready to dispel the doubters
Thomas has some convincing to do after failing to crack the top 50 in his first two Open starts. But he has an explanation."Two years ago I was on the bad side of the draw but then last year I just had two terrible holes that caused me to miss the cut. I feel like I'm a good links player although I don't have the results to show it." A decent weather forecast suggests he won't get unlucky again this time and he's cracked the top 25 in five of his last six majors, a run that includes winning last summer's US PGA. He also turned up at Le Golf National to finish T8 in the Open de France to suggest he can thrive overseas.
Last four events: 8-56-25-8
Open form: MC-53
Carnoustie form: -
Last 10 majors: 25-17-1-MC-9-22-66-53-32-39
Last 50 starts - Win: 14%, Top 5: 28%, Top 10: 46%
Brooks Koepka - Majors suit American's game
With a top 10 in the 2015 Open at St. Andrews followed by pair of top fives in the 2015 and 2016 US PGAs, Koepka proved he had the game for majors. And now he's taken it to a remarkable new level with back-to-back wins in the US Open. He followed the first of those at Erin Hills with T6 at Royal Birkdale so there's no reason why the American can't enjoy more success at Carnoustie. He's another who has seen the course and now plans to attack. "Coming here, I knew it was a very warm summer, not much rain but I still thought you play this course with a lot of irons off the tee, lay back to the bunkers. But sometimes we can just take all the bunkers out by hitting driver. If you can get within 40 yards of the green, why not."
Last four events: 19-1-30-2
Open form: 6-10-67-MC
Carnoustie form: -
Last 10 majors: 1-13-6-1-11-4-13-21-5-10
Last 50 starts - Win: 8%, Top 5: 24%, Top 10: 34%
Tiger Woods - Best chance for 15th major
There's a feeling that the Open Championship could represent Tiger's most obvious opportunity to add to his tally of majors which has been stuck on 14 since the 2008 US Open. And the great man believes it himself. "Yes, because you don't have to be long to play on a links golf course. Look what Tom Watson did at Turnberry in 2009 at the age of 59. Creativity plays such an important role. There's a reason Tom won five of these - he was very creative. You get to places like Augusta National where it's just a big ballpark and the course outgrows you. That's just the way it goes," Fourth at the Quicken Loans last time and second and fifth in Florida earlier this year, Woods is playing well enough to get right in the thick of it.
Last four events: 4-MC-23-11
Open form: MC-69-6-3-23-MC-12-1-1-9-4-28-25-1-7-3-24-22-68
Carnoustie form: 12-7
Last 10 majors: MC-32-MC-MC-MC-17-MC-69-40-6
Last 50 starts - Win: 10%, Top 5: 24%, Top 10: 28%
Fleetwood - Carnoustie record holder will have to adjust
No-one has played Carnoustie better than Fleetwood (-16) in the last three years when its been part of the rotation at the Alfred Dunhill Links Championship. But how useful is that? "It is a completely different course. I played yesterday, just I've never played it this firm or fast. Shots that you've hit have literally no relevance for a lot of it. It was definitely apparent that the difficulties this week are probably going to be putting it in play and hitting it in the fairways and go from there. It doesn't do any harm to have a course record, but it's a completely different challenge to what we normally face." Perhaps it's better to lean on Fleetwood's superb second place in the US Open and T17 in the Masters. Both were PBs and he has a great chance of continuing that trend here.

Last four events: MC-59-2-23
Open form: 27-MC-MC-MC
Carnoustie form: -
Last 10 majors: 2-17-61-27-4-MC-MC-MC-MC-27
Last 50 starts - Win: 6%, Top 5: 22%, Top 10: 40%

Conclusion
It may be 2013 since Tiger Woods had a top 10 in a major but that doesn't stop me backing him here.
Obviously, most of those past five years don't count given Woods' health although many expected him to click straight back into majors mode at this year's Masters (T32) and US Open (MC).
It didn't happen but even Tiger may have needed those runs and three top 10s in his last seven non-majors tells you that his game is there.
An Open Championship looks the perfect stage for Woods to showcase all his skill and experience and 4.57/2 for a top 10 is enough to tempt me in.
I'm also expecting big things from one of the new generation, Jon Rahm.
Rahm has finished in the top five in 40% of his starts as a pro and his three appearances on European soil this season show finishes of 1-5-4.
He's got the perfect skills to thrive at links golf and the fact that hitting driver a lot is an option at Carnoustie this week adds another layer of confidence.
Back Rahm for a top five at 6.611/2.
I'm tempted to support others - Fowler and Koepka in particular - but Woods and Rahm are the standouts for me.
Dave's 2018 Top 5/10 P/L (based on £10 per selection)
Staked: £140
Returned: £36
P/L: -£104
Recommended bets
Back Tiger Woods for Top 10 @ 4.57/2
Back Jon Rahm for Top 5 @ 6.611/2
Discover the latest articles
Read past articles