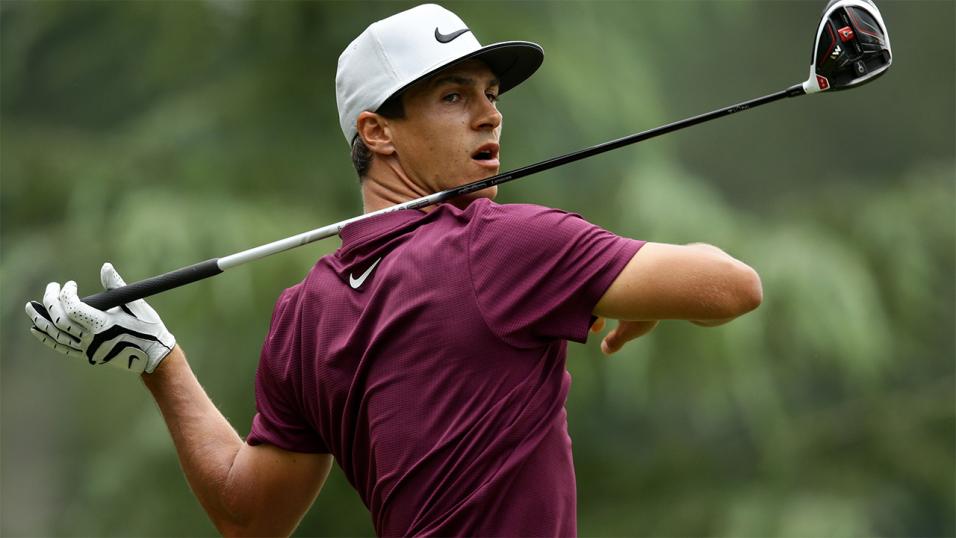 Links specialist Thorbjorn Olesen is well placed at halfway
With the leaderboard well bunched, Paul Krishnamurty is predicting another Carnoustie classic. Check out his halfway analysis and quintet of recommendations from the two-ball coupon...
"[2.75] about Langer here is cracking value. He's won at Carnoustie before in the Seniors Open and has the perfect smart, accurate game for this course. He coped well with the demands of a major weekend at the Masters, shooting 71/72."

Back Bernhard Langer 4u @ [2.75] (Starts 10.45) (vs v Cabrera-Bello)
The last two Carnoustie Opens both resulted in play-offs and, entering the weekend, the latest version is poised to produce another blanket finish. An untimely double-bogey on the last brought Kevin Kisner back to the pack and into a share of the lead with 2015 champion Zach Johnson. They are queuing up behind, with 28 players within five strokes at halfway.
Carnoustie is prone to big turnarounds
In fact given what happened on those two previous renewals, everyone left in will still retain hopes of glory. Paul Lawrie came from ten back on the final day in 1999, while Padraig Harrington overhauled a six-shot deficit in 2007. This time only nine separate the 79 cut-makers with two rounds left.
Scoring conditions look excellent again, with barely of breath of wind forecast and a little drizzle keeping the greens receptive. Expect two or three of the early starters to storm through the field and get onto the first page before the leaders tee off. Nevertheless, I can't see much sense in backing anyone too far back at this stage.
Quite simply, there is too much quality up top and too much traffic for those yet to get under par. The best round so far is 65, which I think is beatable this morning. That is the sort of range those chasers will require just to be competitive ahead of the final round, because the lead looks set to rise to at least -9.
I'm sure we will see some big moves to reach the fringes of contention. At least one or two among the plethora of major champions and class acts on -1 or level par will charge today. Trying to decipher which of Koepka, Noren, Woods, Mickelson, Day, Molinari, Oosthuizen, Scott, not to mention several capable alternatives, it will be is far from straightforward. Better to wait and see after today and rethink accordingly.
Focus on the top-13 for now
For now then, I'm only considering the 13 players within four of the lead. Two of yesterday's four picks - Rickie Fowler and Matt Kuchar - are in that batch. The odds of both have moved in our favour, so the time has come to start thinking about partial cashouts. See below for updated advice to lay those two at [4.0] and [8.0] respectively if they get there.
As with the chasers, it would be easy to make a strong case for Tommy Fleetwood, Rory McIlroy, Jordan Spieth or Zach Johnson. All would be predictable Open champions but none strike me as exceptionally good value at this stage, when even the relative outsiders are strong.
In fact in terms of value, elite prospects Xander Schauffele and Tony Finau make more appeal at [18.5] and [20.0] respectively. So too Erik Van Rooyen, whose [75.0] odds disregard just how comfortable he's looked on links over the past few weeks.
Olesen has the links prowess and bottle to contend
Again, whilst there are some tempting options, again I prefer to 'wait and see' how they sort themselves out today, and am instead just adding one new pick to the book. Thorbjorn Olesen has been on my radar as a potential Open winner ever since an excellent ninth way back in 2012. He's a fine links exponent and always a must include selection when in contention, given an outstanding conversion ratio. On -2, he's close enough to reach contention very quickly
Back Thorbjorn Olesen 3u @ [60.0]
**Updated outright advice**
Place order to lay Matt Kuchar 20u @ [8.0]
Place order to lay Webb Simpson 20u @ [8.0]
Place order to lay Thorbjorn Olesen 20u @ [8.0]
Place order to lay Rickie Fowler 15u @ [4.0]
Already advised
Back Rickie Fowler 5u @ 17.5
Back Matt Kuchar 3u @ 65.0
Back Webb Simpson 2u @ 100.0
1u loss Brian Harman
Back these five outsiders in two-balls
Back Bernhard Langer 4u @ [2.75] (Starts 10.45) (vs v Cabrera-Bello)
On major weekends, my two-ball strategy usually revolves around backing outsiders. 18-hole betting is a great leveller and evidently both players have performed to the same standard so far. Very different from the first two days, when random draws throw players with very different form and credentials together.
[2.75] about Langer here is cracking value. He's won at Carnoustie before in the Seniors Open and has the perfect smart, accurate game for this course. He coped well with the demands of a major weekend at the Masters, shooting 71/72, and has finished top-40 in four of the last Augusta renewals. I strongly expect the German legend to set a competitive target against an opponent who has missed his last three cuts.
Back Marcus Kinhult 3u @ [2.85] (Starts 12.20) (vs Pieters)
Next a repeat of yesterday's winner. Kinhult looks an excellent prospect and keeps showing it on the biggest stages, fighting back very well yesterday with 69. To reiterate, Pieters' ultra-attacking style is very risky around Carnoustie. He'll go for broke trying to get into contention today but could run up big numbers if it doesn't come off.
Back Stewart Cink 3u @ [2.5] (Starts 12.55) (vs Oosthuizen)
Rather like Langer, I can see Cink utilising all his Open experience over the weekend to record another excellent finish. He hasn't contended for an Open since winning it in 2009 but hasn't disgraced himself either, making five cuts out of seven and has probably never arrived in better form after finishes of 25/2/4 on his last three PGA Tour starts. Oosty is naturally respected but the South African has still only ever contended at one very different Open venue - St Andrews.
Back Shaun Norris 2u @ [4.0] (Starts 13.15) (vs Woods)
It is wonderful to see Tiger back at an Open and competitive, but I'm not at all convinced he's a reliable betting option yet, especially over 18 holes at very short odds, around a course where one bad hole can transform a round. On this exact day last year, Shaun Norris hit 65 at Birkdale having made the cut on debut. The consistent South African is going well again, ranking second for scrambling so far, and worthy of more respect than these odds imply.
Back Xander Schauffelle 3u @ [3.0] (Starts 15.40) (vs McIlroy)
Likewise, whilst Rory naturally warrants the utmost respect, he simply isn't an appealing odds-on bet around a tough links. He's only hit 37% of fairways so far and I don't regard Carnoustie as ideal. He has always been prone to ragged spells and around here, that can be ruinous.
The outstanding prospect Schauffelle has been under-rated time and again on big stages during his short career. He was in cracking form coming in, finished a highly encouraging 20th on last year's Open debut and, sitting just one shot off the pace, may well be the best value bet among the leading pack right now.
Recommended bets
Back Thorbjorn Olesen 3u @ [60.0]
Updated outright positions
Place order to lay Matt Kuchar 20u @ [8.0]
Place order to lay Webb Simpson 20u @ [8.0]
Place order to lay Thorbjorn Olesen 20u @ [8.0]
Place order to lay Rickie Fowler 15u @ [4.0]
Back Bernhard Langer 4u @ [2.75]
Back Marcus Kinhult 3u @ [2.85]
Back Stewart Cink 3u @ [2.5]
Back Shaun Norris 2u @ [4.0]
Back Xander Schauffelle 3u @ [3.0]