The Open: Fowler to confirm his class by conquering St Andrews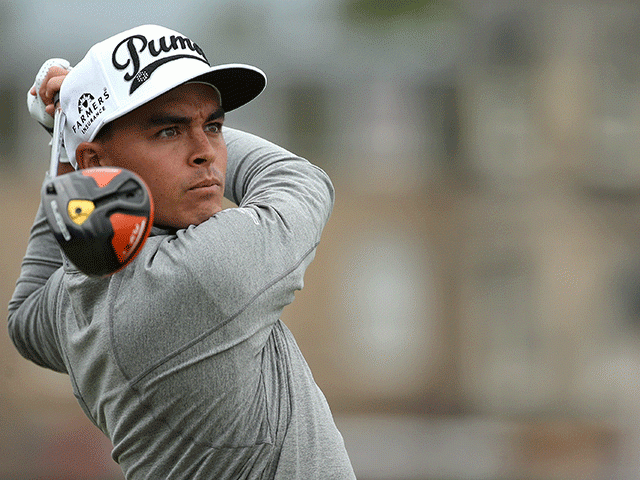 The time has come for Rickie Fowler to win a major
Dave Tindall brings us a quartet of each-way bets for this week's 144th Open Championship at St Andrews
"St Andrews looks a great venue for Rickie Fowler. He hits it plenty long enough and the forecast of rain and wind will only play into his hands."
Each-way terms: ¼ odds, 8 places

SP of last 10 Open winners
2014 Rory McIlroy 18/1 (yes, honestly!)
2013 Phil Mickelson 20/1
2012 Ernie Els 45/1
2011 Darren Clarke 200/1
2010 Louis Oosthuizen 250/1
2009 Stewart Cink 175/1
2008 Padraig Harrington 25/1
2007 Padraig Harrington 28/1
2006 Tiger Woods 6/1
2005 Tiger Woods 3/1

In terms of odds, only Tiger has justified favouritism in the last 10 years (bad news for Jordan Spieth), although the front end of the market has thrown up most of the winners - six at 28/1 or less. There were also three massive-priced winners which gives us scope to look way down the betting.
Six of the above had already won a major.

Favourites - best bet: Rickie Fowler @ 17.016/1
The front of the market looks particularly strong this year and I'd give big chances to Spieth, Dustin Johnson, Adam Scott and Henrik Stenson.
But ever since the 2010 Open at St Andrews I've had Rickie Fowler in mind for this.
Why? Fowler opened with a 79 that year but recovered heroically to finish T14. That was way behind winner Louis Oosthuizen but still a strong performance on his Open debut.
Curious to play the 'what if' game, I decided to take out Fowler's 79 and see what would have happened if only the last three rounds counted.
And, in that 2010 Open, Fowler's final 54 holes were better than anyone in the field. He played them in 11-under, two fewer than Oosthuizen and at least five lower than everyone else. Yes, the pressure was off to some degree but it did mark him down as a player to watch.
Since then he's shown his links pedigree time and time again. The very next year, Fowler was T5 at Royal St George's and battled the very worst of the weather to shoot a 68 in round three to sit T3 with a round to go. Last year he shot four rounds in the 60s and finished joint runner-up.
To prepare himself for this year's Open at St Andrews, Fowler has made the effort to come over and test his links skills in both the Irish and Scottish Opens. At Royal County Down he was a factor for most of the first three days before a shock 8-8 finish on Saturday wiped him out (T30) but at Gullane he came to win his race like a true champ and nailed victory with tap-in birdie at 18 after a brilliant approach shot.

Winning the Players Championship in May was huge for Fowler's confidence and his Scottish victory was probably a bi-product of that. These days, the Californian gets himself into contention and goes on to win.
By contrast, despite his superb achievement of four top fives in the 2014 majors, there was always a sense that he would get pipped.
Interestingly, his results the week before those majors were 6th, 13th, 8th and 8th so rather than follow a near miss with another miss, Fowler is now ready to follow a win in the build-up with a win in the major itself.
St Andrews looks a great venue for him. He hits it plenty long enough and the forecast of rain and wind will only play into his hands.
In truth, I had mixed views about his win at Gullane as it caused his price to crash from 25s to 16s. Then again, it helped ingrain the winning habit (that's two victories in five starts now) so perhaps it was the best thing that could have happened.
Two years ago, Phil Mickelson followed up a Scottish Open win with victory in The Open Championship. Hopefully, Fowler can do the same.

Mid-range - best bet 1: Martin Kaymer @ 41.040/1
Last week, I delved into past form at the Alfred Dunhill Links Championship and siphoned off the two rounds played over the Old Course to get purer St Andrews form.
Kaymer had the second best 36-hole tally at St Andrews when winning the 2010 Alfred Dunhill while he had the ninth lowest aggregate in 2013. Add that to his actual T7 in the 2010 Open at St. Andrews (third after 54 holes) and it's pretty obvious he's one of the most consistent performers there is at the Old Course.
Speaking to the UK press ahead of his title defence at last month's US Open, he gave this insight into his feelings about St. Andrews: "My focus is on The Open. It is my favourite course in the world. The whole atmosphere around St Andrews is just so pure, so natural. That is the place where I feel the most comfortable.
"I have thought about The Open since January or February because I think I have a chance. I just need to make sure that my excitement level is not in my way."
Seven of the last eight Open champions at St Andrews were already major winners so the cream really does rise to the top there.
Kaymer, who won the 2010 US PGA and the 2013 US Open, ticks that box and he's won other big events too such as last year's Players Championship and the WGC-HSBC Champions.
For large chunks of this year, his form has been a concern. But, reassuringly, his best performances have come at venues where he's got previous. He should have won in Abu Dhabi for a fourth time in January while, on his last start, he shook off three missed cuts by finishing fourth at the Open de France - a venue where he'd previously posted a win and three other top sevens.
Kaymer will be very much in his comfort zone at St Andrews and his superb lag putting should again be a powerful weapon on these huge greens.
In France, he was 7th for Driving Distance, 4th for greens in regulation and 4th in scrambling and after some practice rounds at Kingsbarns and Carnoustie in the last week he should be ready to have a big run at this title.
The 40/1 is a welcome surprise for a player with such excellent credentials.

Mid-range - best bet 2: Brooks Koepka @ 51.050/1
Perhaps the majors these days are a young man's game. All four are held by McIlroy and Spieth (aged 26 and 21 respectively) and that will only further fuel the idea that you don't have to serve your time before being allowed to get your hands on one of these prized trophies.
So, as well as Fowler, how about Brooks Koepka?
The 25-year-old has already made a bright start at this level. He was T4 in the 2014 US Open and since then has managed a T15 in the US PGA, a T33 on his Masters debut and a T18 at Chambers Bay.
Koepka has done nothing yet in an Open Championship (MC and T67) but those experiences plus his decision to broaden his horizons and give his game maturity by cutting his teeth on Europe's Challenge Tour will hopefully pay off down the line.
And perhaps he's ready now.
The American already has experience of St Andrews after playing it in the Dunhill Links for the last two years and in 2014 he excelled. In the two rounds played at St Andrews last October he shot 64-68 at the Old Course (joint third best aggregate of anyone in the field) and finished T9 overall.
What bumps him up in my thinking this week is the news that St Andrews is playing soft and should suit the big hitters more than usual.
Koepka is 10th in Driving Distance on the PGA Tour and while you're on his stats page it's worth scrolling down to Par 4 Birdie of Better leaders. He's 3rd in that category which bodes well for St Andrews where there are no less than 14 par 4s.
He chose to hone his links skills in the Scottish Open last week (as the last five Open winners have) and played nicely at Gullane to finish T22 with rounds of 70-68-66-70. That followed his T18 at Chambers Bay and a T3 at St Jude so his game (7th on the PGA Tour's All-Around ranking) looks in good shape.
A Challenge Tour victory in Scotland in 2013 gave him automatic promotion to the European Tour so he loves this part of the world, loves St Andrews and has the game, form and confidence to attack it this week.

Long-shot - best bet: George Coetzee @ 151.0150/1
Seven of the last 10 Open winners had already won previously that season which is good news for Fowler and also Koepka, who took victory on the PGA Tour in Phoenix back in February.
So how about George Coetzee, who has won not once, but twice in his last eight strokeplay starts on the European Tour?
His big price is down to the fact that his last five starts read MC-70-MC-MC-74. Yes, that's hard to get away from but he can go on these poor runs and before his European Tour win at the Tshwane Open in March he'd crashed out at halfway the previous week.
Coetzee tweeted a picture of himself on Monday playing a practice round with 2010 St Andrews winner Louis Oosthuizen. It probably didn't come up in conversation but it's worth noting that Oosthuizen went into that event on the back of two missed cuts so you don't have to be in flying form.
What counts for more is that Coetzee gets on great with the Old Course and it looks the perfect venue for him to come alive again.
"I love this place," he tweeted on Monday and he might well say that having once toured it in a stunning 10-under 62. That was in the 2012 Alfred Dunhill Links Championship where he came T5 and he added another top 25 in the same event last year.
Coetzee has also finished second (Johnnie Walker Championship) and third (Scottish Open) in other European Tour events in Scotland and didn't do too much wrong when shooting 71-72 and missing the cut in last week's Scottish Open.
Yes, it's a bit of a punt but with eight pay-out places, Coetzee has the class to get in the mix and land us a big return.

It's a major week, and the biggest one of all for us, so here are a pair of bonus First Round Leader bets for your consideration...
Each-way terms: ¼ odds, 5 places
Padraig Harrington @ 101.0100/1
It's often the case that a past champion/veteran/golden oldie thrives early at an Open. John Daly, the 1995 winner at St Andrews, rolled back the years to shoot a 66 and sit third after day one in 2010 and 1989 winner Mark Calcavecchia was second at halfway. So, how about double Open champ Padraig Harrington making his mark on Thursday. The Irishman was T4 after day one in the 2000 Open at St. Andrews and in recent weeks he was joint leader after Thursday's play at his home Irish Open, T3 after R1 of the Honda Classic (which he won) and T7 after day one at the Arnold Palmer. More recently he opened with a 66 at the Travelers and a 68 at last week's Scottish Open.
The forecast on Thursday suggests the winds will be at their gentlest (5mph) at 7am so perhaps one of the early starters could put up something low. Greg Owen (out in the very first group at 0632) gets the nod due to a series of fast starts on the PGA Tour recently. He shared the lead after the opening day of the St. Jude Classic, was fifth after a R1 66 in New Orleans and started with a 65 at the Greenbrier last time out. Interestingly, he's also made fast starts in this event. In his last five appearances he was fifth after day one at Lytham in 2001 and second after R1 at Hoylake in 2006 with a 67. Hopefully some of those memories will come back as the US-based Owen plays in The Open for the first time since 2012.
Discover the latest articles