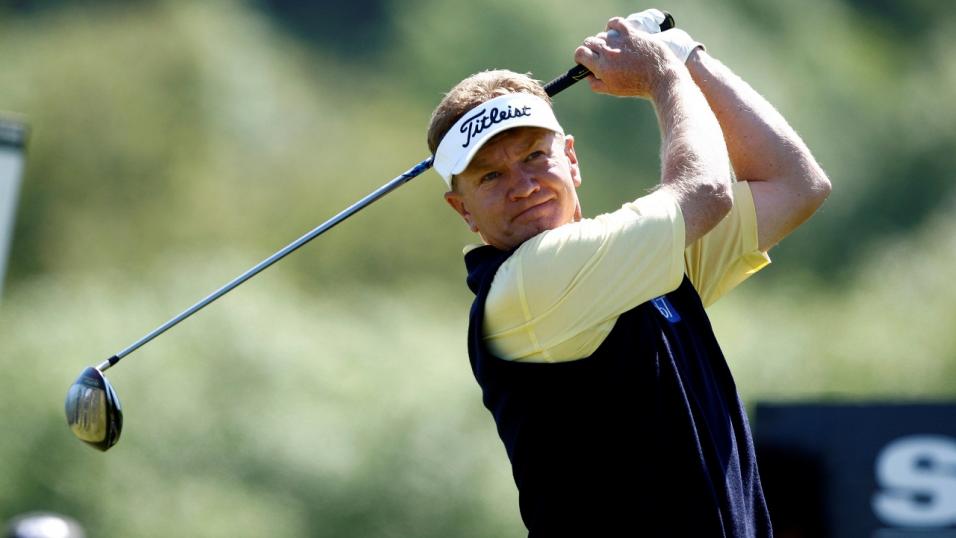 Paul Broadhurst won the Senior Open at Carnoustie in 2016
Carnoustie is the venue for this year's Open so Betfair went to meet Paul Broadhurst, who won the Senior Open there two years ago, for some insight...
"Tommy Fleetwood set the course record there in the Alfred Dunhill and he'll have good memories. He will not be frightened of putting a number on the board. Justin Rose is playing really well too. I always think there's another major in him."
Hi Paul, first of all congratulations on finishing fifth in the US Senior Open, or were you kicking yourself for a couple of shots that got away?
Maybe but I was always a couple of shots off the pace anyway, and the last day was tough. I don't think too many putts were holed by any of the guys so I was happy to finish were I did and keep my form going.
You have had a great time on the Seniors Tour and it started off at Carnoustie where you won the Senior Open in 2016. Will you get there next week?
No I'm away, and will drive up to Scotland on the Sunday ready for this year's Senior Open at St Andrew's. I might be up there early enough to catch the end on TV but otherwise I'll rely on the radio. I was disappointed I couldn't fit in Open qualifying otherwise I would have had a go. I've played Carnoustie since I was a kid, when I was 14 or 15 my dad and some friends from the golf club would go up to that part of Scotland for a week and play all the courses around there. I love that area.
It shows. You had your best Open finish, tied 12th, in 2007 at Carnoustie. Tell us about the course.
A lot depends on the wind. If it is benign conditions it is a scorable course. The key is to keep out of the traps off the tee, that's paramount. If you are driving it in bunkers all the time you have got absolutely no chance. They are literally a hack out sideways. How thick the rough will be I am not sure. At the Senior Open it wasn't too punishing, but nevertheless you couldn't spray it all over the place, you never can.
The four closing holes around Barry Burn are the most famous bit.
Rightly so, although eight, nine and 10 are tricky too. The rest of the course is where most of the guys will make their birdies, but from 15 in it is a pretty severe examination and that's what you want in a Major, you want a tough finish to sort the men from the boys.
How much is it a test of your golf and how much a mental test?
Again I go back to how windy it is. If it is really windy it plays on the brain, it is mental torture. I guess I was fortunate at the Senior Open it wasn't too windy, although pretty miserable on the Sunday when we finished in light fine rain. Links golf is always a battle of the mind, selecting which shots to hit. If it does blow up you have got to keep it low and get under the wind, if it is not you can play the high shot and stop it on the green. So much depends on the weather.
Dustin Johnson the favourite
Dustin Johnson is favourite, helped by a natural fade, is that right?
I'm not sure, there are doglegs in both directions. Draw, fade, I don't know if it matters. I guess if it gets really tough and you hit a draw the ball could run off the fairways a lot easier and a fade it could stop, but that really depends on the conditions. We're having a bit of a heatwave. If it is fast and bouncy that will favour him, but I think the Europeans have a hell of a chance this year.
What about an Englishman? You have to go back to Nick Faldo in 1990 for the last English winner of an Open.
Well Tommy Fleetwood set the course record there in the Alfred Dunhill and he'll have good memories. He will not be frightened of putting a number on the board. Justin Rose is playing really well too. I always think there's another major in him.
Rose has been pretty consistent this season.
I think his putting can be, not suspect, but not always spot-on. When he putts well he finishes well. I think possibly at the US Open on tough greens he didn't hole his fair share of putts, but at Carnoustie the greens are not that difficult, they never make them ridiculously quick either. I think Justin and Fleetwood have big chances.
Is Tiger Woods a contender?
Every credit to him. I genuinely thought he was finished, I didn't think he would play past his 40th birthday. When he was injured, the turmoil his game seemed to be in, I couldn't see any way back. But he's done remarkably well, albeit not quite achieved what he's looking for. You can't count him out, but he's the only person who will know how near or far he is from winning another Major. It is certainly great to see him back, you can tell by the viewing figures how much it means to the game that he is playing again. He's been a big loss to the tournament over the last three or four years so it will be great to see him playing again.
Rory might be mixed up
Can Rory McIlroy be a challenger?
He's been really inconsistent. I don't know, the talent is there. It is difficult, you are up there, you are playing well, you have a bad stretch and you go looking for answers. I've done it myself. You change your coach, you change things in the swing, sometimes it works and sometimes it makes it worse. It is a fine dividing line when you go through a bad patch whether you just suffer and work on what you normally do or go looking for change. On TV he comes across as ultra-positive, but whether he is a bit mixed up I don't know. I don't think anybody really stands out, not like Tiger did 10 years ago. Anybody in the top 50 in the world is more than capable of winning on any given week.
Meanwhile we wish you luck at St Andrew's - and we've a free £50 bet with winnings to your favourite charity to say thanks for your time.
Great, I'll support Tourette's Action, one of my son's suffered although he's growing out from it now. And I'll back Tommy Fleetwood to win The Open at [20.0]. I think that's a great price.