The Open 2017: Major championship stats for this week's tournament at Royal Birkdale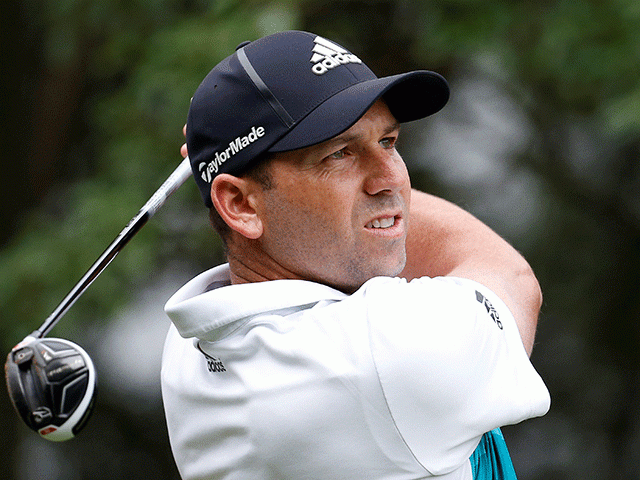 Sergio Garcia: Can the Spaniard follow in the footsteps of Ballesteros, Faldo and Lyle?
Andy Swales suggests Masters champion Sergio Garcia could become a two-time major winner this weekend in Southport.
"Garcia has posted 10 top-10s at The Open, including a brace of runner-up finishes."
After finishing runner-up as a teenager at the PGA Championship of 1999, it took Sergio Garcia another 17-and-a-half years to finally get his hands on a Major trophy.
But at Augusta National in April he managed to do just that, holding off a sporting Justin Rose to wear the Green Jacket.
The 37-year-old Spaniard will arrive on Merseyside this week full of confidence and ready to claim his second major crown of the season at The Open.
And the omens look pretty good too. Over the decades, the two most successful majors for Europeans have tended to be The Masters and The Open.
Nick Faldo won three of each, Seve Ballesteros lifted the Claret Jug on three occasions and was presented with a Green Jacket twice, while Sandy Lyle tasted victory once in each event.
And don't be surprised if Garcia becomes the latest European to sample glory in the first and third majors of the season.
Garcia's Open record is pretty strong. Ten years ago at Carnoustie he missed a four-footer on the 72nd green for the title, eventually losing in a play-off to Padraig Harrington.
In all, Garcia has posted 10 top-10s at The Open, including a brace of runner-up finishes.
His last three visits have all yielded top-six performances, so the time has now arrived for him to claim the oldest major championship of them all.
Nineteen years ago at this week's venue, Royal Birkdale, American Mark O'Meara followed his Masters success by winning The Open.
And at 41, he too had waited a long time to win a major title and then two came along in the space of a few months. Garcia can now do the same.
Major Championship Stats
Lowest Average Positions (Last Four Years - since July 1st, 2013)
Average (Majors)
20.70: Steve Stricker (10)
24.19: Jason Day (16)
26.88: Adam Scott (16)
27.63: Justin Rose (16)
28.86: Brooks Koepka (14)
29.25: Jordan Spieth (16)
29.56: Sergio Garcia (16)
31.00: Phil Mickelson (15)
31.14: Dustin Johnson (14)
31.50: Henrik Stenson (16)
31.53: Rory McIlroy (15)
32.27: Matt Kuchar (15)
33.38: Hideki Matsuyama (16)
36.85: Francesco Molinari (13)
36.88: Zach Johnson (16)
37.13: Brandt Snedeker (16)
37.63: Martin Kaymer (16)
38.19: Charl Schwartzel (16)
39.33: Louis Oosthuizen (15)
39.56: Rickie Fowler (16)
Min. No. of Majors = 8
Most Major Top 10s
(Last Four Years - since July 1st, 2013)
Top-10s
9: Rory McIlroy
8: Jason Day
8: Dustin Johnson
7: Adam Scott
6: Jordan Spieth
6: Henrik Stenson
5: Rickie Fowler
5: Sergio Garcia
5: Zach Johnson
5: Brooks Koepka
5: Hideki Matsuyama
5: Justin Rose
The table below shows form in last 10 majors:

| Player | UO 17 | UM 17 | PG 16 | BO 16 | UO 16 | UM 16 | PG 15 | BO 15 | UO 15 | UM 15 |
| --- | --- | --- | --- | --- | --- | --- | --- | --- | --- | --- |
| Dustin Johnson | MC | | MC | 9 | 1 | 4 | 7 | 49 | 2 | 6 |
| Hideki Matsuyama | 2 | 11 | 4 | MC | MC | 7 | 37 | 18 | 18 | 5 |
| Jordan Spieth | 35 | 11 | 13 | 30 | 37 | 2 | 2 | 4 | 1 | 1 |
| Rory McIlroy | MC | 7 | MC | 5 | MC | 10 | 17 | | 9 | 4 |
| Sergio Garcia | 21 | 1 | MC | 5 | 5 | 34 | 54 | 6 | 18 | 17 |
| Jason Day | MC | 22 | 2 | 22 | 8 | 10 | 1 | 4 | 9 | 28 |
| Henrik Stenson | MC | MC | 7 | 1 | Wd | 24 | 25 | 40 | 27 | 19 |
| Jon Rahm | MC | 27 | | 59 | 23 | | | | | |
| Alexander Noren | MC | MC | 49 | 46 | MC | | | | MC | |
| Rickie Fowler | 5 | 11 | 33 | 46 | MC | MC | 30 | 30 | MC | 12 |
| Brooks Koepka | 1 | 11 | 4 | | 13 | 21 | 5 | 10 | 18 | 33 |
| Justin Rose | MC | 2 | 22 | 22 | MC | 10 | 4 | 6 | 27 | 2 |
| Justin Thomas | 9 | 22 | 66 | 53 | 32 | 39 | 18 | | | |
| Tommy Fleetwood | 4 | MC | | MC | | | MC | MC | 27 | |
| Adam Scott | MC | 9 | 18 | 43 | 18 | 42 | MC | 10 | 4 | 38 |
| Paul Casey | 26 | 6 | 10 | MC | MC | 4 | 30 | 74 | 39 | 6 |
| Francesco Molinari | MC | 33 | 22 | 36 | | | 54 | 40 | 27 | |
| Matt Kuchar | 16 | 4 | MC | 46 | 46 | 24 | 7 | 58 | 12 | 46 |
| Charl Schwartzel | MC | 3 | 42 | 18 | 23 | MC | 37 | 68 | 7 | 38 |
| Daniel Berger | MC | 27 | 73 | | 37 | 10 | MC | MC | | |
| Patrick Reed | 13 | MC | 13 | 12 | MC | 49 | 30 | 20 | 14 | 22 |
| Louis Oosthuizen | 23 | 41 | 22 | MC | 23 | 15 | 30 | 2 | 2 | 19 |
| Tyrrell Hatton | MC | MC | 10 | 5 | | | 25 | MC | | |
| Kevin Kisner | 58 | 43 | 18 | 76 | 49 | 37 | MC | MC | 12 | |
| Phil Mickelson | | 22 | 33 | 2 | MC | MC | 18 | 20 | 64 | 2 |
| Brian Harman | 2 | | | | | | MC | MC | MC | MC |
| Kevin Chappell | 23 | 7 | MC | 53 | MC | | 43 | | 46 | |
| Bernd Wiesberger | 16 | 43 | MC | MC | MC | 34 | MC | 68 | MC | 22 |
| Thomas Pieters | MC | 4 | 86 | 30 | | | | | | |
| Jason Dufner | MC | 33 | 60 | 22 | 8 | MC | 68 | 58 | 18 | 49 |
| Rafa Cabrera-Bello | 42 | MC | 49 | 39 | 32 | 17 | MC | 40 | | |
| Brandt Snedeker | 9 | 27 | 56 | 22 | MC | 10 | 12 | MC | 8 | MC |
| Marc Leishman | 27 | 43 | 60 | 53 | 18 | MC | MC | 2 | MC | |
| Si Woo Kim | 13 | MC | MC | | | | | | | |
| Branden Grace | 50 | 27 | 4 | 72 | 5 | MC | 3 | 20 | 4 | MC |
| Bill Haas | 5 | 36 | 56 | 9 | 51 | 24 | 65 | MC | MC | 12 |
| Jimmy Walker | MC | 18 | 1 | MC | MC | 29 | MC | 30 | 58 | 38 |
| Matthew Fitzpatrick | 35 | 32 | 49 | MC | 54 | 7 | | | | |
| Charley Hoffman | 8 | 22 | MC | 77 | 37 | 29 | MC | MC | MC | 9 |
| Danny Willett | Wd | MC | 79 | 53 | 37 | 1 | 54 | 6 | MC | 38 |
| Wesley Bryan | MC | | | | | | | | | |
| Pat Perez | MC | 18 | | | | | MC | | | |
| Ryan Moore | | 9 | 70 | 46 | 32 | MC | 37 | MC | MC | 12 |
| Bubba Watson | MC | MC | 60 | 39 | 51 | 37 | 21 | MC | MC | 38 |
| Emiliano Grillo | MC | 51 | 13 | 12 | 54 | 17 | 61 | | | |
| Ross Fisher | MC | 41 | 42 | MC | | | MC | 68 | | |
| Billy Horschel | MC | | 79 | MC | 32 | 17 | 25 | 30 | 25 | MC |
| Russell Knox | MC | MC | 22 | 30 | 23 | MC | MC | MC | | |
| Gary Woodland | 50 | MC | MC | 12 | | | | 58 | MC | MC |
| Hideto Tanihara | MC | MC | 33 | MC | 51 | | | | | |
| JB Holmes | 12 | 50 | MC | 3 | MC | 4 | 24 | MC | 27 | MC |
| Brendan Steele | 13 | 27 | MC | MC | 15 | | 12 | | | |
| Russell Henley | 27 | 11 | 22 | MC | | | 12 | 20 | MC | 21 |
| Adam Hadwin | 60 | 36 | | | | | | | | |
| William McGirt | 55 | 22 | 10 | MC | MC | | | | | |
| Charles Howell | | | | | | | 65 | | | |
| Lee Westwood | 55 | 18 | 85 | 22 | 32 | 2 | 43 | 49 | 50 | 46 |
| Webb Simpson | 35 | MC | 13 | 39 | MC | 29 | 54 | 40 | 46 | 28 |
| Kyle Stanley | | | | | | | | | | |
| Byeong Hun An | MC | 33 | MC | 59 | 23 | MC | MC | MC | MC | |
| Martin Kaymer | 35 | 16 | 7 | 36 | 37 | 49 | 12 | 12 | MC | MC |
| Yuta Ikeda | MC | MC | 33 | 72 | MC | | | MC | | |
| Chris Wood | MC | MC | MC | Wd | 23 | 42 | MC | | | |
| Tony Finau | | | MC | 18 | MC | | 10 | | 14 | |
| Jeunghun Wang | MC | MC | MC | MC | | | | | | |
| Anirban Lahiri | | | MC | 68 | MC | 42 | 5 | 30 | MC | 49 |
| Kevin Na | 32 | MC | 22 | 22 | 7 | 55 | MC | 58 | 46 | 12 |
| Andy Sullivan | | 48 | 49 | 12 | 23 | MC | MC | 30 | MC | |
| Jhonattan Vegas | MC | MC | 22 | | | | | | | |
| Sean O`Hair | MC | MC | | | | | 72 | | | |
| Shane Lowry | 46 | MC | MC | MC | 2 | 39 | MC | MC | 9 | MC |
| Zach Johnson | 27 | MC | 33 | 12 | 8 | MC | MC | 1 | 72 | 9 |
| Dylan Frittelli | | | | | | | | | | |
| Thorbjorn Olesen | | | MC | MC | | | | | | |
| Joost Luiten | | | 33 | MC | | | MC | MC | 39 | MC |
| Soren Kjeldsen | | 36 | 33 | 9 | MC | 7 | MC | MC | | |
| Alexander Levy | MC | | | | | | MC | MC | 27 | |
| Steve Stricker | 16 | 16 | 42 | 4 | | | 30 | | | 28 |
| Xander Schauffele | 5 | | | | | | | | | |
| Jamie Lovemark | 27 | | MC | MC | | | | | 18 | |
| Ian Poulter | | | | | | 49 | MC | MC | 54 | 6 |
| Sung Kang | | | | | 18 | | | | | |
| Peter Uihlein | MC | | | | | | | | | |
| Martin Laird | 32 | | | | | | MC | | | |
| Brandon Stone | 35 | | MC | MC | | | | | | |
| Fabrizio Zanotti | | | | | | | | | | |
| Thongchai Jaidee | | | 73 | 22 | | 57 | MC | 65 | MC | 55 |
| Kyung-Tae Kim | | | MC | 53 | MC | | | | | |
| Pablo Larrazabal | | | | | | | MC | MC | | |
| Scott Hend | | | 42 | 72 | | | | MC | | |
| Bryson DeChambeau | MC | | | | 15 | 21 | | | MC | |
| Hao Tong Li | 68 | | | | | | | | | |
| Young-Han Song | | | 56 | | | | | | | |
| Mike Hendry | | | | | | | | | | |
| David Lipsky | | | | | | | | 58 | | |
| Andrew Johnston | 42 | | 60 | 8 | 54 | | | | | |
| Ryan Fox | | | | | | | | 49 | | |
| Alexander Bjork | | | | | | | | | | |
| Yusaku Miyazato | 60 | | | MC | 23 | | | | | |
| David Horsey | | | | | | | | | | |
| Roberto Castro | MC | MC | 66 | | | | | | MC | |
| Robert Streb | | | 7 | MC | MC | MC | 10 | 18 | 42 | MC |
| Michael Lorenzo-Vera | | | | | | | | | | |
| Aaron Baddeley | | | 49 | | | | | | | |
| Richard Bland | | | | | | | | | | |
| Cameron Smith | | | | | 59 | 55 | 25 | | 4 | |
| Matthew Southgate | | | | 12 | | | | | | |
| Chan Kim | MC | | | | | | | | | |
| Stewart Cink | 46 | | | | | | | 20 | | |
| Padraig Harrington | | | 13 | 36 | | | MC | 20 | | MC |
| Richie Ramsay | MC | | | MC | | | MC | 68 | | |
| Phachara Khongwatmai | | | | MC | | | | | | |
| Andrew Dodt | | | | | | | | | | |
| Matthieu Pavon | | | | | | | | | | |
| Jbe Kruger | | | | | | | | | | |
| Prayad Marksaeng | | | | | | | | | | |
| Julian Suri | | | | | | | | | | |
| Darren Fichardt | | | | | | | | | | |
| Anthony Wall | | | | MC | | | | 12 | | |
| David Drysdale | | | | | | | | | | |
| Paul Waring | | | | | | | | | | |
| Sebastian Munoz | | | | | | | | | | |
| Shaun Norris | | | | | | | | | | |
| Adam Bland | | | | | | | | MC | | |
| Shiv Kapur | | | | | | | | | MC | |
| Callum Shinkwin | | | | MC | | | | | | |
| Paul Lawrie | | | | 63 | | | | 40 | | |
| Yikeun Chang | | | | | | | | | | |
| Darren Clarke | | | MC | 30 | | MC | MC | MC | MC | 52 |
| Ashley Hall | | | | | | | | | | |
| Ernie Els | 55 | 53 | 66 | MC | MC | MC | 25 | 65 | 54 | 22 |
| Matthew Griffin | | | | | | | | | | |
| Stuart Manley | | | | | | | | | | |
| Austin Connelly | | | | | | | | | | |
| Mark Foster | | | | | | | | | | |
| Gi-Whan Kim | | | | | | | | | | |
| Kent Bulle | | | | | MC | | | | | |
| Toby Tree | | | | | | | | | | |
| Robert Dinwiddie | | | | | | | | MC | | |
| Maverick McNealy | MC | | | | | | | | | |
| Laurie Canter | | | | | | | | | | |
| Paul Broadhurst | | | | | | | | | | |
| David Duval | | | | Wd | | | | 49 | | |
| John Daly | | | MC | MC | | | MC | MC | | |
| Todd Hamilton | | | | MC | | | | MC | | |
| Tom Lehman | | | | | | | | MC | | |
| Sandy Lyle | | MC | | MC | | MC | | MC | | MC |
| Mark O`Meara | | MC | | 63 | | MC | | 78 | | 22 |
| Nick McCarthy | | | | | | | | | | |
| Joseph Dean | | | | | | | | | | |
| Adam Hodkinson | | | | | | | | | | |
| Haydn McCullen | | | | | | | | | | |
| Luca Cianchetti | | | | | | | | | | |
| Connor Syme | | | | | | | | | | |
| Ryan McCarthy | | | | | | | | | | |
| Harry Ellis | | | | | | | | | | |
| Alfie Plant | | | | | | | | | | |
Discover the latest articles