The Punter's In-Play Blog: Is Bubba poised for a fourth win in 2018?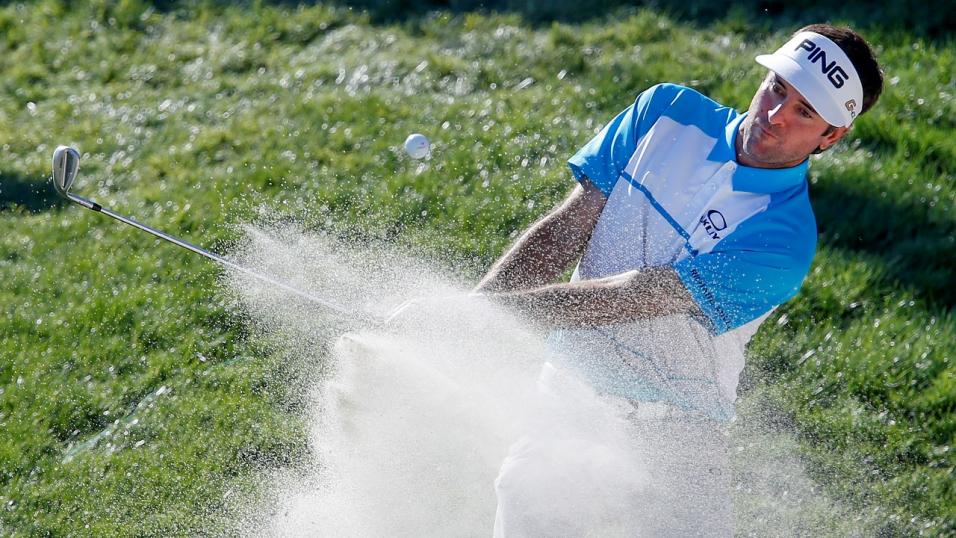 Bubba Watson - in with a chance of another PGA Tour win
Erik Van Rooyen is clear in Ireland but it's a close-run race at the Greenbrier Classic. Our man takes a last look at both events before the fourth and final rounds here...
"If forced to name a player to win I'd probably plump for Bubba Watson, who's already won three times this season. He converted form the front at the Northern Trust Open and the Genesis Open but he won the Travelers by three strokes having trailed by six with a round to go, so he certainly won't view three as an unsurmountable deficit."
10:50 - July 08, 2017
There's just one round to go at the Irish Open and 28-year-old South African, Erik Van Rooyen, has put himself in pole position to win his first European Tour event. Here's the latest standings with prices to back at 10:40.
Erik Van Rooyen -14 1.910/11
Ryan Fox -10 8.07/1
Joakim Lagergren -10 9.08/1
Danny Willett -9 15.5
Russell Knox -8 13.5
-7 and 42.041/1 bar
The stats suggest Van Rooyen is a great bet at just a shade of odds-on. Since 1996, four-stroke 54-hole leaders on the European Tour have a 78% strike rate.
Van Rooyen won twice last year - once on the Challenge Tour and once on the Sunshine Tour in his native South Africa - so he looks primed to take the next step. This is the third time he's led with a round to go and on the two previous occasions he lost one and won one. He failed to convert a one-stroke lead at the Kazakhstan Open in September last year but less than a month later he successfully converted a two-stroke 54-hole lead at the Hainan Open.
Van Rooyen was dreadful at the Qatar Masters back in February, when he sat just one off the lead at halfway before plummeting to 59th through 72 holes but it looks like he's learnt from the experience if yesterday's performance is anything to go by and he looks a good thing to me at the prices on offer.
I recognize he's trying to win a huge prestigious event and that four strokes could soon go if the nerves really strike but the stats suggest he should be a lot shorter than he is and there'll be plenty of worse odds-on chances around today.
Ryan Fox, who's won twice on the PGA Tour of Australasia and twice on the Challenge Tour, has a very similar profile to the leader and he's the one the market favours over recent Sicily Open winner, Joakim Lagergren, who's also tied for second and four back, but I'd favour the Swede. Having already won a European Tour event, and having done so as recently as May, I suspect Lagergren will have the edge mentally over the New Zealander but if Van Rooyen is to get jittery, the winner could easily come from further back and I certainly haven't given up on Jon Rahm just yet.
I'm not one for taking odds-on but I felt Van Rooyen was too big this morning at 1.9720/21 so I've backed him to recover stakes on the event.
I managed to resist the temptation to get involved at the Greenbrier Classic last night but I was glad to see Webb Simpson drop away and I've tweaked my book again this morning. Here are the latest standings, together with prices to back at 10:45 and the state of my lay book.
Harold Varner III -14 6.05/1 +£146
Kelly Kraft -14 7.87/1 -£242
Xander Schauffele -13 4.77/2 +£167
Kevin Na -13 6.611/2 -£174
Sam Saunders -12 19.018/1 +£736
Bubba Watson -11 9.417/2 +£120
Anirban Lahiri -11 24.023/1 +£15
Joel Dahmen -11 46.045/1 +£736
-10 and 42.041/1 bar
I always struggle to make decisions when laying but I've decided to take on Kelly Kraft and Kevin Na here and make everyone else (for now) a winner.
Kraft has just one off the pace Web.com Tour win to his name and Na tends to get in his own way in-the-mix so I'm happy to oppose those two and see where I go from there.
As highlighted in the In-Play Tactics section of the preview, no previous winner of the event has been leading after any round so the stats are against Kraft and Harold Varner III and we've seen winners and playoff protagonists come from miles back with a round to go so I'm going to see how I feel later and decide how to play it.
If forced to name a player to win I'd probably plump for Bubba Watson, who's already won three times this season. He converted form the front at the Northern Trust Open and the Genesis Open but he won the Travelers by three strokes having trailed by six with a round to go, so he certainly won't view three as an unsurmountable deficit.

09:40 - July 07, 2017
After 36 holes around the resplendent Glashedy Links at Ballyliffin, three outsiders are tied for the lead at the Irish Open and pre-tournament 100.099/1 shot, Ryan Fox, heads the market. Here's the latest standings with prices to back at 9:30.
Ryan Fox -8 7.06/1
Erik Van Rooyen -8 11.521/2
Matthieu Pavon -8 13.012/1
Joakim Lagergren -7 10.519/2
Danny Willett -6 16.015/1
Sam Horsfield -6 21.020/1
Zander Lombard -6 55.054/1
Lee Westwood -5 19.018/1
Russell Knox -4 14.013/1
Peter Uihlein -4 19.018/1
Christiaan Bezuidenhout -4 130.0129/1
-3 23.022/1 bar
This is a tricky puzzle to solve. The three players tied for the lead are all looking for their first wins on the European Tour and the immediate chasers are hard to make a case for.
I've already sided with recent Sicily Open winner, Joakim Lagergren, and I'm happy to have him onside but it's hard to make a case for anyone else on the leaderboard. It's great to see Danny Willett and Lee Westwood in-the-mix again after so long but it's been a while since either won and quite how they'll fare over the weekend is anyone's guess.
Dave Tindall's each-way pick, PGA Tour winner, Russell Knox, is an obvious danger but he's short enough given he trails by four strokes and I'm far from convinced that the eventual winner is listed above. The likes of Chris Wood and Thorbjorn Olesen look menacing on -3 and it would be foolish to write off Rory McIlroy or Jon Rahm yet, even though they trail by seven.
He may trail by seven, but Rory's arguably playing better golf tee-to-green than anyone else in the field but his putting continues to frustrate. The vast majority are missing left so he clearly has some sort of issue that needs resolving and having watched him for two days, I'm not in the least bit surprised to see that he ranks 140th for Putts Per Round. He needed 32 on Thursday and 33 on Friday and nobody wins putting that poorly.
Of course, something could suddenly click and he could race through the field today but what's far more likely to happen is the putting doesn't improve and frustration leaks in to his long game. Rahm looks a better proposition but this is a fiddlier track than I expected and I fancy he'll trip up somewhere, no matter how well he plays.
I've added Wood and Olesen at juicy prices but only modestly as this really does look like a minefield so I'm happy to remain cautious.
Over at the Greenbrier Classic, first round leader, Webb Simpson, started his second round poorly but frustratingly, given I'd layed him, he recovered well and now sits one off the lead. Here are the latest standings, together with prices to back at 9:35 and the state of my lay book.
Kelly Kraft -13 11.010/1 -£393
Webb Simpson -12 3.45 -£399
Anirban Lahiri -12 7.06/1 -£395
Jason Kokrak -11 16.015/1 +£594
Harold Varner III -10 30.029/1 +£594
Whee Kim -10 34.033/1 +£594
Sam Saunders -9 55.054/1 +£594
-8 and 20.019/1 bar
I'm going to try and leave this alone today. I'm going to be completely absorbed by the football this afternoon and I'm going out for the evening straight after the game so what I should do is leave it all alone and access the situation tomorrow but that's always easier said that done.
I've layed pre-event outsider and halfway leader, Kelly Kraft, now also, so the front three on the leaderboard, along with Joaquin Niemann, who sits tied for eighth and five off the lead, are the only substantial losers in the book now. Niemann currently stands to lose me £279. Phil Mickelson is a loser for £25 and should I do nothing further and Tony Finau went on to win that would cost me a fiver, but everyone else in the filed is on my side at present.
I'm hoping for a vastly different leaderboard this time tomorrow when I'll take another look and decide on tactics for round four.

10:00 - July 06, 2017
Having backed the defending champion, Jon Rahm, before the off at the Irish Open, and having seen him play some ropey stuff yesterday morning, it would have been very easy to be fed up with the event already but Ballyliffin is a stunning venue and with the sun out, just watching the play makes up for a seemingly lost wager.
Other than throwing a few pounds at this morning's fast starter, Joakim Lagergren, at 23.022/1, I'm playing the waiting game here and I'll take a proper look at the state of play at halfway. Lagergren should have been onside from the start really given he was matched at a whopping 330.0329/1 before the off and that a case for the Swede wasn't hard to make. He won at a links venue in Sicily four starts ago and he lost a playoff in Qatar last year on a track where links specialist shine year after year. Isn't hindsight a marvellous thing!
Anyway, I'm loathed to get too involved because with two cracking World Cup quarter-finals to look forward to today, I know I'll get wrapped up in the football later. The France - Uruguay game (previewed here) should be a great match and I just can't wait for the Brazil v Belgium clash (previewed here).
I'm also reluctant to get involved as tomorrow could be a complete write-off! I was philosophical before the Colombia game, knowing they would be tough opponents and that defeat was far from unlikely but all of a sudden there's a genuine chance of England reaching a World Cup final, and I confess, the golf this week is not now the priority. Maybe it will be again by Saturday night!
Over at the Greenbrier Classic, Webb Simpson has started like a scalded cat - zipping around the Old White TPC in just 61 strokes. He's a warm favourite at less than 3/1 but Dave Tindall's fancy, Joaquin Niemann, is hot on his heels in third and there's a very long way to go yet.
As highlighted in the In-Play Tactics section of the preview, nobody has won this title having led after any round so the winning post is a long way off yet. I layed almost everyone that was trading at less than 100.099/1 before the off and I layed Simpson again last night so my book looks decidedly rubbish at the moment but it's very early days. Here's the first round leaderboard with prices to back and the figures I stand to win or lose, just to demonstrate the plan a bit clearer. I had no intention of laying anyone this early but I felt Simpson was just a shade too short last night. Hopefully I don't regret my decision. Simpson ran away from the field in round two of the Players Championship recently and he's in cracking form at a venue that clearly suits him so it's certainly not without risk. If he does that again I'll accept my losses and move on but golf rarely works like that so it'll be interesting to see how things stand tomorrow.
Webb Simpson -9 3.613/5 -£503.00
Whee Kim -8 30.029/1 +£381
Joaquin Niemann -7 9.617/2 -£229
Kelly Kraft -6 75.074/1 + £381
-5 and 20.019/1 bar

Irish Open Pre-Event Selections:
Jon Rahm @ 8.615/2
Lucas Bjerregaard @ 95.094/1
In-Play Picks:
Joakim Lagergren @ 23.022/1
Chris Wood @ 34.033/1
Thorbjorn Olesen @ 34.033/1
Erik Van Rooyen @ 1.9720/21

Greenbrier Classic Pre-Event Selections:
Scott Piercy @ 90.089/1
James Hahn @ 130.0129/1
Ben Crane @ 220.0219/1
Stephan Jaeger @ 210.0209/1
Fabian Gomez @ 340.0339/1

*You can follow me on Twitter @SteveThePunter
Discover the latest articles
Read past articles