Solheim Cup 2015: Strap yourselves in for a tight one as US attempt to turn tide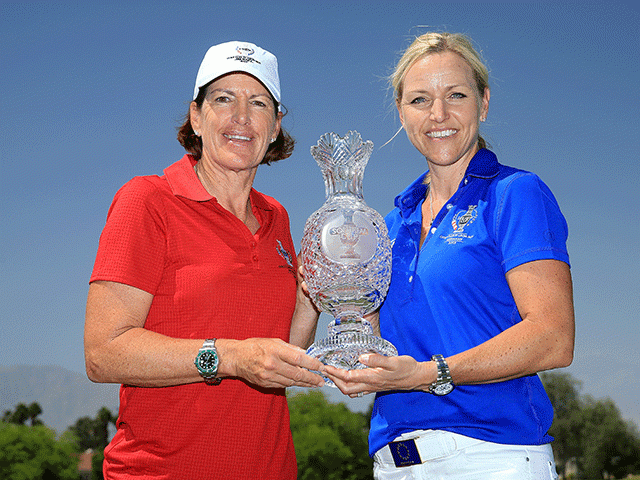 It's been advantage Europe since 2011 but can Juli Inkster mastermind a win for US?
Written off a few years back, Europe's women have emulated the Ryder Cup teams of a generation ago with staggering against-the-odds victories. Matt Cooper runs through the history, teams and key stats ahead of the 2015 Solheim Cup
"Europe caught a wave in 2011 and rode it sensationally in 2013, but it would be natural if it has petered out a little and they find the going a bit tougher this time. I suspect it will be tight and am happy to get the draw onside."
Match History
Ahead of the 2011 match in Ireland there was plenty of muttering that the event needed changes. Europe had won just three of the 11 contests and were looking down the barrel of a fourth consecutive defeat. But victory that year turned the match around, in much the same way that The Belfry in 1985 re-energised the Ryder Cup. In fact the parallels continued with Europe going on to claim a first victory on American soil two years ago (just as the men did in 1987). The word victory doesn't really cover the 2013 match however - the Americans were walloped 18-10 in their own backyard. This year the Cup is in Germany for the first time. Europe is seeking the hat-trick and the Americans are desperate to stop the rot.

Venue - St Leon Rot GC
Not much to go on. The home team advantage is minimal, not much more than a post-Ricoh Women's British Open visit. Some argue that length from the tee is an advantage. If it is, it might favour the visitors, but it's conjecture.

TV Coverage
Friday - Sky Sports 1 and 4 from 6.30am
Saturday - Sky Sports 4 from 6.30am
Sunday - Sky Sports 4 from 9am

Factors
One obvious thought is that there is very little change in personnel from 2013. On the one hand that gives Europe hope of a repeat, on the other it gives those Americans who were humbled the chance to atone.
A look at individual achievements makes you gasp at Europe's recent success. The Americans have more major winners (7-3), claimed more LPGA titles (62-26) and have vastly superior world rankings (indeed all 12 of the Americans are ranked 48 or better - and only four Europeans are).
So how have Europe toppled them twice in recent times? Simple: only four of the Americans have won more points than they've lost in the Solheim Cup and nine of the Europeans have done so. If that continues the trophy will stay with Europe. But will it? Regression to mean surely suggests that the home players will struggle to maintain their success and the Americans will up their game.
American captain Juli Inkster is on a mission to get her team concentrating on victory rather than face paint and nail varnish. She also says they are "bringing their lunchboxes". It's an American phrase that indicates hard work is required, rather than a hint that Cristie Kerr turns her nose up at sauerkraut or Michelle Wie has a problem with pretzels. Europe's super Swedish captaincy team is led by Carin Koch and has the quiet, but influential, voice of Annika Sorenstam in the background.

The teams and stats worth noting - Europe
The home side is headed by two veterans, Suzann Pettersen (7/2 to be top European point scorer) and Catriona Matthew (14/1). Pettersen is good in foursomes, superb in fourballs (7.5 points from 10), but oddly struggles in singles with just one win in seven (plus three halves). Matthew is the other way round: superb in singles (5.5 points from seven), while merely solid in foursomes and fourballs. Pettersen has the better form this season.
Three younger players starred two years ago. Caroline Hedwall (10/1) won five of five in 2013 and has 7.5 points from nine in her Solheim career; she loves battling Americans. Carlota Ciganda (14/1) was not far behind winning three of three on debut. England's Charley Hull (13/2) also impressed, most obviously in thrashing Paula Creamer. All three have ragged form this season, but all three do have a game suited to match play.
The core of the team has proved itself reliable under pressure. Sweden's Anna Nordqvist (9/2) is an excellent partner (winning six of her nine foursomes and fourball matches). Azahara Munoz (7/1) loves team and match play golf (her two LPGA titles have come that way). Karine Icher (16/1) claimed 2.5 points from four in 2013 and Gwladys Nocera (18/1) was superb on her last appearance (in defeat in 2009, winning 3.5 points from four away from home). Caroline Masson (14/1) is a bit fretful in contention in stroke play, but did win 2.5 points on debut two years ago.
Both Sandra Gal (12/1) and Mel Reid (16/1) are returning after debuts in 2011 when they claimed half a point and one point respectively.

The teams and stats worth noting - USA
If Inkster is to win she needs to deal with her major under-performers. Stacy Lewis (4/1 to be top US points scorer), Cristie Kerr (15/2), Lexi Thompson (5/1) and Brittany Lincicome (10/1) have all won major championships and yet none of them has won more than 50% of their points in this event. Thompson deserves a second chance after debuting in 2013, but the rest need to pull their socks up. Lewis, the former world number one, has just 2.5 points in seven matches, and Kerr has won just one singles match in seven and just two of nine foursomes.
Michelle Wie (10/1) and Paula Creamer (8/1), unlike those above, have won more than half their points, but Wie has serious injury concerns and Creamer ... well, ahead of the singles in 2011 she had been a colossus for the Americans, winning 13.5 points from 18. She was then thrashed by Catriona Mathew in the singles and claimed only one of four points in 2013.
Morgan Pressel (9/1) is strong: she won four of 4 in defeat in 2011, has claimed 60% of her career points and is bang in form. Brittany Lang (12/1) quietly gets the job done and is undefeated in three singles.
Angela Stanford (18/1) is unlikely to have any Solheim Cup record books on her coffee table. She lost all three in 2011, all four in 2013 and has claimed just 3.5 points from 12 foursomes and fourballs. Gerina Piller and Lizette Salas struggled on debut in 2013, but weren't alone - like Thompson they deserve a second chance.
Rookie Alison Lee (14/1) completes the team. A successful college and Curtis Cup performer, Inkster seems keen to utilise her energy.

Saturday night
In the 21st century the Europeans have never once faced a deficit going into the singles. Five times they have led, three times the match was tied. In all 15 matches they have trailed just twice. It might be worth noting if you like to trade.

Conclusion
Inkster looks primed for a fight and it might be key that she has played - and still plays - with her team; she might know which buttons to push and when. It also seems inconceivable that the likes of Lewis and Thompson won't win more points than they have in recent times. Europe caught a wave in 2011 and rode it sensationally in 2013, but it would be natural if it has petered out a little and they find the going a bit tougher this time. I suspect it will be tight and am happy to get the draw onside.

Selections
Given that history so strongly suggests that Europe will be faring well on Saturday evening, if you're that way inclined, the outright price might be tradeable. I'm going to suggest playing the 10/1 draw and keeping an eye on it shortening at some stage.
In top points scorer markets, I'm interested in the prices of Hedwall and Ciganda. The layers are happy to ignore their event record and focus on the poor form, but I think both will be given the chance to prove themselves early on, and with strong partners too. So which one? I'm tempted by Ciganda - she's proved she can peak in two different team events (she also excelled in the LPGA's International Crown), there's a good chance she will play with Munoz and/or Pettersen and 14/1 each way is value.
For the Americans Thompson interests me because I just cannot see her struggling a second time, but at the prices 9/1 Morgan Pressel gets the nod. She's as tough as they come and I believe Inkster will make her a key part of the strategy, that means starts and quality partners.
Carlota Ciganda Top Euro at 14/1 e/w
Morgan Pressel Top US at 9/1 e/w
Back the draw at 10/1 and trade @ 4.03/1

I'll be in Germany all week, follow me on Twitter @MattCooperGolf and feel free to ask questions.