The Punter's De-Brief: Seve-inspired Europe crush Team USA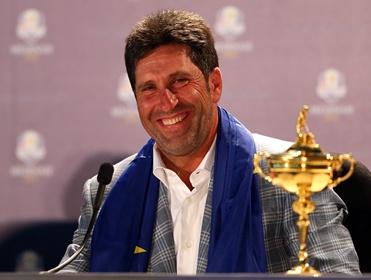 A shell-shocked but happy Olly with the Samuel Ryder Trophy
Our man looks back on an incredible weekend, reflecting on what will surely be forever remembered as the Medinah Miracle...
"Colin Montgomerie has been dubbed Mr Ryder Cup in recent years but I'm afraid he may have lost that title now. Ian Pouter's brilliance on Saturday evening, when he single-handedly dragged Europe out of the dirt and into a position from where they could dare to dream was simply stunning. "

It's the morning after the night before and incredibly, it wasn't just a wonderful dream. Europe really did pull off the greatest comeback in Ryder Cup history, winning Sunday's singles 8 ½ - 3 ½ to overturn a 10-6 deficit and win by 14 ½ - 13 ½.
It was a day of high drama from start to finish, from Rory McIlroy's inability to tell the time to Martin Kaymer's nerves of steel and Tiger Woods' par miss and gracious concession on the final green. It's hard to know where to start, but I'll have a go!
My Bets
As has been the case with the Ryder Cup for a while now, I didn't really get too involved - though I wish I had now! My fancy for Top European Ian Poulter duly obliged and when Europe drifted to almost 3.02/1 before the off I had a very small bet on them to win, so it was a nice enough week but it could have been much better if I'd have properly worked the event...
Market moves
The USA hardened up considerably in the lead up to the event and with a few high street firms dangling European carrots to those who can bet with them, the eventual winners just drifted. After a smart start they firmed up to 2.1411/10, from a starting price of around 2.89/5, but momentum soon shifted the way of the Americans and they did nothing but drift thereafter, reaching a high of 27.026/1.
The Americans traded at a low of 1.061/18 and the draw hit a high of 80.079/1 and a low of 1.121/8. I haven't spoke to Paul Krishnamurty yet but given his advice before the off, I suspect he's had a good week.

What have we learnt for next time?
Following Paul's advice re the draw will make perfect sense again next time around. In Wales two years ago, the Americans very nearly pulled off a dramatic turnaround and it's hard to see either side running away with the event at Gleneagles in 2014 either.
Six of the last 11 Ryder Cups have now finished 14 ½ - 13 ½ and it really wouldn't be much of a surprise to see that go to seven from 12.
Colin Montgomerie has been dubbed Mr Ryder Cup in recent years but I'm afraid he may have lost that title now. Ian Pouter's brilliance on Saturday evening, when he pinched the vital final point of the session, after birdying five in-a-row to single-handedly drag Europe out of the dirt and into a position from where they could dare to dream was simply stunning. I was completely gobsmacked when Jose Maria Olazabal dropped him from the four-balls on day one, a move I still maintain was a big mistake, but it just goes to show how perilous betting on the points lists can be.
I feel desperately sorry for anyone that backed Phil Mickelson or Keegan Bradley to be Top US Points scorer. They gelled remarkably well and everyone was stunned when they were dropped from Saturday's second session. After both men lost in the singles, and poor Phil still doesn't know how he did, they finished the event on just three points, alongside Jason Dufner and the two Johnsons and anyone that backed them saw their winnings diluted considerably.
Was it the best Ryder Cup ever?
Without a doubt it was. The US pulled off the exact same comeback at Brookline in 1999 but that was soured by some of their team's antics. Several factors made this the best ever. Poulter's heroics and Justin Rose's finish against Phil will stick in the memory but the sporting way in which the Americans handled the defeat was commendable in the extreme.
Will Jim Furyk ever recover?
As exciting as the Ryder Cup is I just don't find myself heartily cheering on Europe. I have as much affinity with the Americans I follow week after week as I do for the Europeans and, brilliant as it was to see Kaymer sink the winning putt, it was heartbreaking to watch dear ole gentleman Jim collapse. The poor old warrior looked like he was going to be physically sick when his par save slipped by in his crucial match against Sergio Garcia and for me that was the saddest moment of the week and not one to jump up and down screaming at.
He's had a torrid few months, narrowly failing to win the US Open before tossing away the WGC Bridgestone Invitational and now this. I'm afraid his nerves are shot and as brutal and hard-nosed as it is, taking on Furyk going forward is now essential.

What next for Tiger Woods?
A dreadful event for Mr Woods, who wasn't at the races all week. We should remember his grace on the final green, when he didn't put Francesco Molinari through the ordeal of putting for a half, but we'll remember the missed par putt more and his public may find it hard to forgive this week's effort.
Before the last Ryder Cup Tiger went a long way to restoring a tattered reputation with an inspired performance at Celtic Manor but he may well have undone a lot of that good work here. Those who follow the game closely know that he hasn't been at his best, despite some great results, and that this week's off-week wasn't a huge surprise, but it's inevitable that many US fans will accuse him of lacking desire and when they look for the weak link, they'll look no further than Woods.
Final thoughts
The spirit of Seve clearly lives on and the legend will do nothing but grow and grow after this but it's not all about European glory. I've mentioned poor Jim Furyk's finish and Woods' lacklustre week's work but if you want an example of out-and-out American buffoonery then look no further than this piece, written yesterday. Poor Gene Wojciechowski may never live this down. I can find empathy for Furyk, Mickelson (in particular) and many of the other team members but I've found it hard to sympathise with Gene. Though, to be honest, I haven't even tried and nor should I!
Yesterday's heroics are a fillip for the entire continent and in particular for the beleaguered Spanish. Does Olly know anything about finance I wonder? Can we not get him to sit down with Angela Merkel et al, point to the sky a few times and allow him to inspire. There may even be a chance for the Euro after all!
Anyway, it's back to normal this week and we've got two events to look forward to. A number of Ryder Cuppers play in the Alfred Dunhill Links Championship and there's a fair field assembling stateside for the JT Shriners Open. I'll be back either tomorrow or on Wednesday with a preview for each event.

Discover the latest articles