Ryder Cup 2016: Dave Tindall's best bets for Hazeltine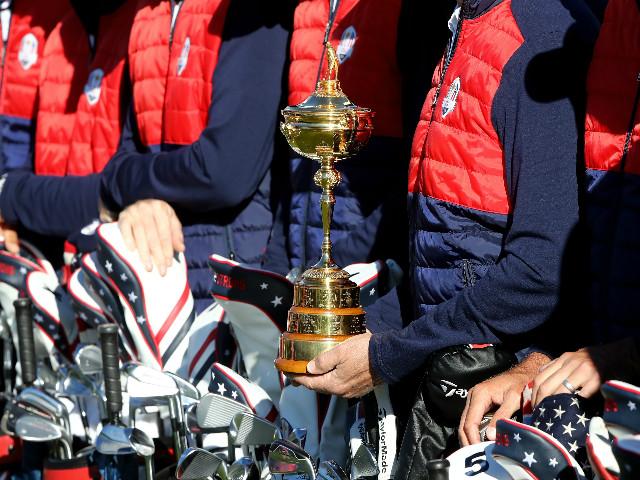 Will the Ryder Cup return to American hands?
Dave Tindall looks at both the main and side markets for his top wagers on this year's Ryder Cup at Hazeltine...
"Five of the last seven Ryder Cups have been won by a margin of at least three points and I have a sneaking suspicion the Americans have a big win in them soon."
Outright market

With the USA having lost as odds-on favourites fives times in the last six Ryder Cups they've been expected to win, I'm loathe to take Davis Love's team at 4/6.

And yet there are good reasons to think they'll get it done this time.

Love got lots of things right at Medinah and it took a set of freak circumstances to lose from 10-6 up overnight and later when seemingly having done enough to get it done in Sunday's singles.

There are six rookies on the European side and that looks an awful lot. The doubters will hit back with the fact that the USA won with half-a-dozen newbies in 2008 and Europe did the same in 2010. The crucial difference, though, could be that both teams were playing at home.

The crowds at Medinah in 2012 were raucous, after all Chicago is a huge sporting town. Europe pulled off their Houdini act with just a single rookie (Nicolas Colsaerts). Could they have handled such a charged atmosphere with six?

The last time an away side fielded six rookies was Mark James' Europe in 1999. He almost cajoled them over the line but his tactic of trying to hide them over the first two days proved costly in the singles and they lost to a late American fightback.
Handicap

This is where I prefer to support the Americans.

The Exchange handicap of -2.5 shows the Americans trading at 2.26/5. Five of the last seven Ryder Cups have been won by a margin of at least three points and I have a sneaking suspicion the Americans have a big win in them soon. Even to the extent of the 16½-11½ victory at Valhalla under Paul Azinger.

Justin Rose won this market in 2014 (Gleneagles), Ian Poulter in 2012 (Medinah), Luke Donald in 2010 (Celtic Manor) and, going back, Lee Westwood shared it in 2006 (The K Club). All Englishmen by the way.

But perhaps a more significant common denominator was that all four had previous course form at that year's venue. Rose had had a top five at Gleneagles in the Johnnie Walker Championship, Poulter had finished T9 in the 2006 PGA Championship at Valhalla, Donald was third in the Wales Open at Celtic Manor just months before the Twenty Ten staged the Ryder Cup while Westwood was a two-time winner over the Palmer Course at the K Club.

This year, four Europeans have good memories of Hazeltine after excellent performances in the 2009 PGA Championship there. Rory McIlroy and Westwood were tied third while Martin Kaymer and Henrik Stenson shared sixth spot.

I don't think Stenson is fit enough to play five matches this year while Westwood was a stronger player then.

Therefore, this past course form adds to the already strong claims of McIlroy and Kaymer. I prefer the former but 7/2 looks a little cramped.

Therefore, I'll back Kaymer in the top Continental Europe market given those doubts over Stenson. Thomas Pieters and Rafa Cabrera-Bello are untested rookies so, despite Sergio being an obvious danger, Kaymer gets the vote at 9/2 on the Sportsbook.

He holed THAT putt at Medinah in 2012 so those good memories should fuel him further after some good play over the summer months.

It's been a difficult market to predict down the years and often won by an outsider.

That can happen when the team overall don't amass many points and Chris DiMarco, a 16/1 shot, won this market with just 2½ in 2004. Patrick Reed traded at 27/1 when the USA lost 16½-11½ at Gleneagles but even when the Americans won by the same scoreline at Valhalla in 2008, a 16/1 shot (Hunter Mahan) took top USA honours.

Dustin Johnson and Zach Johnson both have some course form having posted T10 in the 2009 PGA Championship at Hazeltine and are at opposite ends of the market at 4/1 and 20s.

If forced, I'd pick Reed at 13/2 although it's a tough one to call.

Perhaps more a fun bet than a serious one although history does offer some encouragement.

There have been six aces in Ryder Cup history (Peter Butler 1973, Nick Faldo 1993, Costantino Rocca 1995, Howard Clark 1995, Paul Casey 2006, Scott Verplank 2006). The positive view is that there have been five in the last 11 Ryder Cups; the negative, none in the last four.

Playing the numbers is also off-putting. In a regular 156-man field with a halfway cut and four par 3s, you'll get 1,808 tee-shots at the short holes. In a Ryder Cup, there will be just 288 (128 in fourballs, 64 in foursomes and 96 in singles.

At Hazeltine, the four par 3s this year measure 210 yards (4th), 186 yards (8th), 248 yards (13th) and 176 yards (17th). There's potential at 4 and 8 and, here's some hope for ace backers, Fuzzy Zoeller and John Inman both made a hole-in-one at 4 in the 1991 US Open.

It's 9/2 on the Sportsbook for another so just about backable in a fun way.

As the away side, Europe will hit first and there must be every chance that Darren Clarke will put in place a repeat of 2014.

At Gleneagles two years ago, Paul McGinley sent out one of his elite pairings - Justin Rose and Henrik Stenson - in the morning fourballs. The pressure is always so intense for that very first shot but Rose went first and nailed one, reaching for his tee peg straight away.

Is there any good reason why he shouldn't do so again?

Clarke and his vice-captains have been given a book of stats to peruse which contain incredible detail. So, for example, if the par 3s were all at odd-numbered holes and Stenson had significantly better par 3 stats than Rose, the stats would have suggested that the Swede hit first at 1, 3, 5, 7 etc.

But the par 3s at Hazeltine are split - two at even numbers (4 and 8) and two at odd (13 and 17). It's similar with the four par 5s.

At the time of writing, the market has been pulled. If it comes back, take Rose.

There is a good alternative though and the thinking is similar. Back Rose at 5/1 to be first out for Europe in the singles.

Luke Donald and Graeme McDowell were the lead-off men in 2012 and 2014 respectively but, with a lack of veteran alternatives this time (those two aren't on the team), Rose might get promoted.

Rory has won from slot 3 in the last two so Clarke may stick to that winning formula and leave him there. Lee Westwood (2010) and Sergio Garcia (2008) have both been tried as openers but lost.

As for the Americans, it's easy to see why Patrick Reed has been installed as favourite to hit first. He'll be bursting out of his skin to get going and it would be logical to give him the opening whack.

However, in 2012, Love went with a veteran and put Jim Furyk first into bat after McDowell had hit for the Europeans. That was a foursomes eventually won 1up by McDowell/McIlroy against Furyk/Snedeker.

Furyk was the team's most accurate driver on the PGA Tour that season (4th) while McDowell was the highest Euro (5th) so it made sense that both skippers saw fit to try and set the tone by giving themselves the best chance of hitting that first fairway.

Ryan Moore is the highest American this year at 18th but sending out a rookie would be a big call.

Therefore preference is for the next highest, Matt Kuchar (24th). He's a veteran that Love can rely on and looks a fair price at 15/2.

Recommended Bets
Back USA (-2.5) at 2.26/5.
Back Martin Kaymer to be top Continental European at 9/2 (Sportsbook)
Back a Hole in One at 9/2 (Sportsbook)
Matt Kuchar to hit opening USA tee shot at 15/2 (Sportsbook)
Justin Rose first out for Europe in singles at 5/1 (Sportsbook)

Click here for all our Ryder Cup content
Discover the latest articles