Ryder Cup Trends: History favours underdogs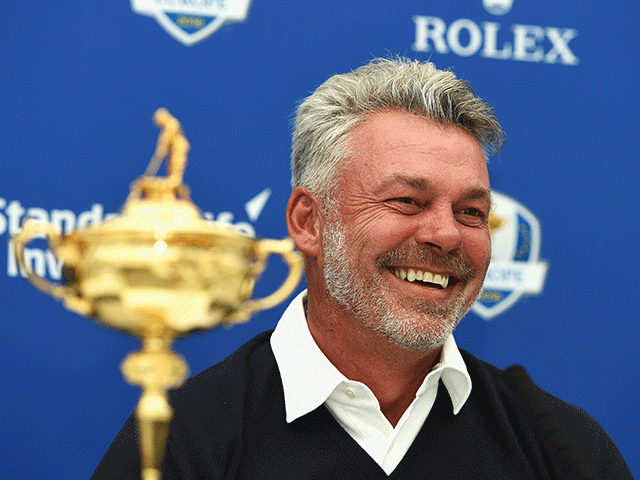 Can Darren Clarke take the underdogs to victory at Hazeltine?
Dave Tindall looks back at the last 10 Ryder Cups to see how accurate the betting markets have proved...
"Do we put our trust in recent history and go with the European underdogs or has this current generation of younger, fearless and perhaps less scarred Americans got the bottle to see it through?"
1995 - USA 13½ Europe 14½
With just one previous victory on American soil, Bernard Gallacher's men are understandably the underdogs at 15/8 although not massively so - a reflection of a line-up that boasts Nick Faldo, Ian Woosnam, Colin Montgomerie, Bernhard Langer and an influential and charismatic if now struggling Seve. The two sides go blow for blow over the first three sessions before the Americans start to justify their status as pre-tournament 1/2 favourites by edging 9-7 in front after the day two fourballs. With Lanny Wadkins' men usually so strong at singles, Europe have a mountain to climb but they do it, Nick Faldo's 1up win against Curtis Strange a pivotal moment. Philip Walton seals the winning point in a 14½-13½ triumph - a genuine team effort with David Gilford (25/1), Costantino Rocca (20/1) and Sam Torrance (8/1) the unlikely trio to finish as joint top Euro scorers with three points each.

1997 - Europe 14½ USA 13½
It's the start of the Tiger era and, at this stage, no-one knows that he's no good in Ryder Cups! Due to his 12-shot win at The Masters along with the superior world rankings of his teammates and the fact that Europe are fielding five rookies, the betting is very lopsided. In fact Europe trade as high as 3/1 in the build-up before going off at 9/4. But those odds fail to take into account the Seve factor. Captain Ballesteros will simply not entertain defeat on his home Spanish soil and by Sunday's singles, the inspired hosts are just 1/5 after establishing a 10½-5½ lead. Tom Kite's Americans are out to 7/1 from a pre-tournament 1/2 at this stage but so nearly pull it off as they win the singles 8-4 to eventually lose by just a single point. Tiger manages just 1½pts from five matches, leaving 20/1 Scott Hoch as their unlikely top points scorer. It goes to form on the European side with Monty (3½pts) justifying 4/1 favouritism in the top European market.

1999 - USA 14½ Europe 13½
After two straight European wins, Mark James' men look all set to complete a hugely unlikely hat-trick as they make a mockery of their 11/4 pre-tournament odds. The visitors charge into a 6-2 lead after day one and maintain the four-point gap after sharing day two 4-4. US skipper Ben Crenshaw faces humiliation having sent his star-studded team into battle as huge 2/7 favourites but says in Saturday night's press conference, "I'm going to leave y'all with one thought. I'm a big believer in fate. I have a good feeling about this." Despite turning up in hilariously bad shirts (did it put Europe off?), they launch an amazing comeback, winning the top six matches and sealing victory when Justin Leonard holes a bomb to defeat Jose Maria Olazabal. That putt sparks an undignified stampede across the green but, by contrast, Payne Stewart shows a touch of class to pick up Monty's ball and give him the final match. That concession has betting implications with 11/4 Monty now tying for top points scorer (3½) with 6/1 Sergio Garcia, 7/1 Jesper Parnevik and 22/1 Paul Lawrie. Hal Sutton, with three points, is top US, with 11/4 favourite Tiger managing just two from five.

2002 - Europe 15½ USA 12½
Put back a year due to the 2001 event being cancelled in the wake of 9/11, both teams stick with their original line-ups. It's the right call but doesn't appear to help Europe's chances with several of their team now in poorer form. The Belfry, where the Americans won in 1993, again plays host and Curtis Strange's men are clear favourites at 1/2 to retain the trophy they wrestled back in 1999. For the seventh time in the last eight matches, Europe lead after day one but Sam Torrance's men are pegged back on Saturday, leaving the match perfectly poised at 8-8. Having won the singles in six of the previous seven Ryder Cups, the US are installed as hot 2/5 favs to win the trophy but Torrance gets a tune out of his team and with Monty leading from the front they storm to a 15½-12½ victory - the biggest winning margin since 1985. Montgomerie, a colossus all week, top scores again (4½pts) but this time as a 9/1 shot having been pushed out due to reports of a bad back. Rookie David Toms, the winner of the previous year's US PGA, is top American (3½pts), also at 9/1

2004 - USA 9½ Europe 18½
Bernhard Langer and Hal Sutton are the two rival captains at Oakland Hills in Michigan and the German outwits his rival to devastating effect. Langer leaves no stone unturned; Sutton relies on homespun theories that prove disastrous, none more so than his decision to pair Woods and Mickelson despite their relationship being uneasy at best. Priced as 13/8 underdogs (US 4/7) before the first tee-shot is struck, Europe crash to 1/3 after winning the opening day 6½-1½. They never let their foot of the gas and power to an extraordinary 18½-9½ win - a scoreline that was available at 175/1. Sergio Garcia and Lee Westwood lead the rout with 4½pts each, the pair priced at 11/4 and 10/1 respectively to top score for Herr Langer. Continuing a theme of unlikely top US points scorers, 16/1 Chris DiMarco proves the best of a bad bunch, just 2½pts enough to win that market. Despite the seemingly overwhelming evidence (this thrashing making it four wins in the last five) that Europe have the USA's number, the pair are immediately installed as joint even money favourites for the 2006 edition.

2006 - Europe 18½ USA 9½
Anything you can do. Fellow Masters winner Ian Woosnam repeats the feat achieved by Bernhard Langer at Oakland Hills and guides Europe to a massive nine-point win at the K Club. At least the market sees the result, if not the scoreline, coming, as Europe go to Ireland as 4/6 favourites against Tom Lehman's men. The tone is set with Tiger hitting his opening tee-shot into the River Liffey (Woods loses his opening two matches) and Europe establishing a 5-3 lead after day one. They're cut to 1/8 after doubling the lead to 10-6 on Saturday and they rub salt into American wounds with a totally dominant display in the singles (8½-3½). For the second Ryder Cup running, Sergio Garcia (5/1 favourite) and Lee Westwood (8/1) are joint top scorers for Europe, the pair earning four points each this time. Tiger does at least rally over the final two days and emerges at top US points scorer with three.

2008 - USA 16½ Europe 11½
After being on the end of two absolute demolitions, the Americans need fresh thinking and they find the perfect candidate in feisty Paul Azinger. While Nick Faldo goes all David Brent, Azinger divides his team into carefully selected 'pods' and turns the tables by using the old Euro trick of declaring his side the clear underdogs, a statement helped by the fact that World No.1 Tiger Woods is out injured. The odds say Azinger is right. Europe are finally put in as 8/11 favourites, with the Americans 6/4 outsiders. Day one is a disaster for Faldo's men as they fail to win a single match and trail 5½-2½ but they're cut back in to 12/5 after having the better of day two and reducing the US lead to 9-7. The canny Azinger outwits Faldo again in Sunday's singles and the Samuel Ryder trophy returns Stateside for the first time since 1999. It's a team effort so 16/1 Hunter Mahan's 3½pts are enough to secure top US scorer honours. Ian Poulter, also 16s, begins his love affair with the Ryder Cup by bagging four points to finish as top European.

2010 - Europe 14½ USA 13½
Much has changed two years on and Europe, with Monty now skipper, are clear 4/7 favourites to win back the trophy at Celtic Manor. As a regular European Tour stop, it's a course they know well and Corey Pavin's unfancied visitors drift to 2/1 at the off as their waterproof suits start falling apart in the bad weather. It's an awkward betting heat as the foul weather and lengthy delays mean the format is changed to two sessions of six matches each on Saturday and Sunday, with the singles carried over to Monday. The USA trade at odds-on after opening up a 6-4 lead but Monty's men fight back to lead 9.5-6.5 going into the singles and they just have enough to get over the line, Graeme McDowell defeating Hunter Mahan in the final match to secure victory by the minimum margin. Tiger, despite being rusty after his break from the game due to the infamous sex scandal and further injury, is joint top US scorer with playing partner Steve Stricker, the pair on offer at 5/1 and 11/2 respectively. Leading the way for Europe are Ian Poulter and Luke Donald, who also score three points out of the possible four available due to the format change.

2012 USA 13½ Europe 14½
Later termed 'The Miracle at Medinah' after Europe's seemingly impossible come-from-behind victory, Jose Maria Olazabal's men start as 6/4 underdogs and get bigger and bigger as the Americans (4/5 at the off) dominate the opening two days. Trailing 5-3 after day one and 10-6 on Saturday night, a potential European fightback looks to have been snubbed out on a never-to-be-forgotten Sunday. So much so that the hosts hit 1.031/33 on the exchange, with Europe trading at a high of 27.026/1. But Justin Rose holes a monster putt across the 17th green and a 12 footer on the last to somehow win his match against Phil Mickelson, Rory beats Keegan Bradley despite nearly missing his tee-time and Martin Kaymer nails a nerveless five-foot putt to secure the 14pts that keep the trophy in European hands. Tie backers at 80.079/1 are rubbing their hands with glee when, in a match now dead, Tiger Woods looks set to beat Francesco Molinari. But Woods takes three to get down from the side of the green at 18 and concedes the Italian his putt. That act of generosity turns the 14-14 tie into an incredible 14.5-13.5 victory for Europe and leaves backers and layers incredulous in equal measure.

2014 - Europe 16½ USA 11½
Despite a feeling that Gleneagles could suit a young and hungry US side, Europe justify their status as 4/6 favourites by making it six wins out of seven, leaving the Americans winless on European soil since their 1993 triumph at The Belfry. Trading at just under 2/1 on the exchange before the off, Tom Watson's men win the morning fourballs 2½-1½ but end the day 5-3 behind after taking just half a point from the afternoon foursomes. Scorelines from those two sessions are repeated on Friday to put Europe 10-6 up ahead of the singles and Paul McGinley's meticulous planning is further rewarded on Sunday as his team run out convincing 16½-11½ winners. Justin Rose, a 15/2 shot, lands top European scorer honours with four points while rookie Patrick Reed - a massive 27.026/1 on the exchange - finishes as top American after three wins and a half.

Summary
History says DO NOT back the USA when they're favourites!
The last six times they've been sent off as market leaders, the Americans have lost five of them. When expectations are highest they continually fall short.
Fate of the favourite
2014 Europe (WON)
2012 USA (LOST)
2010 Europe (WON)
2008 Europe (LOST)
2006 Europe (WON)
2004 USA (LOST)
2002 USA (LOST)
1999 USA (WON)
1997 USA (LOST)
1995 USA (LOST)
With Europe fielding six rookies this year, we're back to the days when the Americans looked far stronger on paper but proved less than the sum of their parts.
Davis Love, who will wonder how on earth his team lost in 2012, has a lot of horse under him this time and, right now, Sportsbook prices show the USA as 4/7 favourites, with Europe 2/1 and the tie 12/1.
So, do we put our trust in recent history and go with the European underdogs or has this current generation of younger, fearless and perhaps less scarred Americans got the bottle to see it through?

Click here for all our Ryder Cup content
Discover the latest articles