Ryder Cup 2016: Expect another easy Ryder for Team Europe?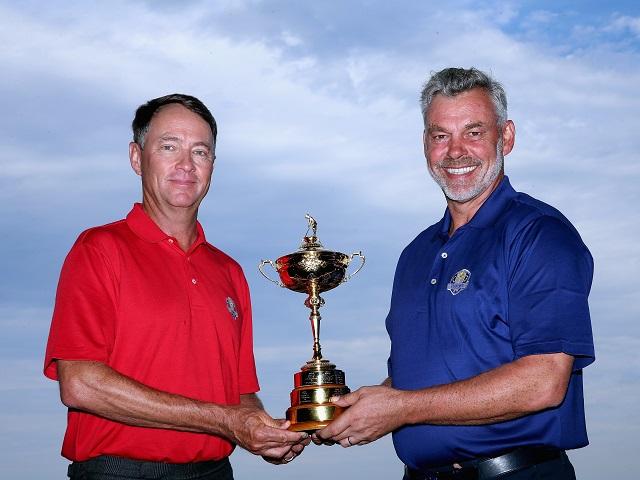 Runners with their Ryder: but will Davis or Darren have the last laugh in Minny?
Forget it, says Romilly Evans, who expects a changing of the guard on both sides of the pond to breathe new life into the biennial battle in the shape of a resurgent US side...

"letting in the fresh air of youth already seems to have ensured a new energy for this Minnesota match-up"
There's a marked tendency to read too much into the roles played by Ryder Cup captains and their managerial crews. It's possibly the most overly hyped role in all of sport - and one with a binary conclusion which renders them hero or zero for their ability to juggle 12 great golfers of similar ability on a team sheet for three days.
After all, when you're dealing with 24 of the planet's pre-eminent players, form is fickle and anyone can beat anyone on any given day. Forgive me for thinking the lion's share of the responsibility logically must rest with the doughty dozen under their command.
Tell that to Team USA, though, who have rifled through the suggestions box for the past two decades and only drawn the winning combination twice. Even Dastardly and Muttley have had fewer agonising second places at the Wacky Races. Europe, on the other hand, have been dominant winning eight of those 10 matches, including the last three.
So, rather than accept capricious fate, the stateside powers-that-be have initiated the self-styled PGA Task Force. While it seems an enthusiastic enough endeavour, it's a desperate break-the-glass solution that's either set to become instantly famous or infamous on the back of the next biennial battle this September.
Having lost their bearings completely, the rope the US have found in the water to bring them back to safe harbour is Davis Love III. Universally liked and respected, the only trouble is that DL3 presided over the Medinah Meltdown, where the States failed to close out a 10-6 final-day advantage. The Eurostars donned the famous dark-blue-and-white silks of their dearly departed Seve Ballesteros to produce a legendary comeback more akin to a group Ouija board session.
Love had a special resentment of Seve (who once took a shine to his wife Robin) so the pain was palpable. Almost in sympathetic understanding, he's been handed the reins again for a shot at redemption at Hazeltine National. His players will certainly be desperate to atone for their leader.
Furthermore, Love has already assembled an inspirational team of superstars as vice-captains: sidelined Tiger Woods, Jim Furyk and Steve Stricker have already committed, while Phil Mickelson will surely join them. Each is an Ryder Cup captain of the future, but three of them (Tiger, Lefty and Mr Burns - as Furyk is known) will still be hoping they can play their way onto the team as well.
Cynics might wonder as to their collective powers of inspiration. For Tiger and Phil have been the best players of the past 20 years, yet their Ryder records make for appalling reading, both individually and as a team (respectively 2-7, and 2-8 since Mickelson's debut in 1995). Indeed, their inability to deliver in this format has arguably been the key variable for American under-achievement. However, nobody can doubt that they are far more relaxed and motivational men as their careers wind down. And let's remember that with an influx of new blood likely to provide the US with a welcome shot in the arm, many of these up-and-comers will be playing for (or with) their childhood idols.
The same comment may also apply to the European squad as well. While the likes of Jordan Spieth, Rickie Fowler, Justin Thomas, Patrick Reed and Brooks Koepka have made Cup qualification a priority for this year, over on our side of the pond Chris Wood, Danny Willett, Andy Sullivan, Matthew Fitzpatrick, Thorbjorn Olesen, and even Kristoffer Broberg will all bid to follow in the Footjoys of Rory McIlroy and Victor Dubuissson at Gleneagles.
Performing at the Ryder Cup used to rely on the received wisdom of experience. But ever since Sergio Garcia flashed a teenage smile at Brookline, we have increasingly seen that these kids show no fear. Instead, they bounce along free from the scar tissue of old trauma. In short, if you're good enough, you're old enough.
So look for some very different team sheets this year when Messrs Clarke and Love choose their pairings for battle. Betfair's Sportsbook has already set the tone with myriad prices on possible protagonists (also monitor the Exchange for progressive liquidity)... pay particular attention to Wood at a very attractive [3.0] in what could prove the Bristolian's breakout year, a once-ISM charge embracing the example set by former stablemate Willett last year (a wafer shy in the Race To Dubai). Wood is belatedly over the suite of back and wrist issues that have slowed his development from stellar amateur beginnings.
Clarke and Love may well be forced to add more familiarity with their captain's picks, but letting in the fresh air of youth already seems to have ensured a new energy for this Minnesota match-up. Perhaps that will only aid the States, whose real challenge is to learn to loosen up and consequently play better, as they always do in the Presidents' Cup (winning six matches consecutively).
America's rare team-room blend of fallen idols and thrusting young Turks aligns them perfectly to finally deliver in their own back yard. Tim Fichem has even moved forward this season's Fedex Cup Play-offs (which typically ask the Tour's stars to compete for six-eight weeks in succession) to squeeze the Europeans' prep time heading into Hazeltine.
The aggregation of these small improvements, coupled to the consistency of their leading men and homefield advantage, means that the US deserve to be strong favourites on paper [1.94]. Either way, though, this year's renewal of the Transatlantic Tussle promises to be the most competitive in the Ryder Cup's 100-year history. Bring the noise.

Recommended Bet
10pts Back Chris Wood to make the European Team @ [3.0] or better

Recent Ryder Cup Results
2014 Gleneagles: Europe 16.5pts - 11.5pts
2012 Medinah: Europe 14.5pts - 13.5pts
2010 Celtic Manor: Europe 14.5pts - 13.5pts
2008 Valhalla: USA 16.5pts - 11.5pts