Ryder Cup 2014: McGinley might have dropped himself in it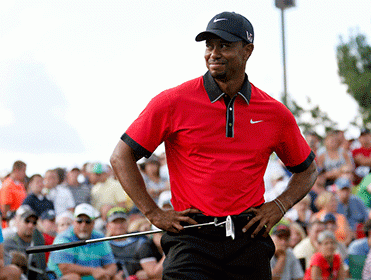 Tiger Woods... how do you tell him he's not playing?
There's a year to go to the Ryder Cup and both captains have been discussing their approach to handling the world's great golfers. Ralph Ellis wonders if European captain Paul McGinley is already storing up trouble for himself.
I was 11 when I got picked for the Under14 cricket team at school. It didn't go well. Batting at number three I sat padded up for an hour, eventually went in, took guard, and then raised my bat to let the first ball go wide outside off stump only for it to swing back in and hit middle.
A few days later after nets in the evening the history teacher who ran the team called me over for a quiet word. "I've decided it would be a good idea to give you a rest," he said. "Don't think you are being dropped."
It was a rest that lasted two years, so it was a good introduction to the harsh reality of sport. Since then I've lost count of the different number of ways you can be told you're not playing, and none of them are kind. The worst I ever saw was the Sunday team manager who let his brother-in-law know he wasn't in the Cup Final line-up, when he'd already put on the number two shirt, by saying: "You'll have to change that because we've got to wear one to 11 in this game." They haven't spoken since.
Apologies for the ramble, but it all came to mind when I saw that Paul McGinley has decided he'll announce his wild card selections for the Ryder Cup on the same day as the final round of a key FedEx Cup event. "I can talk to them on the night before the final round, it is not a problem," he said.
Well, sorry Paul, but that's your first mistake. To the ones who don't get a wild card it will be a very big problem indeed. Just think back to four years ago when Justin Rose and Paul Casey got told they had missed out when they were in the thick of another competition.
Choosing the wild cards always causes problems. Remember the hissy fit that Colin Montgomerie threw after Ian Poulter got the nod from Nick Faldo? Next year at Gleneagles it will be a bigger issue than ever for the European team, because McGinley has rewritten the rules to give himself three picks instead of two. It's a critical part of the preparation of the team, and you have to get it right because if you upset somebody who's out, you can be sure he'll have a mate who is in, and there's the first germ of a problem in the team room.
Europe are marginal 1.9420/21 favourites to retain the trophy they won so thrillingly during the Miracle of Medinah last year. In a tournament that will have such fine margins, getting every last detail right is going to matter for McGinley.
The Irishman is a rookie captain in comparison to Tom Watson, who will arrive at Gleneagles in exactly a year's time with the pedigree of having won the trophy on European soil when he led the 1993 team at The Belfry. He's already laying out his strategy focused totally on winning.
"I have no time for the idea that everybody plays the same amount of matches," he said. "I'll tell them if they aren't playing well they won't be playing much."
So he's dealing with pretty much the same problem, then. You can almost hear it. "Tiger, can I have a word? Look, don't think you're being dropped, you're just being rested... "
Discover the latest articles