Ryder Cup Betting: Four ways to make a profit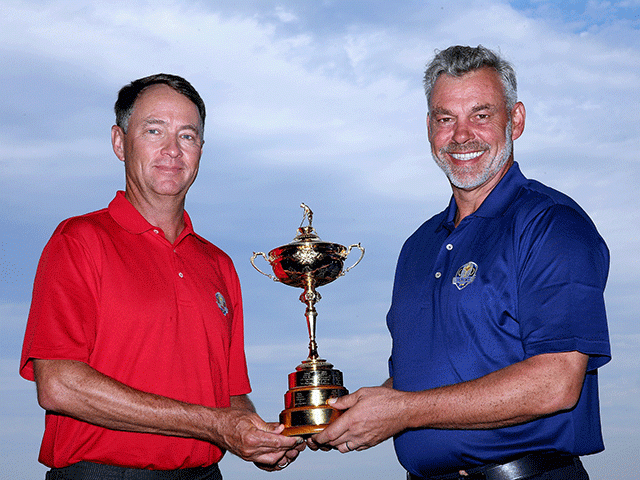 Clarke and Love both understand the value of team spirit in the Ryder Cup
Ahead of the Hazeltine showpiece, Paul Krishnamurty recalls some pivotal punting lessons and angles learnt from recent Ryder Cups...
"We need to understand the distinctions between strokeplay and matchplay; plus the importance of team spirit...Indeed the success of Team Europe perfectly exemplifies matchplay prowess."
18-hole matchplay is golf's greatest leveller
Over one round of golf, any differential between two world-class golfers is minimal and that applies even more when the format is matchplay.
We've seen it time and again in the World Matchplay, particularly when it was a straightforward knockout event. In what other scenario could the likes of Jeff Maggert, Peter O' Malley and Nick O'Hern (twice) have beaten Tiger Woods in his pomp?
Precisely the same phenomenon has applied to modern era Ryder Cups. While Europe have always boasted world-class team leaders, they've generally trailed the USA significantly in terms of world rankings and major championship pedigree. That was particularly the case during the 80s and 90s. Despite this perceived disadvantage, Europe won 11 of the last 15 matches.
Bear that in mind before piling into the USA at 1.654/6 to win at Hazeltine. Granted they won't have any weak links whereas the European side includes six rookies. However the likes of Chris Wood, Rafa Cabrera Bello and Thomas Pieters are no less likely to thrive than past heroes such as Jamie Donaldson, Paul McGinley, Philip Price and Philip Walton.
Likewise the history of final day singles is littered with massive upsets. Remember Constantino Rocca hammering Tiger or Price similarly defying massive odds against Phil Mickelson?
Strokeplay form matters less than proven matchplay prowess
That doesn't mean, however, that following form is meaningless. Rather, we need to understand the distinctions between strokeplay and matchplay; plus the importance of team spirit.
Some players prefer strokeplay but rarely thrive in the head-to-head format. Tiger's matchplay record was poor by comparison. So too Mickelson and indeed most top Americans over the past quarter century. In contrast, Ian Poulter is probably the best match player this century, despite never winning a major or ever challenging the top of the world rankings.
Indeed the success of Team Europe perfectly exemplifies matchplay prowess and Poulter more than anyone. He won both versions of the World Matchplay and top-scored in three straight Ryder Cups. Likewise, Luke Donald has rarely even got competitive in majors, yet boasts an outstanding 70% record in this team event.
Restrict top-scorer market calculations to a few team leaders
Betting in these markets has been very straightforward over the years, so long as you can predict who the core players on either side will be. In the seven Ryder Cups this century, no top overall points scorer played fewer than four of the possible five rounds. Five of them played the maximum.
Even in the top team scorer markets - where theoretically someone could win with a low total because the team loses badly - the only winner to have played less than four rounds this century was Dustin Johnson in 2012. Even in that case, he only shared the top US scorer tag in a five way tie.
This century's numbers demonstrate how a significant chunk of the 24 competitors effectively have no chance. Only 59% played four or more rounds, with only 18% playing the maximum five. These players aren't usually hard to identify so it makes good sense to restrict calculations to at least relatively obvious candidates.
Back front-runners in fourballs
Finally, a significant pointer for in-play betting. Given the fast-changing nature of golf, there is always a temptation to back the chaser, but this makes absolutely no sense in the fourball rounds. In the last six Ryder Cups, one team led after nine holes in 43 fourball ties. 32 of them went on to win, nine ended in a tie but only two went to the chasing team.
The point is that winning a hole in fourballs is much harder than either foursomes or singles. When there are only two balls in play, either a mistake or a brilliant approach is likely to lose or win the hole. When there are four, the other side gets two chances to react accordingly to that mistake or approach. Plus the front-running side can generally play safe and leave options open, whereas the chasers are invariably forced to take risks.
There will be plenty of scenarios where a pairing is either one or two holes in front at halfway and still available at around even money or slightly odds-on. These are the best value in-play bets of the tournament.

Discover the latest articles