DP World Tour Championship: Dave Tindall rates the top 10 for course, current and UAE form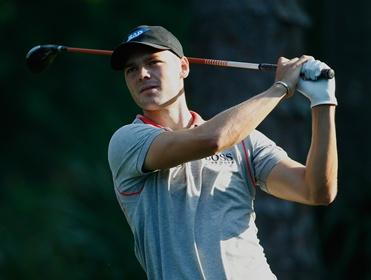 Martin Kaymer has never taken to the Earth Course
Dave Tindall arms you with the stats that matter ahead of the European Tour season-ender in Dubai...
"But the German has never taken to the Greg Norman-designed Earth Course (hasn't managed a single top 10) and there were stories in the very first year he played there in 2009 that he didn't like the track."
Rory McIlroy - Odds to win 6.25/1
Thanks to his brilliant play earlier in the season, Rory was able to sit out the first three events of the Final Series, safe in the knowledge that he was almost assured of winning the Race To Dubai. That was confirmed last Sunday when Brooks Koepka won in Turkey so McIlroy will now be out to make this event his coronation and sign off in style. In five starts at the Jumeirah course, Rory has banked a victory (2012), a third, two fifths and an 11th so it's right up his street. The world number one has played just once competitively since the Ryder Cup, finishing runner-up in the Alfred Dunhill Links Championship in Scotland.
Latest form: 2-2-8-5-22-1
Course form: 5th 2013, 1st 2012, 11th 2011, 5th 2010, 3rd 2009
UAE form: 9-2-5-MC-1-5-2-11-10-2
Last 50 events - Win: 12%, Top 5: 32%, Top 10: 54%
Quote: "Earth suits long, powerful hitters. I'm comfortable on this golf course. I've played well here basically every year that we've been."

Henrik Stenson - Odds to win 9.28/1
Stenson was riding an incredible wave this time last year and sealed victory in this tournament and the Race To Dubai itself with a brilliant eagle at the final hole after knocking a 3-wood to two feet. His winning score? 25-under par! By contrast, his 2014 campaign has been a little flat although it's all relative as a third place in Turkey last week took him up to second spot in this year's RTD rankings. Stenson made Dubai his home for 10 years and has some great form in the Middle East so many will fancy him to do something he's never done before and defend a title.
Latest form: 3-24-2-23-26-38
Course form: 1st 2013, 7th 2012, 24th 2010, 23rd 2009
UAE form: 29-MC-1-26-23-7-20-MC-MC-42
Last 50 events - Win: 6%, Top 5: 38%, Top 10: 46%
Quote: After winning last year: "It was really, really sweet to be able to have so many of my family members and friends here from Dubai. I really felt the support, as well."

Justin Rose - Odds to win 15.5
It's a testament to Rose's high-class consistency that most punters were left scratching their heads when he failed to deliver at the HSBC and finished as an also-ran in tied 48th. Prior to that he'd had three top four finishes in his previous six starts and they followed back-to-back wins in the Quicken Loans National and the Scottish Open. The Englishman was runner-up in this tournament in 2012 when he finished like a train (final round 62) while he also made the top 10 last year. Overall he's 37-under for his last nine rounds here and has banked three second places in his last five starts in the UAE.
Latest form: 48-4-4-35-30-24
Course form: 10th 2013, 2nd 2012, 50th 2009
UAE form: 10-2-2-50-2-56-77-MC-MC
Last 50 events - Win: 6%, Top 5: 34%, Top 10: 48%
Quote: "I think it's about iron play for me, this golf course. The greens, there's so many different quadrants to them and many pin placements over bunkers. So if you can hit your irons high and soft and control the distance really well, to me, it's a really good second shot golf course."

Sergio Garcia - Odds to win 20.019/1
The Spaniard looked strangely out of sorts at the start of last week although his final stats in Turkey were decent enough and a 65-70 weekend finish took him up into the top 25. That said, finishes of 25th and 28th on his last two tournaments are relatively poor for someone who has averaged a top 10 virtually every other start in his last 50 events. Those numbers are reflected in his past finishes here with two top 10s in his four visits. His performance on his last start here in 2012 fell into the curate's egg category as he shot 73s in rounds one and three but 64s in rounds two and four!
Latest form: 25-28-2-9-4-57
Course form: 9th 2012, 11th 2011, 21st 2010, 7th 2009.
UAE form: 19-17-9-12-11-20-21-13-7-11
Last 50 events - Win: 6%, Top 5: 32%, Top 10: 48%
Quote: After equalling the course record with a 64 in round two in 2012: "It's the kind of course that if you drive the ball well, which I did today, you can make some birdies and an eagle here and there."

Ian Poulter - Odds to win 21.020/1
Like Graeme McDowell in the previous week's HSBC, proven winner Poulter (he has 12 European Tour titles) showed that even renowned front-runners can have trouble crossing the line. Poults led by six at halfway, stumbled badly in round three and couldn't quite recover on the last day, eventually missing a play-off after failing to convert a six-foot birdie putt. Still, after a difficult year, the Englishman is finding his best form again and runners-up finishes here in both 2010 and 2013 suggest he can play a big part again.
Latest form: 2-6-48-23-MC-59
Course form: 2nd 2013, 26th 2012, 22nd 2011, 2nd 2010, 9th 2009
UAE form: 2-26-22-MC-2-2-9-39-9-47
Last 50 events - Win: 2%, Top 5: 20%, Top 10: 28%
Quote: "I like the golf course and I've obviously played it very, very well. So I would expect myself to be out there in contention this week. I think it lays out nicely. I think I have plenty of opportunities to make birdies."

Victor Dubuisson - Odds to win 26.025/1
Dubuisson's title defence in Turkey last week looked like being a huge disappointment as he battled a bad back and inner demons in the early stages. But after an opening 77 he responded with rounds of 68, 70 and 64 to finish a creditable 15th. That 2013 win in Antalya remains his sole victory on the European Tour but he does go well in the big events (runner-up Accenture Match Play, top 10 in the final two majors of 2014). Dubuisson was also third here last year when a 64 on Saturday put him in second spot before he came up short on the final day.
Latest form: 15-WD-21-2-5-MC
Course form: 3rd 2013, 36th 2012
UAE form: 3-MC-MC-36-MC-MC-31
Last 50 events - Win: 2%, Top 5: 22%, Top 10: 30%
Quote: Speaking after a second round 66 last year. "I've learned that on the course with a good field, you have to stay very patient." He followed that up with an 11-birdie 64.

Brooks Koepka - Odds to win 27.026/1
After four wins on the Challenge Tour between September 2012 and June 2013, the American abroad always looked a future winner amongst the elite. A fourth place in this year's US Open gave further proof and he finally landed his first European Tour title in style as a Sunday 65 gave him a one-shot victory in last week's Turkish Airlines Open. Can he shine in this part of the world too? A third place in this year's Dubai Desert Classic suggests he can and winning scores of -16, -23, -24, -18 and -17 in his five pro victories show that he's suited to birdie-fests (this event has been won with -25, -23, -19, -14 and -23).
Latest form: 1-48-4-8-9-11
Course form: Debut
UAE form: 3-MC
Last 50 events - Win: 8%, Top 5: 20%, Top 10: 32%
Quote: After winning in Turkey last week: "To look where I was a year and a half ago on The Challenge Tour and now to be a winner on The European Tour is incredible, especially winning four times there and winning out here, it's very special. So I'm excited. I'm excited to get to next week and hopefully carry my form over." 

Lee Westwood - Odds to win 27.026/1
Westwood secured the 2009 Race To Dubai title by winning this tournament after seizing the day with a final round 64 to streak home by six shots. His critics wonder why he can't do that more often although, to be fair, few trophies have been won in such fashion. His latest form is in the 'bubbling under' category with four finishes between 8th (last week in Turkey) and 20th although he hasn't had a top 5 since May. As well as his win here in 2009, the two-time European No 1 has also finished third in 2010 and fifth last year when shooting 65-68 on the weekend.
Latest form: 8-20-13-12-60-57
Course form: 5th 2013, 48th 2012, 29th 2011, 3rd 2010, 1st 2009
UAE form: 5-5-48-2-17-29-15-64-3-2
Last 50 events - Win: 2%, Top 5: 10%, Top 10: 26%
Quote: "Most tee shots fit my eye. Shots or holes that other people mention that they struggle with don't really seem to worry me too much. I like the length of the golf course. It obviously plays into longer hitters' hands I think and I seem to cope fairly well with the greens. So yeah, it's a golf course I enjoy playing."

Graeme McDowell - Odds to win 30.029/1
After a nice warm up in the first of the back-to-back China events the week before when 16th at the BMW Masters, McDowell looked all set for a pillar-to-post victory in the HSBC in Shanghai. But after a pair of opening 67s took him three clear at halfway, his lead was cut to just one with a round to go and a cold putter on the final day left him a shot out of the play-off. He's done okay at this week's venue but no top 10s in his five visits suggests that a long, gruelling 7,675 yard track is hardly ideal ground for the modest-hitting McDowell to best display his skills.
Latest form: 3-16-9-36-38-47
Course form: 17th 2013, 52nd 2012, 11th 2011, 13th 2010, 30th 2009
UAE form: 17-52-3-11-3-13-20-MC-30-24
Last 50 events - Win: 8%, Top 5: 18%, Top 10: 38%
Quote: Speaking in 2013: "I do feel like I've stood in that recording area out there and had a moan and had a whine and maybe kind of explained why I don't get around this golf course very well. I've let these greens get in my head in the past."

Martin Kaymer - Odds to win 34.033/1
If this event was held at the Abu Dhabi Golf Club - a venue where Kaymer has won three times - he'd be second or third in the betting. But the German has never taken to the Greg Norman-designed Earth Course (hasn't managed a single top 10) and there were stories in the very first year he played there in 2009 that he didn't like the track. As for his recent performances, he did well (6th and just a closing birdie away from a play-off) in the HSBC on a course he loves but last week he was strangely subdued in the Turkish Airlines Open.
Latest form: 60-6-MC-23-16-7
Course form: 19th 2013, 26th 2012, 11th 2011, 13th 2010, 37th 2009
UAE form: 31-19-6-26-13-MC-11-31-1-13
Last 50 events - Win: 4%, Top 5: 8%, Top 10: 18%
Quote: On what you need on the Earth Course: "I think it's all about short game, because there are a lot of slopes on the greens, a lot of ridges. So you have to be very precise with your irons, with your approaches, and if you miss the green, then it all comes down to the short game."

Selections
Brooks Koepka is on a high after his win in Turkey last week and may enjoy this course but it's worth pointing out that he's never actually had back-to-back top fives in his career.
Following his three Challenge Tour wins, his respective finishes next time out were 24th, 7th and 12th so, in this class of field and on a brand new course to him, he looks a lay in the top five market at under 5/1.
Martin Kaymer and Graeme McDowell have both failed to crack the top 10 in this event never mind the top five so the two US Open winners are also worth taking on in the top five market.
Kaymer's eye-catchingly low top five numbers - just 8% in his last 50 starts compared to McIlroy, Stenson, Rose and Garcia, who are all above 30% - suggest he's a lay on any course that isn't among his favourites.
Conversely, the high top five percentages of the quartet above suggest they are likely to clog up the top positions and freeze the likes of Kaymer, McDowell and Koepka out.

Recommended Bets (All Top 5 Finish market)
Lay Brooks Koepka @ 5.95/1
Lay Graeme McDowell @ 6.411/2
Lay Martin Kaymer @ 7.413/2
Win a DVD of Seve The Movie!
We have seven copies of the superb Seve The Movie to giveaway in a quickfire competition ahead of the start of this tournament - get involved now!

Discover the latest articles