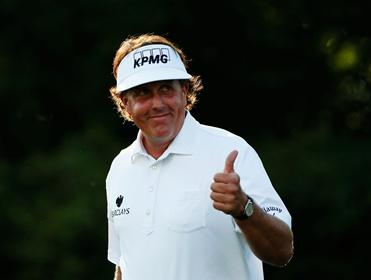 This is the scene that the crowd will want to see on Sunday - a smiling Lefty
The second major of the season gets underway on Thursday and Alex Johnson looks at how things might pan out...
The fairytale finish late on Sunday sees Phil Mickelson completing his career Grand Slam in the majors by ending a run of six runner-up finishes in the US Open.
The second major championship of the year is upon us as the US Open returns to the familiar scene of Pinehurst's No.2 Course in North Carolina.
 
A third hosting in 16 editions, the players will be greeted by a much changed layout this week than when Payne Stewart (1999) and Michael Campbell (2005) triumphed here.  
Significant changes should ensure the winning score betters the level-par and one-under totals returned by Stewart and Campbell, but the greenside puzzles in store will make Rory McIlroy's Congressional record of 16-under par a distant target. 
Three years ago, McIlroy ripped up the record books and the USPGA responded with challenges that resulted in Webb Simpson and Justin Rose both claiming their maiden major victories on one-over par totals.  
There will be no deep, gouging rough at Pinehurst this week. The redesign of Donald Ross' signature creation by Bill Coore and Ben Crenshaw saw around 35 acres of 'rough' being removed.  
In its place are potentially more forgiving sandy natural areas mixed with wiregrass plants and pine straw needles.  
Potential is the key word here though. Players have already cautioned in the run-up to the event of how six inches could differentiate a perfect lie off the fairway from a second shot where only a lay-up is possible.  
Wayward drives will sometimes escape where they would not have in prior US Opens, but this is not going to be a stroll. 
The greens and run off areas have remained relatively untouched in the redevelopment. Best described as 'upturned saucers' these putting surfaces and the areas that protect them will demand short game skill, imagination and nerve. 
Making birdies will be just a fraction of the battle this week at the US Open. Those who fight out the finish on Sunday will do so owing to their ability to avoid bogeys. Getting up and down is the high value currency.
Perhaps unusually for a golfing major, much is being made of the weather forecast. Heavy rain is a real possibility and should the fairways come up 'good to soft' then this will prove a significant advantage for the longer hitters, as will rain-softened greens. 
So who is likely to be in the thick of the action come Sunday afternoon?
The fairytale finish late on Sunday sees Phil Mickelson completing his career Grand Slam in the majors by ending a run of six runner-up finishes in the US Open.
The stars certainly are aligned. Mickelson came closest at this very venue in 1999 when Stewart sank an 18-footer on the final green to deny him by one stroke.
There would be no more popular winner than Mickelson, but the signs have not been good for the left-hander. He described his putting last week in Memphis as 'pathetic' and he has not posted a top-ten in 17 tournaments. 
His recent stats may suggest otherwise, but Mickelson's history with this event leaves the impression he will somehow force his way into the shake-up.
Adam Scott comes to Pinehurst as world number one and having already claimed his first tournament success as top dog at Colonial in May.
The Aussie's US Open record however is uninspiring, with no top-tens in a dozen tries. It would be foolhardy to write him off, but this most attritional of events just doesn't seem to fit Scott's game and only a dramatic change in fortune would see him prevail here.
Long off the tee will not be a disadvantage in any scenario this week, but if the rain comes, it could really pay to side with a long hitter.
At a rain-softened Congressional three years ago, McIlroy obliterated the field to win by eight shots. 
The Irishman has returned to something approaching his best form in recent weeks, save for a second-round blow out at the Memorial Tournament.
Long, straight driving and accurate approach play are the rocks on which McIlroy's game is built. A streaky putter, when he clicks into gear on the greens, he is borderline unbeatable. 
Yet to finish worse than 25th this season, his recent BMW Championship win offered a strong hint that Rory may be ready to add to his two majors.
Masters champion Bubba Watson also ticks the correct boxes when it comes to long drives, but the American undoubtedly possesses the short game creativity and imagination that will be demanded at Pinehurst.
Watson is becoming a big-tournament player and advertised his form at the Memorial two weeks ago. 
Like McIlroy, his putter is a source of debate but when it's hot, it's hot. 
If there is to be an Aussie winner this week, Jason Day may steal the thunder of Scott. With a couple of weeks under his belt since returning from injury, Day is fully fit and raring to go - and he positively thrives on major championship golf.
In three US Open appearances, Day has twice finished inside the top four. He led the chasing pack behind runaway winner McIlroy at Congressional, and Pinehurst looks a likely venue for another big effort from him.
Few can claim to hit the ball higher or longer from the tee than Day, and he is a nerveless putter. He unquestionably possesses enough ability to become a major champion. It's a case of when, not if, in many experts' eyes.
The likes of Dustin Johnson and Paul Casey are others who will have no trouble in gaining yards from the tee but whether either man holds the magic touch around the greens is debatable.
This allows us to move seamlessly into the grinder category. The US Open requires an endless supply of patience, arguably more so than any other event.
The players know they will drop shots - minimising the damage and accepting their punishment is the key.
Jim Furyk has enjoyed more success at his national open than most, with no fewer than eight finishes of tied fifth or better. Along with three runner-up spots, Furyk won the event in 2003 at Olympia Fields. 
His game is suited to the event and his form this season supports the theory as he leads the PGA Tour in scrambling and ranks fourth in bogey avoidance. Those are key pointers. 
Another past champion with hopes of success is Graeme McDowell. Winner in 2010 at Pebble Beach, G-Mac has mental toughness in abundance and is also one of the standout putters on the PGA Tour this year.
He has spoken this week of 'pace-putting' and few of his peers can better him in that department.
McDowell's victory ended a 40-year wait for European success in this event. How things have changed, with McIlroy in 2011 and Justin Rose 12 months ago making it three from four for the Europeans.
Martin Kaymer's victory at the Players Championship showed he is heading back to the form that made him world number one while Swede Jonas Blixt could prove a dark horse.
Blixt can hang with the longest hitters off the tee but perhaps his short game is underrated. In just his third season on the PGA Tour, Blixt has already achieved wins in his opening two campaigns. 
What he lacks in major championship experience, he is fast making up for in his performances. In his only two US major appearances, he finished 4th at the PGA last August and runner-up at Augusta this year.
Patience will be the virtue that rewards the 2014 US Open champion on Father's Day.