Zurich Classic of New Orleans 2019: Form stats for this week's PGA Tour event at TPC Louisiana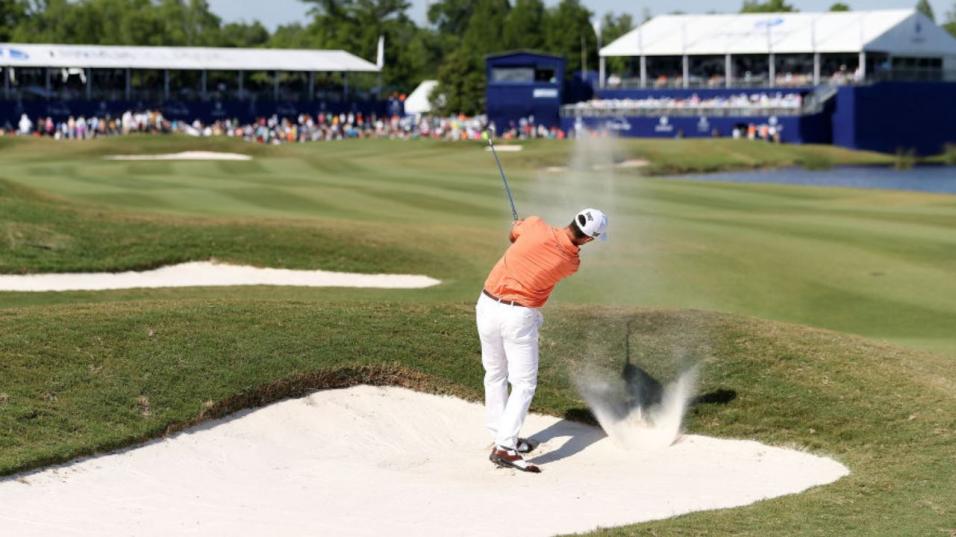 TPC Louisiana: Eighty two-man teams are teeing-up at this week's event in New Orleans
Andy Swales supplies course and current form stats for the two-man team event which tees-off in New Orleans this Thursday ...
"In-form Jason Kokrak is keeping good company among the big names at the top end of the Strokes Gained: Tee-to-Green category."
The last week of April takes the PGA Tour to Louisiana for the Zurich Classic of New Orleans.
For the third year running, the tournament is a two-man team event comprising 72 holes of strokeplay.
As with each of the previous two instalments, 80 pairs will tee-up at TPC Louisiana, where days one and three will feature fourballs (better ball), while rounds two and four involves foursomes (alternate shots).
Marquee Partnerships
It's fair to say there are six eye-catching partnerships lining-up in the Deep South.
They are Tommy Fleetwood & Sergio Garcia, Louis Oosthuizen & Charl Schwartzel, Bubba Watson & JB Holmes, Jason Day & Adam Scott, Henrik Stenson & Graeme McDowell and Patrick Cantlay & Patrick Reed.
Cantlay & Reed teamed-up in each of the last two years, registering finishes of tied-14th and tied-seventh.
Oosthuizen & Schwartzel stood on the podium together 12 months ago, while the pairing of Fleetwood and Garcia could be interesting if they can re-capture some of the infectious spirit which carried the Europeans to victory at last year's Ryder Cup in France.
However, on both previous occasions the Zurich Classic was staged as a team event, victory went to players just outside the top echelon of the game.
In 2017, Cameron Smith & Jonas Blixt emerged triumphant, while Billy Horschel & Scott Piercy stood atop the leaderboard last year.
Course Specialists
One player who has really excelled at TPC Louisiana in the past, carrying his good form over into the team event, is Jason Dufner.
The one-time major champion is a former winner over the course, while posting a brace of top-fives in each of the past two years.
However, the big downside for Dufner is that neither he, nor team-mate Pat Perez, has registered a single top-40 finish on Tour during 2019 from a combined total of 14 starts.
The aforementioned Watson is also a former champion from eight years back and, together with the experienced Holmes, are a formidable partnership on paper at least.
The same applies to Stenson and McDowell whose accuracy could work well together in foursomes.
Other Teams
Ryan Palmer and Jon Rahm make an interesting combination while three other partnerships to consider are Tony Finau & Kyle Stanley, Charley Hoffman & Nick Watney, and Jason Kokrak & Chris Stroud.
Finau is usually a safe pairs of hands with the driver; Hoffman and former Zurich Classic champion Watney team-up for a third straight year; while in-form Kokrak is keeping good company among the big names at the top end of the Strokes Gained: Tee-to-Green category.
15-Year-Old Venue
Designed by Pete Dye and opened in 2004, TPC Louisiana made its Tour debut 14 years ago replacing English Turn as tournament host.
However, the latter returned for one year only after Dye's new creation was badly damaged by Hurricane Katrina, when much of New Orleans suffered catastrophic flooding in August 2005.
Laid out on the delta wetlands of this low-lying coastal city, TPC Louisiana covers more than 250 acres and is dotted by more than 100 bunkers.
Water comes into play on eight holes and, although rough is not a major issue when compared to many PGA Tour venues, accuracy off the tee will still play a vital role in determining which two-man team comes up trumps on Sunday.
Many fairways enjoy subtle changes in direction, while a couple have severely sharp dog-legs, which means locating the correct line from the tee will prove invaluable.
Check out the latest odds ahead of the Zurich Classic of New Orleans.
Twitter: Andy Swales@GolfStatsAlive
MC* - Missed Additional 54-Hole Cut
Note: List contains leading reserves
| Player | W16 | W15 | W14 | W13 | W12 | W11 | W10 | W9 | W8 | W7 | W6 | W5 |
| --- | --- | --- | --- | --- | --- | --- | --- | --- | --- | --- | --- | --- |
| Tommy Fleetwood | 25 | 36 | | 24 | | 5 | 3 | | 19 | 28 | 45 | |
| Sergio Garcia | | MC | | 5 | 54 | 22 | | 9 | 6 | 37 | | Dq |
| Louis Oosthuizen | | 29 | | 5 | 2 | 56 | MC | | 25 | MC | | |
| Charl Schwartzel | MC | MC | | 61 | MC | MC | | 16 | 6 | Wd | | MC |
| Bubba Watson | | 12 | | 40 | 4 | 56 | 17 | | 27 | 15 | | 4 |
| JB Holmes | | 62 | MC* | 17 | | MC | MC | | | 1 | MC | 26 |
| Jason Day | | 5 | | 61 | MC | 8 | Wd | | | | 4 | |
| Adam Scott | | 18 | | | | 12 | | MC | | 7 | MC | |
| Billy Horschel | 45 | 56 | MC | 24 | | 26 | 50 | 16 | 45 | | | 39 |
| Scott Piercy | 3 | | | | | 56 | 54 | MC | | | 10 | 20 |
| Henrik Stenson | | 36 | | 9 | 24 | MC | 17 | | 54 | | | MC |
| Graeme McDowell | 48 | | 7 | 1 | 46 | | 54 | MC* | 42 | | 18 | |
| Pat Perez | | | | | | | 50 | | | 56 | MC | |
| Jason Dufner | 63 | | | | MC | MC* | MC | MC* | | MC | | |
| Patrick Cantlay | 3 | 9 | | 24 | | MC | | | 6 | 15 | | |
| Patrick Reed | | 36 | | 24 | MC | 47 | 50 | | 14 | | 22 | 56 |
| Cameron Smith | MC | 51 | | 61 | | 56 | | MC | 6 | 49 | | 15 |
| Jonas Blixt | MC | | 30 | 22 | 42 | | | 36 | | 15 | 38 | MC |
| Kevin Kisner | 41 | 21 | | 1 | 24 | 22 | 23 | | 27 | | 28 | 26 |
| Scott Brown | MC | | 7 | | MC | MC | MC | 20 | 10 | 37 | MC | |
| Tony Finau | | 5 | 61 | 40 | | 22 | | | 25 | 15 | 38 | MC |
| Kyle Stanley | | 21 | 52 | 24 | | MC | MC | MC | 58 | MC | | MC |
| Justin Harding | MC | 12 | MC | 17 | | 2 | 1 | MC | | 26 | 4 | 11 |
| Branden Grace | 61 | 58 | | 9 | MC | 72 | | | 33 | MC | 28 | 2 |
| Jon Rahm | | 9 | | 24 | 6 | 12 | | | 45 | 9 | | 10 |
| Ryan Palmer | 28 | | MC | | | MC | | 4 | | | MC | 60 |
| Steve Stricker | | | | | MC | | 58 | | | | MC | MC |
| Jerry Kelly | | | | | | | | | | | MC | |
| Abraham Ancer | MC | | 42 | 17 | | 12 | MC | | 39 | 44 | | MC |
| Jhonattan Vegas | | | 30 | 26 | | 3 | 23 | 16 | | MC | | 10 |
| Keegan Bradley | | 43 | | 40 | MC | 16 | 46 | | 10 | 51 | | 67 |
| Jon Curran | | | | | | | | | | | | |
| Dylan Frittelli | | | 42 | 18 | 37 | | | MC | | 28 | MC | |
| Joaquin Niemann | 3 | | MC | MC | 37 | | 46 | 59 | | 44 | | MC |
| Chez Reavie | 28 | | | 56 | MC | MC | | | 65 | MC | 38 | 4 |
| Lucas Glover | MC | | 14 | | 13 | MC | 10 | 4 | | | 7 | MC |
| Charley Hoffman | 45 | 29 | 2 | | 18 | MC | MC | | | MC | MC | 20 |
| Nick Watney | MC | | MC | | 37 | MC | | 51 | | | MC | 39 |
| Sung Jae Im | MC | | 20 | 7 | 4 | MC | 3 | 51 | | MC | MC | 7 |
| Whee Kim | MC | | | | | | | MC | 71 | Wd | MC | MC |
| Brooks Koepka | | 2 | | 56 | | 56 | MC | 2 | 27 | | | 57 |
| Chase Koepka | | | | | | | | | | | | |
| Jason Kokrak | 16 | | 7 | | 2 | 47 | 10 | 9 | | 37 | | 20 |
| Chris Stroud | MC | | MC | 2 | 68 | | MC | | | MC | 10 | 7 |
| Troy Merritt | 10 | | | | | MC | | | | | | |
| Robert Streb | | | 63 | MC | MC | | MC | MC | 59 | MC | | MC |
| Ollie Schniederjans | Dq | | 36 | | MC | 16 | MC | MC | 49 | MC | | 33 |
| Adam Svensson | | | 42 | MC | MC | | | 59 | MC | | MC | |
| Adam Hadwin | 48 | | | | MC | MC | 33 | | | 75 | 18 | 44 |
| Aaron Baddeley | MC | | 30 | 7 | | MC | 17 | | 2 | 49 | MC | MC |
| Russell Henley | MC | | 52 | | 42 | MC | | 20 | | 44 | MC | 15 |
| Ryan Blaum | MC | | MC | | 54 | MC | 17 | MC* | 55 | MC | | MC |
| Scott Langley | 61 | | MC | | MC | 67 | MC | MC | | 37 | 6 | |
| Jonathan Byrd | 48 | | MC | 4 | | | | | 21 | | 22 | |
| Corey Conners | MC | 46 | 1 | MC | | 41 | MC | | MC | | MC | |
| Mackenzie Hughes | 63 | | 42 | 2 | 13 | | | MC | | MC | MC | MC |
| Joel Dahmen | 16 | | 69 | 12 | 30 | 12 | MC | MC | | MC | | MC |
| Brandon Harkins | 54 | | MC | 44 | 60 | MC | | MC | | MC | 28 | 26 |
| Johnson Wagner | | | | MC | | | 33 | MC | 2 | | 57 | |
| Harris English | 25 | | MC | 65 | 54 | MC | 68 | 12 | | MC | | MC |
| Chesson Hadley | MC | | MC | | 65 | MC | 17 | 20 | | | MC | 20 |
| Brice Garnett | MC | | | 39 | MC | 35 | MC | MC | | | MC | MC |
| Brian Gay | 54 | | MC* | | 46 | 56 | MC | 20 | | 60 | 7 | 55 |
| Rory Sabbatini | 10 | | 36 | 39 | 18 | 35 | | 36 | | | MC | MC |
| Brian Harman | MC | | MC | | MC | 8 | MC | MC | | 51 | | 39 |
| Patton Kizzire | 45 | 18 | | | 60 | MC* | | MC | 27 | | | MC |
| Peter Malnati | 16 | | 23 | | 60 | | | 36 | | 44 | MC | |
| Billy Hurley | | | | MC | 30 | | | | 62 | | | |
| Russell Knox | MC | | | 40 | 24 | 35 | | 51 | 39 | | 14 | 10 |
| Brian Stuard | 16 | | 4 | MC | 18 | MC | | 20 | | 60 | 45 | 55 |
| Kevin Tway | | 36 | MC | | MC | MC | | MC | | MC | | MC |
| Kelly Kraft | MC | | MC | 5 | 46 | 47 | | MC | | 9 | MC | MC |
| Shubhankar Sharma | | | | 27 | 30 | MC | | 67 | 60 | | | MC |
| Anirban Lahiri | MC | | | MC | 30 | MC* | 69 | 59 | | MC | | |
| Ted Potter | 67 | | MC* | | MC | MC | MC | | | 64 | MC | MC |
| Nate Lashley | | | | MC | | | MC | | 8 | MC | 45 | |
| Scott Stallings | 48 | | 23 | | 9 | MC | 40 | | | MC | 3 | MC |
| Trey Mullinax | 16 | | MC* | 61 | 54 | MC | | 51 | | | 22 | 15 |
| Hudson Swafford | 33 | | MC | MC | MC | | 29 | MC* | | MC | | |
| Wes Roach | MC | | | 44 | | | | | 75 | | MC | |
| Kevin Streelman | 6 | | 6 | | MC | MC | 58 | MC* | | MC | 7 | 50 |
| Vaughn Taylor | MC | | MC* | | 18 | 41 | MC | 59 | | 9 | MC | MC |
| Peter Uihlein | MC | | MC | 22 | 65 | MC | | Wd | 66 | 60 | | Wd |
| Dominic Bozzelli | | | | 39 | | MC | MC | | 25 | | MC | |
| Cameron Champ | MC | | | | | Wd | MC | | | MC | 28 | 67 |
| Sam Burns | 9 | | 23 | 12 | 30 | | 54 | MC* | | MC | | MC |
| Roberto Castro | | | MC | | 68 | | | 20 | 25 | | 53 | |
| Cameron Tringale | | | 17 | 52 | MC | | | 36 | 25 | | 53 | |
| Wyndham Clark | 54 | | 20 | | 37 | Dq | | 7 | 10 | | MC | |
| Ben Crane | | | | 33 | | | | MC | 8 | | MC | |
| Brendan Steele | | | 42 | | MC | MC | 17 | MC | | MC | | MC |
| Luke Donald | 33 | | MC | | 9 | | | | | | | |
| Adam Schenk | MC | | 7 | 33 | MC | | 29 | 30 | 16 | MC | 45 | 55 |
| Tyler Duncan | MC | | MC | 59 | MC | MC* | | MC* | 62 | MC | 22 | MC |
| Joey Garber | MC | | | 52 | MC | | | MC | 10 | | MC | |
| Cody Gribble | 67 | | MC | | MC | | | MC | | 76 | 59 | MC |
| Shane Lowry | 3 | MC | | 24 | | MC | MC | | 62 | | MC | |
| Padraig Harrington | | | MC* | | 30 | | | | | | | |
| Tom Hoge | MC | | MC | MC | MC | 30 | | MC | 55 | MC | MC | 44 |
| JJ Henry | | | MC | MC | | | | MC | 10 | | MC | |
| Seamus Power | 6 | | MC | 44 | MC | 35 | | MC | | 64 | | MC |
| David Hearn | | | | 18 | MC | | | | 25 | | MC | 33 |
| Nick Taylor | 58 | | 52 | | 24 | 16 | | 30 | | 33 | 28 | MC |
| Martin Laird | MC | | 36 | | | MC | MC | | | MC | MC | 26 |
| Harold Varner | MC | | 23 | | 65 | MC | MC | 51 | | MC | | 10 |
| Tom Lovelady | MC | | | MC | MC | | | | 47 | 47 | 28 | MC |
| Richy Werenski | 58 | | 61 | | MC | 47 | MC | MC* | | | MC | 60 |
| Nicholas Lindheim | | | | MC | | | | | | | | |
| Davis Love | | | MC | MC | | | | | | 70 | MC | |
| Dru Love | | | | MC | | | | | | | MC | |
| Josh Teater | | | 57 | MC | 10 | | | | MC | | 45 | |
| Kenny Perry | | | MC | | MC | | | | | | MC | MC |
| Anders Albertson | | | MC* | MC | | | MC | MC | | MC | MC | MC |
| Seth Reeves | MC | | MC | 18 | MC | | | MC | | MC | MC | |
| Si Woo Kim | MC | 21 | 4 | 61 | | 56 | MC | | | 3 | 4 | MC |
| Sangmoon Bae | Wd | | | 59 | MC | | | | MC | MC | MC | |
| Alex Cejka | MC | | | MC | 60 | MC | | Dq | | 51 | MC | MC |
| Alex Prugh | | | MC | 33 | MC | | | MC | MC | | 53 | |
| Andrew Landry | 33 | 46 | MC | | 46 | 47 | MC | MC | | MC | | 60 |
| Austin Cook | MC | | MC | | 9 | MC | MC | MC* | | | MC | MC |
| Denny McCarthy | 33 | | MC | 26 | 9 | 41 | | MC | | MC | | 33 |
| Roberto Diaz | | | 57 | 44 | 54 | | | MC | 10 | | 18 | 51 |
| Ian Poulter | 10 | 12 | | 17 | | 56 | 23 | | 3 | | | 6 |
| Sam Horsfield | | | | | | | 33 | | MC | | | 34 |
| Andrew Putnam | MC | | 36 | 40 | | MC | | | | MC | 38 | MC |
| Max Homa | | | 42 | 52 | MC | | | 20 | | 37 | 10 | 26 |
| JJ Spaun | 28 | | MC | | | Wd | 63 | | | MC | MC | 50 |
| Matt Jones | | | 30 | 18 | 13 | | | 36 | 55 | | 53 | |
| Danny Lee | 41 | | 7 | | 54 | MC | MC | 36 | | MC | | 44 |
| Sung Kang | | | 42 | | 18 | 47 | 6 | 51 | | 64 | 14 | MC |
| Colt Knost | MC | | | | | | | | | | | MC |
| Boo Weekley | 25 | | | | 10 | | | | 35 | MC | MC | |
| Sebastian Munoz | | | MC | MC | MC | | | 36 | 25 | | MC | 13 |
| Carlos Ortiz | | | MC | 39 | MC | | 29 | MC | | 9 | | 60 |
| John Senden | | | MC | 67 | MC | | | | 62 | MC | MC | |
| Rod Pampling | MC | | MC | | MC | | | MC | MC | MC | MC | |
| JT Poston | 6 | | 67 | | MC | 22 | 66 | 36 | | 28 | | 26 |
| Stephan Jaeger | | | MC | 26 | MC | | | MC* | | 70 | MC | MC |
| Chris Kirk | MC | | MC | | MC | 56 | 15 | MC | MC | | | 50 |
| Sepp Straka | | | MC | 26 | 46 | | | MC | 16 | | MC | |
| CT Pan | 1 | | MC | | 42 | 72 | MC | MC | | 44 | | 60 |
| Michael Kim | MC | MC | | | MC | MC | MC | | | MC | MC | MC |
| Hank Lebioda | | | 17 | 61 | 46 | | | 70 | MC | | 38 | |
| Curtis Luck | | | MC* | 52 | 13 | | | MC | 25 | MC | 28 | |
| David Lingmerth | 57 | | | MC | 52 | | | | 49 | 25 | MC | |
| KJ Choi | 10 | | 69 | | MC | | | 17 | | MC | | MC |
| Cameron Davis | | | MC | MC | MC | | | 59 | 16 | MC | 59 | |
| Kyle Jones | 26 | | 52 | MC | MC | | | MC | MC | 33 | MC | |
| Ernie Els | MC | | 57 | | 7 | | MC | 20 | | 56 | 28 | MC |
| Trevor Immelman | | 51 | | MC | | | | | 59 | | | 57 |
| Jim Furyk | MC | | 23 | 17 | 18 | 2 | | 9 | | 37 | 14 | |
| David Duval | | | | Wd | | | | | MC | | MC | |
| Julian Etulain | | | Wd | 26 | 24 | | | 36 | 35 | MC | 38 | |
| Andres Romero | | MC | | MC | | | | | 25 | | | MC |
| Chase Wright | | | MC | MC | MC | | | 51 | | MC | MC | MC |
| Derek Fathauer | 42 | | | 69 | | | | | 21 | 17 | MC | 5 |
| Kyoung-Hoon Lee | 48 | | 14 | 26 | Wd | | | 7 | 35 | 25 | MC | |
| Matt Every | 47 | | | MC | | | MC | | 16 | 32 | 14 | 11 |
| Chad Campbell | 42 | | | 73 | MC | | | | 42 | 35 | MC | |
| Freddie Jacobson | | | MC | 33 | MC | | | 68 | MC | 56 | MC | 70 |
| Player | 2018 | 2017 | 2016 | 2015 | 2014 | 2013 | 2012 | 2011 | 2010 | 2009 |
| --- | --- | --- | --- | --- | --- | --- | --- | --- | --- | --- |
| Tommy Fleetwood | 4 | | | | | | | | | |
| Sergio Garcia | MC | | | | | | | | 70 | |
| Louis Oosthuizen | 3 | 24 | | | | | | | | |
| Charl Schwartzel | 3 | | | | | | | | | |
| Bubba Watson | 28 | 5 | | | | 15 | 18 | 1 | 43 | MC |
| JB Holmes | MC | 5 | | | 11 | | 13 | | | MC |
| Jason Day | 34 | MC | 5 | 4 | | | | | | 32 |
| Adam Scott | | | | | | | | | | |
| Billy Horschel | 1 | MC | 36 | 48 | MC | 1 | MC | 26 | | |
| Scott Piercy | 1 | | | MC | | MC | 13 | MC | MC | 34 |
| Henrik Stenson | 19 | MC | | | | | | | | |
| Graeme McDowell | 22 | | | | | | 57 | MC | | |
| Pat Perez | 2 | | | | | | MC | MC | Wd | |
| Jason Dufner | 2 | 5 | | | | 42 | 1 | 3 | 7 | 9 |
| Patrick Cantlay | 7 | 14 | | | | | | | | |
| Patrick Reed | 7 | 14 | | | MC | MC | 24 | | | |
| Cameron Smith | MC | 1 | | 43 | | | | | | |
| Jonas Blixt | MC | 1 | 72 | MC | | 70 | 13 | | | |
| Kevin Kisner | 15 | 2 | | 28 | 34 | | MC | MC | | |
| Scott Brown | 15 | 2 | | 36 | | 42 | MC | | | |
| Tony Finau | 6 | MC | | MC | | | | | | |
| Kyle Stanley | | 29 | MC | | 52 | 3 | | MC | | |
| Justin Harding | | | | | | | | | | |
| Branden Grace | | 24 | | | | | | | | |
| Jon Rahm | MC | | | | | | | | | |
| Ryan Palmer | MC | 4 | | | MC | 32 | 4 | 46 | MC | 59 |
| Steve Stricker | MC | 14 | 58 | MC | | | 6 | 13 | | 7 |
| Jerry Kelly | MC | 14 | MC | 22 | MC | 47 | MC | MC | 67 | 1 |
| Abraham Ancer | MC | | MC | | | | | | | |
| Jhonattan Vegas | | MC | 5 | 36 | | | | | | |
| Keegan Bradley | MC | MC | MC | 22 | 8 | MC | MC | 26 | | |
| Jon Curran | MC | | 82 | MC | | MC | | | | |
| Dylan Frittelli | | | | | | | | | | |
| Joaquin Niemann | | | | | | | | | | |
| Chez Reavie | 22 | MC* | MC | MC | | MC | MC | 70 | MC | |
| Lucas Glover | 22 | MC* | 31 | 62 | 62 | 4 | 66 | | | 19 |
| Charley Hoffman | 31 | 5 | 11 | | 5 | MC | MC* | 40 | 28 | 19 |
| Nick Watney | 31 | 5 | | MC | MC* | 15 | MC | 20 | | MC |
| Sung Jae Im | | | | | | | | | | |
| Whee Kim | 22 | MC | MC | 8 | | | | | | |
| Brooks Koepka | MC | 5 | | | 21 | | | | | |
| Chase Koepka | | 5 | | | | | | | | |
| Jason Kokrak | | | | | | 59 | 57 | | | |
| Chris Stroud | 28 | 11 | 20 | 22 | MC | MC | 24 | 26 | 21 | MC |
| Troy Merritt | 10 | 24 | 72 | MC | 48 | | | MC | 3 | |
| Robert Streb | | 24 | 36 | MC | 2 | MC | | | | |
| Ollie Schniederjans | | MC* | | | | | | | | |
| Adam Svensson | | | | | | | | | | |
| Adam Hadwin | | | 36 | MC | | | | | | |
| Aaron Baddeley | MC | | 58 | MC | | MC | | | 28 | |
| Russell Henley | | MC | 36 | | | | | | | |
| Ryan Blaum | MC | 29 | | | | | | | | |
| Scott Langley | | | 80 | MC | MC | MC | | | | |
| Jonathan Byrd | 15 | | | 62 | MC | MC | | | | |
| Corey Conners | MC | | | | | | | | | |
| Mackenzie Hughes | MC | MC | | | | | | | | |
| Joel Dahmen | 25 | | | | | | | | | |
| Brandon Harkins | MC | | | | | | | | | |
| Johnson Wagner | MC | 14 | | 48 | | MC | | | MC | |
| Harris English | MC | 32 | | MC | | 6 | MC | | | |
| Chesson Hadley | 4 | | 20 | 8 | | | | | | |
| Brice Garnett | 4 | | MC | MC | MC* | | | | | |
| Brian Gay | MC | | 36 | | | | 66 | 51 | | |
| Rory Sabbatini | MC | MC | | MC | 17 | MC | | MC | 53 | 2 |
| Brian Harman | | 14 | MC | | | MC | MC | | | |
| Patton Kizzire | | 5 | 8 | | | | | | | |
| Peter Malnati | MC | MC | | | MC | | | | | |
| Billy Hurley | MC | | MC | | MC* | | MC | | | |
| Russell Knox | 7 | MC | | 43 | MC | | 30 | | | |
| Brian Stuard | 28 | 11 | 1 | 65 | | MC | | | MC | |
| Kevin Tway | MC | 3 | | | 48 | | | | | |
| Kelly Kraft | MC | 3 | MC | | | | | | | |
| Shubhankar Sharma | | | | | | | | | | |
| Anirban Lahiri | | | 48 | | | | | | | |
| Ted Potter | | | | | MC | | MC | | | |
| Nate Lashley | 15 | | | | | | | | | |
| Scott Stallings | MC | MC | 11 | 22 | MC | MC | MC | MC | | |
| Trey Mullinax | 31 | MC | | | | | | | | |
| Hudson Swafford | MC | 32 | MC | 12 | MC | | | | | |
| Wes Roach | | | MC | | 62 | | | | | |
| Kevin Streelman | | MC | | | | | 71 | 62 | 37 | 51 |
| Vaughn Taylor | | MC | MC | | | MC | 57 | 26 | | |
| Peter Uihlein | MC | | | | | | | | | |
| Dominic Bozzelli | | 32 | | | | | | | | |
| Cameron Champ | | | | | | | | | | |
| Sam Burns | MC | | | | | | | | | |
| Roberto Castro | | MC | 48 | | MC | 47 | MC | | | |
| Cameron Tringale | MC | MC | 48 | 2 | 17 | MC | 7 | 18 | 28 | |
| Wyndham Clark | | | | | | | | | | |
| Ben Crane | 31 | MC* | MC | 56 | MC | MC | MC | 20 | MC | MC |
| Brendan Steele | 10 | MC | | MC | 52 | 32 | | | | |
| Luke Donald | | MC | | | | | 3 | 8 | | |
| Adam Schenk | 7 | | | | | | | | | |
| Tyler Duncan | 7 | | | | | | | | | |
| Joey Garber | | | | | | | | | | |
| Cody Gribble | 34 | MC | | | | | | | | |
| Shane Lowry | 28 | | | | | MC | | | | |
| Padraig Harrington | 28 | | | | 67 | | | | | |
| Tom Hoge | 10 | 24 | MC | MC | | | | | | |
| JJ Henry | 10 | 24 | 64 | MC | 70 | 62 | 52 | MC | MC | MC |
| Seamus Power | 10 | MC | | | | | | | | |
| David Hearn | 10 | 22 | 20 | 6 | 34 | 21 | 24 | 46 | | |
| Nick Taylor | | MC | 36 | 48 | | | | | | |
| Martin Laird | 7 | | | MC | MC | | | | | 24 |
| Harold Varner | MC | MC | 8 | | | | | | | |
| Tom Lovelady | MC | | | | | | | | | |
| Richy Werenski | 25 | MC* | | | | | | | | |
| Nicholas Lindheim | 25 | | | | | | | | | |
| Davis Love | | | | | | | | | | |
| Dru Love | | | | | | | | | | |
| Josh Teater | | | | | MC* | MC | MC | 16 | 16 | |
| Kenny Perry | | | | | | | | | | 59 |
| Anders Albertson | | | | | | | | | | |
| Seth Reeves | | | | | | | | | | |
| Si Woo Kim | | MC | 64 | | | | | | | |
| Sangmoon Bae | | | | | 34 | | | | | |
| Alex Cejka | 31 | 24 | MC | 65 | | | 18 | Wd | 21 | MC |
| Alex Prugh | | | MC | MC | 29 | | | MC | 28 | |
| Andrew Landry | MC | | MC | | | | | | | |
| Austin Cook | | | | | | | | | | |
| Denny McCarthy | 25 | | | | | | | | | |
| Roberto Diaz | MC | | | | | | | | | |
| Ian Poulter | 22 | 32 | | | | | | | | 13 |
| Sam Horsfield | | | | | | | | | | |
| Andrew Putnam | 15 | | | MC | | | | | | |
| Max Homa | | | | 65 | 48 | | | | | |
| JJ Spaun | MC | MC | | | | | | | | |
| Matt Jones | 19 | 22 | | | | 32 | 45 | 6 | 10 | 70 |
| Danny Lee | MC | 14 | 58 | 22 | 25 | | 52 | | | MC |
| Sung Kang | 36 | MC | 72 | | | | MC | MC | | |
| Colt Knost | MC | | | 65 | | 69 | 24 | 56 | | MC |
| Boo Weekley | | MC | MC | 3 | 29 | 6 | | MC | 10 | 13 |
| Sebastian Munoz | | | | | | | | | | |
| Carlos Ortiz | | | MC | 59 | | | | | | |
| John Senden | | | 20 | MC | 29 | MC | 39 | 13 | 43 | 34 |
| Rod Pampling | | | MC | | | 42 | MC | MC | MC | 13 |
| JT Poston | MC | 32 | | | | | | | | |
| Stephan Jaeger | MC | | | | | | | | | |
| Chris Kirk | MC | MC | 5 | | | 21 | MC | | | |
| Sepp Straka | | | | | | | | | | |
| CT Pan | MC | MC | | | | | | | | |
| Michael Kim | 15 | 36 | 48 | | | | | | | |
| Hank Lebioda | | | | | | | | | | |
| Curtis Luck | | | | | | | | | | |
| David Lingmerth | MC | 14 | | MC | MC | MC | | | | |
| KJ Choi | MC | 24 | MC | 36 | | MC | 39 | 3 | 37 | 24 |
| Cameron Davis | | | | | | | | | | |
| Kyle Jones | | | | | | | | | | |
| Ernie Els | | | | | MC | 15 | 2 | | | |
| Trevor Immelman | | | MC | MC | MC | 65 | MC | | | |
| Jim Furyk | MC | | | | | | | | | |
| David Duval | MC | | | | 25 | | 66 | MC | 53 | MC |
| Julian Etulain | | 5 | | | | | | | | |
| Andres Romero | MC | | MC | MC | 45 | MC | MC | 8 | 37 | Dq |
| Chase Wright | | | | | | | | | | |
| Derek Fathauer | | MC | | MC | | | | | | MC |
| Kyoung-Hoon Lee | | | | | | | | | | |
| Matt Every | MC | MC | MC | | Wd | 32 | MC | MC | | |
| Chad Campbell | 19 | | 72 | 8 | MC | 59 | | | | |
| Freddie Jacobson | | 14 | 36 | 28 | 29 | | | | | |
Discover the latest articles
Read past articles