Mexico Championship 2018: Form and course stats for this week's WGC event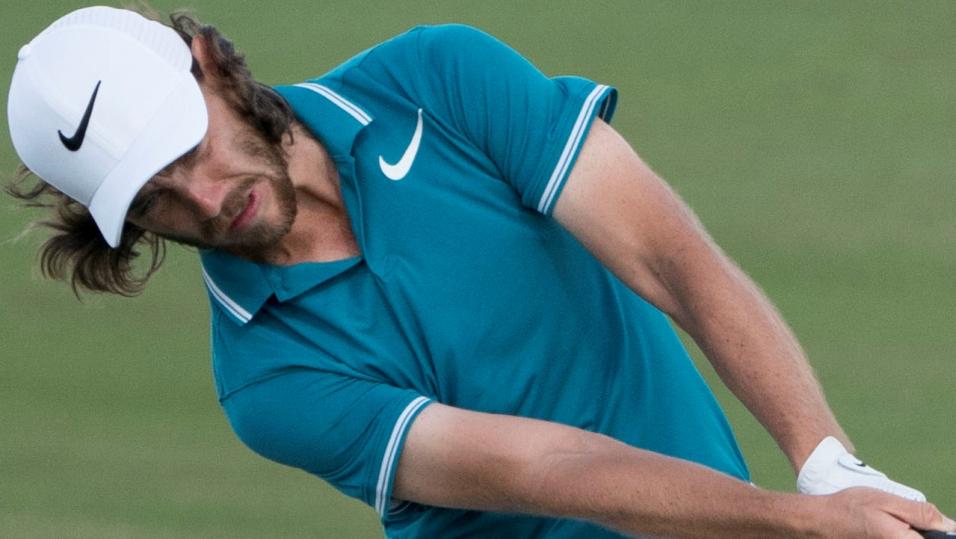 Tommy Fleetwood was runner-up at Chapultepec last year
The PGA Tour travels to Mexico for this week's World Golf Championship event at Chapultepec. Andy Swales supplies the stats...
"Eight of DJ's 16 strokeplay victories on the PGA Tour, did not have either a 36 or 54-hole cut."
Most of the game's elite have travelled to Mexico for the first World Golf Championship event of 2018.
For a second straight year, the lush Chapultepec Golf Club in Mexico City will stage this prestigious tournament.
With its tight, tree-lined fairways, Chapultepec will provide a stern test for those teeing-up in Thursday's opening round.
Water is not a major issue on this 90-year-old parkland course which has been a frequent venue for Mexico's national open.
Defending Champ
World No 1 Dustin Johnson is the reigning champion and the 33-year-old American has a habit of playing well in tournaments that do not have a 36-hole cut.
He's already won four WGC strokeplay events, while finishing second in two others.
He's triumphed twice in the year-opening Tournament of Champions at Kapalua, as well as in two BMW Championships - which is a FedEx Cup play-off event limited to just 70 players and with no cut.
In short, eight of DJ's 16 strokeplay victories on the PGA Tour, did not have either a 36 or 54-hole cut. Perhaps he plays his best golf when not threatened with any form of instant dismissal.
The course should certainly suit a golfer with the ball-striking abilities of Louis Oosthuizen.
The South African was highly fancied 12 months ago, but failed to ignite, and for three rounds at PGA National last week looked well placed to pounce on the final day.
However, a closing 75 left him well adrift and just inside the top-25 but he remains capable of turning this around at Chapultepec.
Continues to Impress
Over the past 18 months, Tommy Fleetwood has gone from being a highly capable European Tour pro, to one of golf's biggest talents.
Thanks to three victories in 13 months, as well as eight other top-six finishes, the 27-year-old from Southport is now ranked 11th in the world.
He topped the Race to Dubai standings in 2017 and his form over the early weeks of this year seems to suggest he's the real deal.
He finished second in Mexico 12 months ago, and has shown he has both the game and mental toughness to claim a maiden title on the PGA Tour.
For those searching an each-way punt, in-form Phil Mickelson was a top-10 finisher at Chapultepec last year, while Englishman Ross Fisher could surprise everyone with another solid performance in Mexico.
Off The Boil
One huge star to have struggled in recent weeks is Rickie Fowler. The American has missed the cut twice in his past three events, either side of playing a dismal closing round at TPC Scottsdale.
Although these setbacks are probably just a blip, Fowler appears to have lost his way a little and during the past couple of years has been unable to take that next step from PGA Tour winner to major champion - and this may well be affecting his overall confidence.
| Player | W8 | W7 | W6 | W5 | W4 | W3 | W2 | W1 | W52 | W51 | W50 | W49 |
| --- | --- | --- | --- | --- | --- | --- | --- | --- | --- | --- | --- | --- |
| Dustin Johnson | | 16 | 2 | | | 9 | | 1 | | | | |
| Jon Rahm | | | 26 | 11 | 29 | 1 | | 2 | | | | |
| Jordan Spieth | | 9 | 20 | MC | | | 18 | 9 | | | | |
| Justin Thomas | 1 | 9 | | 17 | | | 14 | 22 | | | | |
| Justin Rose | | | | | 8 | 22 | | | | | 1 | |
| Rickie Fowler | MC | | | 11 | MC | | | 4 | | | | |
| Sergio Garcia | 33 | | | | 32 | 1 | | | | | | |
| Tommy Fleetwood | 4 | 37 | | | 6 | 1 | | | | | | |
| Marc Leishman | | MC | | 31 | 8 | | 47 | 7 | | | | |
| Tyrrell Hatton | MC | | | | 3 | 15 | | | | | | |
| Alexander Noren | 3 | 16 | | 21 | 2 | | | | | | | |
| Matt Kuchar | | 26 | 62 | 5 | | 32 | | | | | | |
| Pat Perez | | 41 | 35 | | 29 | 21 | | 4 | | | | |
| Paul Casey | | 49 | 8 | | | 9 | | | | | | |
| Rafa Cabrera-Bello | 29 | 26 | 26 | | 6 | 40 | | | | | | |
| Brian Harman | 33 | | | | MC | 20 | 4 | 3 | | | | |
| Xander Schauffele | | 9 | | 17 | MC | | 32 | 22 | | | | |
| Charley Hoffman | | 41 | Wd | 26 | 35 | | | | | | | |
| Francesco Molinari | | MC | | 40 | 45 | | | | | | | |
| Patrick Reed | MC | | MC | 17 | 23 | MC | | | | | | |
| Gary Woodland | 49 | | MC | 1 | 12 | | 7 | | | | | |
| Ross Fisher | | | | | 45 | 2 | | | | | | |
| Branden Grace | | 37 | 20 | | 37 | 15 | 2 | | | | | |
| Louis Oosthuizen | 24 | | | | MC | 49 | | | | | | |
| Matthew Fitzpatrick | | | | | MC | 3 | | | | | | |
| Kevin Kisner | MC | | MC | | | 50 | 25 | 17 | | | | |
| Phil Mickelson | | 6 | 2 | 5 | 45 | MC | | | | | | |
| Tony Finau | | 2 | | MC | 6 | | 32 | | | | | |
| Patrick Cantlay | | 4 | 35 | | 51 | | | 15 | | | | |
| Daniel Berger | 29 | MC | | 11 | | | 14 | 11 | | | | |
| Kevin Chappell | | 20 | 8 | 31 | | 6 | | 21 | | | | |
| Hao Tong Li | | 53 | | MC | 1 | MC | | | | | | |
| Kiradech Aphibarnrat | 68 | | 1 | 27 | 51 | 22 | | | | | 5 | 1 |
| Brendan Steele | | 49 | | 3 | 29 | 20 | | 29 | | | | |
| Bubba Watson | | 1 | 35 | 40 | | MC | | | | | | |
| Satoshi Kodaira | | | 21 | | 2 | 2 | MC | | | | | |
| Thomas Pieters | 13 | 68 | | | 32 | 5 | | | | | | |
| Chez Reavie | | 73 | 2 | 2 | | 36 | 18 | | | | | |
| Jason Dufner | 17 | | | | | 36 | 18 | 11 | | | | |
| Webb Simpson | 5 | | | MC | | 36 | 4 | | | | | |
| Yuta Ikeda | | | | 39 | 35 | MC | | | | | | |
| Dylan Frittelli | 11 | | | 5 | 6 | 19 | 20 | | | | 20 | 42 |
| Charl Schwartzel | | 68 | | | | | 15 | | | | | |
| Jhonattan Vegas | 72 | MC | | | MC | 11 | | 7 | | | | |
| Adam Hadwin | | 6 | | 43 | 35 | 3 | | 32 | | | | |
| Bernd Wiesberger | MC | | | MC | 32 | 15 | | | | | | |
| Yusaku Miyazato | | | 11 | 27 | 5 | 40 | MC | | | | 4 | |
| Russell Henley | 24 | | 15 | MC | | | MC | 17 | | | | |
| Kyle Stanley | | MC | | MC | 51 | | 10 | 30 | | | | |
| Peter Uihlein | MC | 26 | | 52 | MC | 17 | MC | | | | | |
| Joost Luiten | | 1 | | 11 | MC | 48 | | | | | | |
| Shubhankar Sharma | MC | MC | | 1 | 61 | 48 | | | | | 11 | 1 |
| Paul Dunne | | | MC | | MC | 19 | | | | | | |
| Chris Paisley | | | | 27 | 5 | 5 | 1 | | | | | |
| Chan Kim | | | | | | | | | | | | |
| Jorge Campillo | | 4 | | 2 | MC | 14 | 12 | | | | | |
| Wade Ormsby | | | 26 | MC | MC | MC | | | | | | |
| Dean Burmester | | 4 | | MC | 22 | 40 | 54 | | | | | 19 |
| David Lipsky | | | 77 | 17 | 6 | MC | | | | | | |
| Gavin Kyle Green | | 68 | | 39 | 45 | 8 | | | | | MC | 19 |
| Brandon Stone | MC | MC | | MC | MC | 61 | MC | | | | | |
| Adam Bland | MC | MC | 73 | MC | | MC | | | | | | |
| Abraham Ancer | MC | 68 | | | 20 | 76 | MC | | | | | |
| Brett Rumford | | MC | 40 | | 37 | | 74 | | | | | |
| Patton Kizzire | MC | | | 31 | | 42 | 1 | 15 | | | | |
| Player | 2017 |
| --- | --- |
| Dustin Johnson | 1 |
| Jon Rahm | 3 |
| Jordan Spieth | 12 |
| Justin Thomas | 5 |
| Justin Rose | 38 |
| Rickie Fowler | 16 |
| Sergio Garcia | 12 |
| Tommy Fleetwood | 2 |
| Marc Leishman | |
| Tyrrell Hatton | 10 |
| Alexander Noren | 55 |
| Matt Kuchar | 20 |
| Pat Perez | 38 |
| Paul Casey | 16 |
| Rafa Cabrera-Bello | 38 |
| Brian Harman | |
| Xander Schauffele | |
| Charley Hoffman | |
| Francesco Molinari | 20 |
| Patrick Reed | 61 |
| Gary Woodland | 38 |
| Ross Fisher | 3 |
| Branden Grace | 32 |
| Louis Oosthuizen | 48 |
| Matthew Fitzpatrick | 16 |
| Kevin Kisner | 11 |
| Phil Mickelson | 7 |
| Tony Finau | |
| Patrick Cantlay | |
| Daniel Berger | 16 |
| Kevin Chappell | 55 |
| Hao Tong Li | |
| Kiradech Aphibarnrat | |
| Brendan Steele | 48 |
| Bubba Watson | 38 |
| Satoshi Kodaira | |
| Thomas Pieters | 5 |
| Chez Reavie | |
| Jason Dufner | 23 |
| Webb Simpson | |
| Yuta Ikeda | 61 |
| Dylan Frittelli | |
| Charl Schwartzel | 38 |
| Jhonattan Vegas | 38 |
| Adam Hadwin | |
| Bernd Wiesberger | 45 |
| Yusaku Miyazato | |
| Russell Henley | |
| Kyle Stanley | |
| Peter Uihlein | |
| Joost Luiten | 25 |
| Shubhankar Sharma | |
| Paul Dunne | |
| Chris Paisley | |
| Chan Kim | |
| Jorge Campillo | |
| Wade Ormsby | |
| Dean Burmester | |
| David Lipsky | 63 |
| Gavin Kyle Green | |
| Brandon Stone | 67 |
| Adam Bland | |
| Abraham Ancer | |
| Brett Rumford | |
| Patton Kizzire | |
Discover the latest articles