WGC Bridgestone Invitational 2018: Key stats for this week's event at Firestone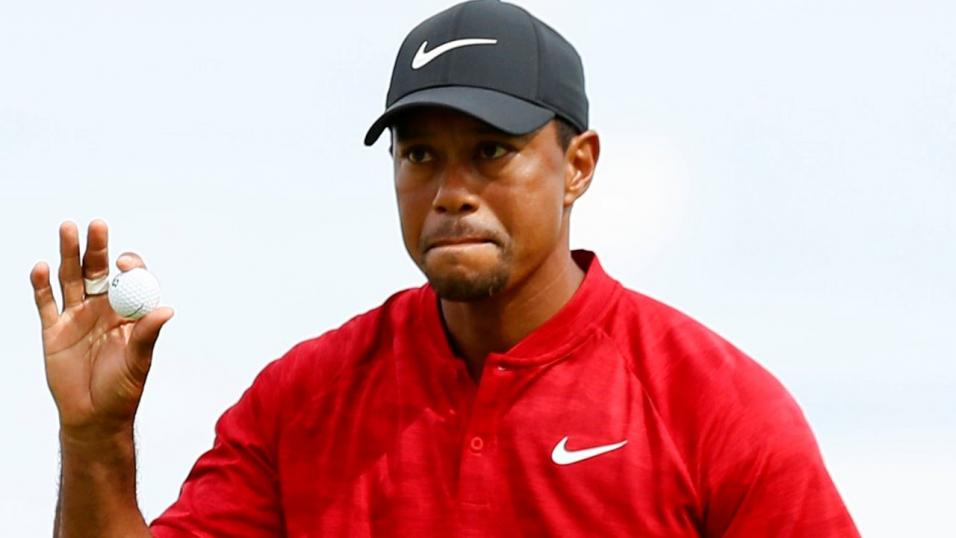 On the back of his strong performance at Carnoustie, can Tiger claim a ninth Firestone title?
Andy Swales provides course and current form stats ahead of this week's WGC Bridgestone Invitational...
"Rickie Fowler should be free to express himself again, following a disappointing weekend at The Open which ruined his chances of a first major title."
The sport's elite are off to Ohio for the third World Golf Championship event of 2018 at Firestone Country Club.
The WGC-Bridgestone Invitational is once again the final tournament ahead of the fourth and concluding major championship of the season, which takes place in Missouri next week.
However, after more than 60 years of hosting top level tournament golf, the curtain comes down on Firestone as a PGA Tour venue.
In 2019, when the PGA Championship moves from August to May, there will be a new sponsor for this WGC-event which is to be played at TPC Southwind in Tennessee.
From next year, Firestone will become part of the Champions Tour, hosting the Senior Players Championship, so tournament officials will want to go out on a high this weekend.
Firestone's South Course is around 40 miles south of Cleveland, and approximately 110 north-west of Pittsburgh in Pennsylvania.
Opened in August 1929, and redesigned by Robert Trent Jones 31 years later, Firestone is a traditional parkland course with tree-lined fairways and few undulations.
There is little significant water to worry about, while its fast Bentgrass putting surfaces are some of the largest on Tour.
The South Course has staged the PGA Championship three times, most recently in 1975, and over the decades has earned a reputation for being a layout with a sizeable collection of long par fours, while the 16th hole is a par-five of more than 660 yards.
Stars in Abundance
World No 1 Dustin Johnson arrives in this northern state on the back of his third PGA Tour win of the season.
DJ is a former winner of this event and is more than likely to contend again this weekend.
Rory McIlroy is another ex-Firestone champion chasing his second success of 2018, in what has become a fairly frustrating year for the 29-year-old who has had four other podium finishes since the start of January.
Man of the moment Francesco Molinari will be keen to maintain his superb run of form.
The 35-year-old has won three of his last six tournaments, which have also yielded a brace of second placed finishes.
However, The Open winner from Carnoustie is yet to post a top-10 in Ohio from seven previous trips.
Rickie Fowler should be free to express himself again, following a disappointing weekend at The Open which ruined his chances of a first major title.
The American was second here as long ago as 2011, since when there have been four other top 10s.
This week is not a major, so Fowler has nothing to prove and can play with freedom over the South Course.
Back In The Big Time!
No one has a better South Course record than Tiger Woods, who showed in Scotland recently that he is ready to win again - and big.
Woods, 42, has won this event eight times, and it would be a fitting finale for Firestone if the 14-time major champion was in contention again this Sunday.
Twitter: Andy Swales@GolfStatsAlive


MC* - Missed Additional 54-Hole Cut
| Player | W30 | W29 | W28 | W27 | W26 | W25 | W24 | W23 | W22 | W21 | W20 | W19 |
| --- | --- | --- | --- | --- | --- | --- | --- | --- | --- | --- | --- | --- |
| Dustin Johnson | 1 | MC | | | | | 3 | 1 | 8 | | | 17 |
| Justin Rose | | 2 | 9 | | | | 10 | | 6 | 1 | | 23 |
| Justin Thomas | | MC | | | 8 | 56 | 25 | | 8 | | | 11 |
| Brooks Koepka | MC | 39 | | | | 19 | 1 | 30 | | 2 | | 11 |
| Jon Rahm | | MC | | 4 | 5 | | MC | | | 5 | | 63 |
| Francesco Molinari | | 1 | 2 | | 1 | | 25 | | 2 | 1 | | MC |
| Rory McIlroy | | 2 | | 28 | | 12 | MC | | 8 | 2 | | MC |
| Jordan Spieth | | 9 | | | | 42 | MC | | MC | 32 | 21 | 41 |
| Rickie Fowler | | 28 | 6 | | 12 | | 20 | | 8 | 14 | | MC |
| Jason Day | | 17 | | | | 12 | MC | | 44 | | | 5 |
| Tommy Fleetwood | 6 | 12 | | | MC | 59 | 2 | | 23 | 20 | | 7 |
| Alexander Noren | | 17 | | | 1 | | 25 | | 23 | 3 | | 17 |
| Patrick Reed | 9 | 28 | 23 | | | MC | 4 | | 29 | | | 41 |
| Bubba Watson | MC | MC | | 13 | | 1 | MC | | 44 | | | 57 |
| Paul Casey | 7 | 51 | | | | 2 | 16 | | | 20 | | |
| Hideki Matsuyama | | MC | MC | | | | 16 | | 13 | | 16 | MC |
| Henrik Stenson | | 35 | | | | | 6 | 26 | 13 | | | 23 |
| Xander Schauffele | | 2 | | 21 | | MC | 6 | | MC | MC | | 2 |
| Marc Leishman | | 60 | | | 13 | MC | 45 | | 62 | | 2 | 63 |
| Sergio Garcia | MC | MC | | | 8 | 12 | MC | | | | MC | 70 |
| Webb Simpson | | 12 | | 47 | | MC | 10 | | | MC | | 1 |
| Phil Mickelson | | 24 | MC | 65 | | | 48 | 12 | 13 | | | MC |
| Bryson DeChambeau | 13 | 51 | Wd | | | 9 | 25 | | 1 | 42 | | 37 |
| Tyrrell Hatton | | 51 | 9 | | 16 | | 6 | | MC | MC | | MC |
| Kevin Kisner | MC | 2 | | 55 | | | MC | | MC* | 52 | | MC |
| Matt Kuchar | MC | 9 | MC | | | | MC | | 13 | 32 | MC | 17 |
| Patrick Cantlay | | 12 | | | | 15 | 45 | | 4 | MC | | 23 |
| Tony Finau | 37 | 9 | | 21 | | | 5 | MC | 13 | | | 57 |
| Rafa Cabrera-Bello | | 74 | MC | MC | MC | | 36 | | 4 | 8 | | 17 |
| Brian Harman | | MC | | 56 | | 6 | 36 | | | 14 | | MC |
| Kiradech Aphibarnrat | | 75 | 42 | MC | 48 | | 15 | MC | 13 | 5 | | 30 |
| Ian Poulter | 12 | MC | 30 | | 21 | | 25 | | 8 | 20 | | 11 |
| Louis Oosthuizen | | 28 | | | | | 16 | | 13 | 5 | | MC |
| Charley Hoffman | 29 | 17 | 19 | | | 15 | 20 | | MC | 52 | | MC |
| Branden Grace | | MC | | | | | 25 | | 52 | 5 | 3 | 46 |
| Pat Perez | MC | 17 | | | | MC | 36 | | 70 | 42 | | MC |
| Kyle Stanley | | 39 | MC | | 32 | 15 | MC | | 2 | | | MC |
| Satoshi Kodaira | | 35 | | MC | | MC | MC | | MC | 20 | MC | MC |
| Matthew Fitzpatrick | | MC | 14 | MC | 27 | | 12 | | 30 | 8 | | 46 |
| Daniel Berger | | MC | | | | 67 | 6 | MC | | | | 57 |
| Kevin Na | | 51 | | 1 | 64 | 5 | | | MC | 4 | 6 | 46 |
| Hao Tong Li | | 39 | 23 | MC | 21 | | 16 | | 19 | 43 | | MC |
| Gary Woodland | 22 | 67 | | | 53 | | 36 | | 23 | | | MC |
| Ross Fisher | | 39 | MC | | MC | | 48 | | MC | 8 | | 71 |
| Luke List | | 39 | 3 | | | MC | MC | 56 | 37 | | | MC |
| Cameron Smith | | 78 | 42 | | | | MC | | MC | MC | | MC |
| Kevin Chappell | | 6 | MC | 30 | | | 65 | MC | MC | | | MC |
| Charl Schwartzel | 9 | MC | | | | | MC | 72 | MC | | | 2 |
| Zach Johnson | | 17 | 16 | | | 19 | 12 | | 40 | MC | | MC* |
| Tiger Woods | | 6 | | | 4 | | MC | | 23 | | | 11 |
| Si Woo Kim | 29 | 67 | MC | | MC | 26 | MC | | 29 | 66 | | 63 |
| Russell Knox | | MC | 49 | 1 | 2 | 38 | 12 | | 44 | 20 | 16 | MC |
| Adam Hadwin | MC | 35 | | | 48 | 42 | MC | | MC* | 52 | | 57 |
| Thorbjorn Olesen | | 12 | | 6 | MC | 2 | MC | | 1 | 60 | | MC |
| Brendan Steele | | 47 | | | | MC | 63 | | | | | MC* |
| Emiliano Grillo | | MC | | | | 19 | MC | | 23 | 3 | | 37 |
| Byeong-Hun An | 2 | 51 | | | 41 | | 67 | MC | 2 | 15 | | 30 |
| Alexander Bjork | | MC | 19 | 14 | 8 | 33 | | | MC | 27 | | |
| Adam Scott | | 17 | | | | | MC | | 35 | 52 | 9 | 11 |
| Paul Dunne | | 67 | MC | 40 | 21 | | | | 30 | MC | | |
| Andrew Landry | | MC | 55 | | 8 | MC | | | 65 | MC | | 67 |
| Patton Kizzire | | MC | 30 | MC | | MC | | | MC* | 64 | | MC |
| Aaron Wise | | | MC | MC | | | MC | | MC | MC | 1 | |
| Jhonattan Vegas | 29 | MC | | | | MC | 41 | | 40 | 73 | | 41 |
| Shubhankar Sharma | | 51 | MC | MC | 27 | | MC | | MC | 20 | | |
| Ted Potter | | | | MC | 23 | MC | MC | | 57 | 42 | | 41 |
| Austin Cook | | 28 | 34 | 5 | | MC | | 6 | MC | MC | | 46 |
| Anirban Lahiri | | MC | | 39 | 13 | 9 | | | 37 | 58 | 26 | MC |
| Brandon Stone | | 61 | 1 | 69 | MC | MC | | | 65 | 60 | MC | |
| Ryuko Tokimatsu | | MC | | MC | | 7 | | | 2 | 27 | 1 | 29 |
| Wade Ormsby | | | MC | 49 | 12 | 16 | | 30 | 71 | MC | | |
| Jaco Ahlers | | | | | | | | 21 | | | 3 | 15 |
| Kodai Ichihara | | MC | | MC | | 15 | | | 1 | MC | 10 | MC |
| Player | 2017 | 2016 | 2015 | 2014 | 2013 | 2012 | 2011 | 2010 | 2009 | 2008 |
| --- | --- | --- | --- | --- | --- | --- | --- | --- | --- | --- |
| Dustin Johnson | 17 | 1 | 53 | | 33 | 19 | 48 | 15 | 22 | |
| Justin Rose | 63 | 46 | 3 | 4 | 17 | 5 | 33 | 19 | 29 | 27 |
| Justin Thomas | 28 | 33 | | | | | | | | |
| Brooks Koepka | 17 | Wd | 6 | | | | | | | |
| Jon Rahm | 28 | | | | | | | | | |
| Francesco Molinari | 24 | | 61 | 31 | 44 | 40 | 15 | 39 | | |
| Rory McIlroy | 5 | | | 1 | 27 | 5 | 6 | 9 | 68 | |
| Jordan Spieth | 13 | 3 | 10 | 49 | | | | | | |
| Rickie Fowler | 9 | 10 | 10 | 8 | 21 | 60 | 2 | 33 | | |
| Jason Day | 24 | 3 | 12 | Wd | 53 | 29 | 4 | 22 | | |
| Tommy Fleetwood | 28 | | | | | | | | | |
| Alexander Noren | 28 | | | | | | 53 | 53 | | |
| Patrick Reed | 36 | 52 | 15 | 4 | | | | | | |
| Bubba Watson | 17 | 14 | 2 | 37 | 27 | 19 | 21 | 22 | | |
| Paul Casey | 5 | 16 | 17 | | 27 | | 45 | 22 | Wd | 8 |
| Hideki Matsuyama | 1 | 42 | 37 | 12 | 21 | | | | | |
| Henrik Stenson | 17 | | 6 | 19 | 2 | | | 80 | 29 | 16 |
| Xander Schauffele | 13 | | | | | | | | | |
| Marc Leishman | 41 | 55 | 33 | 3 | | 45 | | | | |
| Sergio Garcia | 39 | | 37 | 2 | 40 | 29 | 53 | 22 | 22 | 36 |
| Webb Simpson | | | 25 | 31 | 14 | | | | | |
| Phil Mickelson | 39 | 27 | 63 | 15 | 21 | 43 | 48 | 46 | 58 | 4 |
| Bryson DeChambeau | 60 | | | | | | | | | |
| Tyrrell Hatton | 36 | | | | | | | | | |
| Kevin Kisner | 28 | 16 | 37 | | | | | | | |
| Matt Kuchar | 17 | 3 | 25 | 12 | 27 | 8 | 19 | 9 | | |
| Patrick Cantlay | | | | | | | | | | |
| Tony Finau | | | | | | | | | | |
| Rafa Cabrera-Bello | 72 | | | | | 29 | | | | |
| Brian Harman | 50 | | | 65 | | | | | | |
| Kiradech Aphibarnrat | | 53 | | | 40 | | | | | |
| Ian Poulter | | | 17 | 52 | 19 | 29 | 68 | 65 | 15 | 16 |
| Louis Oosthuizen | 50 | 21 | 42 | 61 | | 4 | 37 | 9 | | |
| Charley Hoffman | 3 | 33 | 31 | | | | 37 | | | |
| Branden Grace | 28 | 10 | 17 | 23 | 65 | 36 | | | | |
| Pat Perez | 69 | | | | | | | | 22 | |
| Kyle Stanley | 41 | | | | | 16 | | | | |
| Satoshi Kodaira | 47 | | | | 65 | | | | | |
| Matthew Fitzpatrick | 50 | | | | | | | | | |
| Daniel Berger | 17 | Wd | | | | | | | | |
| Kevin Na | | 27 | 15 | 23 | | 63 | | | | |
| Hao Tong Li | | | | | | | | | | |
| Gary Woodland | 63 | | 57 | 19 | | | 45 | | | |
| Ross Fisher | 44 | | | | | | | 46 | 43 | 56 |
| Luke List | | | | | | | | | | |
| Cameron Smith | | | | | | | | | | |
| Kevin Chappell | 13 | 3 | | | | | | | | |
| Charl Schwartzel | 24 | 7 | 31 | 4 | 21 | 24 | 53 | 58 | | |
| Zach Johnson | 2 | 10 | 33 | 23 | 4 | 40 | 6 | 33 | 15 | 16 |
| Tiger Woods | | | | Wd | 1 | 8 | 37 | 78 | 1 | |
| Si Woo Kim | 50 | | | | | | | | | |
| Russell Knox | 5 | 54 | | | | | | | | |
| Adam Hadwin | 5 | | | | | | | | | |
| Thorbjorn Olesen | 10 | | | | 48 | | | | | |
| Brendan Steele | 24 | | | | | | 48 | | | |
| Emiliano Grillo | 50 | 14 | | | | | | | | |
| Byeong-Hun An | | 49 | 57 | | | | | | | |
| Alexander Bjork | | | | | | | | | | |
| Adam Scott | 13 | 10 | 45 | 8 | 14 | 45 | 1 | 9 | 51 | 56 |
| Paul Dunne | | | | | | | | | | |
| Andrew Landry | | | | | | | | | | |
| Patton Kizzire | | | | | | | | | | |
| Aaron Wise | | | | | | | | | | |
| Jhonattan Vegas | 17 | | | | | | 66 | | | |
| Shubhankar Sharma | | | | | | | | | | |
| Ted Potter | | | | | | 73 | | | | |
| Austin Cook | | | | | | | | | | |
| Anirban Lahiri | | 33 | 53 | | | | | | | |
| Brandon Stone | | | | | | | | | | |
| Ryuko Tokimatsu | | | | | | | | | | |
| Wade Ormsby | | | | | | | | | | |
| Jaco Ahlers | | | | | | | | | | |
| Kodai Ichihara | | | | | | | | | | |
Discover the latest articles
Read past articles