Wells Fargo Championship 2018: Stats for this week's PGA Tour event in North Carolina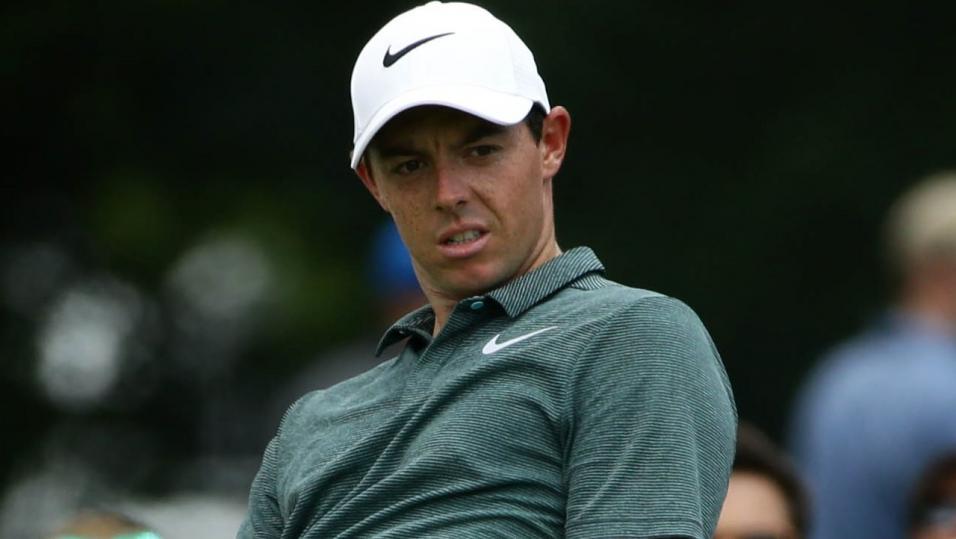 Rory McIlroy: Winner at Quail Hollow in 2010 and 2015
Check out the form of those teeing-up at Quail Hollow on Thursday, in the opening round of the Wells Fargo Championship. Stats compiled by Andy Swales ...
"Although Phil Mickelson has never won at Quail Hollow, he has stood on the podium three times, while adding four more top-five finishes."
The PGA Tour is back at Quail Hollow less than nine months after the North Carolina course hosted the final major championship of 2017.
Highly regarded by most leading pros, Quail Hollow staged last year's PGA Championship when an excellent back nine by Justin Thomas on Sunday, earned him the biggest title of his career.
Designed by George Cobb and opened 57 years ago, the course has been a frequent Tour venue for much of the past five decades, after making its top tier debut by staging the Kemper Open of 1969.
The course has undergone a series of renovations during the past 30 years, most recently at the hands of Tom Fazio, and it remains one of the most respected venues in professional golf.
Accurate driving is a priority on this tree-lined and parkland course, which is not overly reliant on water hazards to make it testing, although a number of these do exist on a handful of closing holes.
There is, however, plenty of sand to focus the attention on many of the approach shots.
Quail Hollow is around six miles south of downtown Charlotte, the largest city in North Carolina.
And, as expected on a course of this quality, a number of big guns are teeing-up in this week's Wells Fargo Championship.
Star Names
Twelve of the world's top 20 are taking part, including Justin Thomas, Rickie Fowler and Rory McIlroy who are all former winners at this course.
Fowler and McIlroy are making their first appearances since The Masters, hoping to erase the disappointment of missing out at the season's first major.
Fowler played superbly during the final round at Augusta National but, once again, came up short, while McIlroy fell away on Sunday afternoon having started the day in second spot.
The Northern Irishman is a two-time champion at Quail Hollow where he has also been runner-up.
Man of the moment Patrick Reed, the wearer of this April's Green Jacket, is in great form thanks to five successive top-10s.
The 27-year-old from Texas tied-for-second when Quail hosted the PGA Championship last August.
Excellent Shape
Among those who are also in good form right now are Phil Mickelson, Tommy Fleetwood and Louis Oosthuizen.
Lefty has played here 14 times and, despite missing the cut at the PGA last summer, has a remarkable record over the course.
Although he has never won at Quail Hollow, he has stood on the podium three times, while adding four more top-five finishes.
The ever-improving Fleetwood rarely seems to play badly nowadays, while Oosthuizen was a joint runner-up here in 2017.
Outsiders
With so many big names teeing-up on this testing course, it's hard to see an outsider lifting the trophy on Sunday, so an each-way punt may appear more tempting.
One player who is doing well in both Driving Accuracy (DA) and Greens in Regulation (GiR) is Kyle Stanley.
He's currently top of GiR and fifth in DA and, despite missing the cut in his last two appearances at Quail Hollow, has finished sixth here in the past.
Two others who are doing well in both categories are Kevin Streelman and Brian Harman. The former has had a brace of top 10s at the course during the past five years.
MC* - Missed Additional 54-Hole Cut
| Player | W17 | W16 | W15 | W14 | W13 | W12 | W11 | W10 | W9 | W8 | W7 | W6 |
| --- | --- | --- | --- | --- | --- | --- | --- | --- | --- | --- | --- | --- |
| Justin Thomas | MC | | | 17 | | 4 | | | 2 | 1 | 9 | |
| Rickie Fowler | | | | 2 | 43 | | 14 | | 37 | MC | | |
| Rory McIlroy | | | | 5 | | 36 | 1 | MC | | 59 | 20 | MC |
| Hideki Matsuyama | | | | 19 | | 36 | 49 | | | | | |
| Brooks Koepka | MC | | | | | | | | | | | |
| Patrick Reed | 7 | | | 1 | | 9 | 7 | 2 | 37 | MC | | MC |
| Tommy Fleetwood | 4 | | | 17 | | 17 | 26 | | 14 | 4 | 37 | |
| Paul Casey | | | MC | 15 | | 17 | | 1 | 12 | | 49 | 8 |
| Jason Day | 34 | | | 20 | | 36 | 22 | | | | | 2 |
| Alexander Noren | | | | MC | | 3 | 36 | | 14 | 3 | 16 | |
| Phil Mickelson | | | | 36 | 24 | 17 | | | 1 | | 6 | 2 |
| Tyrrell Hatton | | | MC | 44 | | 9 | 69 | | 3 | MC | | |
| Brian Harman | | | 23 | 44 | | 9 | 54 | | 5 | 33 | | |
| Kevin Kisner | 15 | | 7 | 28 | | 2 | MC | | 29 | MC | | MC |
| Xander Schauffele | | MC* | 32 | 50 | | 17 | | | 18 | | 9 | |
| Louis Oosthuizen | 3 | | | 12 | | 9 | MC | 16 | 30 | 24 | | |
| Francesco Molinari | | | 49 | 20 | | 17 | 26 | | 25 | | MC | |
| Tony Finau | 6 | | | 10 | 24 | 17 | | MC | 27 | | 2 | |
| Gary Woodland | MC | | | MC | | 29 | | MC | 50 | 49 | | MC |
| Daniel Berger | MC | | | 32 | 18 | 59 | | | 14 | 29 | MC | |
| Webb Simpson | | | 5 | 20 | | 29 | | 8 | 37 | 5 | | |
| Ross Fisher | MC | | MC | MC | | 36 | | MC | 46 | | | |
| Adam Hadwin | | | | 24 | | 17 | | 12 | 9 | | 6 | |
| Kyle Stanley | | | | 52 | | 5 | 14 | | 25 | | MC | |
| Bryson DeChambeau | | | 3 | 38 | | | 2 | Wd | | | 41 | 55 |
| Russell Henley | | | | 15 | 8 | 36 | | | 58 | 24 | | 15 |
| Dylan Frittelli | | 20 | 32 | MC | MC | 36 | | | 55 | 11 | | |
| Luke List | | MC | 3 | | 24 | 59 | 7 | 16 | | 2 | 26 | |
| Jason Dufner | 2 | | MC | MC | 64 | 17 | | MC | 55 | 17 | | |
| Patton Kizzire | | | MC | MC | | 36 | MC | | 12 | MC | | |
| Jhonattan Vegas | | MC | | 38 | MC* | 52 | | | 20 | 72 | MC | |
| Ryan Moore | | 7 | 16 | 28 | | | 5 | MC | | 49 | 9 | |
| Charles Howell | | | 55 | | 18 | 9 | 14 | 40 | | MC | 37 | |
| Adam Scott | | MC | | 32 | | | 41 | 16 | | 13 | 53 | MC |
| Charl Schwartzel | 3 | | MC | MC | | 36 | MC | 49 | 48 | | 68 | |
| Andrew Landry | MC | 1 | 42 | | | | | | | MC | MC | |
| Peter Uihlein | MC | MC | | | MC | 17 | 66 | | 37 | MC | 26 | |
| James Hahn | | | MC | | 32 | 36 | 58 | | | | 14 | 26 |
| Chesson Hadley | 4 | 20 | 7 | | 18 | | 49 | MC | | MC | | 35 |
| Emiliano Grillo | MC | | 16 | | 3 | 50 | 26 | 6 | | 8 | | |
| Keegan Bradley | MC | 45 | | | 43 | 36 | 26 | 31 | | 49 | MC | |
| Bill Haas | | MC* | 7 | | MC* | | | 49 | | | | |
| Shane Lowry | 28 | | | | 14 | | MC | 49 | | 49 | MC | 43 |
| Ted Potter | | | 16 | MC | | | MC | MC | | MC | MC | 1 |
| Sean O`Hair | 25 | 2 | MC | | 64 | | 7 | 12 | | MC | 64 | 73 |
| Byeong Hun An | MC | | 7 | | 52 | | 14 | MC | | 5 | | |
| Ollie Schniederjans | | 36 | 42 | | | | 41 | 49 | | 64 | MC | |
| Beau Hossler | | 51 | 16 | | 2 | | 66 | MC | | | MC | 43 |
| Tiger Woods | | | | 32 | | | 5 | 2 | | 12 | MC | |
| Jamie Lovemark | 10 | 30 | | | 24 | | 41 | 16 | | 7 | 26 | |
| Anirban Lahiri | | 58 | MC | | | | 75 | 34 | | 59 | 26 | |
| Lucas Glover | 22 | | 32 | | 32 | | 49 | 74 | | 17 | MC | |
| Martin Kaymer | | MC | 73 | 48 | MC | | | | | Wd | 53 | |
| Grayson Murray | | 16 | MC | | 14 | | 14 | MC | | MC | | 8 |
| JB Holmes | MC | MC | | | 32 | | 41 | 46 | | 49 | 60 | MC |
| Kevin Streelman | | 8 | 7 | | 43 | | 41 | MC | | | 41 | 6 |
| Austin Cook | | 30 | 50 | MC | | | 36 | 40 | | | 49 | MC |
| Sung Kang | 36 | MC | MC | | Wd | | 58 | 73 | | MC | 16 | |
| Jason Kokrak | | 36 | MC | | MC* | | MC | 8 | | | 20 | 35 |
| Bud Cauley | MC | | 23 | | 18 | | 14 | MC | | Wd | 20 | |
| Brice Garnett | 4 | MC* | 42 | | MC | 1 | | 31 | | MC | MC | 35 |
| Hudson Swafford | MC | MC* | MC | | | | 75 | MC | | 64 | | |
| Scott Stallings | MC | | 55 | | MC* | | MC | 31 | | 29 | 4 | 7 |
| Patrick Rodgers | | MC | | | MC | 22 | 7 | 59 | | 33 | 26 | 8 |
| Stewart Cink | | MC | 42 | | | | 58 | 31 | | 46 | | MC |
| Whee Kim | 22 | MC | 50 | | MC | | MC | 49 | | | MC | |
| Scott Brown | 15 | MC | MC | | MC* | | MC | 64 | | 46 | MC | MC |
| Kelly Kraft | MC | | MC | | MC* | 3 | | 31 | | 8 | 63 | MC |
| Sam Burns | MC | 33 | | | 1 | 20 | 49 | 12 | | 8 | | 2 |
| Trey Mullinax | 31 | 2 | | | | 22 | | 8 | | | | 47 |
| Keith Mitchell | MC | 26 | 55 | | 6 | 2 | | | | MC | | 47 |
| Rory Sabbatini | MC | | 23 | | 70 | 43 | | 5 | | 17 | | 72 |
| Danny Lee | MC | 51 | 55 | | 64 | | MC | MC | | Wd | MC | |
| Chris Stroud | 28 | Wd | MC | | MC | | | | | 33 | MC | 35 |
| CT Pan | MC | MC | 23 | | MC | | 41 | MC | | 17 | MC | |
| Tom Hoge | 10 | MC | 55 | | 60 | | 26 | MC | | MC | 53 | MC |
| Abraham Ancer | MC | 58 | | | 8 | 13 | | 16 | 52 | MC | 68 | |
| Harold Varner | MC | MC | MC | | MC | 45 | | 78 | | 72 | 60 | |
| Mackenzie Hughes | MC | MC | MC | | MC | | 54 | MC | | 59 | | MC |
| Aaron Wise | MC | MC | | | 32 | | 41 | 68 | | 33 | MC | 15 |
| Sam Saunders | MC | | MC | | 72 | | MC | 49 | | MC | 26 | 26 |
| Brandon Harkins | MC | MC* | MC | | 60 | | 36 | MC | | | 41 | 15 |
| Aaron Baddeley | MC | 16 | 55 | | 74 | | | 49 | | | 14 | 55 |
| Kevin Tway | MC | 36 | 67 | | 32 | 28 | 58 | MC | | MC | MC | |
| Ben Martin | | 45 | 55 | | | | MC | 46 | | 33 | | 26 |
| Nick Taylor | | MC | MC | | MC | | MC | MC | | | 41 | MC |
| Robert Streb | | | MC | | MC | MC | MC | MC | | MC | MC | MC |
| Brian Stuard | 28 | 36 | 67 | | MC | | 36 | MC | | MC | MC | MC |
| Graeme McDowell | 22 | 51 | 55 | | | MC | 22 | 40 | | MC | 26 | MC |
| Sam Ryder | MC | 36 | MC | | 5 | MC | | 68 | | | | 68 |
| Talor Gooch | MC | MC | | | MC | | 26 | MC | | MC | 20 | MC |
| Martin Piller | | MC | | | 24 | | MC | MC | | 67 | 67 | MC |
| Dominic Bozzelli | | MC | 40 | | MC* | | | 31 | | 13 | 26 | MC |
| Vaughn Taylor | | 16 | MC | | | | | | | 59 | 20 | 55 |
| Alex Cejka | 31 | | | | MC | | MC | 40 | | Wd | | 75 |
| Jonas Blixt | MC | | 14 | | MC | | | | | | 41 | MC |
| Nick Watney | 31 | 20 | 32 | | 32 | | | 59 | | 33 | | 47 |
| Rob Oppenheim | 15 | MC | | | 32 | 35 | | | | MC | MC | 47 |
| Ben Silverman | MC | 45 | | | MC* | | | MC | | MC | 53 | MC |
| Andrew Putnam | 15 | 8 | | | 32 | 5 | | MC | | MC | | MC |
| Tom Lovelady | MC | MC | | | 68 | 5 | | MC | | 17 | | MC |
| Nicholas Lindheim | 25 | 36 | | | 14 | | | MC | | | Wd | MC |
| Tyrone Van Aswegen | 19 | MC | 23 | | 32 | | 72 | 28 | | 68 | 68 | 26 |
| Derek Fathauer | | MC | MC | | MC | MC | | MC | | 13 | 16 | 62 |
| Martin Flores | MC | MC | MC | | MC | 13 | | 77 | | 74 | MC | |
| Nate Lashley | 15 | MC | | | 18 | 28 | | | | MC | | MC |
| Jonathan Byrd | 15 | MC | 50 | | MC* | 54 | | | | | | 62 |
| Matt Jones | 19 | MC | | | 52 | 28 | | | | | | MC |
| Michael Thompson | | 68 | 42 | | 14 | | | | | 24 | | |
| Xin Jun Zhang | MC | MC | | | MC | 5 | | | | | | |
| Jonathan Randolph | 31 | MC | | | MC | | | MC | | 68 | MC | 66 |
| Adam Schenk | 7 | 58 | | | 60 | 35 | | 59 | | 29 | 53 | MC |
| Richy Werenski | 25 | 11 | MC | | MC* | 45 | | MC | | MC | | MC |
| Stephan Jaeger | MC | MC | | | MC | 54 | | 49 | | MC | MC | 43 |
| Rod Pampling | | 68 | 32 | | MC | | | 59 | | | | 47 |
| Retief Goosen | 19 | 20 | | | MC | 35 | | MC | | MC | 53 | |
| JT Poston | MC | 30 | | | 67 | 19 | | | | | | 68 |
| Ryan Blaum | MC | | MC | | MC | | | 16 | | MC | 60 | 73 |
| Smylie Kaufman | MC | | | | MC | MC | MC | MC | | MC | MC | |
| Seamus Power | 10 | MC | | | 60 | 5 | | MC | | MC | | MC |
| Troy Merritt | 10 | 36 | | | 43 | 35 | | MC | | 49 | 41 | 8 |
| DA Points | MC | | MC | | MC | MC | MC | MC | | | MC | MC |
| Shawn Stefani | MC | MC | | | 24 | 13 | | | | MC | MC | MC |
| Billy Hurley | MC | MC | MC | | | | MC | MC | | MC | MC | MC |
| Lanto Griffin | MC | 58 | | | MC | 28 | | | | MC | | MC |
| Blayne Barber | MC | | MC | | MC | | | 16 | | MC | | |
| Tyler Duncan | 7 | MC | | | 52 | MC | MC | MC | | 24 | MC | MC |
| Geoff Ogilvy | | MC | MC | | MC | 22 | | MC | | | MC | |
| Cameron Tringale | MC | MC | | | MC | MC | | | | MC | MC | 47 |
| Bronson Burgoon | | MC | | | 24 | MC | | | | MC | | 47 |
| Denny McCarthy | 25 | 20 | | | 43 | 4 | | | | MC | | 66 |
| Johnson Wagner | MC | 20 | | | 52 | 70 | | | | | | 55 |
| Kyle Thompson | MC | MC | | | 59 | MC | | | | | | MC |
| JJ Henry | 10 | MC | 16 | | MC | 65 | | 74 | | MC | MC | MC |
| Camilo Villegas | | | | | MC | | MC | MC | | 68 | MC | |
| Corey Conners | MC | 26 | MC | | MC | 13 | | 16 | | 59 | | MC |
| Matt Atkins | MC | 68 | | | MC | 22 | | 56 | | | | MC |
| Conrad Shindler | 9 | MC | | | | MC | | MC | | | | MC |
| Vijay Singh | | | | 49 | | | MC | | | | 73 | MC |
| Marty Dou Ze Cheng | MC | 51 | | | | MC | | MC | | | MC | 55 |
| Andrew Yun | 22 | 64 | | | MC | MC* | | MC | | | | MC |
| Joel Dahmen | 25 | MC* | | | MC* | 13 | | | | 33 | MC | 55 |
| Roberto Diaz | MC | MC | | | 32 | MC | | 39 | | 33 | | MC |
| Matt Every | MC | MC | 55 | | 8 | 35 | MC | 68 | | 66 | MC | MC |
| Greg Chalmers | 10 | MC | MC | | 70 | MC | | MC | | 17 | 68 | MC |
| Fabian Gomez | MC | MC | 50 | | MC* | 22 | | 68 | | MC | MC | MC |
| Ernie Els | | 30 | | | 72 | | 49 | 64 | | | MC | MC |
| Ethan Tracy | 5 | 72 | | | 75 | 54 | | | | MC | | MC |
| Joaquin Niemann | | 6 | | MC | | | | | | | | |
| Peter Malnati | MC | 64 | 67 | | MC | | | MC | | 49 | MC | 35 |
| Steve Marino | | 68 | MC | | 39 | 8 | | | | | | |
| Ryan Ruffels | 34 | | 54 | | | MC | 18 | | | | | |
| Steve Wheatcroft | | MC | | | MC | 28 | | | | | | MC |
| Brett Stegmaier | MC | MC | | | 43 | 60 | | | | | | MC |
| John Peterson | 34 | MC | | | | | | | | | | |
| Davis Love | | | 74 | | | 70 | 58 | MC | | | | |
| John Senden | | MC* | MC | | | MC | | | | | | |
| Sangmoon Bae | | MC | | | | | MC | MC | | | 75 | 15 |
| Derek Ernst | 24 | 22 | | | MC | 53 | | MC | | | | MC |
| Bob Estes | | | MC | | MC | | | 49 | | MC | | |
| Dru Love | | 55 | MC | | | MC | | | | | | |
| Charles Frost | | | | | | | | | | | | |
| Player | 2017 | 2016 | 2015 | 2014 | 2013 | 2012 | 2011 | 2010 | 2009 | 2008 |
| --- | --- | --- | --- | --- | --- | --- | --- | --- | --- | --- |
| Justin Thomas | 1 | MC | 7 | | | | | | | |
| Rickie Fowler | 5 | 4 | | 38 | MC* | 1 | 16 | 6 | | |
| Rory McIlroy | 22 | 4 | 1 | 8 | 10 | 2 | MC | 1 | | |
| Hideki Matsuyama | 5 | 11 | 20 | 38 | | | | | | |
| Brooks Koepka | 13 | | | | | | | | | |
| Patrick Reed | 2 | 28 | 58 | | 32 | 32 | | | | |
| Tommy Fleetwood | 61 | | | | | | | | | |
| Paul Casey | 13 | 41 | | | | | MC | | | MC |
| Jason Day | 9 | | | | | 9 | | 22 | | |
| Alexander Noren | 67 | | | | | | | | | |
| Phil Mickelson | MC | 4 | 4 | 11 | 3 | 26 | 9 | 2 | 5 | 12 |
| Tyrrell Hatton | MC | | | | | | | | | |
| Brian Harman | 13 | 35 | MC | 65 | 10 | 57 | | | | |
| Kevin Kisner | 7 | MC | 38 | 6 | | MC | MC | | | |
| Xander Schauffele | MC | | | | | | | | | |
| Louis Oosthuizen | 2 | | MC | | | | | | | |
| Francesco Molinari | 2 | 17 | | | | | | | | |
| Tony Finau | 44 | 28 | 16 | | | | | | | |
| Gary Woodland | 22 | 24 | 4 | 18 | 61 | | 68 | | 73 | |
| Daniel Berger | MC | 17 | 28 | | | | | | | |
| Webb Simpson | 33 | MC | 2 | 38 | 32 | 4 | 21 | MC | MC | |
| Ross Fisher | MC | | | | 10 | | | 43 | 29 | |
| Adam Hadwin | MC | 61 | MC | | | | | | | |
| Kyle Stanley | MC | MC | | 60 | 6 | MC | 45 | | | |
| Bryson DeChambeau | 33 | MC | | | | | | | | |
| Russell Henley | 71 | | | MC | 43 | | | | | |
| Dylan Frittelli | 63 | | | | | | | | | |
| Luke List | MC | MC | | | 16 | | | | | |
| Jason Dufner | 58 | | | | | | | MC | 5 | |
| Patton Kizzire | | 24 | | | | | | | | |
| Jhonattan Vegas | MC | 53 | MC* | MC | | MC | MC | | | |
| Ryan Moore | 13 | MC | 47 | 18 | 6 | 5 | 33 | MC | MC | MC |
| Charles Howell | 73 | MC | 38 | 18 | 10 | MC | 59 | 63 | MC | 25 |
| Adam Scott | 61 | 17 | MC | | | | | MC | MC | 8 |
| Charl Schwartzel | 48 | | MC | | | | | | | |
| Andrew Landry | | | | | | | | | | |
| Peter Uihlein | MC | | | | | | | | | |
| James Hahn | 13 | 1 | 73 | MC | 50 | | | | | |
| Chesson Hadley | | 11 | 20 | MC | | | | | | |
| Emiliano Grillo | MC | 61 | | | | | | | | |
| Keegan Bradley | 33 | | | | | MC | MC | | | |
| Bill Haas | 54 | MC | 68 | 44 | MC | MC | 4 | 29 | 22 | MC |
| Shane Lowry | 48 | MC | | | | | | | | |
| Ted Potter | | | | 50 | 32 | MC | | | | |
| Sean O`Hair | 33 | 35 | 20 | MC | MC | 15 | | MC | 1 | |
| Byeong Hun An | 28 | MC | | | | | | | | |
| Ollie Schniederjans | | MC | | | | | | | | |
| Beau Hossler | | | | | | | | | | |
| Tiger Woods | | | | | | MC | | MC | 4 | |
| Jamie Lovemark | 33 | 53 | | MC | | MC | | | | |
| Anirban Lahiri | 75 | 41 | | | | | | | | |
| Lucas Glover | 33 | 8 | 28 | MC | 27 | MC | 1 | 22 | 2 | 69 |
| Martin Kaymer | | 41 | | 18 | MC | | 62 | | 11 | |
| Grayson Murray | 22 | | | | | | | | | |
| JB Holmes | 28 | 53 | MC | 1 | | 57 | 9 | MC | MC | 17 |
| Kevin Streelman | | MC | 9 | 14 | 6 | | | MC | MC | MC |
| Austin Cook | | | | | | | | | | |
| Sung Kang | 44 | MC | | | | 26 | MC | | | |
| Jason Kokrak | 33 | MC | MC | 23 | 50 | MC | | | | |
| Bud Cauley | 33 | MC | | 38 | 38 | | | | | |
| Brice Garnett | | | MC | MC | | | | | | |
| Hudson Swafford | MC | | | MC | | | | | | |
| Scott Stallings | | 53 | MC | MC | MC | MC | MC* | | | |
| Patrick Rodgers | MC | MC | 2 | | | | | | | |
| Stewart Cink | | | 20 | 23 | | 15 | 9 | MC | MC | 8 |
| Whee Kim | | MC | MC | | | | | | | |
| Scott Brown | 13 | MC | 13 | 30 | 38 | MC | | | | |
| Kelly Kraft | 58 | MC | | | | | | | | |
| Sam Burns | | | | | | | | | | |
| Trey Mullinax | | | | | | | | | | |
| Keith Mitchell | | | | | | | | | | |
| Rory Sabbatini | | | MC | 8 | MC | MC | 3 | MC | MC | 67 |
| Danny Lee | MC | 9 | 13 | 50 | | Dq | | | 38 | |
| Chris Stroud | 9 | 35 | MC | MC | MC* | MC | 64 | 29 | 53 | MC |
| CT Pan | | | | | | | | | | |
| Tom Hoge | | 41 | MC | | | | | | | |
| Abraham Ancer | | | | | | | | | | |
| Harold Varner | | 24 | | MC | | | | | | |
| Mackenzie Hughes | MC | MC | | | | | | | | |
| Aaron Wise | | | | | | | | | | |
| Sam Saunders | | MC | 47 | | | | MC | | | |
| Brandon Harkins | | | | | | | | | | |
| Aaron Baddeley | | | 55 | | | 65 | | 51 | MC | 40 |
| Kevin Tway | | | | 65 | | | | | | |
| Ben Martin | | MC | 38 | 50 | | | MC | | | |
| Nick Taylor | | MC | MC | | | | | | | |
| Robert Streb | 22 | 28 | 4 | 23 | MC | | | | | |
| Brian Stuard | | MC | 38 | MC | MC | | | 57 | | |
| Graeme McDowell | MC | | | | | | | | | |
| Sam Ryder | | | | | | | | | | |
| Talor Gooch | | | | | | | | | | |
| Martin Piller | | 41 | | | | | | | | |
| Dominic Bozzelli | | | | | | | | | | |
| Vaughn Taylor | | 35 | | | 10 | MC | MC | MC | MC | MC* |
| Alex Cejka | | 53 | 58 | | | | 48 | MC | | MC |
| Jonas Blixt | MC | MC | MC | MC | MC | 9 | | | | |
| Nick Watney | | | MC | MC | 10 | 8 | MC | 22 | 22 | 40 |
| Rob Oppenheim | | 71 | | | | | | | | |
| Ben Silverman | | | | | | | | | | |
| Andrew Putnam | | | MC | | | | | | | |
| Tom Lovelady | | | | | | | | | | |
| Nicholas Lindheim | | | | | | | | | | |
| Tyrone Van Aswegen | | MC | MC | MC | | | | | | |
| Derek Fathauer | | MC | MC | | | | | | MC | |
| Martin Flores | | | 47 | 3 | 38 | 21 | | MC | | |
| Nate Lashley | | | | | | | | | | |
| Jonathan Byrd | | MC | MC | 14 | MC* | 9 | 2 | MC | 5 | MC |
| Matt Jones | | MC | 28 | MC | MC* | | 21 | 7 | | MC |
| Michael Thompson | | MC | 28 | 11 | | MC | 64 | | | |
| Xin Jun Zhang | | | | | | | | | | |
| Jonathan Randolph | | | 20 | | | | | | | |
| Adam Schenk | | | | | | | | | | |
| Richy Werenski | | | | | | | | | | |
| Stephan Jaeger | | | | | | | | | | |
| Rod Pampling | MC | | | | 43 | | | 63 | MC | 8 |
| Retief Goosen | | 14 | 38 | 50 | | MC | | | 11 | |
| JT Poston | | | | | | | | | | |
| Ryan Blaum | | | | | | | | | | |
| Smylie Kaufman | | | | | | | | | | |
| Seamus Power | | | | | | | | | | |
| Troy Merritt | | | MC | MC | | | MC | MC | | |
| DA Points | 54 | MC | MC | MC | 16 | 2 | MC | 63 | MC | |
| Shawn Stefani | | MC | 9 | 44 | 27 | | | | | |
| Billy Hurley | | | 38 | MC | | MC | | | | |
| Lanto Griffin | | | | | | | MC | | | |
| Blayne Barber | | MC | MC | | | | | | | |
| Tyler Duncan | | | | | | | | | | |
| Geoff Ogilvy | | MC | 7 | 14 | 38 | 21 | | 38 | 32 | 22 |
| Cameron Tringale | | 41 | | 60 | MC | 57 | 59 | MC | | |
| Bronson Burgoon | | MC | | | | | | | | |
| Denny McCarthy | | | | | | | | | | |
| Johnson Wagner | | 28 | MC | 68 | MC | 65 | 33 | 63 | MC | MC |
| Kyle Thompson | | | | | | MC | MC | | | MC |
| JJ Henry | | Wd | MC | MC | MC | 57 | 33 | 7 | MC | MC |
| Camilo Villegas | | 28 | MC | MC | MC | 32 | MC | 57 | 22 | 55 |
| Corey Conners | | | MC | | | | | | | |
| Matt Atkins | | | | | | | | | | |
| Conrad Shindler | | | | | | | | | | |
| Vijay Singh | 66 | 77 | MC | 30 | | MC | 9 | MC | MC | 17 |
| Marty Dou Ze Cheng | | | | | | | | | | |
| Andrew Yun | | | | | | | | | | |
| Joel Dahmen | | | | | | | | | | |
| Roberto Diaz | | | | | | | | | | |
| Matt Every | | MC | | | | | | | | |
| Greg Chalmers | | | | MC | | | MC | 48 | MC | |
| Fabian Gomez | | 9 | MC | | MC | | MC | | | |
| Ernie Els | MC | 69 | | 44 | | | | | | |
| Ethan Tracy | | MC | | | | | | | | |
| Joaquin Niemann | | | | | | | | | | |
| Peter Malnati | | MC | | MC | | | | | | |
| Steve Marino | | MC | | MC | 61 | | 21 | 16 | 38 | 40 |
| Ryan Ruffels | | | | | | | | | | |
| Steve Wheatcroft | | 41 | 38 | | | MC | | 63 | 53 | |
| Brett Stegmaier | | 71 | | | | | | | | |
| John Peterson | | | 20 | MC | MC | | | | | |
| Davis Love | MC | MC | | 65 | | | 16 | 17 | 22 | MC |
| John Senden | | 17 | | | 22 | 15 | 33 | MC | 32 | 25 |
| Sangmoon Bae | | | 58 | 38 | | 57 | | | | |
| Derek Ernst | | 41 | MC | 30 | 1 | | | | | |
| Bob Estes | | | | | | | | | | MC |
| Dru Love | | | | | | | | | | |
| Charles Frost | | | | | MC | | | | | |
Discover the latest articles
Read past articles