Volvo China Open 2018: Stats for this week's European Tour event in Beijing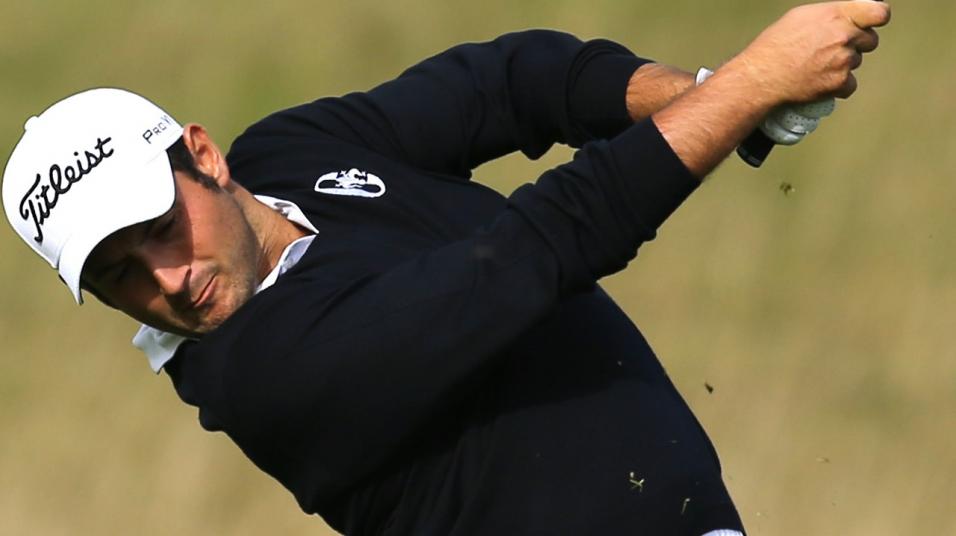 Alexander Levy is seeking back-to-back China Open titles, as well as back-to-back wins on the European Tour
The European Tour is off to China for the national open at Topwin. Before placing a bet, check out our course and current form stats supplied by Andy Swales...
"Alexander Levy has only competed twice since early February but four of his six starts during 2018 have yielded top 10s"
For a third time this month, the European Tour switches continent to tri-sanction this week's China Open north of Beijing.
Following tournaments in the United States, Spain and Morocco, the players now travel to the Far East for a one-off event in Asia.
Situated north of the Chinese capital, Topwin will be staging this event for the third time.
This Ian Woosnam-designed parkland course is located close to the Great Wall of China, in the hills of Huairou.
Opened in 2011, Topwin has water hazards on all but three holes, along with tricky undulating greens.
In addition to the European Tour, the China Open is being sanctioned by the Asian Tour and China Golf Association.
Asian Stars
Two of Asia's leading talents, Kiradech Aphibarnrat of Thailand and China's Hao Tong Li, are among the main contenders this week.
While Aphibarnrat missed the cut on his only appearance at Topwin 12 months ago, Li is a former champion at the course.
The 22-year-old won here in 2016 and then tied-for-11th when defending his title.
Li triumphed in Dubai during January, since when he hasn't finished inside the top 30 in six starts.
However, this should not be held against him in this moderately weak field, and he has had two weeks to recover from his trip to Augusta National where he made the cut and ended up a respectable tie-for-32nd.
Aphibarnrat is also teeing-up for the first time since The Masters, and the world No 32 has played well during 2018.
He won Down Under during February, before adding a brace of top-five finishes in WGC events.
In-Form Defending Champ
Reigning champion Alexander Levy arrives in China on the back of a well-earned victory in Morocco on Sunday.
The Frenchman has only competed twice since early February but four of his six starts during 2018 have yielded top 10s.
Levy is fifth for Greens in Regulation this season, on the European Tour, and when he triumphed in China last year was second in this category.
Another consistent performer is Dutchman Joost Luiten who tied-for-ninth at the Trophee Hassan II, alongside American Seung-Su Han.
The latter continues his speedy rise up the World Ranking and is currently at No 88 having been outside the top 500 at the beginning of 2017.
Han, who is making his Topwin debut, is currently inside the Tour's top 10 for Putting (GiR) and this could prove to be a key stat on Woosnam's undulating greens.
This week's event would be the perfect time for Jorge Campillo or Alexander Bjork to claim a maiden European Tour title.
Campillo tied-ninth at Topwin last year, while Bjork stood on the podium in north Africa at the weekend.
Both players have had a sprinkling of top-dozen finishes on the European Tour during the past four months.
And further down the pecking order is young Canadian Austin Connelly who impressed many with his solid performances in 2017.
Although the 21-year-old has struggled during the early months of this year, he showed glimpses of better form in Morocco where he crossed the finishing line in a tie-for-13th.
MC* - Missed Additional 54 Hole Cut
| Player | W16 | W15 | W14 | W13 | W12 | W11 | W10 | W9 | W8 | W7 | W6 | W5 |
| --- | --- | --- | --- | --- | --- | --- | --- | --- | --- | --- | --- | --- |
| Kiradech Aphibarnrat | | | 44 | | 5 | MC | 1 | 5 | 68 | | 1 | 27 |
| Hao Tong Li | | | 32 | | 59 | 54 | | 63 | | 53 | | MC |
| Bernd Wiesberger | | | 24 | | 29 | | | 30 | MC | | | MC |
| Yuta Ikeda | 14 | | MC | MC | 29 | MC | | 46 | | | | 39 |
| Alexander Levy | 1 | | | | 36 | | | | | 4 | | 55 |
| Paul Dunne | MC | 2 | | 8 | 5 | | | 55 | | | MC | |
| Julian Suri | 58 | | | 8 | 29 | | MC | 48 | MC | | 68 | MC |
| Shubhankar Sharma | MC | | MC | MC | 59 | | 7 | 9 | MC | MC | | 1 |
| Joost Luiten | 9 | | | | | | 9 | 37 | | 1 | | 11 |
| Hideto Tanihara | | 9 | | | | | 12 | | 28 | | 65 | 5 |
| Seung-Su Han | 9 | 21 | | 52 | 5 | | | | 13 | 4 | 58 | |
| Jorge Campillo | 46 | 5 | | | | | | 27 | | 4 | | 2 |
| Chris Wood | MC | | | | 54 | | 48 | | 13 | 2 | | |
| Matt Wallace | MC | MC | | | | | 1 | | 19 | 44 | | MC |
| Thorbjorn Olesen | | 46 | | | | | | | MC | | 10 | MC |
| Wade Ormsby | 52 | | | | | | 25 | 50 | | | 26 | MC |
| Shaun Norris | 40 | | | | | | Wd | 38 | 13 | 52 | 8 | MC |
| Pablo Larrazabal | MC | 21 | | | | | 4 | | 4 | 44 | | 3 |
| Nacho Elvira | 22 | 3 | | | | | 40 | | 39 | MC | | MC |
| Ryan Fox | 12 | MC | | | | | | MC | | | 26 | 3 |
| Alexander Bjork | 3 | 39 | | | | | | MC | 19 | 12 | | MC |
| Paul Peterson | MC | MC | | | | | 23 | 11 | | | MC | 11 |
| Dean Burmester | Dq | 71 | | | | 3 | | 30 | | 4 | | MC |
| Jordan Smith | 52 | MC | | | | | | | MC | 26 | | 69 |
| Nicolas Colsaerts | MC | 28 | | | | | | | 34 | | | |
| Scott Jamieson | MC | MC | | | | | MC | 7 | 61 | | | 17 |
| Adrian Otaegui | 19 | 12 | | | | | | | 10 | 12 | | 39 |
| Hyun Woo Ryu | MC | MC | | | | | | 59 | | | | |
| Jazz Janewattananond | 28 | | | | | | MC | | | MC | 40 | 39 |
| Jeung-Hun Wang | 13 | MC | | | | | 40 | | MC | 26 | | 62 |
| Erik Van Rooyen | 7 | 21 | | | | | MC | 10 | 59 | 18 | 52 | |
| Gaganjeet Bhullar | MC | | | | | | MC | | | | MC | 27 |
| Renato Paratore | 61 | 21 | | | | | MC | | 4 | MC | | MC |
| David Lipsky | MC | 67 | | | | | | 48 | | | 77 | 17 |
| Julien Guerrier | MC | 9 | | | | | MC | 38 | MC | 3 | 33 | |
| Jason Scrivener | MC | 73 | | | | | 40 | | 19 | MC | 26 | MC |
| Gavin Green | MC | 46 | | | | | 16 | 64 | | 68 | | 39 |
| Matthieu Pavon | MC | MC | | | | | | | 28 | 31 | | 11 |
| Poom Saksansin | MC | | | | | | MC | 45 | | | 21 | MC |
| Scott Hend | MC | | | | | | MC | MC | 70 | 56 | | MC |
| Lucas Herbert | | | | | | | | MC | | MC | 3 | |
| Daisuke Kataoka | MC | MC | | | | | | | | 56 | 40 | 23 |
| Aaron Rai | 52 | 12 | | | | | 9 | MC | 19 | 37 | 26 | |
| Phachara Khongwatmai | 66 | MC | | | | | MC | | MC | 37 | | 17 |
| Haydn Porteous | MC | | | | | | | 48 | MC | 26 | | MC |
| Marcus Kinhult | MC | MC | | | | | MC | MC | 3 | 16 | | |
| Callum Shinkwin | 13 | 28 | | | | | | | 19 | 56 | | |
| Shiv Kapur | 53 | | | | | | MC | | | | MC | 23 |
| Tapio Pulkkanen | 36 | 21 | | | | | | MC | MC | 23 | | |
| Adam Bland | MC | MC | | | | | | 18 | MC | MC | 73 | MC |
| Thomas Detry | 19 | MC | | | | | | | 39 | 31 | | 23 |
| Ajeetesh Sandhu | 10 | | | | | | 40 | | | | MC | MC |
| Andrew Dodt | 32 | MC | | | | | MC | 45 | | | 65 | 55 |
| Marc Warren | 46 | 5 | | | | | 53 | | 53 | 63 | | 67 |
| Clement Sordet | MC | MC | | | | | 12 | 54 | MC | 37 | | |
| Panupol Pittayarat | MC | | | | | | 16 | 55 | | | | 23 |
| Lucas Bjerregaard | MC | | | | | | | | MC | MC | | MC |
| Scott Vincent | 4 | | | | | | MC | 13 | MC | 38 | 26 | 39 |
| Benjamin Hebert | 13 | | | | | | | 63 | 61 | 9 | | 17 |
| Romain Wattel | 52 | | | | | | | | 19 | MC | | 11 |
| Jin Ho Choi | MC | 58 | | | | | 9 | 29 | 72 | MC | | |
| Oliver Fisher | 52 | MC | | | | | Wd | | 2 | 44 | | MC |
| Sam Brazel | MC | | | | | | | | MC | 16 | | MC |
| Brandon Stone | 22 | 39 | | | | | | 60 | MC | MC | | MC |
| Austin Connelly | 13 | 63 | | | | | | | | | 80 | 62 |
| Ryan Evans | 46 | MC | | | | | 34 | 21 | 61 | 53 | 33 | |
| Miguel Tabuena | 14 | | | | | | MC | | | | | MC |
| Micah Lauren Shin | | | | | | | 51 | | | | | MC |
| SSP Chawrasia | 40 | | | | | | MC | | MC | 53 | | 55 |
| Nino Bertasio | 59 | 34 | | | | | MC | MC | MC | 51 | | 5 |
| Pedro Oriol | 29 | 39 | | | | | | 8 | | MC | | |
| Lee Slattery | 32 | MC | | | | | | | MC | 31 | | MC |
| Thongchai Jaidee | MC | 73 | | | | | MC | | 53 | 51 | | 39 |
| Rattanon Wannasrichan | 4 | | | | | | Wd | | | | 58 | 70 |
| Sam Horsfield | MC | MC | | | | 14 | | 2 | MC | MC | 4 | |
| Chase Koepka | MC | MC | | | | | | Wd | 53 | MC | 58 | |
| Adrien Saddier | MC | MC | | | | | 62 | | MC | MC | MC | |
| Joakim Lagergren | 3 | MC | | | | | | | 45 | MC | | MC |
| James Morrison | MC | MC | | | | | 16 | | 45 | MC | | |
| Jens Dantorp | MC | 67 | | | | | 16 | 21 | MC | 59 | 73 | |
| Maximilian Kieffer | 41 | 12 | | | | | | 48 | MC | 23 | | 11 |
| Richard Bland | MC | MC | | | | | | MC | 74 | MC | | |
| Gregory Bourdy | 62 | 46 | | | | | | 54 | MC | 31 | | MC |
| Brett Rumford | MC | 5 | | | | | | 62 | | MC | 40 | |
| Marcus Fraser | 22 | 46 | | | | | 60 | 29 | | | 13 | MC |
| Daniel Nisbet | MC | | | | | | | 1 | 11 | 16 | MC | |
| Ashun Wu | 29 | 34 | | | | | 53 | | 28 | MC | | |
| Sihwan Kim | 4 | 46 | | | | | 3 | MC | | | | 62 |
| Chris Hanson | 41 | MC | | | | | MC | | 53 | MC | | MC* |
| Marcel Siem | 19 | | | | | | MC | | 28 | MC | | MC* |
| Oliver Farr | MC | MC | | | | | MC | MC | 39 | 59 | | |
| Mikko Ilonen | 3 | | | | | | | | 61 | 26 | | |
| Adilson Da Silva | MC | 14 | | | | 29 | MC | 11 | | 13 | MC | MC |
| Steven Brown | 65 | MC | | | | | 16 | MC | 39 | MC | 49 | |
| Edoardo Molinari | MC | MC | | | | | 57 | | 72 | 16 | | MC |
| Arjun Atwal | 44 | | | | MC | | MC | | | | | 34 |
| Gregory Havret | MC | MC | | | | | 23 | | 4 | MC | | |
| Ricardo Gouveia | 59 | 52 | | | | | 16 | 29 | 61 | MC | | |
| Nicholas Fung | 14 | | 19 | | | | 48 | | | | 33 | MC* |
| Lasse Jensen | MC | MC | | | | | Wd | | MC | MC | | |
| Khalin H Joshi | MC | | | | | | 40 | | | | | 5 |
| Carlos Pigem | MC | MC | | | | | MC | | MC | MC | | MC* |
| Jason Norris | Wd | 58 | | | | | MC | MC | | | MC | 70 |
| Johannes Veerman | 40 | | | | | | MC | 29 | | | MC | MC |
| Alvaro Quiros | 2 | MC | | | | | | | 19 | MC | | MC |
| Wen-Chong Liang | MC | 31 | | | | | 40 | | | | | MC |
| Bowen Xiao | MC | 18 | | | MC | 42 | Wd | | | | | MC |
| Matteo Manassero | 46 | 39 | | | | | 57 | | MC | 31 | | 55 |
| Zander Lombard | MC | MC | | | | | | MC | MC | 65 | 21 | |
| Ashley Chesters | MC | MC | | | | | 30 | MC | 45 | MC | | |
| Daniel Brooks | 66 | MC | | | | | | Wd | MC | Wd | | |
| Scott Fernandez | MC | MC | | | | | 34 | MC | 19 | 37 | MC | |
| Bradley Neil | MC | 58 | | | | | | MC | MC | 63 | 77 | |
| Richard T Lee | MC | | | | | | Wd | | | | | |
| Shih-Chang Chan | MC | MC | | | | | 25 | | | | | 34 |
| Daniel Im | MC | MC | | | | | MC | | 77 | 53 | | 73 |
| Pavit Tangkamolprasert | 28 | | | | | | MC | 29 | | | 18 | MC |
| Yan Wei Liu | 25 | MC | | 14 | 22 | 10 | 36 | | | | MC | |
| Wei-Chih Lu | 49 | | | | | | | | | | | MC |
| Masahiro Kawamura | 4 | 23 | | | | | 10 | 19 | | | | |
| Raphael Jacquelin | 41 | MC | | | | | MC | MC | 53 | 44 | | |
| Yi Cao | 15 | 48 | | 9 | 1 | 40 | 21 | | | | | |
| Rak Hyun Cho | MC | 12 | | | | | | MC | 34 | MC | 65 | |
| Soomin Lee | Dq | MC | | | | | 53 | 48 | 74 | 37 | | 39 |
| Zhang Hui Lin | 15 | 10 | | 9 | 24 | 31 | 31 | | | | | |
| Blake Snyder | | | | | 11 | | | | | | | |
| David Gleeson | | | | | | | 53 | | | | | |
| John Michael O`Toole | | | 29 | | MC | | | | | | | |
| Rahil Gangjee | 1 | | | | | | | | | | | MC |
| Jeev Milkha Singh | | | | | | | MC | | | | | |
| Yu Xin Lin | | | MC | | | | | | | | | MC |
| Wei-Huang Wu | | | | | | | | | | | | |
| Lian Wei Zhang | | | | | | | 49 | | | | | |
| Zihao Chen | 40 | MC | | 59 | MC | MC | MC | | | | | |
| Jin Zhang | 36 | 7 | | | MC | MC | MC | | | | | |
| Daxing Jin | 30 | | | Wd | MC | 5 | 7 | | | | | |
| Xin Yang Li | | MC | | 23 | MC | MC | 66 | | | | | |
| Xue Wen Luo | | 36 | | 23 | 31 | 57 | MC | | | | | |
| Huang Wen Yi | 47 | MC | | 45 | 16 | 21 | MC | | | | | |
| Lu Sen Lien | | | | Wd | | | 36 | | | | | |
| Zihan She | MC | MC | | 14 | 31 | 34 | MC | | | | | |
| Shao Cai He | 19 | 57 | | | MC | 49 | MC | | | | | |
| Dong Su | | | | MC | MC | MC | MC | | | | | |
| Ze Hao Liu | | | | MC | | | MC | | | | | |
| Xu Wang | | MC | | | MC | MC | | | | | | |
| Chang Ping Chen | 42 | 60 | | 61 | 18 | MC | 53 | | | | | |
| Chun Liu | | Wd | | MC | 40 | | | | | | | |
| Zheng Ouyang | | MC | | Wd | | | 66 | | | | | |
| Shi Yu Fan | MC | | | MC | MC | MC | 31 | | | | | |
| Rong Jian Tang | 57 | MC | | | 47 | MC | MC | | | | | |
| Tuxuan Wu | 1 | MC | | MC | MC | 42 | 21 | | | | | |
| Yinong Yang | MC | Wd | | MC | MC | MC | MC | | | | | |
| Guo Wu Zhou | 47 | MC | | 68 | Wd | | 73 | | | | | |
| Ding Gen Chen | MC | MC | | | MC | MC | | | | | | |
| Wei Yu Zhu | | MC | | 31 | MC | 31 | | | | | | |
| Guxin Chen | | | | 31 | MC | MC | | | | | | |
| Jian Feng Ye | Wd | MC | | MC | | | 7 | | | | | |
| Ze Yu He | MC | MC | | | 55 | MC | | | | | | |
| Dong Yu Wang | | | | Wd | MC | | | | | | | |
| Hongfu Wu | MC | MC | | 51 | 31 | 27 | 27 | | | | | |
| Cheng Yao Ma | MC | MC | | | 47 | | | | | | | |
| Hai Meng Chao | | MC | | MC | MC | MC | 49 | | | | | |
| Xue Feng Yao | | | | | | | | | | | | |
| Xiao Li Wang | | MC | | | | | | | | | | |
| Xiao Zhong Chen | | MC | | 63 | 45 | | MC | | | | | |
| Andrea Pavan | 3 | 21 | | | | | | MC | 13 | 16 | 15 | |
| Player | 2017 | 2016 |
| --- | --- | --- |
| Kiradech Aphibarnrat | MC | |
| Hao Tong Li | 11 | 1 |
| Bernd Wiesberger | 4 | 28 |
| Yuta Ikeda | | |
| Alexander Levy | 1 | 28 |
| Paul Dunne | | |
| Julian Suri | | |
| Shubhankar Sharma | | |
| Joost Luiten | 31 | 44 |
| Hideto Tanihara | | |
| Seung-Su Han | | |
| Jorge Campillo | 9 | 34 |
| Chris Wood | 4 | |
| Matt Wallace | | |
| Thorbjorn Olesen | 31 | 15 |
| Wade Ormsby | | MC |
| Shaun Norris | | |
| Pablo Larrazabal | 3 | MC |
| Nacho Elvira | 36 | MC |
| Ryan Fox | MC | 63 |
| Alexander Bjork | MC | |
| Paul Peterson | 42 | |
| Dean Burmester | 65 | MC |
| Jordan Smith | MC | |
| Nicolas Colsaerts | 42 | 15 |
| Scott Jamieson | | MC |
| Adrian Otaegui | MC | MC |
| Hyun Woo Ryu | | |
| Jazz Janewattananond | | |
| Jeung-Hun Wang | 59 | MC |
| Erik Van Rooyen | | |
| Gaganjeet Bhullar | MC | |
| Renato Paratore | 18 | 34 |
| David Lipsky | 24 | 9 |
| Julien Guerrier | | |
| Jason Scrivener | MC | 44 |
| Gavin Green | | |
| Matthieu Pavon | | |
| Poom Saksansin | | |
| Scott Hend | MC | 6 |
| Lucas Herbert | | |
| Daisuke Kataoka | | |
| Aaron Rai | | |
| Phachara Khongwatmai | 18 | MC |
| Haydn Porteous | MC | 19 |
| Marcus Kinhult | | MC |
| Callum Shinkwin | MC | |
| Shiv Kapur | | |
| Tapio Pulkkanen | | |
| Adam Bland | | |
| Thomas Detry | 48 | |
| Ajeetesh Sandhu | | |
| Andrew Dodt | MC | |
| Marc Warren | | 53 |
| Clement Sordet | | |
| Panupol Pittayarat | | |
| Lucas Bjerregaard | 56 | 3 |
| Scott Vincent | | |
| Benjamin Hebert | 13 | 21 |
| Romain Wattel | 24 | 15 |
| Jin Ho Choi | 64 | MC |
| Oliver Fisher | | Dq |
| Sam Brazel | 48 | |
| Brandon Stone | 18 | |
| Austin Connelly | | |
| Ryan Evans | | |
| Miguel Tabuena | | MC |
| Micah Lauren Shin | | |
| SSP Chawrasia | 36 | MC |
| Nino Bertasio | MC | |
| Pedro Oriol | | |
| Lee Slattery | MC | 34 |
| Thongchai Jaidee | 48 | |
| Rattanon Wannasrichan | | MC |
| Sam Horsfield | | |
| Chase Koepka | | |
| Adrien Saddier | | |
| Joakim Lagergren | MC | 21 |
| James Morrison | 31 | MC |
| Jens Dantorp | | |
| Maximilian Kieffer | MC | 48 |
| Richard Bland | MC | 3 |
| Gregory Bourdy | MC | 21 |
| Brett Rumford | 59 | 34 |
| Marcus Fraser | | |
| Daniel Nisbet | | |
| Ashun Wu | 24 | 60 |
| Sihwan Kim | | |
| Chris Hanson | | |
| Marcel Siem | 42 | 3 |
| Oliver Farr | | |
| Mikko Ilonen | 36 | MC |
| Adilson Da Silva | | |
| Steven Brown | | |
| Edoardo Molinari | MC | |
| Arjun Atwal | | |
| Gregory Havret | MC | 13 |
| Ricardo Gouveia | 36 | Dq |
| Nicholas Fung | | |
| Lasse Jensen | Wd | |
| Khalin H Joshi | | |
| Carlos Pigem | MC | |
| Jason Norris | 48 | MC |
| Johannes Veerman | | |
| Alvaro Quiros | | MC |
| Wen-Chong Liang | | |
| Bowen Xiao | MC | |
| Matteo Manassero | 36 | MC |
| Zander Lombard | | |
| Ashley Chesters | | |
| Daniel Brooks | | 39 |
| Scott Fernandez | | |
| Bradley Neil | | |
| Richard T Lee | | |
| Shih-Chang Chan | | |
| Daniel Im | | MC |
| Pavit Tangkamolprasert | | |
| Yan Wei Liu | MC | MC |
| Wei-Chih Lu | | |
| Masahiro Kawamura | | |
| Raphael Jacquelin | 13 | 56 |
| Yi Cao | 24 | MC |
| Rak Hyun Cho | 24 | |
| Soomin Lee | 9 | MC |
| Zhang Hui Lin | MC | MC |
| Blake Snyder | MC | |
| David Gleeson | | |
| John Michael O`Toole | | |
| Rahil Gangjee | | |
| Jeev Milkha Singh | MC | MC |
| Yu Xin Lin | Ret | MC |
| Wei-Huang Wu | MC | 63 |
| Lian Wei Zhang | MC | MC |
| Zihao Chen | MC | MC |
| Jin Zhang | MC | MC |
| Daxing Jin | MC | MC |
| Xin Yang Li | MC | MC |
| Xue Wen Luo | MC | MC |
| Huang Wen Yi | MC | MC |
| Lu Sen Lien | MC | |
| Zihan She | 62 | MC |
| Shao Cai He | MC | Ret |
| Dong Su | MC | Wd |
| Ze Hao Liu | | |
| Xu Wang | | MC |
| Chang Ping Chen | | |
| Chun Liu | Ret | |
| Zheng Ouyang | MC | MC |
| Shi Yu Fan | MC | |
| Rong Jian Tang | MC | |
| Tuxuan Wu | | |
| Yinong Yang | MC | |
| Guo Wu Zhou | | MC |
| Ding Gen Chen | MC | Dq |
| Wei Yu Zhu | | |
| Guxin Chen | | |
| Jian Feng Ye | MC | MC |
| Ze Yu He | MC | MC |
| Dong Yu Wang | MC | |
| Hongfu Wu | 67 | |
| Cheng Yao Ma | | |
| Hai Meng Chao | MC | MC |
| Xue Feng Yao | | |
| Xiao Li Wang | | |
| Xiao Zhong Chen | | |
| Andrea Pavan | | |
Discover the latest articles
Read past articles