Valspar Championship 2019: Your essential stats for this week's event in Florida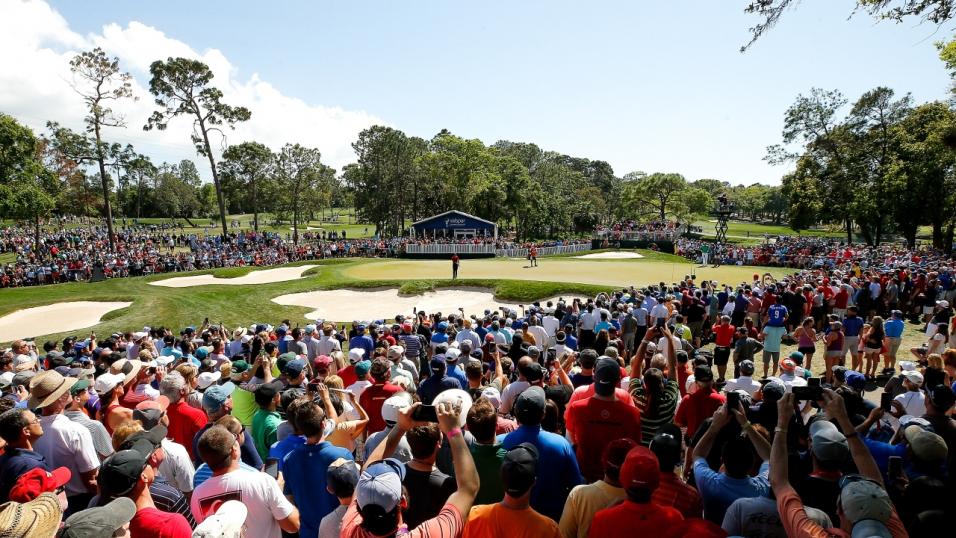 The Copperhead Course at Innisbrook first staged a PGA Tour event in 2000
Andy Swales provides course and current form stats for this week's PGA Tour event at the Innisbrook Resort, near Tampa Bay ...
"Eleven of the 18 winners over the Copperhead course have been from outside the United States."
Week four of the PGA Tour's Florida Swing takes the players to the coastal community of Palm Harbor, around 20 miles north-west of Tampa Bay.
The Valspar Championship, which began life in 2000 as the Tampa Bay Classic, concludes the Tour's stay in the Sunshine State for another season.
Played over the Copperhead course at Innisbrook Resort, the tournament can often feel a little low key, when compared to some of the more prestigious events staged either side of it - at this time of year.
Because of the close proximity of Bay Hill, plus a couple of WGC events, not to mention the impending Masters and a newly-restored March date for TPC Sawgrass, all of this means the Valspar Championship will never be granted top billing.
That said, it usually attracts a decent selection of marquee players and this year is no exception.
With Augusta National just around the corner, there will always be a number of top golfers keen to improve their touch and accuracy, ahead of the year's opening major championship in April.
Dustin Tops The Bill
World No 1 Dustin Johnson is in town, along with 13 other top-30 ranked players.
Johnson makes his first appearance for nine years, having missed the cut in both previous visits. Why not check out DJ's position in the current market.
Jon Rahm, who faded badly at TPC Sawgrass on Sunday, makes his Innisbrook debut, as does Tommy Fleetwood who will also feel disappointed by his final round performance in 'the fifth major.'
Ex-No 1 Jason Day is on a solid run of form right now, without being sensational.
The 31-year-old Aussie has only once failed to finish inside the top 25 - from his most recent 10 starts - but is without a victory in over 10 months.
The two most recent Masters' winners, Patrick Reed and Sergio Garcia, have decent histories at the course, while Webb Simpson's form has been simmering nicely this year and he is a former runner-up at the tournament.
Cup Captain
Last year's American Ryder Cup skipper Jim Furyk was second at Sawgrass last week and is still hitting the ball well, while locating plenty of greens in regulation.
The 48-year-old has finished first and second at Copperhead, while the accurate Lucas Glover should also have the game to prosper in Palm Harbor.
Foreign Success
Throughout its relatively short history, the tournament has delivered plenty of rich pickings for overseas golfers.
So far, 11 of the 18 winners over the Copperhead course have been from outside the United States.
No Pushover
Opened in 1974, Copperhead's tree-lined fairways and rolling terrain is certainly no slugger's paradise - despite the existence of some long par-fives.
There is enough sand, along with numerous changes in elevation and direction, to keep most minds suitably focused.
This well-bunkered layout, with putting surfaces that are larger than the Tour average, has undergone a number of restorations during its life, most recently in the summer and autumn of 2015.
These latest changes included re-seeding the greens with TifEagle Bermuda, while expanding the putting surfaces back to their original size - to accommodate a greater number of potential hole locations.
Water should only come into play on five holes, while the overall tournament stroke average for this event is higher than for most on the PGA Tour schedule, and Stewart Cink once remarked: "This course could host a US Open."
And a former champion over the Copperhead layout, Jordan Spieth, added: "The course plays longer than the yardage. Greens in Regulation is a very important stat."
Twitter: Andy Swales@GolfStatsAlive
MC* - Missed Additional 54-Hole Cut
Note: List contains leading reserves
| Player | W11 | W10 | W9 | W8 | W7 | W6 | W5 | W4 | W3 | W2 | W1 |
| --- | --- | --- | --- | --- | --- | --- | --- | --- | --- | --- | --- |
| Dustin Johnson | 5 | | | 1 | 9 | 45 | 1 | | 16 | | 4 |
| Jon Rahm | 12 | | | 45 | 9 | | 10 | 5 | 6 | | 8 |
| Jason Day | 8 | Wd | | | | 4 | | 5 | | | 13 |
| Tommy Fleetwood | 5 | 3 | | 19 | 28 | 45 | | 16 | 42 | | |
| Paul Casey | MC | | | 3 | 25 | 2 | | | 2 | MC | 16 |
| Patrick Reed | 47 | 50 | | 14 | | 22 | 56 | 13 | | 13 | 25 |
| Bubba Watson | 56 | 17 | | 27 | 15 | | 4 | | | MC | 31 |
| Webb Simpson | 16 | | 36 | 39 | | | 20 | | | | 8 |
| Gary Woodland | 30 | | 36 | 17 | | | 7 | 9 | | MC* | 2 |
| Cameron Smith | 56 | | MC | 6 | 49 | | 15 | 9 | | 22 | |
| Sergio Garcia | 22 | | 9 | 6 | 37 | | Dq | 3 | 7 | | |
| Alexander Noren | MC | | MC | 62 | | | 44 | MC | | | |
| Louis Oosthuizen | 56 | MC | | 25 | MC | | | | 4 | | |
| Rafa Cabrera-Bello | MC | 3 | | 19 | 25 | 22 | | MC | 11 | | |
| Keegan Bradley | 16 | 46 | | 10 | 51 | | 67 | 35 | | 29 | 27 |
| Henrik Stenson | MC | 17 | | 54 | | | MC | MC | MC | | |
| Branden Grace | 72 | | | 33 | MC | 28 | 2 | MC | 27 | | |
| Kevin Kisner | 22 | 23 | | 27 | | 28 | 26 | | 57 | 69 | |
| Chez Reavie | MC | | | 65 | MC | 38 | 4 | | 28 | 3 | |
| Kevin Na | MC* | MC | | 36 | 33 | | 60 | | | | |
| Brandt Snedeker | 5 | 50 | | | | MC | 55 | 62 | | 16 | 22 |
| Satoshi Kodaira | MC | | MC | 51 | MC | | 72 | MC | | MC | 32 |
| Abraham Ancer | 12 | MC | | 39 | 44 | | MC | MC | 18 | 29 | |
| Russell Knox | 35 | | 51 | 39 | | 14 | 10 | 43 | 18 | 43 | |
| Adam Hadwin | MC | 33 | | | 75 | 18 | 44 | | 2 | 57 | |
| Sung Jae Im | MC | 3 | 51 | | MC | MC | 7 | 52 | 12 | 16 | |
| Daniel Berger | 67 | MC | 36 | 2 | | | MC | MC | 12 | | |
| Chesson Hadley | MC | 17 | 20 | | | MC | 20 | MC | MC | | |
| Danny Willett | MC | MC | | 27 | 33 | | | 25 | MC | | |
| Brian Harman | 8 | MC | MC | | 51 | | 39 | MC | MC | MC | |
| Zach Johnson | MC | 40 | 59 | | | | 39 | | 28 | MC | |
| Lucas Glover | MC | 10 | 4 | | | 7 | MC | | 12 | | |
| Charley Hoffman | MC | MC | | | MC | MC | 20 | MC | MC | | |
| Ryan Moore | 20 | 33 | | | 28 | | MC | MC | | | |
| Dylan Frittelli | | | MC | | 28 | MC | | MC | 28 | 51 | |
| Stewart Cink | MC | MC | MC* | | | | 50 | MC | | 20 | |
| Jason Kokrak | 47 | 10 | 9 | | 37 | | 20 | 20 | 18 | | |
| Patton Kizzire | MC* | | MC | 27 | | | MC | | MC | 13 | 8 |
| Charl Schwartzel | MC | | 16 | 6 | Wd | | MC | MC | MC | | |
| Kevin Tway | MC | | MC | | MC | | MC | 43 | | MC | 11 |
| Beau Hossler | MC | 58 | | | 15 | MC | 39 | 57 | MC | | |
| Peter Uihlein | MC | | Wd | 66 | 60 | | Wd | MC | MC | | |
| Danny Lee | MC | MC | 36 | | MC | | 44 | MC | | 71 | |
| CT Pan | 72 | MC | MC | | 44 | | 60 | 66 | 51 | | |
| Russell Henley | MC | | 20 | | 44 | MC | 15 | | MC | 66 | |
| Ryan Armour | MC | MC | 12 | | MC | MC | MC | | MC | 22 | |
| Sam Burns | | 54 | MC* | | MC | | MC | 40 | 18 | MC | |
| Ted Potter | MC | MC | | | 64 | MC | MC | | | 13 | 27 |
| Michael Thompson | 70 | MC | 16 | | 7 | 10 | | 13 | 9 | 69 | |
| Andrew Landry | 47 | MC | MC | | MC | | 60 | | 28 | MC | 22 |
| Brian Gay | 56 | MC | 20 | | 60 | 7 | 55 | | MC | 22 | |
| JJ Spaun | Wd | 63 | | | MC | MC | 50 | MC | 51 | | |
| Martin Trainer | 41 | 66 | MC | 1 | | 28 | | | MC | MC* | |
| Brendan Steele | MC | 17 | MC | | MC | | MC | MC | 57 | | |
| Brice Garnett | 35 | MC | MC | | | MC | MC | MC | | 33 | 19 |
| Patrick Rodgers | MC* | 46 | 30 | | 15 | MC | MC | MC | | MC | |
| Bronson Burgoon | MC | MC | 59 | | MC | | MC | MC | MC | | |
| Austin Cook | MC | MC | MC* | | | MC | MC | | | | |
| Cameron Davis | | | 59 | 16 | MC | 59 | | 57 | 28 | MC | |
| Sam Ryder | MC | 33 | | | 56 | | 60 | 43 | 40 | MC | |
| Scott Stallings | MC | 40 | | | MC | 3 | MC | 43 | MC | | |
| Harold Varner | MC | MC | 51 | | MC | | 10 | MC | 18 | | |
| Sung Kang | 47 | 6 | 51 | | 64 | 14 | MC | 20 | | 10 | |
| Nick Watney | MC | | 51 | | | MC | 39 | 72 | 51 | | |
| Joaquin Niemann | | 46 | 59 | | 44 | | MC | 72 | MC | | |
| Chris Kirk | 56 | 15 | MC | MC | | | 50 | MC | MC | MC | |
| Jim Furyk | 2 | | 9 | | 37 | 14 | | | | | |
| Jason Dufner | MC* | MC | MC* | | MC | | | | MC | MC* | |
| Kevin Streelman | MC | 58 | MC* | | MC | 7 | 50 | MC | 34 | | |
| Bud Cauley | 47 | MC | 12 | | MC | | 26 | 13 | MC | | |
| Joel Dahmen | 12 | MC | MC | | MC | | MC | 9 | | 22 | |
| Anirban Lahiri | MC* | 69 | 59 | | MC | | | | MC | 43 | |
| Richy Werenski | 47 | MC | MC* | | | MC | 60 | MC | MC | | |
| Kramer Hickok | | | 30 | 35 | 64 | MC | | MC | 40 | MC | |
| Denny McCarthy | 41 | | MC | | MC | | 33 | MC | MC | | |
| Kelly Kraft | 47 | | MC | | 9 | MC | MC | MC | | MC | |
| Sean O`Hair | | | | | | Wd | MC | 76 | 9 | MC* | |
| Scott Langley | 67 | MC | MC | | 37 | 6 | | MC | 12 | 43 | |
| Trey Mullinax | MC | | 51 | | | 22 | 15 | 25 | 34 | 57 | |
| JT Poston | 22 | 66 | 36 | | 28 | | 26 | 40 | 7 | 20 | |
| Robert Streb | | MC | MC | 59 | MC | | MC | 29 | 40 | MC | |
| Rory Sabbatini | 35 | | 36 | | | MC | MC | 70 | 57 | 33 | |
| Chris Stroud | | MC | | | MC | 10 | 7 | 52 | MC | | |
| Vaughn Taylor | 41 | MC | 59 | | 9 | MC | MC | | 7 | MC | |
| Hudson Swafford | | 29 | MC* | | MC | | | MC | 65 | 3 | |
| Ollie Schniederjans | 16 | MC | MC | 49 | MC | | 33 | MC | 72 | MC | |
| Wyndham Clark | Dq | | 7 | 10 | | MC | | 35 | 18 | MC | |
| Brian Stuard | MC | | 20 | | 60 | 45 | 55 | | 40 | 8 | |
| Martin Laird | MC | MC | | | MC | MC | 26 | 43 | MC | | |
| Scott Brown | MC | MC | 20 | 10 | 37 | MC | | 9 | MC | 33 | |
| Roger Sloan | | 23 | 30 | 2 | | MC | | MC | 12 | 33 | |
| Graeme McDowell | | 54 | MC* | 42 | | 18 | | | | | |
| Matt Jones | | | 36 | 55 | | 53 | | 13 | MC | 29 | |
| Sam Saunders | MC | 63 | 36 | | MC | 38 | | MC | MC | 33 | |
| Sebastian Munoz | | | 36 | 25 | | MC | 13 | 72 | MC | 10 | |
| Ryan Blaum | MC | 17 | MC* | 55 | MC | | MC | 70 | 73 | 64 | |
| Brandon Harkins | MC | | MC | | MC | 28 | 26 | MC | MC | 51 | |
| Kyoung-Hoon Lee | | | 7 | 35 | 25 | MC | | MC | MC | MC | |
| Carlos Ortiz | | 29 | MC | | 9 | | 60 | MC | 65 | 29 | |
| Peter Malnati | | | 36 | | 44 | MC | | | 18 | MC | |
| Adam Schenk | | 29 | 30 | 16 | MC | 45 | 55 | 57 | 67 | MC | |
| Bill Haas | | MC | 51 | | 51 | | MC | 57 | MC | | |
| Roberto Castro | | | 20 | 25 | | 53 | | MC | 40 | | |
| Chase Wright | | | 51 | | MC | MC | MC | MC | MC | 57 | |
| Nick Taylor | 16 | | 30 | | 33 | 28 | MC | 43 | 40 | MC | |
| Harris English | MC | 68 | 12 | | MC | | MC | MC | 51 | 22 | |
| Kyle Jones | | | MC | MC | 33 | MC | | MC | MC | MC | |
| Tom Hoge | 30 | | MC | 55 | MC | MC | 44 | MC | MC | MC | |
| Michael Kim | MC | MC | | | MC | MC | MC | MC | | MC | 32 |
| Stephan Jaeger | | | MC* | | 70 | MC | MC | 66 | MC | 43 | |
| Steve Stricker | | 58 | | | | MC | MC | | | MC* | |
| Ben Silverman | | | 36 | MC | | 45 | | 62 | MC | MC | |
| Grayson Murray | MC | | 68 | | MC | MC | 59 | 62 | MC | | |
| Julian Etulain | | | 36 | 35 | MC | 38 | | 43 | 40 | 43 | |
| Shawn Stefani | | | MC | 6 | 64 | | | 62 | MC | MC | |
| Jonas Blixt | | | 36 | | 15 | 38 | MC | 29 | | MC | |
| Hunter Mahan | | 40 | MC | | MC | MC | 33 | MC | MC | | |
| Sepp Straka | | | MC | 16 | | MC | | 13 | MC | MC | |
| John Huh | MC | | 59 | | MC | MC | 70 | 25 | 70 | MC | |
| Alex Cejka | MC | | Dq | | 51 | MC | MC | MC | 40 | | |
| Adam Svensson | | | 59 | MC | | MC | | 35 | 18 | 43 | |
| Jose de Jesus Rodriguez | | | MC | 35 | MC | MC | | MC | 28 | 57 | |
| Brady Schnell | | | MC | MC | 43 | 28 | | MC | MC | MC* | |
| Tyler Duncan | MC* | | MC* | 62 | MC | 22 | MC | MC | 51 | 57 | |
| Mackenzie Hughes | | | MC | | MC | MC | MC | 29 | | MC* | |
| Max Homa | | | 20 | | 37 | 10 | 26 | | MC | MC | |
| Seamus Power | 35 | | MC | | 64 | | MC | MC | MC | MC | |
| Hank Lebioda | | | 70 | MC | | 38 | | 29 | MC | 43 | |
| Alex Prugh | | | MC | MC | | 53 | | MC | MC | 51 | |
| Austin Connelly | | | | | 26 | MC* | | | | | |
| Seth Reeves | | | MC | | MC | MC | | MC | MC | MC | |
| Jim Knous | | | MC* | 55 | MC | MC | | 29 | MC | 51 | |
| Brandon Hagy | | | MC | | | | MC | 66 | MC | | |
| Roberto Diaz | | | MC | 10 | | 18 | 51 | | MC | MC | |
| Cameron Tringale | | | 36 | 25 | | 53 | | MC | 51 | | |
| Dylan Meyer | | | | | | MC | MC | MC | MC | | |
| DA Points | | 58 | MC | 42 | MC | MC | | MC | MC | | |
| Cody Gribble | | | MC | | 76 | 59 | MC | MC | 40 | | |
| KJ Choi | | | 17 | | MC | | MC | | | | |
| Morgan Hoffmann | | | MC | | MC | | MC | 77 | 24 | | |
| John Senden | | | | 62 | MC | MC | | 57 | MC | | |
| Jim Herman | | | MC | | | | MC | MC | MC | 43 | |
| Luke Donald | | | | | | | | | | MC | |
| Rod Pampling | | | MC | MC | MC | MC | | MC | MC | | |
| Billy Hurley | | | | 62 | | | | | | | |
| Freddie Jacobson | | | 68 | MC | 56 | MC | 70 | | | | |
| Kenny Perry | | | | | | MC | MC | | | MC | |
| Rod Perry | | MC | | | | | | | | | |
| Ryan Vermeer | | | | | | | | | | | |
| Player | 2018 | 2017 | 2016 | 2015 | 2014 | 2013 | 2012 | 2011 | 2010 | 2009 |
| --- | --- | --- | --- | --- | --- | --- | --- | --- | --- | --- |
| Dustin Johnson | | | | | | | | | MC | |
| Jon Rahm | | | | | | | | | | |
| Jason Day | | | | | | 43 | 20 | 51 | 61 | MC |
| Tommy Fleetwood | | | | | | | | | | |
| Paul Casey | 1 | | | | MC | | MC | 37 | | |
| Patrick Reed | 2 | 38 | 7 | 2 | | MC | | | | |
| Bubba Watson | | MC | | | | | | 28 | 3 | MC |
| Webb Simpson | 8 | 41 | MC | | MC | 17 | 10 | 2 | 13 | MC |
| Gary Woodland | MC | 58 | 42 | MC | 8 | MC | 29 | 1 | | |
| Cameron Smith | 46 | 49 | 42 | | | | | | | |
| Sergio Garcia | 4 | | | | | 7 | 16 | 15 | 41 | |
| Alexander Noren | | | | | | | | | | |
| Louis Oosthuizen | 16 | | 7 | MC | MC | MC | 20 | | | |
| Rafa Cabrera-Bello | | | | 44 | | | | | | |
| Keegan Bradley | 31 | 58 | MC | | | | | MC | | |
| Henrik Stenson | MC | 7 | 11 | 4 | | | | | | |
| Branden Grace | 8 | | 37 | | MC | | | | | |
| Kevin Kisner | | | | 60 | MC | | | | | |
| Chez Reavie | MC | 27 | 22 | MC | | 63 | 20 | 11 | MC | |
| Kevin Na | | MC | 22 | 10 | 2 | | 38 | 44 | MC* | 8 |
| Brandt Snedeker | 31 | | | 53 | 58 | | 29 | 4 | 46 | MC |
| Satoshi Kodaira | | | | | | | | | | |
| Abraham Ancer | 16 | | | | | | | | | |
| Russell Knox | 16 | MC | 56 | 33 | 25 | | | MC | | |
| Adam Hadwin | 12 | 1 | MC | 71 | | | | | | |
| Sung Jae Im | | | | | | | | | | |
| Daniel Berger | | MC | 11 | MC | | | | | | |
| Chesson Hadley | MC | | 69 | 44 | 14 | | | | | |
| Danny Willett | | | 22 | | | | | | | |
| Brian Harman | | MC | MC | MC | 25 | 14 | MC | | | |
| Zach Johnson | 16 | | | | | MC | 46 | 20 | MC* | MC |
| Lucas Glover | 74 | 18 | MC | 24 | MC | 38 | MC | 20 | 25 | MC |
| Charley Hoffman | MC | MC | 11 | MC | 25 | 75 | 14 | 37 | | 19 |
| Ryan Moore | MC | 18 | 3 | 5 | | MC | MC | 44 | MC* | 19 |
| Dylan Frittelli | | | | | | | | | | |
| Stewart Cink | 31 | 27 | MC | 60 | MC | 14 | 70 | 11 | MC | |
| Jason Kokrak | 8 | 58 | MC | 7 | 14 | MC | MC | MC | | |
| Patton Kizzire | | MC | 33 | | | | | | | |
| Charl Schwartzel | 49 | 6 | 1 | | | | MC | | | |
| Kevin Tway | MC | | | | | | | | | |
| Beau Hossler | MC | MC | | | | | | | | |
| Peter Uihlein | | | | | MC | MC | | 57 | | |
| Danny Lee | MC | 22 | Wd | 7 | MC | | | | | |
| CT Pan | MC | MC | | | | | | | | |
| Russell Henley | | 9 | MC | | | | | | | |
| Ryan Armour | 40 | | | | | | | | MC | |
| Sam Burns | 12 | | | | | | | | | |
| Ted Potter | MC | | | | 20 | MC | | | | |
| Michael Thompson | | MC | | MC | 58 | MC | 16 | | | |
| Andrew Landry | | | | | | | | | | |
| Brian Gay | MC | MC | MC | | MC* | MC | 55 | 37 | 63 | 46 |
| JJ Spaun | | MC | | | | | | | | |
| Martin Trainer | | | | | | | | | | |
| Brendan Steele | | | | | | 43 | | MC | | |
| Brice Garnett | 31 | | | MC | | | | | | |
| Patrick Rodgers | 59 | MC | MC | | | | | | | |
| Bronson Burgoon | | | MC | | | | | | | |
| Austin Cook | 40 | | | | | | | | | |
| Cameron Davis | | | | | | | | | | |
| Sam Ryder | 68 | | | | | | | | | |
| Scott Stallings | 31 | 68 | MC | MC | MC | MC | MC | 3 | | |
| Harold Varner | 78 | MC | MC | | | | | | | |
| Sung Kang | 73 | MC | 22 | | | | 55 | | | |
| Nick Watney | 59 | 14 | | 53 | | 43 | 51 | 13 | 4 | 12 |
| Joaquin Niemann | | | | | | | | | | |
| Chris Kirk | 49 | MC | 42 | | | | | MC | | |
| Jim Furyk | 7 | 41 | | 40 | 20 | 7 | 2 | 13 | 1 | 52 |
| Jason Dufner | MC | 11 | 22 | 24 | 14 | 21 | 10 | 28 | 28 | 17 |
| Kevin Streelman | MC | 18 | MC | 40 | 38 | 1 | 10 | | | MC |
| Bud Cauley | MC | 58 | | | | Wd | 16 | | | |
| Joel Dahmen | | | | | | | | | | |
| Anirban Lahiri | | | | | | | | | | |
| Richy Werenski | MC | MC | | | | | | | | |
| Kramer Hickok | | | | | | | | | | |
| Denny McCarthy | | | | | | | | | | |
| Kelly Kraft | 31 | 65 | | | | | | | | |
| Sean O`Hair | 12 | Wd | Wd | 2 | 74 | 69 | MC | MC | MC | MC |
| Scott Langley | | | | 63 | 3 | 30 | | | | |
| Trey Mullinax | 8 | MC | | | | | | | | |
| JT Poston | | 14 | | | | | | | | |
| Robert Streb | MC | MC | | | | 51 | | | | |
| Rory Sabbatini | 5 | | 42 | MC | 70 | 27 | 74 | 15 | MC | 63 |
| Chris Stroud | | | MC | | | 63 | | MC | MC | |
| Vaughn Taylor | | | MC | | | | | MC | MC | MC |
| Hudson Swafford | MC | 38 | 56 | MC | | | | | | |
| Ollie Schniederjans | 49 | MC | | MC | | | | | | |
| Wyndham Clark | | | | | | | | | | |
| Brian Stuard | MC | 38 | | MC | MC | 43 | | | MC | |
| Martin Laird | MC | MC | MC | 33 | | 70 | MC | 5 | 28 | |
| Scott Brown | 64 | MC | 7 | MC | MC | 27 | MC | | | |
| Roger Sloan | | | | | | | | | | |
| Graeme McDowell | 40 | 14 | MC | | | | | | | |
| Matt Jones | | | | | | MC | MC | 67 | MC | |
| Sam Saunders | 49 | MC | 22 | 24 | | | | | | |
| Sebastian Munoz | | | | | | | | | | |
| Ryan Blaum | 16 | 41 | | | | | | | | |
| Brandon Harkins | MC | | | | | | | | | |
| Kyoung-Hoon Lee | | | | | | | | | | |
| Carlos Ortiz | | | 56 | 68 | | | | | | |
| Peter Malnati | MC | MC | MC | | | | | | | |
| Adam Schenk | 59 | | | | | | | | | |
| Bill Haas | 49 | 41 | 2 | | 14 | | | MC | 16 | MC |
| Roberto Castro | | | MC | MC | MC | 21 | | | | |
| Chase Wright | | | | | | | | | | |
| Nick Taylor | MC | 62 | MC | 24 | | | | | | |
| Harris English | MC | 27 | MC | 10 | 38 | 7 | MC | | | |
| Kyle Jones | | | | | | | | | | |
| Tom Hoge | MC | | MC | | | | | | | |
| Michael Kim | MC | 52 | MC | | | | | | | |
| Stephan Jaeger | 49 | | | | | | | | | |
| Steve Stricker | 12 | MC | 7 | | | | | | 8 | 4 |
| Ben Silverman | MC | | | | | | | | | |
| Grayson Murray | MC | MC | | | | | | | | |
| Julian Etulain | | | | | | | | | | |
| Shawn Stefani | | MC | 56 | 17 | | 7 | | | | |
| Jonas Blixt | | 22 | 22 | MC | MC | 38 | | | | |
| Hunter Mahan | | 56 | 53 | | | | | | | |
| Sepp Straka | | | | | | | | | | |
| John Huh | MC | 9 | 22 | 33 | MC | MC | MC | | | |
| Alex Cejka | 40 | 14 | | 53 | | | MC | 57 | 55 | MC |
| Adam Svensson | | | | | | | | | | |
| Jose de Jesus Rodriguez | | | | | | | | | | |
| Brady Schnell | | | | | | | | | | |
| Tyler Duncan | MC | | | | | | | | | |
| Mackenzie Hughes | MC | | | | | | | | | |
| Max Homa | | | | MC | MC | | | | | |
| Seamus Power | MC | 27 | | | | | | | | |
| Hank Lebioda | | | | | | | | | | |
| Alex Prugh | | | | MC | | | | MC | MC | |
| Austin Connelly | | | MC | | | | | | | |
| Seth Reeves | | | | | | | | | | |
| Jim Knous | | | | | | | | | | |
| Brandon Hagy | | | 69 | | | | | | | |
| Roberto Diaz | | | | | | | | | | |
| Cameron Tringale | | MC | MC | 17 | 25 | 3 | 46 | MC | | |
| Dylan Meyer | 74 | | | | | | | | | |
| DA Points | MC | | | 47 | MC | MC | 63 | | 28 | 27 |
| Cody Gribble | | MC | | | | | | | | |
| KJ Choi | | MC | 62 | MC | 44 | 21 | 46 | MC | 2 | MC |
| Morgan Hoffmann | | 52 | MC | MC | 25 | | | | | |
| John Senden | | MC | MC | MC | 1 | MC | 38 | 15 | 28 | MC |
| Jim Herman | | 3 | MC | | | MC | | | | |
| Luke Donald | 64 | MC | 22 | 53 | 4 | 4 | 1 | | 6 | |
| Rod Pampling | 59 | 41 | | MC | | | MC | | 55 | MC |
| Billy Hurley | MC | MC | MC | 17 | MC | | | | | |
| Freddie Jacobson | | MC | MC | 47 | 20 | | | | | |
| Kenny Perry | | | | 47 | | | 29 | MC | 63 | 17 |
| Rod Perry | MC | MC | MC | MC | MC | MC | | | MC | |
| Ryan Vermeer | | | | | | | | | | |