Valspar Championship 2018: Essential stats for this week's event in Florida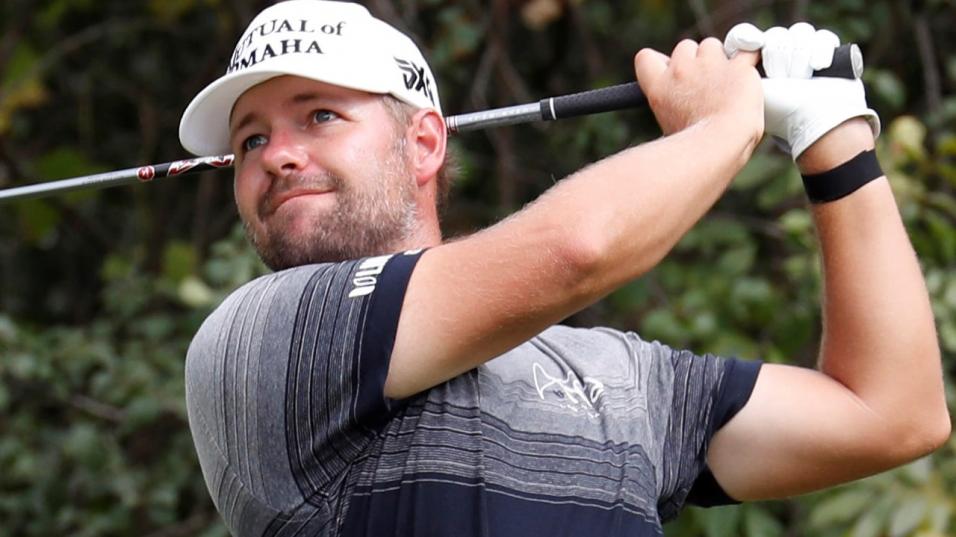 Ryan Moore: Stood on the Copperhead podium two years ago
The Copperhead layout at Innisbrook stages the Valspar Championship. Check out course and current form stats compiled by Andy Swales...
"Sergio Garcia seems to be in good shape ahead of his Masters defence at Augusta National next month"
The Tampa Bay resort of Innisbrook stages this week's Valspar Championship at Palm Harbour.
Innisbrook's Copperhead course has been hosting this event since the start of the new millennium and certainly enjoys the respect of everyone who has ever competed over this lush parkland layout.
However, with TPC Sawgrass, Bay Hill and PGA National all part of the PGA Tour's annual schedule, not to mention Doral's Blue Monster course which is currently off the yearly menu, Innisbrook has often been viewed as the poor relation among Florida venues which stage top-level tournaments.
Opened in 1974, Copperhead's tree-lined fairways and rolling terrain is certainly no slugger's paradise and there is enough water, sand and changes in elevation to keep most minds suitably focussed.
This well-bunkered layout, with putting surfaces that are slightly larger-than-average, has undergone a number of restorations during its life, most recently in 2015.
A quick glance at the list of previous champions appears to suggest that a good all-round game is a key ingredient at Innisbrook where a solid collection of major winners have prospered since 2000.
Star Attractions
With seven major titles between them, Jordan Spieth and Rory McIlroy are the star attractions in west Florida this week.
Spieth, the 2015 champion, continues his busy schedule while McIlroy tees-up at Innisbrook for the first time.
Elsewhere, Henrik Stenson makes his first start for five weeks, and the Swede has never finished lower than tied-11th in three previous trips to Copperhead.
Sergio Garcia seems to be in good shape ahead of his Masters defence at Augusta National next month.
The 38-year-old Spaniard tees-up for the third week in a row, following a top-10 finish in Mexico on Sunday.
Last Year's Winner
The 2017 champion, Adam Hadwin, returns to Palm Harbor in excellent shape following back-to-back top-10s on the PGA Tour.
Four Americans with solid Copperhead histories are Ryan Moore, Webb Simpson, Kevin Na and Charles Howell.
Moore tied-for-ninth at Riviera in February, which was only his second top-10 finish in 10 months, while Na - who was a runner-up in the same Los Angeles tournament - was second at Innisbrook in 2014.
And the ever-improving Tony Finau must be due another victory soon. He was fifth in this event last year and is currently looking fairly entrenched within the world's top 40.
Brit Abroad
With The Masters just a few weeks away, and with a number of Brits attempting to get their games finely tuned ahead of Georgia, Matt Fitzpatrick makes his Copperhead debut this week.
Although not uncommon for Innisbrook to unveil a debutant champion, the young Englishman is more likely to provide a good each-way selection than become an outright winner.
MC* - Missed Additional 54-Hole Cut
| Player | W9 | W8 | W7 | W6 | W5 | W4 | W3 | W2 | W1 | W52 | W51 | W50 |
| --- | --- | --- | --- | --- | --- | --- | --- | --- | --- | --- | --- | --- |
| Jordan Spieth | 14 | | 9 | 20 | MC | | | 18 | 9 | | | |
| Justin Rose | 37 | | | | | 8 | 22 | | | | | 1 |
| Rory McIlroy | | 59 | 20 | MC | | 2 | 3 | | | | | |
| Sergio Garcia | 7 | 33 | | | | 32 | 1 | | | | | |
| Henrik Stenson | | | | | 60 | 6 | 8 | | | | | |
| Paul Casey | 12 | | 49 | 8 | | | 9 | | | | | |
| Matt Kuchar | 58 | | 26 | 62 | 5 | | 32 | | | | | |
| Charley Hoffman | 20 | | 41 | Wd | 26 | 35 | | | | | | |
| Gary Woodland | 50 | 49 | | MC | 1 | 12 | | 7 | | | | |
| Patrick Reed | 37 | MC | | MC | 17 | 23 | MC | | | | | |
| Ross Fisher | 46 | | | | | 45 | 2 | | | | | |
| Branden Grace | 30 | | 37 | 20 | | 37 | 15 | 2 | | | | |
| Louis Oosthuizen | 30 | 24 | | | | MC | 49 | | | | | |
| Matthew Fitzpatrick | 30 | | | | | MC | 3 | | | | | |
| Tony Finau | 27 | | 2 | | MC | 6 | | 32 | | | | |
| Webb Simpson | 37 | 5 | | | MC | | 36 | 4 | | | | |
| Jason Dufner | 55 | 17 | | | | | 36 | 18 | 11 | | | |
| Chez Reavie | 52 | | 73 | 2 | 2 | | 36 | 18 | | | | |
| Charl Schwartzel | 48 | | 68 | | | | | 15 | | | | |
| Adam Hadwin | 9 | | 6 | | 43 | 35 | 3 | | 32 | | | |
| Si Woo Kim | | | MC | | 62 | 35 | | 58 | 10 | | | |
| Cameron Smith | | | 6 | | 48 | 20 | | 18 | 17 | | | |
| Adam Scott | | 13 | 53 | MC | | | | | | | | |
| Kyle Stanley | 25 | | MC | | MC | 51 | | 10 | 30 | | | |
| Zach Johnson | | | | | 57 | | 20 | 14 | | | | |
| Peter Uihlein | 37 | MC | 26 | | 52 | MC | 17 | MC | | | | |
| Ian Poulter | | MC | | | 52 | 6 | MC | | | | | |
| Charles Howell | | MC | 37 | | | 6 | 20 | 32 | | | | |
| Kevin Na | | | 2 | 20 | 48 | | 42 | MC | | | | |
| Ryan Moore | | 49 | 9 | | MC | | | | | | | |
| Keegan Bradley | | 49 | MC | | 43 | 5 | | 39 | | | | |
| Bill Haas | | | | | 26 | 54 | MC | MC | | | | |
| Chesson Hadley | | MC | | 35 | 5 | 23 | 42 | | | | | |
| Brandt Snedeker | | MC | | 20 | 23 | 45 | MC | | | | | Wd |
| Luke List | | 2 | 26 | | 26 | 12 | MC | MC | | | | |
| Shane Lowry | | 49 | MC | 43 | 65 | MC | | | | | | |
| Ted Potter | | MC | MC | 1 | | 73 | MC | MC | | | | |
| Ollie Schniederjans | | 64 | MC | | 3 | MC | | 7 | | | | |
| Byeong Hun An | | 5 | | | 23 | 6 | 40 | | | | | |
| Billy Horschel | | MC | MC | MC | 43 | 54 | | | 11 | | | |
| Jimmy Walker | | 33 | MC | 8 | | 63 | MC | MC | | | | |
| JB Holmes | | 49 | 60 | MC | MC | 4 | | | | | | |
| Sung Kang | | MC | 16 | | MC | 69 | 63 | | | | | |
| Russell Knox | | MC | | 15 | MC | 29 | 29 | 10 | | | | |
| Bryson DeChambeau | | | 41 | 55 | 5 | MC | MC | | 26 | | | |
| Jamie Lovemark | | 7 | 26 | | 52 | MC | | MC | | | | |
| Lucas Glover | | 17 | MC | | 43 | 67 | 29 | | | | | |
| Martin Laird | | | 9 | | 9 | MC | MC | | | | | |
| Ryan Palmer | | MC | | | MC | 2 | 20 | 58 | | | | |
| Hudson Swafford | | 64 | | | MC | | 29 | 54 | 27 | | | |
| William McGirt | | 33 | MC | 26 | MC | | | 65 | | | | |
| Austin Cook | | | 49 | MC | 31 | | 14 | 18 | 22 | | | |
| Grayson Murray | | MC | | 8 | 70 | 75 | 14 | | 22 | | | |
| Bud Cauley | | Wd | 20 | | MC | 58 | 14 | | | | | |
| Andrew Landry | | MC | MC | | MC | MC | 2 | MC | | | | |
| Jason Kokrak | | | 20 | 35 | 31 | | 8 | 47 | | | | |
| Sean O`Hair | | MC | 64 | 73 | | 69 | 50 | MC | | | | |
| Steve Stricker | | | | 26 | 31 | | | | | | | |
| Kevin Streelman | | | 41 | 6 | 40 | 29 | 29 | | | | | |
| Scott Brown | | 46 | MC | MC | MC | | 63 | 65 | | | | |
| Scott Stallings | | 29 | 4 | 7 | 23 | MC | MC | | | | | |
| Whee Kim | | | MC | | MC | MC | MC | MC | | | | |
| Brian Gay | | MC | MC | 8 | 9 | | 42 | 58 | | | | |
| Stewart Cink | | 46 | | MC | | MC | 20 | 32 | | | | |
| Danny Lee | | Wd | MC | | MC | 58 | MC | MC | | | | |
| Patrick Rodgers | | 33 | 26 | 8 | MC | MC | | Wd | | | | |
| David Lingmerth | | MC | 75 | | | MC | 57 | | | | | |
| Chris Kirk | | 33 | | MC | 11 | 35 | MC | 10 | | | | |
| Ryan Armour | | MC | 64 | 20 | MC | | MC | 39 | 20 | | | |
| Harold Varner | | 72 | 60 | | 38 | MC | MC | MC | | | | |
| Mackenzie Hughes | | 59 | | MC | MC | MC | MC | MC | | | | |
| Luke Donald | | MC | 37 | MC | | MC | | MC | | | | |
| CT Pan | | 17 | MC | | 62 | 35 | MC | | | | | |
| Padraig Harrington | | MC | 64 | MC | | MC | | | | | | |
| Robert Streb | | MC | MC | MC | MC | 66 | | MC | | | | |
| Aaron Wise | | 33 | MC | 15 | | MC | 17 | MC | | | | |
| Tom Hoge | | MC | 53 | MC | MC | 12 | 57 | 3 | | | | |
| Kelly Kraft | | 8 | 63 | MC | MC | MC | | MC | | | | |
| Nick Taylor | | | 41 | MC | 52 | 75 | 20 | | | | | |
| Sam Saunders | | MC | 26 | 26 | | | 8 | 25 | | | | |
| Aaron Baddeley | | | 14 | 55 | 26 | MC | | MC | | | | |
| Beau Hossler | | | MC | 43 | 17 | 35 | 20 | MC | | | | |
| Brandon Harkins | | | 41 | 15 | MC | 12 | 8 | 25 | | | | |
| Talor Gooch | | MC | 20 | MC | | 51 | 67 | 18 | | | | |
| Ben Martin | | 33 | | 26 | 67 | | 57 | 7 | | | | |
| Kevin Tway | | MC | MC | | 57 | 35 | | 69 | | | | |
| Robert Garrigus | | MC | | MC | 52 | 8 | 57 | | | | | |
| Graeme McDowell | | MC | 26 | MC | | MC | MC | | | | | |
| Harris English | | 33 | MC | | MC | 8 | 11 | 64 | | | | |
| Brice Garnett | | MC | MC | 35 | | 35 | 63 | MC | | | | |
| Brian Stuard | | MC | MC | MC | 65 | | MC | 4 | | | | |
| Alex Cejka | | Wd | | 75 | Wd | MC | 50 | | | | | |
| Jim Furyk | | 46 | MC | | | | | | | | | |
| Martin Piller | | 67 | 67 | MC | | MC | 3 | MC | | | | |
| John Huh | | 24 | 26 | | 38 | 45 | 3 | MC | | | | |
| Dominic Bozzelli | | 13 | 26 | MC | MC | | MC | 39 | | | | |
| Vaughn Taylor | | 59 | 20 | 55 | 11 | | MC | 76 | | | | |
| Rob Oppenheim | | MC | MC | 47 | | MC | 42 | MC | | | | |
| Derek Fathauer | | 13 | 16 | 62 | 48 | MC | 36 | | | | | |
| Ben Silverman | | MC | 53 | MC | 48 | 67 | 77 | MC | | | | |
| Abraham Ancer | 52 | MC | 68 | | | 20 | 76 | MC | | | | |
| Chad Campbell | | MC | 49 | | 43 | MC | MC | MC | | | | |
| Jonathan Randolph | | 68 | MC | 66 | | MC | Wd | 39 | | | | |
| Rory Sabbatini | | 17 | | 72 | 31 | 20 | 69 | 32 | | | | |
| Rod Pampling | | | | 47 | | MC | MC | | | | | |
| Martin Flores | | 74 | MC | | 21 | 35 | MC | | | | | |
| Jonas Blixt | | | 41 | MC | MC | MC | | MC | 31 | | | |
| Adam Schenk | | 29 | 53 | MC | | MC | MC | 39 | | | | |
| Billy Hurley | | MC | MC | MC | MC | | 69 | MC | | | | |
| Smylie Kaufman | | MC | MC | | MC | MC | 69 | MC | | | | |
| Stephan Jaeger | | MC | MC | 43 | | MC | MC | 54 | | | | |
| DA Points | | | MC | MC | MC | | | 73 | 33 | | | |
| Tom Lovelady | | 17 | | MC | MC | 45 | 29 | MC | | | | |
| Richy Werenski | | MC | | MC | MC | MC | 29 | MC | | | | |
| Xin Jun Zhang | | MC | MC | 43 | | MC | MC | 25 | | | | |
| Nicholas Lindheim | | | Wd | MC | | MC | MC | 32 | | | | |
| Tyrone Van Aswegen | | 68 | 68 | 26 | 69 | MC | 36 | 58 | | | | |
| Nick Watney | | 33 | | 47 | 26 | 58 | 50 | | | | | |
| Retief Goosen | | MC | 53 | | MC | 12 | | 20 | | | | |
| Ryan Blaum | | MC | 60 | 73 | MC | | MC | 10 | | | | |
| Michael Kim | | 57 | MC | | MC | 23 | 50 | MC | | | | |
| Seamus Power | | MC | | MC | | MC | 11 | 54 | | | | |
| Geoff Ogilvy | | | MC | | MC | MC | MC | | | | | |
| Lanto Griffin | | MC | | MC | | 12 | MC | 58 | | | | |
| Tyler Duncan | | 24 | MC | MC | MC | MC | MC | MC | | | | |
| Troy Merritt | | 49 | 41 | 8 | | MC | MC | MC | | | | |
| Andrew Putnam | | MC | | MC | | 54 | 17 | 69 | | | | |
| Shawn Stefani | | MC | MC | MC | | MC | MC | | | | | |
| Sam Burns | | 8 | | 2 | MC | MC | 59 | | | | | |
| Tiger Woods | | 12 | MC | | | 23 | | | | | | |
| Marty Dou Ze Cheng | | | MC | 55 | | MC | MC | MC | | | | |
| Camilo Villegas | | 68 | MC | | 57 | 77 | MC | | | | | |
| Blayne Barber | | MC | | | 67 | | MC | 67 | | | | |
| Bronson Burgoon | | MC | | 47 | | MC | 42 | MC | | | | |
| Greg Chalmers | | 17 | 68 | MC | MC | | MC | MC | | | | |
| JJ Henry | | MC | MC | MC | | 23 | MC | MC | | | | |
| Fabian Gomez | | MC | MC | MC | MC | | MC | MC | | | | |
| Corey Conners | | 59 | | MC | | 29 | 50 | 39 | | | | |
| Peter Malnati | | 49 | MC | 35 | MC | MC | MC | MC | | | | |
| Ernie Els | | | MC | MC | | MC | MC | 31 | | | | |
| Colt Knost | | | | MC | 62 | | MC | 69 | | | | |
| Davis Love | | | | | | | | | | | | |
| Matt Every | | 66 | MC | MC | MC | MC | 69 | 75 | | | | |
| Sangmoon Bae | | | 75 | 15 | MC | MC | MC | MC | | | | |
| Bob Estes | | MC | | | | | | | | | | |
| Jimmy Stanger | | | | 20 | MC | 32 | | | | | | |
| Rod Perry | | | | | | | | | | | | |
| Dylan Meyer | | | | | | | | | | | | |
| Chris Couch | | | | | | | | | | | | |
| Ty Strafaci | | | | | | | | | | | | |
| Player | 2017 | 2016 | 2015 | 2014 | 2013 | 2012 | 2011 | 2010 | 2009 | 2008 |
| --- | --- | --- | --- | --- | --- | --- | --- | --- | --- | --- |
| Jordan Spieth | | 18 | 1 | 20 | 7 | | | | | |
| Justin Rose | | | MC | 8 | | 29 | 5 | 13 | | 14 |
| Rory McIlroy | | | | | | | | | | |
| Sergio Garcia | | | | | 7 | 16 | 15 | 41 | | |
| Henrik Stenson | 7 | 11 | 4 | | | | | | | |
| Paul Casey | | | | MC | | MC | 37 | | | 42 |
| Matt Kuchar | 22 | 11 | 33 | 38 | 14 | 10 | | | 12 | |
| Charley Hoffman | MC | 11 | MC | 25 | 75 | 14 | 37 | | 19 | MC |
| Gary Woodland | 58 | 42 | MC | 8 | MC | 29 | 1 | | | |
| Patrick Reed | 38 | 7 | 2 | | MC | | | | | |
| Ross Fisher | | | | | MC | | | 63 | | |
| Branden Grace | | 37 | | MC | | | | | | |
| Louis Oosthuizen | | 7 | MC | MC | MC | 20 | | | | |
| Matthew Fitzpatrick | | | | | | | | | | |
| Tony Finau | 5 | MC | MC | | | | | | | |
| Webb Simpson | 41 | MC | | MC | 17 | 10 | 2 | 13 | MC | |
| Jason Dufner | 11 | 22 | 24 | 14 | 21 | 10 | 28 | 28 | 17 | |
| Chez Reavie | 27 | 22 | MC | | 63 | 20 | 11 | MC | | 36 |
| Charl Schwartzel | 6 | 1 | | | | MC | | | | |
| Adam Hadwin | 1 | MC | 71 | | | | | | | |
| Si Woo Kim | Wd | MC | | | | | | | | |
| Cameron Smith | 49 | 42 | | | | | | | | |
| Adam Scott | | | MC | | 30 | | | 28 | MC | |
| Kyle Stanley | 27 | 53 | | MC | | | MC | | | |
| Zach Johnson | | | | | MC | 46 | 20 | MC* | MC | |
| Peter Uihlein | | | | MC | MC | | 57 | | | |
| Ian Poulter | 41 | 67 | 24 | | | | | MC | | |
| Charles Howell | 49 | 5 | 10 | 14 | | | MC | 28 | 2 | 65 |
| Kevin Na | MC | 22 | 10 | 2 | | 38 | 44 | MC* | 8 | Wd |
| Ryan Moore | 18 | 3 | 5 | | MC | MC | 44 | MC* | 19 | MC |
| Keegan Bradley | 58 | MC | | | | | MC | | | |
| Bill Haas | 41 | 2 | | 14 | | | MC | 16 | MC | 30 |
| Chesson Hadley | | 69 | 44 | 14 | | | | | | |
| Brandt Snedeker | | | 53 | 58 | | 29 | 4 | 46 | MC | 8 |
| Luke List | 27 | MC | | | MC | | | | | |
| Shane Lowry | | | | | | | | | | |
| Ted Potter | | | | 20 | MC | | | | | |
| Ollie Schniederjans | MC | | MC | | | | | | | |
| Byeong Hun An | 49 | | | | | | | | | |
| Billy Horschel | MC | | | | 56 | | MC | | | |
| Jimmy Walker | | | | | 30 | 51 | MC | 16 | Wd | |
| JB Holmes | | | | 54 | | | | 61 | MC | MC |
| Sung Kang | MC | 22 | | | | 55 | | | | |
| Russell Knox | MC | 56 | 33 | 25 | | | MC | | | |
| Bryson DeChambeau | 27 | | | | | | | | | |
| Jamie Lovemark | 27 | 37 | | | | 44 | MC | | | |
| Lucas Glover | 18 | MC | 24 | MC | 38 | MC | 20 | 25 | MC | 52 |
| Martin Laird | MC | MC | 33 | | 70 | MC | 5 | 28 | | |
| Ryan Palmer | | 42 | | | 30 | | 51 | | MC | |
| Hudson Swafford | 38 | 56 | MC | | | | | | | |
| William McGirt | | | MC | MC | MC | 29 | MC | | | |
| Austin Cook | | | | | | | | | | |
| Grayson Murray | MC | | | | | | | | | |
| Bud Cauley | 58 | | | | Wd | 16 | | | | |
| Andrew Landry | | | | | | | | | | |
| Jason Kokrak | 58 | MC | 7 | 14 | MC | MC | MC | | | |
| Sean O`Hair | Wd | Wd | 2 | 74 | 69 | MC | MC | MC | MC | 1 |
| Steve Stricker | MC | 7 | | | | | | 8 | 4 | 14 |
| Kevin Streelman | 18 | MC | 40 | 38 | 1 | 10 | | | MC | MC* |
| Scott Brown | MC | 7 | MC | MC | 27 | MC | | | | |
| Scott Stallings | 68 | MC | MC | MC | MC | MC | 3 | | | |
| Whee Kim | Wd | 53 | | | | | | | | |
| Brian Gay | MC | MC | | MC* | MC | 55 | 37 | 63 | 46 | MC |
| Stewart Cink | 27 | MC | 60 | MC | 14 | 70 | 11 | MC | | 2 |
| Danny Lee | 22 | Wd | 7 | MC | | | | | | |
| Patrick Rodgers | MC | MC | | | | | | | | |
| David Lingmerth | 27 | | | 58 | 51 | | | | | |
| Chris Kirk | MC | 42 | | | | | MC | | | |
| Ryan Armour | | | | | | | | MC | | 23 |
| Harold Varner | MC | MC | | | | | | | | |
| Mackenzie Hughes | | | | | | | | | | |
| Luke Donald | MC | 22 | 53 | 4 | 4 | 1 | | 6 | | |
| CT Pan | MC | | | | | | | | | |
| Padraig Harrington | | 33 | MC | 65 | | 20 | MC | 8 | | |
| Robert Streb | MC | | | | 51 | | | | | |
| Aaron Wise | | | | | | | | | | |
| Tom Hoge | | MC | | | | | | | | |
| Kelly Kraft | 65 | | | | | | | | | |
| Nick Taylor | 62 | MC | 24 | | | | | | | |
| Sam Saunders | MC | 22 | 24 | | | | | | | |
| Aaron Baddeley | MC | | | MC | 56 | | | MC* | | |
| Beau Hossler | MC | | | | | | | | | |
| Brandon Harkins | | | | | | | | | | |
| Talor Gooch | | | | | | | | | | |
| Ben Martin | 52 | | | MC | | | | | | |
| Kevin Tway | | | | | | | | | | |
| Robert Garrigus | 52 | | 47 | 4 | 56 | 2 | MC | | MC | 42 |
| Graeme McDowell | 14 | MC | | | | | | | | |
| Harris English | 27 | MC | 10 | 38 | 7 | MC | | | | |
| Brice Garnett | | | MC | | | | | | | |
| Brian Stuard | 38 | | MC | MC | 43 | | | MC | | |
| Alex Cejka | 14 | | 53 | | | MC | 57 | 55 | MC | 47 |
| Jim Furyk | 41 | | 40 | 20 | 7 | 2 | 13 | 1 | 52 | |
| Martin Piller | | | | | | | | | | |
| John Huh | 9 | 22 | 33 | MC | MC | MC | | | | |
| Dominic Bozzelli | 3 | | | | | | | | | |
| Vaughn Taylor | | MC | | | | | MC | MC | MC | MC |
| Rob Oppenheim | | | | | | | | | | |
| Derek Fathauer | MC | MC | MC | | | | | | MC | |
| Ben Silverman | | | | | | | | | | |
| Abraham Ancer | | | | | | | | | | |
| Chad Campbell | 11 | MC | 24 | | MC | MC | 28 | | MC | 47 |
| Jonathan Randolph | | | MC | | | | | | | |
| Rory Sabbatini | | 42 | MC | 70 | 27 | 74 | 15 | MC | 63 | |
| Rod Pampling | 41 | | MC | | | MC | | 55 | MC | 8 |
| Martin Flores | MC | | MC | MC | 51 | MC | | | | |
| Jonas Blixt | 22 | 22 | MC | MC | 38 | | | | | |
| Adam Schenk | | | | | | | | | | |
| Billy Hurley | MC | MC | 17 | MC | | | | | | |
| Smylie Kaufman | MC | | | | | | | | | |
| Stephan Jaeger | | | | | | | | | | |
| DA Points | | | 47 | MC | MC | 63 | | 28 | 27 | |
| Tom Lovelady | | | | | | | | | | |
| Richy Werenski | MC | | | | | | | | | |
| Xin Jun Zhang | | | | | | | | | | |
| Nicholas Lindheim | | | | | | | | | | |
| Tyrone Van Aswegen | 27 | MC | | | | | | | | |
| Nick Watney | 14 | | 53 | | 43 | 51 | 13 | 4 | 12 | 23 |
| Retief Goosen | MC | 11 | 69 | 44 | MC | 20 | 28 | 5 | 1 | MC |
| Ryan Blaum | 41 | | | | | | | | | |
| Michael Kim | 52 | MC | | | | | | | | |
| Seamus Power | 27 | | | | | | | | | |
| Geoff Ogilvy | MC | MC | | MC | 61 | 16 | 28 | 28 | | 10 |
| Lanto Griffin | | | | | | | | | | |
| Tyler Duncan | | | | | | | | | | |
| Troy Merritt | MC | MC | 6 | | | | MC | MC | | |
| Andrew Putnam | | | | | | | | | | |
| Shawn Stefani | MC | 56 | 17 | | 7 | | | | | |
| Sam Burns | | | | | | | | | | |
| Tiger Woods | | | | | | | | | | |
| Marty Dou Ze Cheng | | | | | | | | | | |
| Camilo Villegas | | 42 | | MC | MC | MC | | | | |
| Blayne Barber | 41 | 42 | MC | | | | | | | |
| Bronson Burgoon | | MC | | | | | | | | |
| Greg Chalmers | MC | | 47 | 44 | 4 | 29 | MC | 16 | MC | |
| JJ Henry | 22 | | MC | MC | 51 | 66 | 20 | MC* | 46 | MC |
| Fabian Gomez | | | | | MC | | MC | | | |
| Corey Conners | | | | | | | | | | |
| Peter Malnati | MC | MC | | | | | | | | |
| Ernie Els | MC | MC | MC | MC | | 5 | | | | MC |
| Colt Knost | | MC | MC | | 70 | MC | | | | |
| Davis Love | | | | 70 | | | | | | MC |
| Matt Every | MC | 42 | MC | 8 | MC | MC | | MC | | |
| Sangmoon Bae | | | 67 | 14 | 43 | 2 | | | | |
| Bob Estes | | | | | MC | MC | | MC* | MC | 52 |
| Jimmy Stanger | MC | | | | | | | | | |
| Rod Perry | MC | MC | MC | MC | MC | | | MC | | |
| Dylan Meyer | | | | | | | | | | |
| Chris Couch | | | | | | 66 | 5 | Wd | 59 | |
| Ty Strafaci | | | | | | | | | | |
Discover the latest articles
Read past articles