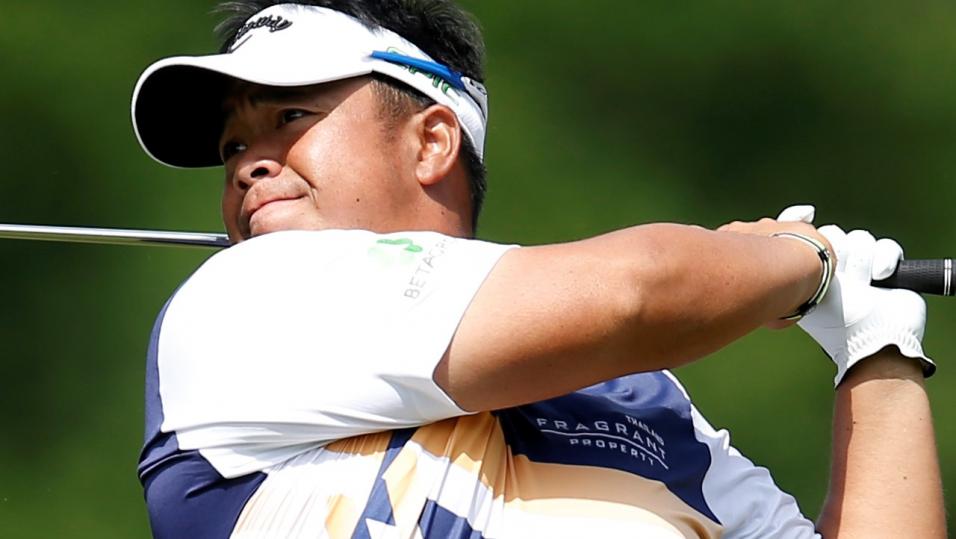 In-form Kiradech Aphibarnrat, the world No 60, has moved 100 positions up the World Ranking during the past 11 weeks.
Andy Swales provides course and current form stats for this week's UBS Hong Kong Open, the first event of the 2018 European Tour season.
"Kiradech Aphibarnrat has been runner-up twice during the past six weeks, while posting six top-20s in his last 10 starts."
No sooner has one European Tour season come to an end, than another one begins.
Less than four days after Tommy Fleetwood was crowned the Tour's No 1 golfer in the UAE, the opening tee shots of the Race to Dubai campaign for 2018 will be struck in the Far East.
First held in 1959, the Hong Kong Open at Fanling is one of golf's longest running tournaments.
And for the past 16 years, the event has been co-sanctioned by the tours of Asia and Europe.
Hong Kong Golf Club, which has hosted every one of its national opens, is situated in the Northern Territories, approximately six miles from the border with mainland China.
The composite layout combines the club's Eden and New courses, and is one of the shorter venues in the professional game.
However, this tree-lined and flat course has reasonably tight fairways, which demand great accuracy with both woods and irons.
Considering last week's event in Dubai was the grand finale of the 2017 European Tour season, Hong Kong has still managed to attract some big names.
Big Three Teeing-Up
Three of last season's top-four ranked contestants, Fleetwood, Justin Rose and Sergio Garcia, have made the 3,700-mile trip from the Middle East to Hong Kong - and it will be difficult to judge their mindsets when they step onto the first tee this Thursday.
Fleetwood should be ecstatic and relaxed, but could be worse for wear depending on his celebrations!
And he may temporarily find it difficult to rediscover his motivation, so soon after experiencing a major milestone.
Rose, winner in Hong Kong two years ago, will be disappointed he narrowly failed to overtake Fleetwood on Sunday but he appears to be a fairly well-rounded individual and extremely professional.
Garcia, the outsider in Dubai, will probably be best placed to contend this week on a course where a number of his fellow countrymen have performed well in the past.
Spanish Glory
Six of the 16 co-sanctioned Hong Kong Opens have ended-up in Spanish hands, with Rafa Cabrera-Bello narrowly failing to make this total seven, 12 months ago.
For Garcia, he makes his Fanling debut, after finishing in a tie-for-fourth on Sunday, while Cabrera-Bello is also in the field this week.
Form Guys
Seven of last Sunday's top-15 finishers at the Earth Course are in action again.
One of these is Kiradech Aphibarnrat who has been runner-up twice during the past six weeks, while posting six top-20s in his last 10 starts.
Currently ranked No 60 in the world, the 28-year-old from Bangkok has risen 100 spots up the standings since the start of September.
Young Chinese star Hao Tong Li will be keen to impress, while Matt Fitzpatrick's excellent end to the season continued last week in Dubai where he collected his eighth straight top-15 finish.
Remarkable Record
One player with an astounding record in Hong Kong is Thailand's greatest ever golfer Thongchai Jaidee.
Although never a winner in the former British colony, his last 10 visits have all yielded top-20 finishes, with podium places as far back as 2006 and 2007.
However, the 48-year-old has not teed-up in six weeks, before which he had missed the cut in his last four events.
One other pro with a respectable Hong Kong history is Aussie Marcus Fraser, while 53-year-old former champion Miguel Angel Jimenez leaves the senior tours behind for one week.
| Player | W46 | W45 | W44 | W43 | W42 | W41 | W40 | W39 | W38 | W37 |
| --- | --- | --- | --- | --- | --- | --- | --- | --- | --- | --- |
| Justin Rose | 4 | | 1 | 1 | | | | | 10 | 2 |
| Sergio Garcia | 4 | | | | 1 | 30 | | MC | 10 | 12 |
| Tommy Fleetwood | 21 | 10 | 23 | 20 | | 6 | 25 | | | |
| Rafael Cabrera-Bello | 21 | 42 | | 5 | 11 | 10 | | | | 33 |
| Matthew Fitzpatrick | 12 | 8 | 11 | 9 | | 15 | 15 | 11 | | |
| Hao Tong Li | 13 | 4 | 66 | 50 | | 48 | | 62 | 25 | |
| Hideto Tanihara | 54 | 52 | 70 | 20 | | MC | | | | 5 |
| Paul Dunne | 25 | 29 | 23 | 38 | | 26 | 7 | 1 | | 14 |
| Dylan Frittelli | 4 | 42 | 2 | | | MC | 36 | MC | | 31 |
| Kiradech Aphibarnrat | 2 | 42 | 6 | 24 | | 2 | 15 | 20 | MC | 9 |
| Julian Suri | 8 | 42 | 8 | | 8 | MC | MC | | | 55 |
| Jeung-Hun Wang | 28 | 55 | 35 | | 75 | 21 | 36 | 44 | | 23 |
| Scott Hend | 48 | 57 | 42 | 62 | 34 | 72 | MC | MC | | 17 |
| Aaron Rai | | | 14 | | 8 | | 25 | 52 | 52 | MC |
| Alexander Bjork | 17 | 52 | 48 | | MC | 40 | MC | | | 20 |
| Harold Varner | 19 | | 63 | | 26 | 23 | 59 | | | |
| David Lipsky | 24 | 42 | 27 | 58 | 34 | 21 | MC | | | 15 |
| Thongchai Jaidee | | | | | | MC | MC | MC | | MC |
| Gavin Green | | 7 | | 38 | 67 | 61 | | 1 | | 2 |
| Gaganjeet Bhullar | | 20 | 12 | 18 | 1 | | 19 | 7 | MC | 55 |
| Julien Guerrier | | | 20 | 19 | 8 | 19 | | | 27 | 1 |
| Jazz Janewattananond | | | | 3 | 47 | 39 | 14 | MC | 30 | 50 |
| Erik Van Rooyen | | | 3 | 17 | 38 | 1 | | 13 | 4 | |
| Jorge Campillo | | 27 | 35 | | 36 | 40 | MC | 37 | 29 | 48 |
| Clement Sordet | | | 1 | 3 | 17 | 15 | | 18 | 56 | 26 |
| Thomas Detry | | 51 | | | 36 | MC | MC | | 20 | 38 |
| Tapio Pulkkanen | | | 35 | 42 | 26 | 2 | | 21 | 1 | |
| Austin Connelly | | | 70 | | 54 | 21 | MC | | MC | 2 |
| Poom Saksansin | | MC | | 24 | 54 | 44 | 21 | MC | 2 | 43 |
| Gregory Bourdy | | 37 | 42 | | MC | 30 | 4 | 37 | MC | |
| Jin Ho Choi | | | 7 | 8 | 36 | | | 2 | 9 | 43 |
| Joakim Lagergren | | | | | MC | 40 | 12 | MC | | 9 |
| Shiv Kapur | | 20 | 1 | | | | 29 | 23 | | |
| Robert Rock | | | 52 | | 8 | MC | 4 | 37 | MC | MC |
| Oscar Lengden | | | 20 | MC | MC | 39 | | | 50 | 2 |
| Phachara Khongwatmai | | 3 | | 46 | | 39 | MC | | 12 | MC |
| SSP Chawrasia | | 10 | 2 | 31 | | 68 | MC | 66 | 16 | Dq |
| Marcus Fraser | | | 66 | | | 5 | Dq | MC | | |
| Ajeetesh Sandhu | | 13 | 2 | 45 | 2 | | 1 | MC | | |
| Jbe Kruger | | 39 | | | 9 | | MC | | 13 | MC |
| Pedro Oriol | | | 7 | 33 | 20 | | | 34 | MC | |
| Ryan Evans | | | 16 | 12 | 3 | 28 | | MC | 22 | |
| Paul Waring | 31 | 19 | 14 | | 30 | MC | MC | 52 | 39 | |
| Panupol Pittayarat | | | | 1 | 41 | MC | | 47 | MC | 23 |
| Alejandro Canizares | | | | | 36 | 15 | MC | 60 | 59 | 62 |
| Jamie Donaldson | | | | | 4 | 26 | MC | 37 | | MC |
| David Drysdale | 42 | 42 | 56 | | | 26 | 15 | 44 | MC | |
| James Morrison | | | | | 36 | MC | 25 | MC | | MC |
| Sam Brazel | | 42 | 52 | | | 66 | MC | MC | MC | 65 |
| Thomas Aiken | | | | | | MC | MC | MC | 46 | MC |
| Marcus Kinhult | | | 2 | 19 | 41 | 5 | | 3 | 6 | |
| Robert Karlsson | | | | | MC | 32 | MC | 3 | MC | |
| Oliver Farr | | | 20 | 49 | 1 | 7 | | 3 | 10 | |
| Chris Paisley | | | | | MC | 58 | MC | MC | 12 | |
| Yikeun Chang | | 29 | | | 24 | | MC | 12 | 31 | 17 |
| Ashun Wu | | | | 20 | 48 | MC | MC | MC | 7 | 31 |
| Paul Peterson | | 7 | 2 | 8 | 46 | MC | MC | MC | MC | |
| Jens Dantorp | | | 5 | 1 | 14 | MC | | 8 | 15 | 5 |
| Steven Brown | | | 38 | 7 | 11 | 19 | | | 10 | 2 |
| Nino Bertasio | | | 75 | | 8 | 10 | 15 | MC | 12 | MC |
| Carlos Pigem | | | | | 36 | MC | MC | | MC | 14 |
| Johannes Veerman | | | | 27 | 5 | | 2 | 43 | 19 | 28 |
| Chris Hanson | | | | | 18 | 50 | MC | 11 | | 25 |
| Tirawat Kaewsiribandit | | 10 | | 2 | MC | | 39 | 12 | MC | 10 |
| Rattanon Wannasrichan | | MC | | 5 | Wd | | 49 | Wd | MC | 17 |
| Richard McEvoy | | | 30 | MC | 11 | Wd | | MC | 10 | |
| Wade Ormsby | | | | | 5 | 63 | MC | 44 | 34 | 25 |
| Miguel Tabuena | | 3 | | 21 | 7 | | 16 | MC | 19 | Wd |
| Danthai Boonma | | MC | | 8 | 41 | | 29 | 6 | 50 | MC |
| Angleo Que | 27 | MC | MC | | 2 | 29 | | 5 | 13 | MC |
| Victor Perez | | | 30 | 7 | 17 | 50 | | 1 | MC | |
| Nicholas Fung | | 72 | 46 | | 19 | 76 | 14 | 16 | MC | |
| Sebastian Heisele | | | 16 | 33 | 2 | 39 | MC | MC | 34 | 3 |
| Oliver Fisher | | | | | 12 | MC | 7 | 60 | 62 | 25 |
| Ricardo Gouveia | | | | | 23 | 56 | 36 | MC | 5 | MC |
| Chase Koepka | | | 33 | 15 | 20 | MC | | | 2 | MC |
| Lasse Jensen | | | | | 36 | MC | 63 | MC | MC | |
| Gavin Moynihan | | | 20 | 4 | 38 | 6 | 47 | | 50 | MC |
| Tano Goya | | | 11 | 33 | MC | 15 | | 51 | 15 | |
| Adilson Da Silva | | MC | | 10 | 47 | | 4 | 2 | 50 | MC |
| Matteo Manassero | | | | | 30 | MC | MC | MC | | 17 |
| Edoardo Molinari | | 55 | 56 | | 58 | MC | MC | MC | | |
| Julien Quesne | | | | | MC | 50 | 56 | MC | MC | MC |
| Micah Shin | | 1 | | 35 | 34 | | 16 | 29 | | 36 |
| Wen-Chong Liang | | 26 | | 38 | MC | 51 | MC | 19 | 46 | |
| Ashley Chesters | | | | | 12 | | 36 | 52 | 52 | 60 |
| Rahman Siddikur | | 70 | | | | | 25 | 19 | MC | |
| Pep Angles | | | | | 54 | | MC | 57 | MC | 38 |
| Scott Vincent | | | | | | | 11 | 2 | 30 | 3 |
| Daniel Brooks | | | | | 3 | 45 | MC | 26 | 73 | 48 |
| Bradley Neil | | | 9 | MC | 8 | 26 | | | 59 | MC |
| Prom Meesawat | | 29 | 11 | | 9 | | 6 | 12 | 39 | 36 |
| Keith Horne | | 29 | | 7 | 19 | | | 2 | MC | 15 |
| Ben Evans | | | | | 36 | 55 | 12 | 5 | 52 | 31 |
| Todd Sinnott | | | | | 31 | MC | MC | | 52 | 20 |
| Daniel Im | | | | | MC | MC | MC | MC | | MC |
| Jeff Winther | | | | 12 | 26 | | | 5 | 52 | MC |
| Gregory Havret | | | | | MC | 21 | 36 | 26 | 39 | MC |
| Chien-Yao Hung | | 20 | | | 4 | | | | 10 | 50 |
| Richard T Lee | | 13 | | | | 51 | MC | 49 | 31 | 1 |
| Suradit Yongcharoenchai | | 13 | 21 | MC | 24 | | 11 | 7 | | 58 |
| Danny Chia | | 17 | | | 66 | 63 | 11 | 22 | MC | |
| Christofer Blomstrand | | | | 53 | 20 | MC | | | 34 | |
| Lorenzo Gagli | | | 19 | MC | 26 | 31 | | | 6 | |
| Scott Fernandez | | | 3 | 19 | 8 | 19 | | 27 | 34 | |
| Adrian Meronk | | | 11 | 2 | | | | | 34 | MC |
| Wei-Chih Lu | | 51 | | | Dq | | 3 | MC | 50 | |
| Shih-Chang Chan | 42 | 56 | 60 | | | MC | 39 | MC | Wd | MC |
| Pavit Tangkamolprasert | | 20 | | Wd | 12 | | MC | | 19 | MC |
| Rashid Khan | | Wd | 29 | | 5 | | Wd | 29 | MC | |
| Christopher Mivis | | | 20 | 4 | 20 | 55 | | 54 | 34 | MC |
| Soomin Lee | | | | | | 50 | MC | MC | MC | |
| Shubhankar Sharma | | | 18 | | 24 | | 21 | MC | MC | MC |
| Pontus Widegren | | | | 28 | MC | | | | MC | 55 |
| Jyoti Randhawa | | 5 | 38 | Wd | Wd | | | MC | MC | |
| Miguel Angel Jimenez | | | | | | 10 | | MC | | |
| Thomas Linard | | | 5 | 19 | MC | 50 | | MC | 15 | |
| Ben Leong | | | | Wd | MC | | 25 | 7 | 30 | 17 |
| Jonathan Thomson | | | | 3 | | | | | 25 | MC |
| Mark Foster | | | | | 53 | | | 62 | MC | MC |
| Lionel Weber | | 47 | MC | 6 | MC | | 39 | 23 | MC | 36 |
| Chiragh Kumar | | 47 | 2 | | 19 | | 49 | MC | MC | MC |
| Espen Kofstad | | | | | | | | | | |
| Wen-Tang Lin | | 44 | | 54 | 24 | | MC | 29 | MC | |
| David Howell | | | | | MC | 58 | MC | | | |
| Antonio Lascuna | | 63 | | 27 | 54 | MC | 6 | 16 | | |
| Thaworn Wiratchant | | | 12 | 61 | 34 | | 9 | MC | MC | MC |
| S Chikkarangappa | | MC | MC | | 33 | | 55 | 19 | 30 | MC |
| Sutijet Kooratanapisan | | MC | MC | 32 | 9 | | 25 | MC | MC | 43 |
| Laurie Canter | | | | | MC | | 36 | 52 | 68 | MC |
| Mukesh Kumar | | | 21 | | | | | | | |
| Nico Geyger | | | | MC | MC | | | 34 | 15 | |
| Natipong Srithong | | 39 | 29 | | 12 | | 55 | 37 | 54 | 6 |
| Casey O`Toole | | 29 | | | | | | MC | MC | MC |
| Marcel Schneider | | | | 7 | | | | MC | 46 | |
| Rahil Gangjee | | MC | 21 | | MC | | 29 | MC | 46 | 43 |
| Javier Colomo | | MC | | Wd | MC | | MC | 29 | 30 | MC |
| Arjun Atwal | | 17 | MC | MC | | | 73 | 7 | | |
| Scott Barr | 22 | 51 | 32 | 49 | 15 | | 39 | 31 | 21 | |
| Terry Pilkadaris | | 29 | 38 | 45 | 47 | | | 23 | MC | MC |
| Mardan Mamat | | 51 | | 49 | 62 | | 68 | MC | 61 | MC |
| Matthew Baldwin | | | | 42 | MC | 28 | | 13 | 27 | 15 |
| Jeev Milkha Singh | | Wd | | MC | | | MC | MC | MC | MC |
| Matthew Nixon | | | | MC | MC | | | 68 | 30 | 12 |
| Sam Chien | | | MC | 54 | 47 | | MC | MC | 39 | 55 |
| Piya Swangarunporn | | MC | | | MC | | MC | MC | MC | MC |
| Lian Wei Zhang | | | | | 41 | | | | | |
| Alfie Plant | | | | | 46 | | MC | | MC | |
| James Stewart | | | | | | | | | | |
| Sean Crocker | | | | | 58 | | | | MC | |
| Anthony Kang | | | | 61 | MC | | 39 | MC | | MC |
| Woon Man Wong | | | | | | | | | | |
| Henric Sturehed | | | | 1 | 12 | | 3 | | 21 | 6 |
| Leon D`Souza | | | | | | | | | | |
| Matthew Cheung | | | | | | | | | | |
| Taichi Kho | | | | | | | | | | |
| Joshua Shou | | | | | | | | | | |
| Player | 2016 | 2015 | 2014 | 2013 | 2012 | 2011 | 2010 | 2009 | 2008 | 2007 |
| --- | --- | --- | --- | --- | --- | --- | --- | --- | --- | --- |
| Justin Rose | 36 | 1 | | | | MC | | | | |
| Sergio Garcia | | | | | | | | | | |
| Tommy Fleetwood | 3 | | | | | | | | | |
| Rafael Cabrera-Bello | 2 | | | 60 | | 15 | | MC | | |
| Matthew Fitzpatrick | | 3 | | | | | | | | |
| Hao Tong Li | | MC | | | | | | | | |
| Hideto Tanihara | | | | | | | | | | |
| Paul Dunne | 29 | | | | | | | | | |
| Dylan Frittelli | MC | | | | | | | | | |
| Kiradech Aphibarnrat | MC | | MC | | 30 | 7 | | 29 | | |
| Julian Suri | | | | | | | | | | |
| Jeung-Hun Wang | MC | 67 | 34 | | | | | | | |
| Scott Hend | 51 | MC | 1 | 74 | 72 | 62 | | MC | MC | |
| Aaron Rai | | | | | | | | | | |
| Alexander Bjork | 45 | | | | | | | | | |
| Harold Varner | | | | | | | | | | |
| David Lipsky | 5 | 64 | 61 | 12 | | | | | | |
| Thongchai Jaidee | 14 | 13 | | | 10 | 15 | 15 | 11 | 19 | 2 |
| Gavin Green | | | | | | | | | | |
| Gaganjeet Bhullar | 45 | 13 | | MC | MC | MC | 31 | MC | | |
| Julien Guerrier | | | | | | | | | | |
| Jazz Janewattananond | 60 | 24 | 41 | | | | | | | |
| Erik Van Rooyen | | | | | | | | | | |
| Jorge Campillo | 10 | | | 24 | | | | | | |
| Clement Sordet | | | | | | | | | | |
| Thomas Detry | MC | | | | | | | | | |
| Tapio Pulkkanen | | | | | | | | | | |
| Austin Connelly | | | | | | | | | | |
| Poom Saksansin | | | | | | | | | | |
| Gregory Bourdy | 25 | | 34 | | 22 | 53 | 11 | 1 | 81 | MC |
| Jin Ho Choi | | | | | | | | | | |
| Joakim Lagergren | | MC | | MC | | | | | | |
| Shiv Kapur | 54 | MC | 20 | 12 | MC | Ret | MC | 48 | MC | 12 |
| Robert Rock | 45 | | | | | | MC | | MC | |
| Oscar Lengden | | | | | | | | | | |
| Phachara Khongwatmai | | | | | | | | | | |
| SSP Chawrasia | MC | 59 | 5 | 65 | MC | MC | 57 | 22 | MC | 32 |
| Marcus Fraser | 10 | 32 | 5 | 47 | 3 | 11 | 10 | | 34 | 7 |
| Ajeetesh Sandhu | | | | | | | | | | |
| Jbe Kruger | 10 | 42 | 20 | 24 | | 46 | 38 | MC | | |
| Pedro Oriol | | | | | | | | | | |
| Ryan Evans | | | | | | | | | | |
| Paul Waring | 7 | | 56 | | | | | | 34 | |
| Panupol Pittayarat | 36 | 74 | MC | 18 | MC | 29 | | | | |
| Alejandro Canizares | | | | | 22 | MC | | | | |
| Jamie Donaldson | | | | | | | 7 | 51 | 53 | 36 |
| David Drysdale | 57 | 18 | MC | 39 | | 21 | 31 | | | |
| James Morrison | | | 56 | 47 | 19 | MC | 38 | | | |
| Sam Brazel | 1 | 18 | MC | | | | | | | |
| Thomas Aiken | | | | | | | MC | | | |
| Marcus Kinhult | | | | | | | | | | |
| Robert Karlsson | | | | | | | | MC | | 2 |
| Oliver Farr | | MC | | | | | | | | |
| Chris Paisley | 54 | 67 | | 39 | | | | | | |
| Yikeun Chang | | | | | | | | | | |
| Ashun Wu | | | | | | | | | | |
| Paul Peterson | 45 | MC | MC | | | | | | | |
| Jens Dantorp | | | MC | MC | | | | | | |
| Steven Brown | | | | | | | | | | |
| Nino Bertasio | 67 | | | | | | | | | |
| Carlos Pigem | 14 | 29 | MC | | | | | | | |
| Johannes Veerman | | | | | | | | | | |
| Chris Hanson | MC | | | | | | | | | |
| Tirawat Kaewsiribandit | | | | | | | | | | |
| Rattanon Wannasrichan | | 69 | | | | | | | | |
| Richard McEvoy | | 18 | | | | MC | | | | |
| Wade Ormsby | 25 | 51 | 41 | 8 | 40 | | | | | |
| Miguel Tabuena | 51 | MC | | MC | MC | | | | | |
| Danthai Boonma | 36 | | | | | | | | | |
| Angleo Que | MC | 13 | 2 | 5 | MC | | MC | MC | 11 | MC |
| Victor Perez | | | | | | | | | | |
| Nicholas Fung | MC | 64 | 53 | | | | | | | |
| Sebastian Heisele | | | | | | | | | | |
| Oliver Fisher | | 24 | | 12 | | 53 | | MC | 11 | MC |
| Ricardo Gouveia | | | | | | | | | | |
| Chase Koepka | | | | | | | | | | |
| Lasse Jensen | MC | 51 | | | | | | | | |
| Gavin Moynihan | | | | | | | | | | |
| Tano Goya | | 24 | | | | | MC | MC | | |
| Adilson Da Silva | 14 | 35 | 34 | 30 | 71 | | | | | |
| Matteo Manassero | | | | | 4 | MC | 2 | | | |
| Edoardo Molinari | 14 | | | 47 | | MC | | | | |
| Julien Quesne | MC | | 34 | | 22 | | | | | |
| Micah Shin | | | | | | | | | | |
| Wen-Chong Liang | 14 | MC | 34 | MC | 22 | 17 | MC | 11 | 15 | 15 |
| Ashley Chesters | | | | | | | | | | |
| Rahman Siddikur | 45 | 18 | | MC | | | | | | |
| Pep Angles | 14 | | | | | | | | | |
| Scott Vincent | | | | | | | | | | |
| Daniel Brooks | 61 | MC | | 73 | | | | | | |
| Bradley Neil | | | | | | | | | | |
| Prom Meesawat | 29 | 29 | 20 | 2 | 30 | | MC | MC | MC | 20 |
| Keith Horne | MC | MC | | | | 42 | MC | MC | MC | 36 |
| Ben Evans | | 11 | | | | | | | | |
| Todd Sinnott | | | | | | | | | | |
| Daniel Im | 36 | | 20 | 39 | | | | | | |
| Jeff Winther | | | | | | | | | | |
| Gregory Havret | MC | 69 | | 18 | 61 | 2 | 35 | MC | MC | 64 |
| Chien-Yao Hung | 29 | MC | | | | | | | | |
| Richard T Lee | MC | MC | MC | | | | | | | |
| Suradit Yongcharoenchai | | | | | | | | | | |
| Danny Chia | 8 | 51 | MC | | MC | 35 | 64 | 11 | | MC |
| Christofer Blomstrand | | | | | | | | | | |
| Lorenzo Gagli | | | | | 30 | | | | | |
| Scott Fernandez | | | | | | | | | | |
| Adrian Meronk | | | | | | | | | | |
| Wei-Chih Lu | MC | 42 | 12 | 47 | | | MC | 45 | 17 | 50 |
| Shih-Chang Chan | MC | 35 | MC | | | | | | | |
| Pavit Tangkamolprasert | 61 | 75 | | | | | | | | |
| Rashid Khan | Wd | MC | MC | | | | | | | |
| Christopher Mivis | | | | | | | | | | |
| Soomin Lee | 29 | 3 | | | | | | | | |
| Shubhankar Sharma | | | | | | | | | | |
| Pontus Widegren | | | | | | | | | | |
| Jyoti Randhawa | MC | 59 | 15 | 30 | 22 | 29 | MC | 22 | 19 | |
| Miguel Angel Jimenez | 54 | MC | MC | 1 | 1 | 11 | MC | 18 | 24 | 1 |
| Thomas Linard | | | | | | | | | | |
| Ben Leong | | | | | | 66 | 21 | | 24 | |
| Jonathan Thomson | | | | | | | | | | |
| Mark Foster | | 55 | 4 | | 10 | MC | 38 | 11 | MC | |
| Lionel Weber | MC | 59 | | | | | | | | |
| Chiragh Kumar | MC | | MC | | Wd | | | | | |
| Espen Kofstad | | | | 24 | | | | | | |
| Wen-Tang Lin | MC | 7 | MC | 71 | 61 | MC | 25 | 22 | 1 | MC |
| David Howell | 14 | | | | 69 | 55 | 31 | 18 | | 66 |
| Antonio Lascuna | MC | MC | MC | 57 | 50 | MC | MC | MC | 34 | 47 |
| Thaworn Wiratchant | | MC | 41 | | 22 | 29 | MC | | 42 | 15 |
| S Chikkarangappa | | | | | | | | | | |
| Sutijet Kooratanapisan | | | | | | | | | | |
| Laurie Canter | | | | | | | | | | |
| Mukesh Kumar | | | | | | | | | | |
| Nico Geyger | | | | | | | | | | |
| Natipong Srithong | 61 | | | | | | | | | |
| Casey O`Toole | | | | | | | | | | |
| Marcel Schneider | | | | | | | | | | |
| Rahil Gangjee | MC | 18 | 15 | | | MC | | 36 | MC | 60 |
| Javier Colomo | MC | MC | 12 | 5 | 47 | | | | | |
| Arjun Atwal | 29 | MC | | | | | | | MC | |
| Scott Barr | MC | MC | MC | MC | MC | 17 | 35 | MC | MC | |
| Terry Pilkadaris | 51 | 59 | | | | | | | | |
| Mardan Mamat | MC | MC | 53 | MC | 30 | MC | 25 | 36 | 42 | 45 |
| Matthew Baldwin | | | | | | | | | | |
| Jeev Milkha Singh | | 24 | MC | MC | | MC | 7 | 36 | 11 | |
| Matthew Nixon | | 42 | 31 | | | | | | | |
| Sam Chien | | | | | | | | | | |
| Piya Swangarunporn | | | | | | | | | | |
| Lian Wei Zhang | MC | | MC | MC | 15 | MC | MC | 36 | MC | 50 |
| Alfie Plant | | | | | | | | | | |
| James Stewart | MC | MC | MC | MC | MC | | | | MC | MC |
| Sean Crocker | | | | | | | | | | |
| Anthony Kang | | MC | MC | | MC | MC | 4 | 63 | 70 | 55 |
| Woon Man Wong | | MC | MC | MC | MC | MC | MC | MC | | MC |
| Henric Sturehed | | | | | | | | | | |
| Leon D`Souza | | | | | | | | | | |
| Matthew Cheung | | | | | | | | | | |
| Taichi Kho | | | | | | | | | | |
| Joshua Shou | | | | | | | | | | |