Tshwane Open 2018: The latest course and form guide for this week's event on the European Tour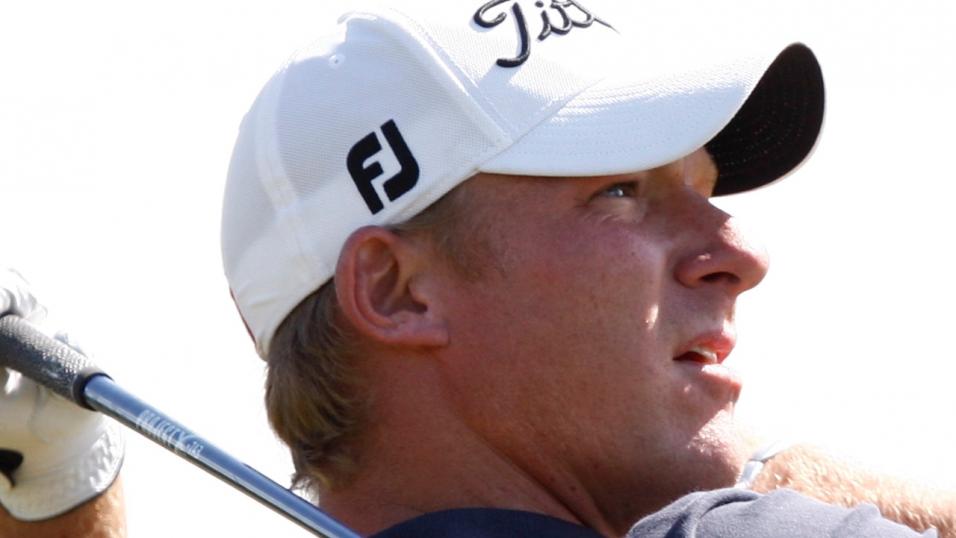 Shaun Norris: Can the in-form South African win on home soil this week?
Check out the stats ahead of this week's Tshwane Open in Pretoria, with course and current form guides compiled by Andy Swales ....
"Alexander Bjork, who registered back-to-back T-20s in the Middle East these past two weeks, was fifth at Pretoria last year."
The European Tour is back in South Africa for this week's Tshwane Open.
And it will be the Tour's last foray into the southern hemisphere for more than eight months.
For a fourth successive year, the tournament is being staged at Pretoria Country Club, a classic parkland venue situated around seven kilometres south-east of the city centre.
Although not the longest of layouts, the course demands accuracy from tee-to-green, thanks to tight, tree-lined fairways.
Located in the suburb of Waterkloof, the course has been around for more than 100 years, and was given a major upgrade by Gary Player's design team in 2005.
One player missing from this week's event is last year's winner Dean Burmester who is contesting the World Golf Championship event in Mexico.
Home Challenge
Although the cream of South African golf is more than 14 thousand miles away, competing in the WGC Mexico Championship, there is still a significant home presence in the country's administrative capital.
Among the up-and-coming group of South African golfers is in-form Shaun Norris whose results over the past three to four months have been pretty good.
With this week's field particularly weak, Norris should certainly be among the front-runners as he chases a maiden European Tour title?
Since the last week of October, the 35-year-old from Johannesburg has registered eight top-10 finishes from 14 starts - many of these on home soil.
As for other lesser known home players to have performed well on the Sunshine Tour in recent weeks, are Justin Harding, Peter Karmis and young amateur Kyle McClatchie. Karmis was a top-10 finisher in Pretoria 12 months ago.
Meanwhile, the more experienced George Coetzee has enjoyed a return to form recently, tieing-for-eighth in Qatar on Sunday.
Coetzee is a former winner over the Waterkloof layout and, at No 140 in the world, is one of the higher-ranked pros taking part.
One other South African you may wish to consider is Jacques Blaauw. Although he missed the cut last week in Cape Town, he's posted a brace of top-10s during 2018 and was runner-up on this course three years ago.
New Europeans
The Tshwane Open provides many of the younger breed of Europeans with a great opportunity to enter the winners' enclosure this Sunday.
Knocking keenly and firmly on this door are Alexander Bjork, Julien Guerrier, Marcus Kinhult, Mikko Korhonen and Aaron Rai.
Bjork, who registered back-to-back T-20s in the Middle East these past two weeks, was fifth at Pretoria last year.
Frenchman Guerrier was a podium finisher in Oman during February, while Kinhult of Sweden achieved the same feat at Doha on Sunday.
Korhonen's recent form has not been so good, although the Finn did finish second to Burmester at Pretoria Country Club in 2017.
Meanwhile, Englishman Rai continues to show promise and will tee-up on Thursday as one of the top 20 ranked players in the tournament.
Note: MC* - Missed Additional 54-Hole Cut
| Player | W8 | W7 | W6 | W5 | W4 | W3 | W2 | W1 | W52 | W51 | W50 | W49 |
| --- | --- | --- | --- | --- | --- | --- | --- | --- | --- | --- | --- | --- |
| Julian Suri | MC | | 68 | MC | 63 | | | | | | | |
| Shaun Norris | 13 | 52 | 8 | MC | 5 | 2 | 20 | | | | | 3 |
| Alexander Bjork | 19 | 12 | | MC | 6 | MC | | | | | | |
| Richard Sterne | 45 | 37 | | | 67 | 19 | 20 | | | | | |
| Scott Jamieson | 61 | | | 17 | 51 | MC | | | | | | |
| George Coetzee | 8 | 13 | | | MC | MC | 54 | | | | | 30 |
| Erik Van Rooyen | 59 | 18 | 52 | | | | 20 | | | | | 2 |
| Daisuke Kataoka | | 56 | 40 | 23 | MC | MC | 18 | | | | 51 | |
| Julien Guerrier | MC | 3 | 33 | | | | MC | | | | | |
| Haydn Porteous | MC | 26 | | MC | 19 | 53 | MC | | | | | 49 |
| Darren Fichardt | MC | MC | MC | | MC | 40 | 7 | | | | | MC |
| Tapio Pulkkanen | MC | 23 | | | | | MC | | | | | 3 |
| Aaron Rai | 19 | 37 | 26 | | MC | | MC | | | | | 19 |
| Clement Sordet | MC | 37 | | | | | MC | | | | | |
| Danny Willett | | | MC | MC | MC | | | | | | | |
| Jin Ho Choi | 72 | MC | | | | | MC | | | | | 8 |
| Benjamin Hebert | 61 | 9 | | 17 | MC | 32 | | | | | | |
| Marcus Kinhult | 3 | 16 | | | | | 12 | | | | | MC |
| Scott Vincent | MC | 38 | 26 | 39 | 10 | 71 | 4 | | | | 3 | 30 |
| Ryan Evans | 61 | 53 | 33 | | | | 15 | | | | | |
| Richard Bland | 74 | MC | | | MC | MC | 31 | | | | | |
| Nino Bertasio | MC | 51 | | 5 | 45 | 53 | | | | | | |
| Mikko Korhonen | MC | MC | | | 61 | 22 | MC | | | | | 13 |
| Nicolai Von Dellingshausen | | | 6 | | | | | | | | | |
| Gregory Bourdy | MC | 31 | | MC | MC | 61 | 54 | | | | | |
| Jaco Ahlers | 34 | 1 | 19 | | | | MC | | | | | 19 |
| Pedro Oriol | | MC | | | | | 43 | | | | | |
| David Drysdale | MC | 23 | | | | MC | 47 | | | | | MC |
| Chase Koepka | 53 | MC | 58 | | | | 7 | | | | | |
| Jacques Kruyswijk | 39 | MC | 8 | | | 69 | 4 | | | | | 49 |
| Jbe Kruger | | 60 | MC | MC | MC | MC | 51 | | | | | MC |
| Oliver Bekker | 10 | 43 | 23 | | | | MC | | | | | 13 |
| Maximilian Kieffer | MC | 23 | | 11 | 32 | MC | | | | | | |
| Oliver Farr | 39 | 59 | | | | | 75 | | | | | 49 |
| Peter Karmis | 2 | 18 | 8 | | | | MC | | | | | MC |
| Jens Dantorp | MC | 59 | 73 | | | | 38 | | | | | 49 |
| JC Ritchie | 3 | 13 | 59 | | | | 3 | | | | | 27 |
| Bernd Ritthammer | | MC | MC | | | | | | | | | |
| Victor Perez | | MC | MC | | | | | | | | | 13 |
| Alexander Knappe | | 4 | 65 | MC | | | | | | | | MC |
| Thomas Aiken | MC | MC | | | 51 | MC | MC | | | | | MC |
| Steven Brown | 39 | MC | 49 | | | | | | | | | 19 |
| Ockie Strydom | 27 | 27 | 36 | | | | 20 | | | | | 30 |
| Keith Horne | | 4 | 4 | 72 | 60 | MC | MC | | | | | MC |
| Richard McEvoy | | 65 | MC | | | | | | | | | 30 |
| Jacques Blaauw | MC | 13 | 6 | MC | | | 4 | | | | | MC |
| Ricardo Gouveia | 61 | MC | | | MC | 53 | MC | | | | | |
| Adilson Da Silva | | 13 | MC | MC | MC | MC | 20 | | | | | MC |
| Robin Sciot-Siegrist | | | | | | | | | | | | |
| Gavin Moynihan | MC | MC | MC | | | | | | | | | MC |
| Trevor Fisher | | 27 | | | | | 15 | | | | | |
| Charlie Ford | MC | 26 | 65 | | | | 11 | | | | | 8 |
| Tom Lewis | | | MC | | | | | | | | | MC |
| Jason Norris | | | MC | 70 | MC | MC | | | | | | |
| Jeff Winther | MC | 21 | | | | | 20 | | | | | 27 |
| Romain Langasque | 13 | MC | | | | | | | | | | MC |
| Zander Lombard | MC | 65 | 21 | | MC | MC | MC | | | | | Dq |
| Marcus Armitage | | | MC | | | | 67 | | | | | 5 |
| Patrick Newcomb | | | MC | MC | 73 | 63 | | | | | | |
| Daan Huizing | | 21 | | | 69 | | | | | | | |
| Chris Lloyd | 13 | MC | 39 | | | | | | | | | |
| Matias Calderon | MC | MC | 1 | | | | | | | | | MC |
| Ashley Chesters | 45 | MC | | | 51 | MC | MC | | | | | MC |
| Daniel Brooks | MC | Wd | | | MC | MC | MC | | | | | 30 |
| Jared Harvey | 27 | MC | 23 | | | | MC | | | | | MC |
| Justin Walters | 45 | 9 | MC | | | | 38 | | | | | MC |
| Bradley Neil | MC | 63 | 77 | | | | 51 | | | | | MC |
| Julien Quesne | | | | | | | | | | | | |
| Birgir Hafthorsson | | | | | | | | | | | | MC |
| Garrick Porteous | | | MC | | | | | | | | | 72 |
| Ben Evans | MC | MC | MC | | | | | | | | | MC |
| Felipe Aguilar | MC | MC | MC | | | | | | | | | |
| Scott Fernandez | 19 | 37 | MC | | | | MC | | | | | MC |
| Pep Angles | MC | 69 | 40 | | | | MC | | | | | 49 |
| James Heath | MC | MC | MC | | | | | | | | | MC |
| Jean-Paul Strydom | 34 | 2 | MC | | | | MC | | | | | MC |
| Riekus Nortje | MC | 70 | MC | | | | MC | | | | | MC |
| Christofer Blomstrand | | MC | MC | | | | MC | | | | | 8 |
| Toby Tree | 6 | 24 | 4 | | | | MC | | | | | MC* |
| Hennie Otto | MC | 32 | 23 | | | | 12 | | | | | 13 |
| Raphael Jacquelin | 53 | 44 | | | | MC | MC | | | | | |
| Louis De Jager | 30 | 27 | 8 | | | | 43 | | | | | MC |
| Grant Forrest | 53 | | 17 | | | | | | | | | MC |
| Christopher Mivis | | MC | 49 | | | | | | | | | MC |
| Lorenzo Gagli | 34 | MC | MC | | | | | | | | | MC |
| Justin Harding | 6 | 18 | 3 | | | | 47 | | | | | MC |
| Joel Sjoholm | 2 | 17 | | | | | | | | | | |
| Doug McGuigan | MC | 60 | MC | | | | Wd | | | | | MC |
| Daniel Van Tonder | 34 | 32 | 13 | | | | 34 | | | | | MC |
| Duncan Stewart | | | MC | | | | | | | | | MC |
| Matthias Schwab | 61 | MC | 33 | | | | | | | | | |
| Joel Girrbach | | | 65 | | | | | | | | | MC |
| Jens Fahrbring | | MC | 65 | | | | | | | | | 30 |
| Alex Haindl | MC | MC | | | | | MC | | | | | MC |
| Hennie Du Plessis | 49 | MC | 32 | | | | MC | | | | | 13 |
| Christiaan Bezuidenhout | 28 | 44 | MC | | | | 63 | | | | | 30 |
| Nathan Kimsey | | | MC | | | | | | | | | 30 |
| Henric Sturehed | MC | MC | | | MC | | | | | | | MC |
| Tom Murray | | | MC | | | | | | | | | MC |
| Mark Foster | 13 | MC | 79 | | | | | | | | | 19 |
| Pontus Widegren | 78 | MC | MC | | | | 73 | | | | | MC |
| Jean Hugo | 13 | 38 | 52 | | | | 47 | | | | | 57 |
| Jonathan Thomson | MC | 65 | MC | | | | | | | | | MC |
| Andrea Pavan | 13 | 16 | 15 | | | | MC | | | | | 42 |
| Neil Schietekat | 55 | MC | MC | | | | 15 | | | | | MC |
| Jaco Prinsloo | MC | 52 | 23 | | | | MC | | | | | 49 |
| Matt Ford | | | | | | | | | | | | MC |
| Laurie Canter | MC | MC | 49 | | | | | | | | | MC |
| Nico Geyger | 34 | 12 | MC | | | | | | | | | MC |
| Morten Orum Madsen | MC | MC | | | | | MC | | | | | |
| Soomin Lee | 74 | 37 | | 39 | MC | MC | 31 | | | | MC | |
| Vaughn Groenewald | 13 | 9 | 47 | | | | 43 | | | | | 19 |
| Lyle Rowe | 45 | MC | MC | | | | | | | | | Dq |
| Ruan De Smidt | 21 | 46 | MC | | | | 54 | | | | | MC |
| Keenan Davidse | 3 | MC | 43 | | | | 43 | | | | | 67 |
| JJ Senekal | 45 | 65 | MC | | | | MC | | | | | 57 |
| Sam Horsfield | MC | MC | 4 | | MC | | MC | | | | | MC |
| David Howell | 61 | | | | | | Wd | | | | | MC |
| Jake Roos | MC | 43 | 43 | | | | 71 | | | | | MC |
| Daniel Greene | | 68 | 7 | | | | MC | | | | | 8 |
| Tjaart Van Der Walt | 49 | 4 | 52 | | | | MC | | | | | 63 |
| Anthony Michael | 55 | 18 | 23 | | | | 20 | | | | | MC |
| Rak Hyun Cho | 34 | MC | 65 | | | | MC | | | | | |
| Marcel Schneider | 70 | MC | MC | | | | | | | | | MC |
| Mark Williams | 49 | 60 | MC | | | | 20 | | | | | MC |
| Kyle McClatchie | 10 | 13 | 13 | | | | 15 | | | | | MC |
| Chris Swanepoel | MC | MC | 39 | | | | MC | | | | | MC* |
| Christian Braeunig | | | | | | | | | | | | |
| Rhys Enoch | 1 | 43 | 19 | | | | | | | | | |
| MJ Viljoen | MC | 27 | MC | | | | 65 | | | | | 30 |
| Petr Dedek | | | | | | | | | | | | MC |
| Matthew Baldwin | 10 | MC | MC | | | | | | | | | 19 |
| Connor Syme | MC | 37 | MC | | MC | | | | | | | MC |
| Christiaan Basson | 55 | 52 | 23 | | | | MC | | | | | MC |
| Tyrone Ferreira | 21 | MC | MC | | | | 38 | | | | | MC |
| Titch Moore | 21 | 24 | 58 | | | | MC | | | | | MC |
| Ross McGowan | MC | MC | MC | | | | MC | | | | | 13 |
| Wallie Coetsee | 5 | 65 | 19 | | | | MC | | | | | MC |
| Ulrich Van Den Berg | 21 | 32 | 8 | | | | 54 | | | | | MC |
| Tyrone Ryan | 13 | 65 | MC | | | | MC | | | | | 42 |
| Rourke Van der Spuy | 60 | 46 | 34 | | | | 47 | | | | | 61 |
| Merrick Bremner | 10 | 38 | MC | | | | MC | | | | | |
| Bryce Easton | 53 | 52 | MC | | | | | | | | | MC |
| Madalitso Muthiya | MC | 52 | MC | | | | MC | | | | | MC |
| Matthew Nixon | 13 | MC | MC | | | | | | | | | MC |
| Jack Singh Brar | 1 | 7 | | | MC | | | | | | | |
| Sebastien Gros | 45 | MC | 40 | | | | | | | | | |
| Dawie Van Der Walt | MC | 27 | 39 | MC | MC | 60 | | | | | | MC |
| Rhys West | 13 | MC | MC | | | | 54 | | | | | MC |
| Garth Mulroy | MC | 32 | 47 | | | | MC | | | | | MC |
| Marc Cayeux | MC | MC | Wd | | | | MC | | | | | MC |
| Player | 2017 | 2016 | 2015 |
| --- | --- | --- | --- |
| Julian Suri | | | |
| Shaun Norris | | 23 | 46 |
| Alexander Bjork | 5 | | |
| Richard Sterne | | 4 | |
| Scott Jamieson | 22 | | 35 |
| George Coetzee | MC | 14 | 1 |
| Erik Van Rooyen | MC | | 10 |
| Daisuke Kataoka | | | |
| Julien Guerrier | | | |
| Haydn Porteous | 62 | 10 | MC |
| Darren Fichardt | 37 | 49 | Ret |
| Tapio Pulkkanen | | | |
| Aaron Rai | | | |
| Clement Sordet | | MC | |
| Danny Willett | | | |
| Jin Ho Choi | | | |
| Benjamin Hebert | | | 64 |
| Marcus Kinhult | | MC | |
| Scott Vincent | | | |
| Ryan Evans | | MC | |
| Richard Bland | | | MC |
| Nino Bertasio | MC | 49 | |
| Mikko Korhonen | 2 | | MC |
| Nicolai Von Dellingshausen | | | |
| Gregory Bourdy | | | 8 |
| Jaco Ahlers | 29 | MC | 6 |
| Pedro Oriol | | | |
| David Drysdale | 45 | MC | MC |
| Chase Koepka | | | |
| Jacques Kruyswijk | 68 | MC | |
| Jbe Kruger | MC | MC | MC |
| Oliver Bekker | MC | MC | 42 |
| Maximilian Kieffer | 18 | | 30 |
| Oliver Farr | | | 53 |
| Peter Karmis | 9 | MC | MC |
| Jens Dantorp | | MC | |
| JC Ritchie | MC | 23 | |
| Bernd Ritthammer | 22 | 40 | |
| Victor Perez | | | |
| Alexander Knappe | 45 | | |
| Thomas Aiken | 15 | | |
| Steven Brown | | | |
| Ockie Strydom | MC | MC | 23 |
| Keith Horne | MC | MC | 23 |
| Richard McEvoy | | MC | 35 |
| Jacques Blaauw | 6 | 53 | 2 |
| Ricardo Gouveia | 62 | | |
| Adilson Da Silva | 15 | MC | 15 |
| Robin Sciot-Siegrist | | | |
| Gavin Moynihan | | | |
| Trevor Fisher | 29 | MC | 23 |
| Charlie Ford | | | |
| Tom Lewis | | MC | |
| Jason Norris | | | |
| Jeff Winther | MC | 2 | |
| Romain Langasque | 18 | | |
| Zander Lombard | 22 | 7 | MC |
| Marcus Armitage | 45 | | |
| Patrick Newcomb | | | |
| Daan Huizing | | 63 | |
| Chris Lloyd | | | MC |
| Matias Calderon | | | |
| Ashley Chesters | | | |
| Daniel Brooks | 62 | | MC |
| Jared Harvey | | MC | 23 |
| Justin Walters | 9 | 4 | 23 |
| Bradley Neil | | MC | |
| Julien Quesne | | | MC |
| Birgir Hafthorsson | | | |
| Garrick Porteous | | | |
| Ben Evans | | 21 | |
| Felipe Aguilar | MC | MC | 35 |
| Scott Fernandez | | | |
| Pep Angles | 29 | | |
| James Heath | | | |
| Jean-Paul Strydom | MC | 35 | |
| Riekus Nortje | | | |
| Christofer Blomstrand | MC | | |
| Toby Tree | MC | 14 | 53 |
| Hennie Otto | 12 | 35 | |
| Raphael Jacquelin | | | 35 |
| Louis De Jager | 37 | 23 | MC |
| Grant Forrest | | | |
| Christopher Mivis | | | |
| Lorenzo Gagli | | | |
| Justin Harding | | 40 | MC |
| Joel Sjoholm | | | |
| Doug McGuigan | MC | 69 | 42 |
| Daniel Van Tonder | MC | MC | MC |
| Duncan Stewart | 18 | | |
| Matthias Schwab | | | |
| Joel Girrbach | | | |
| Jens Fahrbring | MC | MC | |
| Alex Haindl | MC | MC | MC |
| Hennie Du Plessis | 71 | | MC |
| Christiaan Bezuidenhout | 56 | MC | |
| Nathan Kimsey | MC | | |
| Henric Sturehed | | | |
| Tom Murray | | 40 | MC |
| Mark Foster | MC | MC | MC |
| Pontus Widegren | | | |
| Jean Hugo | 45 | 40 | 30 |
| Jonathan Thomson | | | |
| Andrea Pavan | | | |
| Neil Schietekat | MC | MC | MC |
| Jaco Prinsloo | 71 | | MC |
| Matt Ford | | MC | MC |
| Laurie Canter | MC | MC | |
| Nico Geyger | | | |
| Morten Orum Madsen | MC | | 15 |
| Soomin Lee | 29 | | |
| Vaughn Groenewald | 45 | MC | 62 |
| Lyle Rowe | 79 | MC | MC |
| Ruan De Smidt | 71 | MC | MC |
| Keenan Davidse | 71 | | |
| JJ Senekal | | | MC |
| Sam Horsfield | | | |
| David Howell | MC | | 23 |
| Jake Roos | | MC | MC |
| Daniel Greene | MC | | |
| Tjaart Van Der Walt | MC | MC | 3 |
| Anthony Michael | 37 | 3 | 35 |
| Rak Hyun Cho | | | |
| Marcel Schneider | | | |
| Mark Williams | MC | 57 | 64 |
| Kyle McClatchie | | | |
| Chris Swanepoel | 62 | MC | 30 |
| Christian Braeunig | | | |
| Rhys Enoch | | | 61 |
| MJ Viljoen | | | |
| Petr Dedek | MC | | |
| Matthew Baldwin | | MC | MC |
| Connor Syme | | | |
| Christiaan Basson | MC | 29 | MC |
| Tyrone Ferreira | MC | 23 | MC |
| Titch Moore | 68 | MC | MC |
| Ross McGowan | 45 | MC | MC |
| Wallie Coetsee | 37 | MC | 30 |
| Ulrich Van Den Berg | MC | MC | 23 |
| Tyrone Ryan | | | |
| Rourke Van der Spuy | | Dq | |
| Merrick Bremner | MC | 57 | 15 |
| Bryce Easton | MC | | |
| Madalitso Muthiya | MC | MC | |
| Matthew Nixon | | 14 | MC |
| Jack Singh Brar | | | |
| Sebastien Gros | MC | | |
| Dawie Van Der Walt | 45 | | 15 |
| Rhys West | MC | MC | 10 |
| Garth Mulroy | 76 | 21 | MC |
| Marc Cayeux | MC | | |
Discover the latest articles