Trophee Hassan II 2018: Your course and current form guide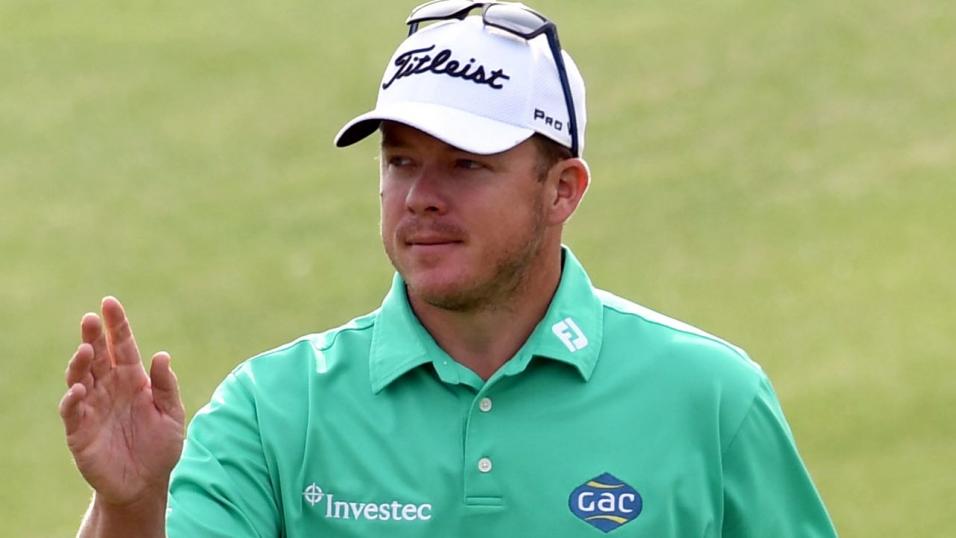 George Coetzee: Last three European Tour starts have all yielded top-10 finishes
Andy Swales supplies course and current form stats for this week's Trophee Hassan II, as the European Tour tees-up in north Africa.
"Among the leading candidates teeing-up on Thursday, Ireland's Paul Dunne appears to be the standout competitor."
The European Tour travels to north Africa for this week's Trophee Hassan II in Morocco.
Located in the capital city of Rabat, Royal Golf Dar Es Salam can be found in the north of the country, around eight miles from its Atlantic coast.
The Red Course, which was designed by Robert Trent Jones and opened 37 years ago, is a flat, tree-lined layout which experienced its first taste of European Tour action during the late 1980s.
The Moroccan Open, which was part of the European Tour for a number of years, first visited Royal Golf Dar Es Salam in 1987, twice more during the 1990s, and again in 2001.
There was then a gap of nine years before the club hosted the Trophee Hassan II, since when changes to the Red Course have yielded larger greens with the purpose of offering a wider variety of pin positions.
According to the European Tour website, these alterations will 'place a premium on strategy, approach play, recovery and the short game.'
Likely Lads
Among the leading candidates teeing-up on Thursday, Ireland's Paul Dunne appears to be the standout competitor.
The world No.68 maintained his good current form by finishing runner-up at the Spanish Open on Sunday.
He has also played well over the Red Course, highlighted by his second place finish 12 months ago.
With course data limited to just three European Tour events over the past decade, other fancied runners are likely to include Joost Luiten and George Coetzee.
Both have already tasted victory this calendar year, with the latter on a run of three straight top-10s, the most recent of these coming in Madrid over the weekend.
One other pro who can boast of a podium finish in Morocco, as well as another in the Spanish capital last week, is Nacho Elvira.
The 2016 runner-up at Royal Golf Dar Es Salam was third on Sunday, his first top-10 since last September.
Royal Form
Of those taking part this week, the only two golfers to enjoy back-to-back top 10s over the Red Course in 2016 and 2017, are Renato Paratore and Chris Hanson.
During the opening three-and-a-half months of this year, the usually inconsistent Paratore has registered a brace of top-10s, as well as five missed cuts, and was tied-for-21st on Sunday.
Other Challengers
Three other players who tied-for-21st in Spain, and should be among the challengers this week, are Seung-Su Han, Andy Sullivan and Pablo Larrazabal.
Han, the world No.87, has come from nowhere during the past 12 months to register a series of strong performances.
Meanwhile Sullivan and Larrazabal, both of whom have won multiple times on the European Tour, will have every chance of improving their CVs in what is a fairly mediocre field.
Another player to conjure with is young Englishman Aaron Rai who sneaked into the top 12 on Sunday.
The 23-year-old won three times on the Challenge Tour last year and could soon be ready to triumph at the top table - especially when the field is not that strong.
MC* - Missed Additional 54-Hole Cut
| Player | W15 | W14 | W13 | W12 | W11 | W10 | W9 | W8 | W7 | W6 | W5 | W4 |
| --- | --- | --- | --- | --- | --- | --- | --- | --- | --- | --- | --- | --- |
| Thomas Pieters | | MC | 52 | 52 | | | 37 | 13 | 68 | | | 32 |
| Yusaku Miyazato | 12 | MC | | 52 | | | 60 | | | 11 | 27 | 5 |
| Alexander Levy | | | | 36 | | | | | 4 | | 55 | 4 |
| Joost Luiten | | | | | | 9 | 37 | | 1 | | 11 | MC |
| Paul Dunne | 2 | | 8 | 5 | | | 55 | | | MC | | MC |
| Seung-Su Han | 21 | | 52 | 5 | | | | 13 | 4 | 58 | | 29 |
| Eddie Pepperell | MC | | | | | | | 1 | 44 | | MC* | MC |
| Matt Wallace | MC | | | | | 1 | | 19 | 44 | | MC | 37 |
| Chris Wood | | | | 54 | | 48 | | 13 | 2 | | | MC |
| George Coetzee | 4 | | | | | | 1 | 8 | 13 | | | MC |
| Jorge Campillo | 5 | | | | | | 27 | | 4 | | 2 | MC |
| Wade Ormsby | | | | | | 25 | 50 | | | 26 | MC | MC |
| Fabrizio Zanotti | MC | | | 50 | | | | 45 | 7 | | 60 | MC |
| Victor Dubuisson | MC | | | | | | | | | | | |
| Ryan Fox | MC | | | | | | MC | | | 26 | 3 | MC |
| Pablo Larrazabal | 21 | | | | | 4 | | 4 | 44 | | 3 | MC |
| Dave Horsey | MC | | | | | | | 13 | MC | | 34 | 22 |
| Alexander Bjork | 39 | | | | | | MC | 19 | 12 | | MC | 6 |
| Jordan Smith | MC | | | | | | | MC | 26 | | 69 | MC |
| Dean Burmester | 71 | | | | 3 | | 30 | | 4 | | MC | 22 |
| Darren Fichardt | 58 | | | | 1 | | 70 | MC | MC | MC | | MC |
| Nicolas Colsaerts | 28 | | | | | | | 34 | | | | 51 |
| Mike Lorenzo-Vera | 34 | | | | | | | 10 | MC | | 17 | MC |
| Scott Jamieson | MC | | | | | MC | 7 | 61 | | | 17 | 51 |
| Richie Ramsay | 72 | | | | | | | MC | | | 62 | 6 |
| Andy Sullivan | 21 | | | | | | | 34 | 16 | | 17 | 6 |
| Jeung-Hun Wang | MC | | | | | 40 | | MC | 26 | | 62 | 6 |
| Adrian Otaegui | 12 | | | | | | | 10 | 12 | | 39 | 22 |
| Soren Kjeldsen | MC | | | | | | | | MC | | 39 | MC |
| Richard Sterne | 34 | | | | | | 21 | 45 | 37 | | | 67 |
| Erik Van Rooyen | 21 | | | | | MC | 10 | 59 | 18 | 52 | | |
| David Lipsky | 67 | | | | | | 48 | | | 77 | 17 | 6 |
| Renato Paratore | 21 | | | | | MC | | 4 | MC | | MC | MC |
| Matthew Southgate | | | | | | | | MC | 9 | | 62 | 57 |
| Jason Scrivener | 73 | | | | | 40 | | 19 | MC | 26 | MC | 6 |
| Gavin Green | 46 | | | | | 16 | 64 | | 68 | | 39 | 45 |
| Matthieu Pavon | MC | | | | | | | 28 | 31 | | 11 | Dq |
| Graeme Storm | 67 | | | | | 60 | | | MC | | 50 | MC |
| Phachara Khongwatmai | MC | | | | | MC | | MC | 37 | | 17 | 57 |
| Julien Guerrier | 9 | | | | | MC | 38 | MC | 3 | 33 | | |
| Haydn Porteous | | | | | | | 48 | MC | 26 | | MC | 19 |
| Marcus Kinhult | MC | | | | | MC | MC | 3 | 16 | | | |
| Aaron Rai | 12 | | | | | 9 | MC | 19 | 37 | 26 | | MC |
| Callum Shinkwin | 28 | | | | | | | 19 | 56 | | | MC |
| Tapio Pulkkanen | 21 | | | | | | MC | MC | 23 | | | |
| Adam Bland | MC | | | | | | 18 | MC | MC | 73 | MC | |
| Andrew Dodt | MC | | | | | MC | 45 | | | 65 | 55 | 29 |
| Thomas Detry | MC | | | | | | | 39 | 31 | | 23 | 22 |
| Mikko Korhonen | MC | | | | | | 3 | MC | MC | | | 61 |
| Clement Sordet | MC | | | | | 12 | 54 | MC | 37 | | | |
| Lucas Bjerregaard | | | | | | | | MC | MC | | MC | 61 |
| Jin Ho Choi | 58 | | | | | 9 | 29 | 72 | MC | | | |
| Robert Rock | 28 | | | | | 12 | | MC | 7 | | MC | MC |
| Nacho Elvira | 3 | | | | | 40 | | 39 | MC | | MC | MC |
| Benjamin Hebert | | | | | | | 63 | 61 | 9 | | 17 | MC |
| Romain Wattel | | | | | | | | 19 | MC | | 11 | 37 |
| Stephen Gallacher | 52 | | | | | 7 | | 39 | 9 | | 39 | 57 |
| Marc Warren | 5 | | | | | 53 | | 53 | 63 | | 67 | MC |
| Sam Brazel | | | | | | | | MC | 16 | | MC | 22 |
| Oliver Fisher | MC | | | | | Wd | | 2 | 44 | | MC | MC |
| Brandon Stone | 39 | | | | | | 60 | MC | MC | | MC | MC |
| Austin Connelly | 63 | | | | | | | | | 80 | 62 | MC |
| Paul Waring | 63 | | | | | | | 19 | 44 | | MC | MC |
| Ryan Evans | MC | | | | | 34 | 21 | 61 | 53 | 33 | | |
| Pedro Oriol | 39 | | | | | | 8 | | MC | | | |
| Nino Bertasio | 34 | | | | | MC | MC | MC | 51 | | 5 | 45 |
| Anthony Wall | 52 | | | | | 25 | | MC | MC | | | 22 |
| Thongchai Jaidee | 73 | | | | | MC | | 53 | 51 | | 39 | MC |
| Ahmed Marjan | | 51 | MC | | | | | MC | | 22 | | MC |
| Lee Slattery | MC | | | | | | | MC | 31 | | MC | 64 |
| Joakim Lagergren | MC | | | | | | | 45 | MC | | MC | MC |
| Alejandro Canizares | 12 | | | | | | | | | MC | | 22 |
| Chase Koepka | MC | | | | | | Wd | 53 | MC | 58 | | |
| Adrien Saddier | MC | | | | | 62 | | MC | MC | MC | | |
| Richard Bland | MC | | | | | | MC | 74 | MC | | | MC |
| James Morrison | MC | | | | | 16 | | 45 | MC | | | MC |
| Sam Horsfield | MC | | | | 14 | | 2 | MC | MC | 4 | | MC |
| Gregory Bourdy | 46 | | | | | | 54 | MC | 31 | | MC | MC |
| Marcus Fraser | 46 | | | | | 60 | 29 | | | 13 | MC | MC |
| David Drysdale | MC | | | | | MC | MC | MC | 23 | | | |
| Jacques Kruyswijk | 9 | | | | | | 29 | 39 | MC | 8 | | |
| Jens Dantorp | 67 | | | | | 16 | 21 | MC | 59 | 73 | | |
| Jamie Donaldson | MC | | | | | 34 | | 59 | MC | | | 45 |
| Robert Karlsson | MC | | | | | | | 76 | MC | | MC* | 51 |
| Ashun Wu | 34 | | | | | 53 | | 28 | MC | | | 37 |
| Danny Willett | | MC | | | Wd | | 29 | | | MC | MC | MC |
| Chris Hanson | MC | | | | | MC | | 53 | MC | | MC* | 6 |
| Maximilian Kieffer | 12 | | | | | | 48 | MC | 23 | | 11 | 32 |
| Marcel Siem | | | | | | MC | | 28 | MC | | MC* | MC |
| Bradley Dredge | 52 | | | | | | | 45 | MC | | | |
| Sebastian Heisele | MC | | | 44 | | | | 8 | MC | MC | | |
| Oliver Farr | MC | | | | | MC | MC | 39 | 59 | | | |
| Thomas Aiken | MC | | | | | | 8 | MC | MC | | | 51 |
| Mikko Ilonen | | | | | | | | 61 | 26 | | | 57 |
| Steven Brown | MC | | | | | 16 | MC | 39 | MC | 49 | | |
| Lorenzo Gagli | MC | | | 1 | | | 29 | 34 | MC | MC | | |
| Brett Rumford | 5 | | | | | | 62 | | MC | 40 | | 37 |
| Edoardo Molinari | MC | | | | | 57 | | 72 | 16 | | MC | 45 |
| Peter Hanson | | | | | | | | | | | | |
| Matthias Schwab | 28 | | | 8 | | 4 | 29 | 61 | MC | 33 | | |
| Ricardo Gouveia | 52 | | | | | 16 | 29 | 61 | MC | | | MC |
| Gregory Havret | MC | | | | | 23 | | 4 | MC | | | 37 |
| Lasse Jensen | MC | | | | | Wd | | MC | MC | | | 37 |
| Jeff Winther | 34 | | | | | | 21 | MC | 21 | | | |
| Carlos Pigem | MC | | | | | MC | | MC | MC | | MC* | MC |
| Gavin Moynihan | MC | | | MC | | | MC | MC | MC | MC | | |
| Charlie Ford | 63 | | | | | | 66 | MC | 26 | 65 | | |
| Sean Crocker | | | | | | MC | | 28 | MC | 5 | | MC |
| Alvaro Quiros | MC | | | | | | | 19 | MC | | MC | MC |
| Jason Norris | 58 | | | | | MC | MC | | | MC | 70 | MC |
| Justin Walters | | | | 66 | 9 | | 21 | 45 | 9 | MC | | |
| Zander Lombard | MC | | | | | | MC | MC | 65 | 21 | | MC |
| Matteo Manassero | 39 | | | | | 57 | | MC | 31 | | 55 | MC |
| Romain Langasque | | | | 44 | | | MC | 13 | MC | | | |
| Joel Stalter | 43 | | | 28 | | | | 33 | Wd | | | |
| Ashley Chesters | MC | | | | | 30 | MC | 45 | MC | | | 51 |
| Felipe Aguilar | 28 | | | 53 | | | 4 | MC | MC | MC | | |
| Daniel Brooks | MC | | | | | | Wd | MC | Wd | | | MC |
| Ben Evans | MC | | | 14 | | | MC | MC | MC | MC | | |
| Scott Fernandez | MC | | | | | 34 | MC | 19 | 37 | MC | | |
| Bradley Neil | 58 | | | | | | MC | MC | 63 | 77 | | |
| Luke Joy | | | | | | | | 45 | 60 | 39 | | MC |
| Daniel Im | MC | | | | | MC | | 77 | 53 | | 73 | 65 |
| Grant Forrest | 31 | | | 38 | | | 59 | 53 | | 17 | | |
| Nico Geyger | MC | | | 3 | | | MC | 34 | 12 | MC | | |
| Paul Lawrie | MC | | | | | | | 61 | 61 | | | MC |
| Pep Angles | 46 | | | | | | MC | MC | 69 | 40 | | |
| Christofer Blomstrand | MC | | | 60 | | | 38 | | MC | MC | | |
| Mark Foster | MC | | | | | | MC | 13 | MC | 79 | | |
| Thomas Bjorn | | | | | | 34 | | MC | 31 | | 39 | MC |
| Christiaan Bezuidenhout | 28 | | | MC | | | 17 | 28 | 44 | MC | | |
| James Heath | MC | | | | | | MC | MC | MC | MC | | |
| Laurie Canter | MC | | | 8 | | | 21 | MC | MC | 49 | | |
| Andrea Pavan | 21 | | | | | | MC | 13 | 16 | 15 | | |
| Raphael Jacquelin | MC | | | | | MC | MC | 53 | 44 | | | |
| Henric Sturehed | 5 | | | MC | | | MC | MC | MC | | | MC |
| Michael Hoey | MC | | | 18 | | | | MC | 7 | | | |
| Pontus Widegren | MC | | | | | | MC | 78 | MC | MC | | |
| Jonathan Thomson | 39 | | | MC | | | 72 | MC | 65 | MC | | |
| Soomin Lee | MC | | | | | 53 | 48 | 74 | 37 | | 39 | MC |
| Benjamin Rusch | | 14 | 22 | | | | 38 | | | 22 | | 31 |
| Anders Hansen | | | | | | | | | | | | |
| Jamie Elson | | | | | | | | | | | Wd | MC |
| Matthew Baldwin | 52 | | | 28 | | | 38 | 10 | MC | MC | | |
| Connor Syme | MC | | | MC | | | 11 | MC | 37 | MC | | MC |
| David Howell | 39 | | | | | MC | 21 | 61 | | | | |
| Rak Hyun Cho | 12 | | | | | | MC | 34 | MC | 65 | | |
| Sebastien Gros | 12 | | | | | 25 | 4 | 45 | MC | 40 | | |
| Marcel Schneider | 58 | | | MC | | | MC | 70 | MC | MC | | |
| Ross McGowan | MC | | | 14 | | | MC | MC | MC | MC | | |
| Jack Munro | 43 | | | 28 | | | MC | 17 | 12 | | 13 | |
| Matthew Nixon | MC | | | 44 | | | MC | 13 | MC | MC | | |
| Josh Geary | MC | | | | | | MC | MC | MC | MC | MC | |
| Rhys Davies | | | | | | | | | | | | |
| Yassine Touhami | | 14 | 36 | | | | 38 | | | 36 | | MC |
| John Kelly | | | | | | | | | | | | |
| Ayoub Id-Omar | | | | | | | | | | MC | | |
| Ayoub Lguirati | | MC | 44 | | | | 46 | | | 10 | | |
| Player | 2017 | 2016 | 2010 |
| --- | --- | --- | --- |
| Thomas Pieters | | | |
| Yusaku Miyazato | | | |
| Alexander Levy | 34 | 34 | |
| Joost Luiten | 13 | | 14 |
| Paul Dunne | 2 | 16 | |
| Seung-Su Han | | | |
| Eddie Pepperell | MC | Dq | |
| Matt Wallace | | | |
| Chris Wood | | | |
| George Coetzee | | | |
| Jorge Campillo | 19 | | |
| Wade Ormsby | 34 | | |
| Fabrizio Zanotti | | | 29 |
| Victor Dubuisson | 4 | | |
| Ryan Fox | | 63 | |
| Pablo Larrazabal | 13 | | 49 |
| Dave Horsey | MC | MC | 29 |
| Alexander Bjork | MC | | |
| Jordan Smith | 8 | | |
| Dean Burmester | 48 | 14 | |
| Darren Fichardt | | | |
| Nicolas Colsaerts | MC | | 56 |
| Mike Lorenzo-Vera | 34 | 55 | |
| Scott Jamieson | MC | | |
| Richie Ramsay | MC | | MC |
| Andy Sullivan | | | |
| Jeung-Hun Wang | MC | 1 | |
| Adrian Otaegui | 56 | 22 | |
| Soren Kjeldsen | | | |
| Richard Sterne | MC | | |
| Erik Van Rooyen | | | |
| David Lipsky | | | |
| Renato Paratore | 8 | 10 | |
| Matthew Southgate | 65 | 22 | |
| Jason Scrivener | | 10 | |
| Gavin Green | | | |
| Matthieu Pavon | 13 | | |
| Graeme Storm | | | 43 |
| Phachara Khongwatmai | | | |
| Julien Guerrier | 56 | | |
| Haydn Porteous | 13 | | |
| Marcus Kinhult | | MC | |
| Aaron Rai | 34 | | |
| Callum Shinkwin | MC | 13 | |
| Tapio Pulkkanen | | | |
| Adam Bland | | | |
| Andrew Dodt | | | |
| Thomas Detry | MC | | |
| Mikko Korhonen | MC | 22 | |
| Clement Sordet | MC | | |
| Lucas Bjerregaard | 27 | | |
| Jin Ho Choi | | | |
| Robert Rock | MC | 3 | 7 |
| Nacho Elvira | MC | 2 | |
| Benjamin Hebert | 19 | 34 | |
| Romain Wattel | 27 | MC | |
| Stephen Gallacher | MC | | 19 |
| Marc Warren | | | MC |
| Sam Brazel | | | |
| Oliver Fisher | MC | 22 | |
| Brandon Stone | MC | | |
| Austin Connelly | | | |
| Paul Waring | 3 | | MC |
| Ryan Evans | | MC | |
| Pedro Oriol | | MC | |
| Nino Bertasio | MC | 5 | |
| Anthony Wall | 34 | 34 | 19 |
| Thongchai Jaidee | | | |
| Ahmed Marjan | MC | | |
| Lee Slattery | 60 | | |
| Joakim Lagergren | 46 | | |
| Alejandro Canizares | 48 | 34 | 43 |
| Chase Koepka | | | |
| Adrien Saddier | 48 | 16 | |
| Richard Bland | 34 | | 19 |
| James Morrison | 13 | | |
| Sam Horsfield | | | |
| Gregory Bourdy | 34 | 59 | 34 |
| Marcus Fraser | | | |
| David Drysdale | 19 | | 29 |
| Jacques Kruyswijk | | | |
| Jens Dantorp | 66 | | |
| Jamie Donaldson | MC | | 54 |
| Robert Karlsson | MC | MC | |
| Ashun Wu | | | |
| Danny Willett | | | 7 |
| Chris Hanson | 6 | 5 | |
| Maximilian Kieffer | MC | | |
| Marcel Siem | MC | | MC |
| Bradley Dredge | | | |
| Sebastian Heisele | 19 | | |
| Oliver Farr | | | |
| Thomas Aiken | | | 3 |
| Mikko Ilonen | 34 | | 3 |
| Steven Brown | | | |
| Lorenzo Gagli | | | |
| Brett Rumford | | | |
| Edoardo Molinari | 1 | 47 | |
| Peter Hanson | | | |
| Matthias Schwab | | | |
| Ricardo Gouveia | 19 | | |
| Gregory Havret | 19 | MC | 15 |
| Lasse Jensen | 4 | 22 | |
| Jeff Winther | 34 | | |
| Carlos Pigem | 8 | | |
| Gavin Moynihan | | | |
| Charlie Ford | | | |
| Sean Crocker | | | |
| Alvaro Quiros | | 55 | |
| Jason Norris | | | |
| Justin Walters | MC | MC | |
| Zander Lombard | MC | 47 | |
| Matteo Manassero | 48 | 22 | |
| Romain Langasque | MC | | |
| Joel Stalter | 19 | | |
| Ashley Chesters | 8 | | |
| Felipe Aguilar | MC | | MC |
| Daniel Brooks | 6 | 43 | MC |
| Ben Evans | 71 | MC | |
| Scott Fernandez | | | |
| Bradley Neil | | | |
| Luke Joy | | | |
| Daniel Im | 60 | 47 | |
| Grant Forrest | | | |
| Nico Geyger | | | |
| Paul Lawrie | | | |
| Pep Angles | MC | | |
| Christofer Blomstrand | | MC | |
| Mark Foster | 48 | MC | MC |
| Thomas Bjorn | MC | | 13 |
| Christiaan Bezuidenhout | | 34 | |
| James Heath | MC | | |
| Laurie Canter | 34 | MC | |
| Andrea Pavan | | | |
| Raphael Jacquelin | MC | 55 | 56 |
| Henric Sturehed | | | |
| Michael Hoey | MC | MC | MC |
| Pontus Widegren | MC | | |
| Jonathan Thomson | | | |
| Soomin Lee | | | |
| Benjamin Rusch | | | |
| Anders Hansen | | | |
| Jamie Elson | | MC | |
| Matthew Baldwin | | MC | |
| Connor Syme | | | |
| David Howell | MC | | 19 |
| Rak Hyun Cho | | | |
| Sebastien Gros | 46 | 47 | |
| Marcel Schneider | | | |
| Ross McGowan | | MC | |
| Jack Munro | | | |
| Matthew Nixon | 60 | 14 | |
| Josh Geary | | | |
| Rhys Davies | | MC | 1 |
| Yassine Touhami | MC | MC | |
| John Kelly | | | |
| Ayoub Id-Omar | MC | MC | |
| Ayoub Lguirati | 60 | | |
Discover the latest articles
Read past articles