Tour Championship 2019: Form stats for the concluding week of the FedEx Cup Play-Offs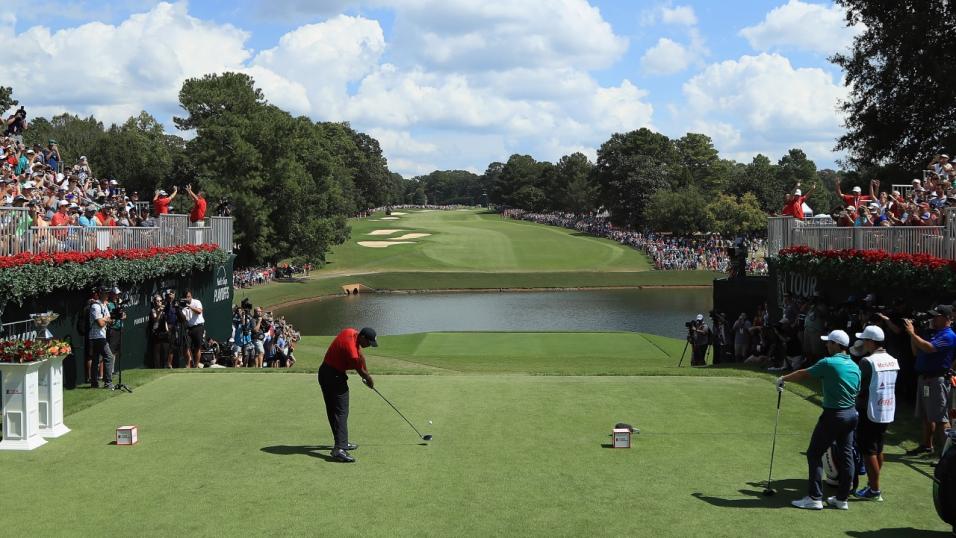 East Lake: Hosting the Tour Championship for a 19th time
The 2019 PGA Tour reaches a climax in Atlanta where the top 30 players in the FedEx Cup standings battle it out at East Lake. Form stats compiled by Andy Swales...
"It will be interesting to see how this crazy format works and what the competitors, journalists, spectators and American golf fans think of it."
It is difficult to know where to start when attempting to describe the unusual scoring format being used for this week's PGA Tour finale in Georgia.
The powers-that-be have created and, are unveiling, what can only be described as a bizarre handicap system for the Tour Championship which remains at East Lake for a 16th successive year.
Tour officials have decided that they want the winner of this week's event, to also be crowned FedEx Cup champion for 2019, and have come up with 'a cunning plan.'
It goes something like this. The leading 30 players in the FedEx Cup standings, following the BMW Championship, will begin Thursday's opening round in Atlanta with a score somewhere between 10 under par and level.
Starting Score Based On Current FedEx Cup Positions
1st: 10-Under-Par
2nd: - 8
3rd: - 7
4th: - 6
5th: - 5
6th-10th: - 4
11th-15th: - 3
16th-20th: - 2
21st-25th: - 1
26th-30th: Level Par
For example: Justin Thomas, who is currently top of the FedEx Cup standings following Sunday's victory at Medinah, will start the 72-hole tournament with a 10-stroke advantage over Bryson DeChambeau, Louis Oosthuizen, Charles Howell, Lucas Glover and Jason Kokrak, who are ranked 26th to 30th respectively.
It will be interesting to see how this crazy format works and what the competitors, journalists, spectators and American golf fans think about it.
Will it be a one-season wonder or have the PGA Tour unearthed something truly special? Or perhaps brought professional tournament golf into disrepute!
Mind Set For East Lake?
As many as 26 of the 30 competitors have played here before, but this week's new-style event will probably create a whole new set of dynamics.
Will those lower-ranked pros in the FedEx Cup standings adopt a new approach, and be forced to play all-out attacking golf from day one?
Will those currently ranked one to five be a little more cautious early on?
Although the weekend mind set may be no different to normal, days one and two may well be.
Course Form
Last year's FedEx Cup champion Justin Rose has a solid record at East Lake with five top-six finishers from his most recent half-a-dozen starts.
However, Rose did not win any of last year's four Play-Off events, which maybe was the reason why the PGA Tour came up with this format.
Check out latest betting ahead of this week's Tour Championship
Dustin Johnson has played well at the course in recent years - after struggling earlier in his career - while Rory McIlroy and Justin Thomas have strong East Lake histories.
Regarding current form, Jon Rahm continues to impress, with Hideki Matsuyama posting his best PGA Tour finish for years on Sunday, when a closing 63 at Medinah earned him a spot on the Illinois podium.
Still At East Lake
Anyway, one thing which hasn't changed is the venue.
East Lake was the home course of all-time great Bobby Jones who played his first and last rounds here.
Opened in 1904, the club and course fell into disrepair not long after staging the 1963 Ryder Cup.
But in 1994, a local charitable foundation set about restoring the venue to its former glories, and four years later hosted the Tour Championship for the first time.
During 2008, following a change of dates which switched the event from late October/early November to September, East Lake's Bentgrass greens were re-seeded with Bermuda.
This enabled the putting surfaces to accommodate a change in conditions and significant rise in temperature.
And with the PGA Tour calendar changing once again in 2019, this week's event is likely to be a scorcher in the Deep South.
As for the venue itself, East Lake is a traditional parkland course where tight tree-lined fairways demand accuracy from the tee. Water comes into play on six holes.
Twitter: Andy Swales @GolfStatsAlive
MC* - Missed Additional 54-Hole Cut
| Player | W33 | W32 | W31 | W30 | W29 | W28 | W27 | W26 | W25 | W24 |
| --- | --- | --- | --- | --- | --- | --- | --- | --- | --- | --- |
| Brooks Koepka | 24 | 30 | | 1 | 4 | | 65 | | 57 | 2 |
| Dustin Johnson | 57 | 24 | | 20 | 51 | | | MC | | 35 |
| Rory McIlroy | 19 | 6 | | 4 | MC | 34 | | | | 9 |
| Justin Rose | 52 | 10 | | 11 | 20 | | | | | 3 |
| Jon Rahm | 5 | 3 | | 7 | 11 | | 1 | 2 | | 3 |
| Bryson DeChambeau | 48 | 24 | | 48 | MC | | 2 | | 8 | 35 |
| Patrick Cantlay | 2 | 12 | | 12 | 41 | | | | 15 | 21 |
| Justin Thomas | 1 | 12 | | 12 | 11 | 9 | | | 36 | MC |
| Xander Schauffele | 19 | MC | | 27 | 41 | | | | | 3 |
| Webb Simpson | 24 | 18 | 2 | 2 | 30 | | | | | 16 |
| Tommy Fleetwood | 11 | 43 | | 4 | 2 | | 23 | | 13 | 65 |
| Tony Finau | 4 | 30 | | 27 | 3 | | 23 | | MC | MC |
| Patrick Reed | 19 | 1 | 22 | 12 | 10 | | 23 | 5 | 30 | 32 |
| Gary Woodland | 31 | 52 | | 55 | MC | | | MC | | 1 |
| Adam Scott | 9 | 5 | | 40 | MC | | | | | 7 |
| Rickie Fowler | 11 | MC | | | 6 | MC | | 46 | | 43 |
| Matt Kuchar | 52 | MC | | 43 | 41 | 20 | | | | 16 |
| Paul Casey | 24 | | 13 | 27 | 57 | | | | 5 | 21 |
| Louis Oosthuizen | 11 | 6 | | 20 | 20 | | 46 | | 36 | 7 |
| Marc Leishman | 19 | MC | | 3 | MC | | | | 21 | 35 |
| Chez Reavie | 57 | 38 | 48 | 27 | MC | | | MC | 1 | 3 |
| Kevin Kisner | 9 | 12 | | 27 | 30 | MC | | 46 | 15 | 49 |
| Hideki Matsuyama | 3 | 30 | MC | 43 | MC | | 7 | 13 | | 21 |
| Abraham Ancer | 28 | 2 | MC | | MC | | 19 | | 8 | 49 |
| Brandt Snedeker | 5 | 6 | 39 | 27 | MC | | | 5 | 43 | 77 |
| Charles Howell | 37 | MC | 22 | | | 6 | 23 | 35 | | 52 |
| Sung Jae Im | 11 | 38 | 6 | | MC | 26 | 15 | 21 | 21 | |
| Jason Kokrak | 19 | 12 | 6 | | 32 | | | 29 | MC | |
| Lucas Glover | 7 | 43 | 72 | | 20 | 10 | 7 | | MC | MC |
| Corey Conners | 7 | 21 | 22 | 27 | MC | | 46 | MC | | |
| Player | `18 | `17 | `16 | `15 | `14 | `13 | `12 | `11 | `10 | `09 |
| --- | --- | --- | --- | --- | --- | --- | --- | --- | --- | --- |
| Brooks Koepka | 26 | 6 | | 18 | | | | | | |
| Dustin Johnson | 3 | 17 | 6 | 5 | | 5 | 10 | 23 | 22 | 27 |
| Rory McIlroy | 7 | | 1 | 16 | 2 | | 10 | | | |
| Justin Rose | 4 | 10 | | 2 | 4 | 6 | 2 | 20 | 15 | |
| Jon Rahm | 11 | 7 | | | | | | | | |
| Bryson DeChambeau | 19 | | | | | | | | | |
| Patrick Cantlay | 21 | 20 | | | | | | | | |
| Justin Thomas | 7 | 2 | 6 | | | | | | | |
| Xander Schauffele | 7 | 1 | | | | | | | | |
| Webb Simpson | 4 | 13 | | | 23 | 4 | 5 | 22 | | |
| Tommy Fleetwood | 11 | | | | | | | | | |
| Tony Finau | 15 | 7 | | | | | | | | |
| Patrick Reed | 28 | 13 | 24 | 27 | 19 | | | | | |
| Gary Woodland | 11 | 19 | 10 | | 9 | 22 | | 13 | | |
| Adam Scott | | | 8 | | 9 | 14 | 19 | 6 | 27 | |
| Rickie Fowler | 7 | 26 | | 12 | 8 | | 23 | | | |
| Matt Kuchar | | 10 | 15 | 10 | 13 | 26 | 10 | 20 | 25 | |
| Paul Casey | 11 | 5 | 4 | 5 | | | | | 4 | |
| Louis Oosthuizen | | | | Wd | | | 23 | | | |
| Marc Leishman | 21 | 24 | | | | | | | | 28 |
| Chez Reavie | | | | | | | | 26 | | |
| Kevin Kisner | | 3 | 26 | 28 | | | | | | |
| Hideki Matsuyama | 4 | 26 | 5 | 12 | 22 | | | | | |
| Abraham Ancer | | | | | | | | | | |
| Brandt Snedeker | | | 17 | 22 | | 20 | 1 | 16 | | |
| Charles Howell | | | | | | | | 6 | | |
| Sung Jae Im | | | | | | | | | | |
| Jason Kokrak | | | | | | | | | | |
| Lucas Glover | | | | | | | | | | 10 |
| Corey Conners | | | | | | | | | | |
Discover the latest articles
Read past articles