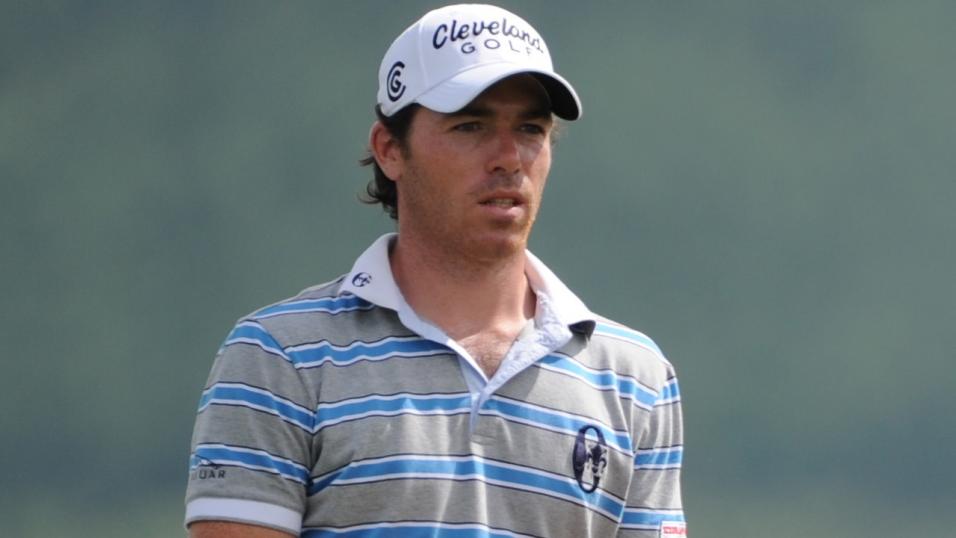 Julien Guerrier: The Frenchman tied-eighth in Sicily last year
The European Tour travels to Sicily for The Rocco Forte Open at Verdura. Before placing a bet, check out the form stats supplied by Andy Swales ...
"With wind usually a major factor at coastal venues, those who want to succeed on Sunday will probably have to possess a good touch on and around the greens."
The spectacular Verdura Resort on the Mediterranean island of Sicily hosts this week's Rocco Forte Open.
It will be the third time that the nine-year-old venue will have staged a top-tier European Tour event.
Verdura made its debut in 2012 when holding the Sicily Open and, after a gap of five years, returned to the schedule 12 months ago for the inaugural Rocco Forte-sponsored tournament.
Located close to the seaside town of Sciacca, this week's layout will be a composite circuit, using nine holes from each of the resort's two Kyle Phillips-designed courses.
It will feature the same 18 holes that were used in 2017, although a slightly different route to the one which staged the event six years ago.
Flat and exposed to coastal conditions, there are water hazards on half of the holes, with the final six running adjacent to the coastline.
Poor Field
There is a strong likelihood that the field gathered in Sicily this week will be the weakest European-based European Tour event of 2018.
Although a number of Tour winners are taking part, including this year's Qatar Masters champion Eddie Pepperell, most of them are struggling for form right now.
Just a handful of those teeing-up on Thursday are ranked inside the world's top 120, with many of the competitors short of regular European Tour experience.
Course Champions
Both players to have won European Tour events at Verdura are taking part.
Thorbjorn Olesen, winner in 2012, is presently ranked 112 in the world, which just happens to be his lowest position in over six years.
Defending champion Alvaro Quiros is in slightly better form at the moment, having recently finished second in Morocco where he led through 54 holes.
But he too is still someway off the form he showed when reaching No 21 in the autumn of 2011.
Time To Shine
Once again, this week provides the perfect opportunity for an up-and-coming player to make their breakthrough on Tour.

One such golfer is Julien Guerrier who tied-for-eighth in Sicily last year and has had a brace of top-10s during 2018, including a podium finish in Oman.
Another is Andrea Pavan who has shown good consistency in recent months. The Italian has posted six top-25s from his last seven starts on the European Tour.
And with this week's tournament feeling a little like a glorified Challenge Tour event, then those near the top of The Road to Ras Al Khaimah rankings could be worth a look - even at this early stage of the season.
Good Touch
With wind usually a major factor at coastal venues, those who want to succeed on Sunday will probably have to possess a good touch on and around the greens, thus putting and scrambling may hold the key this week.
At last year's event, most of those near the top of the leaderboard were also close to the top of the putting categories - both for Putts Per GiR and Total Putts.
Andy Sullivan is fairly high in the Putts Per GiR standings for the 2018 season, and if experience counts for anything then Marcus Fraser could be your man.
The Aussie tied-fifth at Verdura last year and ended the season inside the top 10 for Putts Per GiR and Total Putts.
Good Scrambling is also likely to play a key role this weekend, so Trevor Fisher will fancy his chances.
Twitter: Andy Swales@GolfStatsAlive
| Player | W18 | W17 | W16 | W15 | W14 | W13 | W12 | W11 | W10 | W9 | W8 | W7 |
| --- | --- | --- | --- | --- | --- | --- | --- | --- | --- | --- | --- | --- |
| Eddie Pepperell | | | MC | MC | | | | | | | 1 | 44 |
| Thorbjorn Olesen | | 37 | | 46 | | | | | | | MC | |
| Dave Horsey | | | 36 | MC | | | | | | | 13 | MC |
| Andy Sullivan | | | 7 | 21 | | | | | | | 34 | 16 |
| Mike Lorenzo-Vera | | | 62 | 34 | | | | | | | 10 | MC |
| Jazz Janewattananond | 12 | 56 | 28 | | | | | | MC | | | MC |
| Julien Guerrier | | 20 | MC | 9 | | | | | MC | 38 | MC | 3 |
| Soren Kjeldsen | | | MC | MC | | | | | | | | MC |
| Jason Scrivener | | 20 | MC | 73 | | | | | 40 | | 19 | MC |
| Matthew Southgate | | | | | | | | | | | MC | 9 |
| Lucas Herbert | | MC | | | | | | | | MC | | MC |
| Haydn Porteous | | MC | MC | | | | | | | 48 | MC | 26 |
| Scott Vincent | MC | 11 | 4 | | | | | | MC | 13 | MC | 38 |
| Lucas Bjerregaard | | 6 | MC | | | | | | | | MC | MC |
| Ajeetesh Sandhu | 5 | MC | 10 | | | | | | 40 | | | |
| Tapio Pulkkanen | | 56 | 36 | 21 | | | | | | MC | MC | 23 |
| Mikko Korhonen | | | 41 | MC | | | | | | 3 | MC | MC |
| Paul Waring | | | 9 | 63 | | | | | | | 19 | 44 |
| Joakim Lagergren | | 37 | 3 | MC | | | | | | | 45 | MC |
| Alvaro Quiros | | 45 | 2 | MC | | | | | | | 19 | MC |
| Austin Connelly | | MC | 13 | 63 | | | | | | | | |
| Nino Bertasio | | 32 | 59 | 34 | | | | | MC | MC | MC | 51 |
| Jacques Kruyswijk | | | MC | 9 | | | | | | 29 | 39 | MC |
| Sam Horsfield | | 32 | MC | MC | | | | 14 | | 2 | MC | MC |
| Ryan Evans | | | 46 | MC | | | | | 34 | 21 | 61 | 53 |
| SSP Chawrasia | | MC | 40 | | | | | | MC | | MC | 53 |
| Nicolai Von Dellingshausen | 45 | 42 | | 16 | | | 38 | | | MC | | |
| Pedro Oriol | | | 29 | 39 | | | | | | 8 | | MC |
| Anthony Wall | | | Wd | 52 | | | | | 25 | | MC | MC |
| Lorenzo Gagli | | 2 | 36 | MC | | | 1 | | | 29 | 34 | MC |
| Lee Slattery | | MC | 32 | MC | | | | | | | MC | 31 |
| Jbe Kruger | 75 | Wd | 49 | | | | | 5 | MC | MC | | 60 |
| Marcus Fraser | | 32 | 22 | 46 | | | | | 60 | 29 | | |
| Chase Koepka | | | MC | MC | | | | | | Wd | 53 | MC |
| Adrien Saddier | | | MC | MC | | | | | 62 | | MC | MC |
| Sebastian Heisele | | 4 | MC | MC | | | 44 | | | | 8 | MC |
| Jens Dantorp | | | MC | 67 | | | | | 16 | 21 | MC | 59 |
| David Drysdale | | | MC | MC | | | | | MC | MC | MC | 23 |
| Matthew Millar | | | | | | | | | | MC | 5 | 2 |
| Jordan Zunic | | | | | | | | | | 38 | 17 | |
| James Morrison | | 65 | MC | MC | | | | | 16 | | 45 | MC |
| Gregory Bourdy | | MC | 62 | 46 | | | | | | 54 | MC | 31 |
| Bradley Dredge | | | 13 | 52 | | | | | | | 45 | MC |
| Victor Perez | 48 | MC | | 27 | | | 18 | | | 13 | | MC |
| Adilson Da Silva | 67 | 37 | MC | 14 | | | | 29 | MC | 11 | | 13 |
| Oliver Farr | | | MC | MC | | | | | MC | MC | 39 | 59 |
| Trevor Fisher | | | 20 | 67 | | | 8 | 7 | | MC | | 27 |
| Matthias Schwab | | | MC | 28 | | | 8 | | 4 | 29 | 61 | MC |
| Nick Cullen | | | | MC | | | 25 | | | 7 | | MC |
| Andrea Pavan | | 11 | 3 | 21 | | | | | | MC | 13 | 16 |
| Steven Brown | | | 65 | MC | | | | | 16 | MC | 39 | MC |
| Thomas Aiken | | | MC | MC | | | | | | 8 | MC | MC |
| Edoardo Molinari | | 45 | MC | MC | | | | | 57 | | 72 | 16 |
| Marcus Armitage | | 42 | | 2 | | | 58 | | | | | |
| Nicholas Fung | 64 | MC | 14 | | 19 | | | | 48 | | | |
| Florian Fritsch | | | | MC | | | | | | | MC | 24 |
| Richard McEvoy | 34 | | | MC | | | | | | MC | | 65 |
| Jeff Winther | | | MC | 34 | | | | | | 21 | MC | 21 |
| Jens Fahrbring | | | | | | | 2 | | | | | MC |
| Bernd Ritthammer | MC | 38 | | 27 | | | 44 | | | MC | | MC |
| Tom Lewis | | 9 | | MC | | | MC | | | | | |
| Alexander Knappe | 9 | 17 | | MC | | | MC | | | MC | | 4 |
| Charlie Ford | | | MC | 63 | | | | | | 66 | MC | 26 |
| Johan Carlsson | MC | | | | | | | | | | | |
| Tano Goya | 15 | 57 | | MC | | | Wd | | | | | |
| Justin Walters | | | MC | | | | 66 | 9 | | 21 | 45 | 9 |
| Matteo Manassero | | 20 | 46 | 39 | | | | | 57 | | MC | 31 |
| Romain Langasque | 23 | | 22 | | | | 44 | | | MC | 13 | MC |
| Zander Lombard | | | MC | MC | | | | | | MC | MC | 65 |
| Felipe Aguilar | 65 | 17 | MC | 28 | | | 53 | | | 4 | MC | MC |
| Ben Evans | MC | | MC | MC | | | 14 | | | MC | MC | MC |
| Joel Stalter | | 53 | Wd | 43 | | | 28 | | | | 33 | Wd |
| Henric Sturehed | | | 52 | 5 | | | MC | | | MC | MC | MC |
| Oliver Lindell | | MC | | MC | | | 69 | | | | | |
| Daniel Brooks | | MC | 66 | MC | | | | | | Wd | MC | Wd |
| Jarand Ekeland Arnoy | MC | 61 | | MC | | | MC | | | | 15 | 30 |
| Scott Fernandez | | | MC | MC | | | | | 34 | MC | 19 | 37 |
| Birgir Hafthorsson | MC | | | MC | | | MC | | | | | |
| Nico Geyger | 23 | 4 | MC | MC | | | 3 | | | MC | 34 | 12 |
| Bradley Neil | | MC | MC | 58 | | | | | | MC | MC | 63 |
| Eun Shin Park | 55 | | MC | | | | | | | | | |
| Christiaan Bezuidenhout | | 46 | 22 | 28 | | | MC | | | 17 | 28 | 44 |
| Mikael Lundberg | 62 | MC | | MC | | | MC | | | MC | | |
| Daniel Im | | MC | MC | MC | | | | | MC | | 77 | 53 |
| Julien Quesne | 54 | MC | | MC | | | 18 | | | 63 | | |
| Kalle Samooja | MC | MC | | 16 | | | 3 | | | | | |
| Christopher Mivis | 23 | MC | | 59 | | | MC | | | 63 | | MC |
| Thomas Bjorn | | | MC | | | | | | 34 | | MC | 31 |
| Thomas Linard | 58 | 9 | | MC | | | 38 | | | | | |
| Pep Angles | 48 | | MC | 46 | | | | | | MC | MC | 69 |
| Christofer Blomstrand | | | MC | MC | | | 60 | | | 38 | | MC |
| Laurie Canter | | | 29 | MC | | | 8 | | | 21 | MC | MC |
| Tom Murray | MC | 9 | | 63 | | | MC | | | MC | | |
| Mark Foster | | | MC | MC | | | | | | MC | 13 | MC |
| James Heath | | | 72 | MC | | | | | | MC | MC | MC |
| Mark Tullo | | | | | | | | | | | | |
| Duncan Stewart | MC | 53 | | 36 | | | 38 | | | MC | | |
| Nathan Kimsey | | 17 | | 54 | | | MC | | | | | |
| Francesco Laporta | MC | 9 | | 27 | | | MC | | | | 49 | 4 |
| Jonathan Thomson | | MC | 66 | 39 | | | MC | | | 72 | MC | 65 |
| Anthony Michael | | 42 | 37 | 9 | | | 44 | 14 | | MC | 55 | 18 |
| Pontus Widegren | | | 41 | MC | | | | | | MC | 78 | MC |
| Rak Hyun Cho | | MC | MC | 12 | | | | | | MC | 34 | MC |
| Alessandro Tadini | 23 | MC | | | | | 38 | | | | | |
| Philipp Mejow | 9 | 61 | | 31 | | | 3 | | | | | |
| Kristian Krogh Johannessen | MC | MC | | 24 | | | 14 | | | 1 | 33 | 5 |
| Sebastien Gros | | | MC | 12 | | | | | 25 | 4 | 45 | MC |
| Eduardo De La Riva | 48 | | | MC | | | | | | | | |
| Matthew Baldwin | | | MC | 52 | | | 28 | | | 38 | 10 | MC |
| Steve Webster | | 26 | | | | | | | | | | |
| Connor Syme | | | 74 | MC | | | MC | | | 11 | MC | 37 |
| Oliver Wilson | | | | | | | | | | | | |
| David Howell | | | 36 | 39 | | | | | MC | 21 | 61 | |
| Michele Cea | | | | 84 | | | | | | | MC | 1 |
| Guido Migliozzi | MC | MC | | | | | | | | | | |
| Christian Braeunig | 5 | 68 | | MC | | | MC | | | 6 | | |
| James Maw | 58 | | MC | MC | | 23 | 51 | 10 | 36 | | | |
| Marcel Schneider | | MC | 66 | 58 | | | MC | | | MC | 70 | MC |
| Ross McGowan | 2 | | MC | MC | | | 14 | | | MC | MC | MC |
| Jack Munro | MC | | MC | 43 | | | 28 | | | MC | 17 | 12 |
| Michele Ortolani | | | | 3 | | | | | | | MC | 2 |
| Federico MacCario | MC | 66 | | | | | MC | | | | | |
| Eirik Tage Johansen | | 42 | | | | | 25 | | | | | |
| Matthew Nixon | | 26 | 46 | MC | | | 44 | | | MC | 13 | MC |
| Ruaidhri McGee | 23 | MC | | | | | MC | | | | | |
| Federico Zucchetti | | | 47 | MC | | | MC | MC | | | 3 | 14 |
| Luca Cianchetti | | MC | | | | | | | | | MC | MC |
| Enrico Di Nitto | MC | MC | | | | | | | | | 24 | 17 |
| Carlos Del Moral | MC | | | | | | | | | | | |
| Maarten Lafeber | | MC | | | | | MC | | | | | |
| Simon Khan | 38 | 42 | | | | | | | | | MC | |
| Steven Tiley | | 38 | | | | | MC | | | | | |
| Niclas Johansson | 15 | | | | | | 44 | | | 7 | | |
| Richard Finch | | 57 | | | | | | | | | | |
| Ben Stow | MC | 53 | | 56 | | | MC | | | | | |
| Jacopo Vecchi Fossa | | | | | | | | | | | | |
| Alfie Plant | MC | | | | | | | | | | | |
| Filippo Bergamaschi | 15 | | | 32 | | | | | | | 15 | 22 |
| Ashton Turner | | | | | | | | | | | | |
| Josh Geary | | 26 | 46 | MC | | | | | | MC | MC | MC |
| Joel Sjoholm | 9 | MC | | 31 | | | 72 | | | 45 | 2 | 17 |
| Hugo Leon | 23 | MC | | 10 | | | 35 | | | | | |
| Oscar Serna | MC | MC | | | | | | | | | | |
| Christopher Doak | MC | MC | | | | | MC | | | | | Wd |
| Petr Gal | | MC | | | | | | | | | | |
| Philip Geerts | | MC | | MC | | | | | | | | |
| Ayoub Id-Omar | | | 66 | | | | | | | | | |
| Andrea Saracino | | | | 8 | | | | | | | 6 | MC |
| Joshua White | | | | | | | | | | | 61 | |
| Emilio Cuartero Blanco | MC | 26 | | | | | | | | MC | | |
| Andrea Romano | | | | | | | | | | | | |
| Giovanni Manzoni | | | | | | | | | | | | |
| Pietro Bovari | | | | | | | | | | | | |
| Gianmarco Manfredi | | | | | | | | | | | | |
| Edoardo Raffaele Lipparelli | | | | | | | | | | | | |
| Tom Foster | | | | | | | | | | | | |
| Player | 2017 | 2012 |
| --- | --- | --- |
| Eddie Pepperell | 38 | |
| Thorbjorn Olesen | | 1 |
| Dave Horsey | 7 | |
| Andy Sullivan | | MC |
| Mike Lorenzo-Vera | | |
| Jazz Janewattananond | | |
| Julien Guerrier | 8 | 27 |
| Soren Kjeldsen | | 3 |
| Jason Scrivener | 5 | |
| Matthew Southgate | MC | MC |
| Lucas Herbert | | |
| Haydn Porteous | 38 | |
| Scott Vincent | | |
| Lucas Bjerregaard | | |
| Ajeetesh Sandhu | | |
| Tapio Pulkkanen | | |
| Mikko Korhonen | 11 | |
| Paul Waring | | |
| Joakim Lagergren | | 56 |
| Alvaro Quiros | 1 | |
| Austin Connelly | 31 | |
| Nino Bertasio | MC | MC |
| Jacques Kruyswijk | | |
| Sam Horsfield | | |
| Ryan Evans | | |
| SSP Chawrasia | | |
| Nicolai Von Dellingshausen | | |
| Pedro Oriol | | |
| Anthony Wall | | 6 |
| Lorenzo Gagli | 71 | MC |
| Lee Slattery | 11 | |
| Jbe Kruger | 11 | |
| Marcus Fraser | 5 | |
| Chase Koepka | | |
| Adrien Saddier | 48 | |
| Sebastian Heisele | 31 | |
| Jens Dantorp | 38 | |
| David Drysdale | | |
| Matthew Millar | | |
| Jordan Zunic | | |
| James Morrison | 23 | 31 |
| Gregory Bourdy | | |
| Bradley Dredge | MC | |
| Victor Perez | | |
| Adilson Da Silva | | |
| Oliver Farr | MC | |
| Trevor Fisher | MC | |
| Matthias Schwab | | |
| Nick Cullen | 63 | |
| Andrea Pavan | MC | MC |
| Steven Brown | | |
| Thomas Aiken | | |
| Edoardo Molinari | MC | |
| Marcus Armitage | 38 | |
| Nicholas Fung | | |
| Florian Fritsch | | |
| Richard McEvoy | 48 | 31 |
| Jeff Winther | 38 | |
| Jens Fahrbring | MC | |
| Bernd Ritthammer | MC | MC |
| Tom Lewis | 11 | 11 |
| Alexander Knappe | MC | |
| Charlie Ford | | |
| Johan Carlsson | 18 | |
| Tano Goya | | 9 |
| Justin Walters | | |
| Matteo Manassero | 48 | MC |
| Romain Langasque | MC | |
| Zander Lombard | 2 | |
| Felipe Aguilar | | |
| Ben Evans | 27 | |
| Joel Stalter | MC | |
| Henric Sturehed | | |
| Oliver Lindell | | |
| Daniel Brooks | MC | |
| Jarand Ekeland Arnoy | | |
| Scott Fernandez | | |
| Birgir Hafthorsson | | |
| Nico Geyger | | |
| Bradley Neil | | |
| Eun Shin Park | | |
| Christiaan Bezuidenhout | | |
| Mikael Lundberg | MC | 64 |
| Daniel Im | 18 | |
| Julien Quesne | MC | |
| Kalle Samooja | | |
| Christopher Mivis | | |
| Thomas Bjorn | 23 | |
| Thomas Linard | MC | |
| Pep Angles | 4 | |
| Christofer Blomstrand | | |
| Laurie Canter | MC | |
| Tom Murray | | |
| Mark Foster | 8 | |
| James Heath | MC | |
| Mark Tullo | | |
| Duncan Stewart | MC | |
| Nathan Kimsey | 48 | |
| Francesco Laporta | 48 | |
| Jonathan Thomson | | |
| Anthony Michael | | |
| Pontus Widegren | MC | |
| Rak Hyun Cho | | |
| Alessandro Tadini | MC | 47 |
| Philipp Mejow | | |
| Kristian Krogh Johannessen | | |
| Sebastien Gros | MC | |
| Eduardo De La Riva | 18 | |
| Matthew Baldwin | | 37 |
| Steve Webster | 48 | 31 |
| Connor Syme | | |
| Oliver Wilson | MC | MC |
| David Howell | MC | MC |
| Michele Cea | | |
| Guido Migliozzi | MC | |
| Christian Braeunig | | |
| James Maw | | |
| Marcel Schneider | | |
| Ross McGowan | MC | |
| Jack Munro | | |
| Michele Ortolani | MC | |
| Federico MacCario | MC | |
| Eirik Tage Johansen | 31 | |
| Matthew Nixon | MC | MC |
| Ruaidhri McGee | | |
| Federico Zucchetti | | |
| Luca Cianchetti | 67 | |
| Enrico Di Nitto | MC | |
| Carlos Del Moral | | 47 |
| Maarten Lafeber | | 27 |
| Simon Khan | MC | |
| Steven Tiley | MC | |
| Niclas Johansson | 58 | |
| Richard Finch | MC | Ret |
| Ben Stow | | |
| Jacopo Vecchi Fossa | MC | |
| Alfie Plant | | |
| Filippo Bergamaschi | MC | |
| Ashton Turner | | |
| Josh Geary | | |
| Joel Sjoholm | | MC |
| Hugo Leon | | |
| Oscar Serna | | |
| Christopher Doak | MC | |
| Petr Gal | MC | |
| Philip Geerts | MC | |
| Ayoub Id-Omar | | |
| Andrea Saracino | | |
| Joshua White | | |
| Emilio Cuartero Blanco | | |
| Andrea Romano | | |
| Giovanni Manzoni | | |
| Pietro Bovari | | |
| Gianmarco Manfredi | | |
| Edoardo Raffaele Lipparelli | | |
| Tom Foster | MC | |