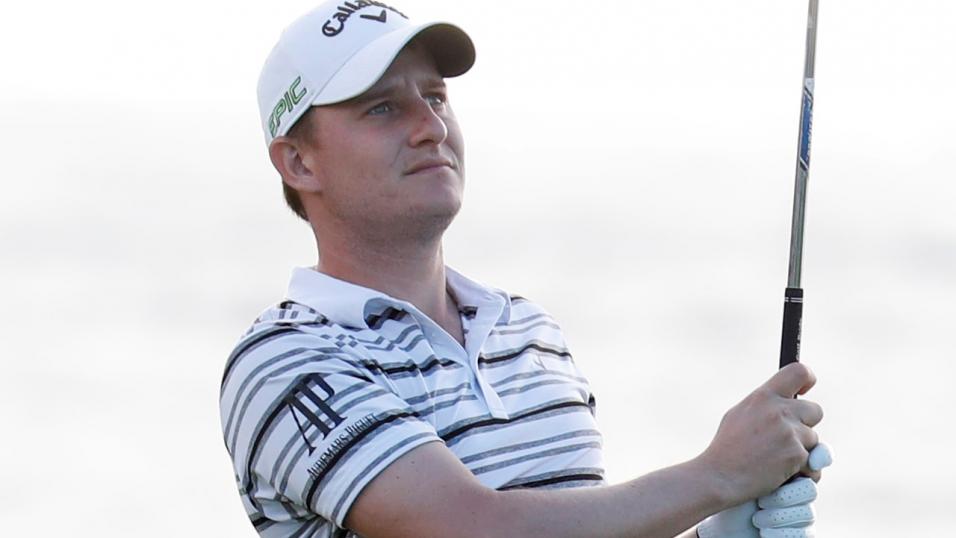 Emiliano Grillo: The stats suggest he could be worth an each-way punt this week
TPC Sawgrass, home of the Players Championship for 36 years, is one of golf's best-known venues. Andy Swales provides course and current form stats for this week's 'Fifth Major'...
"Regarding tournament stats from 2017, Putting and Driving Accuracy appeared less important than Greens in Regulation."
The PGA Tour travels 400 miles from Charlotte in North Carolina, to Jacksonville in Florida, for this week's 45th staging of The Players Championship.
Known as 'The Fifth Major', The Players Championship was first held in 1974 and, after spending its early years moving from venue to venue, settled at its current address in Ponte Vedra 36 years ago.
Opened in 1980, the Stadium Course at TPC Sawgrass has greens that are generally smaller than the Tour average.
It also has narrow fairways so, on paper, those who contended last week at Quail Hollow should figure highly again in north Florida, on another course which demands great accuracy from tee-to-green.
Pete Dye, who designed the original course, was brought in to make some changes ahead of the 2007 event when the tournament was moved from March to May.
This meant the course underwent a comprehensive renovation of its fairways and putting surfaces, in order to cope with the warmer weather.
But after 12 years in its current slot, The Players will be heading back close to its original date next year to accommodate the PGA Championship which is switching from August to May.
The Stadium Course, which was laid out among the Florida swamps, was given another upgrade in 2016.
On this occasion changes were made to increase the number of times water would come into play during a round.
According to the PGA Tour website: "Short grass was added around some greens, to promote creativity, while several greens were expanded to add hole locations."
High Quality
With most of the world's top 60 teeing-up on Thursday, the field for TPC Sawgrass remains arguably the strongest in professional golf.
Yet strangely, if you look at the World Ranking, just one of those currently occupying a top 24 spot managed to finish inside the top 10 at Sawgrass 12 months ago. This must surely be no more than a blip.
Regarding tournament stats from 2017, Putting and Driving Accuracy appeared less important than Greens in Regulation.
Of those who completed all 72 holes, nine of the top 15 finishers were among the top 15 in GiR, compared to five in both of the other two categories.
Crème De La Crème
With so many top stars chasing this prestigious title, which ones stand out from the crowd?
Regarding current form, last week's winner Jason Day is also a former Sawgrass champion.
The Aussie usually plays well on testing courses and certainly has the mental strength to win back-to-back titles in the space of eight days.
Masters champion Patrick Reed registered his sixth straight top 10 at Quail Hollow on Sunday.
However, no one has won both Masters and Players titles in the same year, since the latter moved to May. In fact, the only player to win both since the event's inception in the mid-1970s is Tiger Woods 17 years ago.
Elsewhere, 47-year-old Phil Mickelson continues to play great golf while Sawgrass has never been a happy hunting ground for either Dustin Johnson or Bubba Watson.
Jordan Spieth has missed the cut on his last three visits, with the normally consistent Paul Casey posting just a single top-10 in 11 starts. Justin Rose has also generally under-performed in the tournament.
Outsiders
History seems to suggests it is a course which tends to polarise between those who like playing TPC Sawgrass and those who don't.
Francesco Molinari has finished inside the top 10 in each of the last three years and the Italian would be a sound each-way bet - although an unlikely winner of the tournament.
At Quail Hollow last week he finished in a tie-for-16th and remains fairly strong from tee-to-green.
Eight of the last 12 winners have been foreigners, and if Greens in Regulation remains a key stat at this year's tournament then Emiliano Grillo could be worth a shout.
The Argentinian tied-11th last year, was ninth over the weekend in North Carolina, and was fifth in Greens in Regulation at Sawgrass 12 months ago.
He is also doing well in this category for the 2018 PGA Tour season, as is Patrick Cantlay who is another who may offer good value to the punter this week.
MC* - Missed Additional 54-Hole Cut
Twitter: Andy Swales@GolfStatsAlive
| Player | W18 | W17 | W16 | W15 | W14 | W13 | W12 | W11 | W10 | W9 | W8 | W7 |
| --- | --- | --- | --- | --- | --- | --- | --- | --- | --- | --- | --- | --- |
| Dustin Johnson | | | | 16 | 10 | | 59 | | | 7 | | 16 |
| Justin Thomas | 21 | MC | | | 17 | | 4 | | | 2 | 1 | 9 |
| Jon Rahm | | MC | | 1 | 4 | | 52 | | | 20 | | |
| Jordan Spieth | | MC | | | 3 | 3 | 17 | | MC | 14 | | 9 |
| Justin Rose | | 19 | | | 12 | 52 | | 3 | 5 | 37 | | |
| Rickie Fowler | 21 | | | | 2 | 43 | | 14 | | 37 | MC | |
| Rory McIlroy | 16 | | | | 5 | | 36 | 1 | MC | | 59 | 20 |
| Hideki Matsuyama | MC* | | | | 19 | | 36 | 49 | | | | |
| Brooks Koepka | 42 | MC | | | | | | | | | | |
| Patrick Reed | 8 | 7 | | | 1 | | 9 | 7 | 2 | 37 | MC | |
| Sergio Garcia | | MC | MC | | MC | | 9 | | 4 | 7 | 33 | |
| Tommy Fleetwood | MC | 4 | | | 17 | | 17 | 26 | | 14 | 4 | 37 |
| Paul Casey | 5 | | | MC | 15 | | 17 | | 1 | 12 | | 49 |
| Jason Day | 1 | 34 | | | 20 | | 36 | 22 | | | | |
| Henrik Stenson | | 19 | | | 5 | 6 | | 4 | MC | | | |
| Marc Leishman | | | | MC | 9 | | 52 | 7 | | 37 | | MC |
| Alexander Noren | MC | | | | MC | | 3 | 36 | | 14 | 3 | 16 |
| Bubba Watson | | 28 | | | 5 | | 1 | 66 | | 9 | | 1 |
| Phil Mickelson | 5 | | | | 36 | 24 | 17 | | | 1 | | 6 |
| Tyrrell Hatton | 42 | | | MC | 44 | | 9 | 69 | | 3 | MC | |
| Matt Kuchar | | 28 | 51 | 23 | 28 | 8 | 9 | | 40 | 58 | | 26 |
| Pat Perez | | 2 | MC | | MC | | 52 | | | 20 | | 41 |
| Brian Harman | 74 | | | 23 | 44 | | 9 | 54 | | 5 | 33 | |
| Kevin Kisner | MC | 15 | | 7 | 28 | | 2 | MC | | 29 | MC | |
| Rafa Cabrera-Bello | | MC | | MC | 38 | MC | 36 | | | 3 | 29 | 26 |
| Ian Poulter | | 22 | | 7 | 44 | 1 | 5 | 41 | MC | | MC | |
| Satoshi Kodaira | | 32 | | 1 | 28 | | 59 | MC | | 54 | | |
| Charley Hoffman | | 31 | 64 | 23 | 12 | | 36 | 14 | MC | 20 | | 41 |
| Xander Schauffele | 72 | | MC* | 32 | 50 | | 17 | | | 18 | | 9 |
| Louis Oosthuizen | MC | 3 | | | 12 | | 9 | MC | 16 | 30 | 24 | |
| Francesco Molinari | 16 | | | 49 | 20 | | 17 | 26 | | 25 | | MC |
| Kiradech Aphibarnrat | | 45 | | | 44 | | 5 | MC | 1 | 5 | 68 | |
| Tony Finau | 21 | 6 | | | 10 | 24 | 17 | | MC | 27 | | 2 |
| Patrick Cantlay | | 7 | | 7 | MC | | 17 | | | 30 | | 4 |
| Branden Grace | | | | | 24 | | 29 | | 8 | 30 | | 37 |
| Gary Woodland | MC | MC | | | MC | | 29 | | MC | 50 | 49 | |
| Daniel Berger | 55 | MC | | | 32 | 18 | 59 | | | 14 | 29 | MC |
| Matthew Fitzpatrick | | | | 14 | 38 | | 36 | MC | MC | 30 | | |
| Cameron Smith | | MC | | 32 | 5 | | 5 | MC | 46 | | | 6 |
| Si Woo Kim | | | 45 | 2 | 24 | | 9 | MC | 59 | | | MC |
| Webb Simpson | 21 | | | 5 | 20 | | 29 | | 8 | 37 | 5 | |
| Ross Fisher | 63 | MC | | MC | MC | | 36 | | MC | 46 | | |
| Kevin Chappell | | | 30 | MC | MC | | 36 | 7 | | 30 | | 20 |
| Brendan Steele | | 10 | 30 | | MC | | 17 | | | 20 | | 49 |
| Hao Tong Li | | 32 | | | 32 | | 59 | 54 | | 63 | | 53 |
| Adam Hadwin | 16 | | | | 24 | | 17 | | 12 | 9 | | 6 |
| Alexander Levy | | 14 | 1 | | | | 36 | | | | | 4 |
| Kyle Stanley | 13 | | | | 52 | | 5 | 14 | | 25 | | MC |
| Bryson DeChambeau | 4 | | | 3 | 38 | | | 2 | Wd | | | 41 |
| Russell Henley | MC | | | | 15 | 8 | 36 | | | 58 | 24 | |
| Chez Reavie | | 22 | | | 53 | MC | 29 | | MC | 52 | | 73 |
| Zach Johnson | | 15 | 5 | 42 | 36 | | 36 | 26 | 16 | | | |
| Luke List | 9 | | MC | 3 | | 24 | 59 | 7 | 16 | | 2 | 26 |
| Jason Dufner | 42 | 2 | | MC | MC | 64 | 17 | | MC | 55 | 17 | |
| Patton Kizzire | MC | | | MC | MC | | 36 | MC | | 12 | MC | |
| Jhonattan Vegas | 42 | | MC | | 38 | MC* | 52 | | | 20 | 72 | MC |
| Ryan Moore | MC | | 7 | 16 | 28 | | | 5 | MC | | 49 | 9 |
| Charles Howell | 21 | | | 55 | | 18 | 9 | 14 | 40 | | MC | 37 |
| Andrew Landry | Wd | MC | 1 | 42 | | | | | | | MC | MC |
| Peter Uihlein | 5 | MC | MC | | | MC | 17 | 66 | | 37 | MC | 26 |
| Charl Schwartzel | 9 | 3 | | MC | MC | | 36 | MC | 49 | 48 | | 68 |
| Adam Scott | MC* | | MC | | 32 | | | 41 | 16 | | 13 | 53 |
| James Hahn | MC | | | MC | | 32 | 36 | 58 | | | | 14 |
| Chesson Hadley | 16 | 4 | 20 | 7 | | 18 | | 49 | MC | | MC | |
| Emiliano Grillo | 9 | MC | | 16 | | 3 | 50 | 26 | 6 | | 8 | |
| Keegan Bradley | MC* | MC | 45 | | | 43 | 36 | 26 | 31 | | 49 | MC |
| Kevin Na | | MC | MC | MC | | | 52 | 36 | | | | 2 |
| Billy Horschel | | 1 | 11 | 5 | MC | | | 54 | MC | | MC | MC |
| Bill Haas | MC | | MC* | 7 | | MC* | | | 49 | | | |
| Brandt Snedeker | | MC | 15 | 23 | | MC* | | MC | 31 | | MC | |
| Jimmy Walker | | 25 | 4 | | 20 | | | 73 | 28 | | 33 | MC |
| Shane Lowry | 34 | 28 | | | | 14 | | MC | 49 | | 49 | MC |
| Ted Potter | 27 | | | 16 | MC | | | MC | MC | | MC | MC |
| Sean O`Hair | 63 | 25 | 2 | MC | | 64 | | 7 | 12 | | MC | 64 |
| Byeong Hun An | 63 | MC | | 7 | | 52 | | 14 | MC | | 5 | |
| Beau Hossler | 34 | | 51 | 16 | | 2 | | 66 | MC | | | MC |
| Ollie Schniederjans | 34 | | 36 | 42 | | | | 41 | 49 | | 64 | MC |
| Tiger Woods | 55 | | | | 32 | | | 5 | 2 | | 12 | MC |
| Jamie Lovemark | MC | 10 | 30 | | | 24 | | 41 | 16 | | 7 | 26 |
| Lucas Glover | MC | 22 | | 32 | | 32 | | 49 | 74 | | 17 | MC |
| Anirban Lahiri | MC | | 58 | MC | | | | 75 | 34 | | 59 | 26 |
| Martin Laird | | 7 | 11 | 32 | | | | 26 | MC | | | 9 |
| Wesley Bryan | | MC | MC | 42 | MC | | | | | | MC | MC |
| Martin Kaymer | 42 | | MC | 73 | 48 | MC | | | | | Wd | 53 |
| JB Holmes | 42 | MC | MC | | | 32 | | 41 | 46 | | 49 | 60 |
| Grayson Murray | 59 | | 16 | MC | | 14 | | 14 | MC | | MC | |
| Kevin Streelman | MC | | 8 | 7 | | 43 | | 41 | MC | | | 41 |
| Austin Cook | 34 | | 30 | 50 | MC | | | 36 | 40 | | | 49 |
| Sung Kang | MC | 36 | MC | MC | | Wd | | 58 | 73 | | MC | 16 |
| Russell Knox | | 7 | MC | 40 | | MC | | 73 | 16 | | MC | |
| Ryan Palmer | | MC | MC | 76 | | MC | | | 28 | | MC | |
| Jason Kokrak | MC | | 36 | MC | | MC* | | MC | 8 | | | 20 |
| Bud Cauley | 67 | MC | | 23 | | 18 | | 14 | MC | | Wd | 20 |
| Brice Garnett | 75 | 4 | MC* | 42 | | MC | 1 | | 31 | | MC | MC |
| Hudson Swafford | MC | MC | MC* | MC | | | | 75 | MC | | 64 | |
| William McGirt | | MC | MC | 70 | | MC | | 26 | 16 | | 33 | MC |
| Chris Kirk | | MC | 8 | 55 | | MC | | 13 | 49 | | 33 | |
| Scott Piercy | | 1 | MC | 16 | | 24 | 60 | MC | | | 17 | |
| Steve Stricker | | MC | | | | MC | | | 12 | | | |
| Scott Stallings | MC | MC | | 55 | | MC* | | MC | 31 | | 29 | 4 |
| Patrick Rodgers | 34 | | MC | | | MC | 22 | 7 | 59 | | 33 | 26 |
| Stewart Cink | 72 | | MC | 42 | | | | 58 | 31 | | 46 | |
| Brian Gay | | MC | MC | 70 | | | | 22 | MC | | MC | MC |
| JJ Spaun | | MC | 26 | MC | | | | | | | MC | MC |
| Whee Kim | MC | 22 | MC | 50 | | MC | | MC | 49 | | | MC |
| Scott Brown | MC | 15 | MC | MC | | MC* | | MC | 64 | | 46 | MC |
| Kelly Kraft | MC | MC | | MC | | MC* | 3 | | 31 | | 8 | 63 |
| Ryan Armour | | MC | MC | 55 | | 43 | | 77 | 40 | | MC | 64 |
| Trey Mullinax | MC | 31 | 2 | | | | 22 | | 8 | | | |
| Keith Mitchell | 34 | MC | 26 | 55 | | 6 | 2 | | | | MC | |
| Rory Sabbatini | 27 | MC | | 23 | | 70 | 43 | | 5 | | 17 | |
| Danny Lee | MC | MC | 51 | 55 | | 64 | | MC | MC | | Wd | MC |
| Chris Stroud | 67 | 28 | Wd | MC | | MC | | | | | 33 | MC |
| CT Pan | MC* | MC | MC | 23 | | MC | | 41 | MC | | 17 | MC |
| Tom Hoge | MC* | 10 | MC | 55 | | 60 | | 26 | MC | | MC | 53 |
| Abraham Ancer | MC | MC | 58 | | | 8 | 13 | | 16 | 52 | MC | 68 |
| David Lingmerth | | MC | 51 | 74 | | | 28 | 64 | 64 | | MC | 75 |
| Harold Varner | 55 | MC | MC | MC | | MC | 45 | | 78 | | 72 | 60 |
| John Huh | | 36 | MC | 23 | | 32 | | 26 | MC | | 24 | 26 |
| Aaron Wise | 2 | MC | MC | | | 32 | | 41 | 68 | | 33 | MC |
| Harris English | | MC | 36 | 32 | | MC | 5 | 22 | MC | | 33 | MC |
| Mackenzie Hughes | 59 | MC | MC | MC | | MC | | 54 | MC | | 59 | |
| Brandon Harkins | 63 | MC | MC* | MC | | 60 | | 36 | MC | | | 41 |
| Aaron Baddeley | MC | MC | 16 | 55 | | 74 | | | 49 | | | 14 |
| Kevin Tway | MC | MC | 36 | 67 | | 32 | 28 | 58 | MC | | MC | MC |
| Ben Martin | MC | | 45 | 55 | | | | MC | 46 | | 33 | |
| Nick Taylor | MC | | MC | MC | | MC | | MC | MC | | | 41 |
| Robert Streb | 42 | | | MC | | MC | MC | MC | MC | | MC | MC |
| Brian Stuard | MC | 28 | 36 | 67 | | MC | | 36 | MC | | MC | MC |
| Robert Garrigus | | MC | MC | MC | | 18 | MC | | 31 | | MC | |
| Martin Piller | MC | | MC | | | 24 | | MC | MC | | 67 | 67 |
| Dominic Bozzelli | MC | | MC | 40 | | MC* | | | 31 | | 13 | 26 |
| Vaughn Taylor | 42 | | 16 | MC | | | | | | | 59 | 20 |
| Jonas Blixt | 27 | MC | | 14 | | MC | | | | | | 41 |
| Alex Cejka | 27 | 31 | | | | MC | | MC | 40 | | Wd | |
| Nick Watney | 2 | 31 | 20 | 32 | | 32 | | | 59 | | 33 | |
| Andrew Putnam | MC* | 15 | 8 | | | 32 | 5 | | MC | | MC | |
| Tyrone Van Aswegen | MC* | 19 | MC | 23 | | 32 | | 72 | 28 | | 68 | 68 |
| Derek Fathauer | MC | | MC | MC | | MC | MC | | MC | | 13 | 16 |
| Chad Campbell | | 19 | MC | MC | | 64 | | | 31 | | MC | 49 |
| Martin Flores | 59 | MC | MC | MC | | MC | 13 | | 77 | | 74 | MC |
| Michael Thompson | 42 | | 68 | 42 | | 14 | | | | | 24 | |
| Richy Werenski | MC | 25 | 11 | MC | | MC* | 45 | | MC | | MC | |
| Rod Pampling | MC | | 68 | 32 | | MC | | | 59 | | | |
| Ryan Blaum | MC* | MC | | MC | | MC | | | 16 | | MC | 60 |
| DA Points | MC | MC | | MC | | MC | MC | MC | MC | | | MC |
| Danny Willett | | | MC | | MC | | | Wd | | 29 | | |
| Cody Gribble | | 34 | MC | MC | | MC | | MC | | | MC | MC |
| Geoff Ogilvy | MC | | MC | MC | | MC | 22 | | MC | | | MC |
| Blayne Barber | 67 | MC | | MC | | MC | | | 16 | | MC | |
| Tyler Duncan | MC* | 7 | MC | | | 52 | MC | MC | MC | | 24 | MC |
| Michael Kim | | 15 | MC | 77 | | MC | 43 | | MC | | 57 | MC |
| JJ Henry | MC* | 10 | MC | 16 | | MC | 65 | | 74 | | MC | MC |
| Scott McCarron | | | | | | | | | | | | |
| Player | 2017 | 2016 | 2015 | 2014 | 2013 | 2012 | 2011 | 2010 | 2009 | 2008 |
| --- | --- | --- | --- | --- | --- | --- | --- | --- | --- | --- |
| Dustin Johnson | 12 | 28 | 69 | 59 | Wd | | 57 | 34 | MC* | MC |
| Justin Thomas | MC* | 3 | 24 | | | | | | | |
| Jon Rahm | MC* | | | | | | | | | |
| Jordan Spieth | MC | MC | MC | 4 | | | | | | |
| Justin Rose | 65 | 19 | MC | 4 | MC | 51 | 45 | MC | 22 | MC |
| Rickie Fowler | 60 | MC | 1 | MC* | MC | 2 | MC | MC | | |
| Rory McIlroy | 35 | 12 | 8 | 6 | 8 | MC | | MC | MC | |
| Hideki Matsuyama | 22 | 7 | 17 | 23 | | | | | | |
| Brooks Koepka | 16 | 35 | MC | | | | | | | |
| Patrick Reed | 22 | MC | 24 | MC | | | | | | |
| Sergio Garcia | 30 | 54 | 2 | 3 | 8 | 56 | 12 | 47 | 22 | 1 |
| Tommy Fleetwood | 41 | | | | | | | | | |
| Paul Casey | 22 | 23 | Wd | | | Wd | MC | MC | 14 | MC |
| Jason Day | 60 | 1 | MC | | 19 | MC | 6 | MC | | |
| Henrik Stenson | 16 | MC | 17 | 34 | 5 | 15 | MC | MC | 1 | 10 |
| Marc Leishman | MC | 64 | 24 | 23 | 8 | 45 | MC | MC | | |
| Alexander Noren | 10 | | | | | | | | | |
| Bubba Watson | MC | 43 | 42 | 48 | 37 | | 45 | MC | 37 | MC |
| Phil Mickelson | 41 | MC | MC | MC | MC | 25 | 33 | 17 | 55 | 21 |
| Tyrrell Hatton | 41 | | | | | | | | | |
| Matt Kuchar | MC* | 3 | MC | 17 | 48 | 1 | 54 | 13 | 14 | MC |
| Pat Perez | 22 | | 17 | 48 | MC | 25 | MC | MC | 68 | 42 |
| Brian Harman | 53 | 54 | 8 | MC | MC | 51 | | | | |
| Kevin Kisner | 56 | MC | 2 | | | | | | | |
| Rafa Cabrera-Bello | 4 | MC | | | | | | | | |
| Ian Poulter | 2 | 57 | 30 | 65 | MC | 25 | 57 | MC | 2 | 21 |
| Satoshi Kodaira | | | | | | | | | | |
| Charley Hoffman | 30 | MC | 30 | 38 | 37 | MC | 26 | 22 | 37 | MC |
| Xander Schauffele | | | | | | | | | | |
| Louis Oosthuizen | 2 | 28 | 69 | MC | 19 | MC | MC | | | |
| Francesco Molinari | 6 | 7 | | 6 | MC | MC | MC | 9 | | |
| Kiradech Aphibarnrat | | MC | | | | | | | | |
| Tony Finau | MC | MC | | | | | | | | |
| Patrick Cantlay | 22 | | | | | | | | | |
| Branden Grace | 48 | 57 | 42 | | 48 | | | | | |
| Gary Woodland | MC* | 28 | MC | 11 | | MC | MC | | | |
| Daniel Berger | 65 | 9 | MC | | | | | | | |
| Matthew Fitzpatrick | MC | MC | | | | | | | | |
| Cameron Smith | MC | | | | | | | | | |
| Si Woo Kim | 1 | 23 | | | | | | | | |
| Webb Simpson | 16 | | 66 | MC | 15 | MC | 69 | MC | MC | |
| Ross Fisher | MC | | | | | | MC | MC | MC | |
| Kevin Chappell | 35 | 2 | MC | 26 | 68 | MC | 69 | | | |
| Brendan Steele | 6 | 57 | MC | 26 | MC | MC | MC | | | |
| Hao Tong Li | | | | | | | | | | |
| Adam Hadwin | 30 | 39 | MC | | | | | | | |
| Alexander Levy | | | | | | | | | | |
| Kyle Stanley | 4 | | | 71 | 33 | MC | | | | |
| Bryson DeChambeau | | | | | | | | | | |
| Russell Henley | 35 | MC | 24 | 17 | MC | | | | | |
| Chez Reavie | 56 | MC | | | | MC | | | 60 | |
| Zach Johnson | 48 | 54 | 13 | 26 | 19 | 2 | 12 | 22 | 32 | MC |
| Luke List | MC | | | | | | | | | |
| Jason Dufner | 60 | 49 | MC | 48 | 62 | 68 | 6 | MC | 32 | |
| Patton Kizzire | MC | 76 | | | | | | | | |
| Jhonattan Vegas | MC | 57 | 42 | | | 7 | MC | | | |
| Ryan Moore | 53 | MC | MC | 26 | MC | 46 | 33 | 47 | 70 | 27 |
| Charles Howell | | MC | 56 | MC | 66 | MC | MC | MC | MC | MC |
| Andrew Landry | | | | | | | | | | |
| Peter Uihlein | | | | | | | | | | |
| Charl Schwartzel | MC | | 51 | 48 | 55 | | 26 | MC | | |
| Adam Scott | 6 | 12 | 38 | 38 | 19 | 15 | MC | 26 | MC | 54 |
| James Hahn | MC | 43 | 30 | MC | 62 | | | | | |
| Chesson Hadley | | MC | 24 | MC | | | | | | |
| Emiliano Grillo | 11 | MC | | | | | | | | |
| Keegan Bradley | 60 | 35 | MC | MC | MC | 35 | 72 | | | |
| Kevin Na | Wd | MC | 6 | 38 | | 7 | MC | MC | 3 | 54 |
| Billy Horschel | MC | 28 | 13 | 26 | MC | | | | | |
| Bill Haas | MC | 43 | 4 | 26 | MC | 25 | MC | 39 | MC | MC |
| Brandt Snedeker | | MC | MC | 48 | 8 | MC | MC | MC | | MC |
| Jimmy Walker | 56 | MC | MC | 6 | 15 | 35 | MC | 26 | | |
| Shane Lowry | MC | 16 | MC | | | | | | | |
| Ted Potter | | | | MC | MC | | | | | |
| Sean O`Hair | MC | 64 | MC | | 43 | MC | 19 | 22 | MC | MC |
| Byeong Hun An | | MC | | | | | | | | |
| Beau Hossler | | | | | | | | | | |
| Ollie Schniederjans | | | | | | | | | | |
| Tiger Woods | | | 69 | | 1 | 40 | Wd | Wd | 8 | |
| Jamie Lovemark | MC* | 64 | | | | | | | | |
| Lucas Glover | 6 | | | MC | MC | MC | 50 | 3 | MC | MC |
| Anirban Lahiri | MC | | MC | | | | | | | |
| Martin Laird | MC | MC | | MC | 5 | 2 | 69 | MC | MC* | |
| Wesley Bryan | MC | | | | | | | | | |
| Martin Kaymer | 69 | 39 | 56 | 1 | 43 | 15 | 19 | 34 | 55 | |
| JB Holmes | 41 | MC | 51 | MC | | MC | 6 | 13 | MC | 10 |
| Grayson Murray | MC* | | | | | | | | | |
| Kevin Streelman | MC* | 74 | MC | MC | 2 | 51 | 19 | MC | MC | |
| Austin Cook | | | | | | | | | | |
| Sung Kang | 30 | | | | | 61 | | | | |
| Russell Knox | MC | 19 | 17 | 34 | | | | | | |
| Ryan Palmer | MC | 23 | MC | 59 | 5 | MC | MC | MC | MC | |
| Jason Kokrak | MC | Wd | MC | MC | MC | | | | | |
| Bud Cauley | | | | | MC | MC | | | | |
| Brice Garnett | | | MC | | | | | | | |
| Hudson Swafford | MC | 57 | | | | | | | | |
| William McGirt | 22 | 43 | MC | MC | 43 | | | | | |
| Chris Kirk | 12 | Wd | 13 | 13 | 55 | 51 | MC | | | |
| Scott Piercy | MC | 23 | MC | | MC | MC | | MC | 22 | |
| Steve Stricker | 41 | | 38 | 13 | 37 | MC | 12 | | 22 | MC |
| Scott Stallings | | | 75 | 65 | MC | MC | | | | |
| Patrick Rodgers | MC | MC | | | | | | | | |
| Stewart Cink | | | MC | 38 | MC | 64 | 19 | MC | MC* | 21 |
| Brian Gay | MC | | | MC | MC | 46 | 12 | MC | Wd | 32 |
| JJ Spaun | | | | | | | | | | |
| Whee Kim | | | | | | | | | | |
| Scott Brown | MC | MC | 30 | 62 | MC | | | | | |
| Kelly Kraft | | | | | | | | | | |
| Ryan Armour | | | | | | | | | | Wd |
| Trey Mullinax | | | | | | | | | | |
| Keith Mitchell | | | | | | | | | | |
| Rory Sabbatini | | | 6 | 38 | 71 | MC | 26 | 39 | MC | 27 |
| Danny Lee | MC | 35 | MC | | | | | | | |
| Chris Stroud | | Wd | 42 | MC* | 33 | MC | 12 | 10 | | |
| CT Pan | | | | | | | | | | |
| Tom Hoge | | | | | | | | | | |
| Abraham Ancer | | | | | | | | | | |
| David Lingmerth | MC* | MC | | MC | 2 | | | | | |
| Harold Varner | 35 | 57 | | | | | | | | |
| John Huh | MC | MC | MC | MC* | 68 | 23 | | | | |
| Aaron Wise | | | | | | | | | | |
| Harris English | MC | MC | MC | MC | 33 | 64 | | | | |
| Mackenzie Hughes | 16 | | | | | | | | | |
| Brandon Harkins | | | | | | | | | | |
| Aaron Baddeley | 41 | MC | MC | MC | MC | MC | 6 | MC | 9 | 32 |
| Kevin Tway | | | | | | | | | | |
| Ben Martin | 30 | MC | 4 | | | | | | | |
| Nick Taylor | | MC | 73 | | | | | | | |
| Robert Streb | MC | MC | 30 | | | | | | | |
| Brian Stuard | MC* | MC | MC | 17 | MC | | | | | |
| Robert Garrigus | MC | | MC | MC | MC | MC | 73 | | | MC |
| Martin Piller | | | | | | | | | | |
| Dominic Bozzelli | | | | | | | | | | |
| Vaughn Taylor | MC | MC | | | | | MC | MC | MC | MC |
| Jonas Blixt | MC | 19 | MC | MC* | 77 | | | | | |
| Alex Cejka | MC* | 9 | 74 | | | | MC | 58 | 9 | MC |
| Nick Watney | | | MC | MC | MC | 56 | 4 | 17 | MC | 63 |
| Andrew Putnam | | | | | | | | | | |
| Tyrone Van Aswegen | MC | | | | | | | | | |
| Derek Fathauer | MC | | 17 | | | | | | | |
| Chad Campbell | MC | 39 | | | 43 | MC | 26 | MC | MC | 10 |
| Martin Flores | | | 38 | 48 | MC | | | | | |
| Michael Thompson | | | MC | MC | 55 | 51 | | | | |
| Richy Werenski | | | | | | | | | | |
| Rod Pampling | 48 | | | | | 56 | | MC | MC* | MC |
| Ryan Blaum | | | | | | | | | | |
| DA Points | MC | | | MC | 48 | | MC | MC | | |
| Danny Willett | Wd | MC | MC | | | | | | | |
| Cody Gribble | 48 | | | | | | | | | |
| Geoff Ogilvy | | | 24 | 69 | MC | 12 | Wd | MC | 22 | MC |
| Blayne Barber | 16 | | | | | | | | | |
| Tyler Duncan | | | | | | | | | | |
| Michael Kim | 60 | | | | | | | | | |
| JJ Henry | | 28 | | 48 | MC | 40 | MC | 58 | MC | 42 |
| Scott McCarron | | | | | | | | MC | MC | |