The Masters 2018: Major championship form ahead of this week's event in Georgia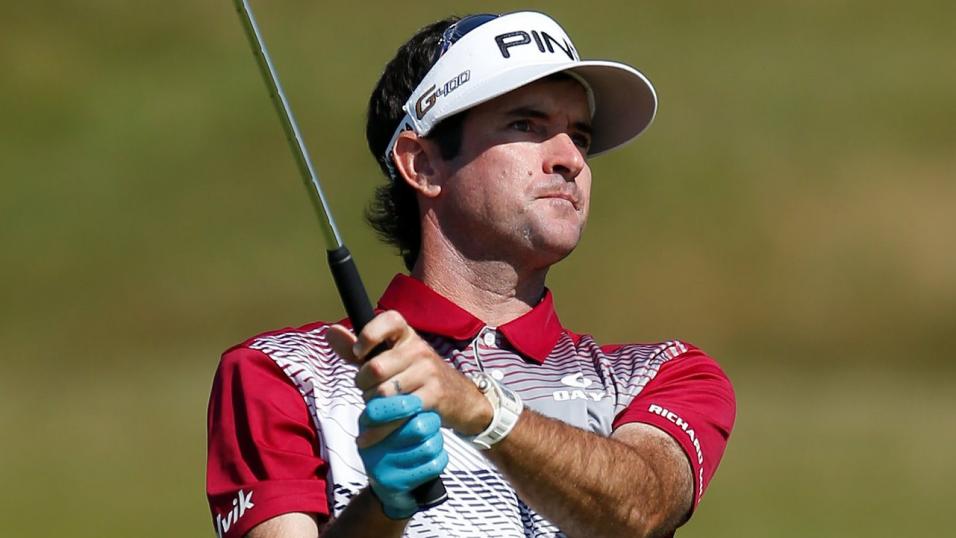 Bubba Watson: A two-time Augusta champion and a two-time winner this year
With the first round of The Masters teeing-off on Thursday, check out recent Major Championship form for those taking part in Georgia. Stats supplied by Andy Swales ...
"If Tiger were to win, from a current World Ranking of 103, he would be the highest-ranked Augusta champion since rankings began in 1986"
This week's Masters appears to have all the correct ingredients for an exciting tournament.
Most of golf's leading lights are playing pretty well right now, while four-time former champion Tiger Woods cannot be ruled out either.
However, there is one startling fact that will have to be addressed if 42-year-old Tiger is to emerge as this year's winner - but more of that later.
So how do the leading players measure up ahead of the first Major Championship of the season, which tees-off at Augusta National on Thursday?
Here are 14 Big Names to conjure with
Dustin Johnson: This time last year DJ was the hottest property in golf and would have started the 2017 event as favourite, had he not suffered an off-course injury in the days leading up to the tournament. The American is still the world No 1 but the most recent No 1 to wear the Green Jacket was Tiger in 2002.
Justin Thomas: Last year's PGA Championship winner is currently top of this season's FedEx Cup standings, having set a blistering pace in recent months. Tied-22nd at Augusta in 2017.
Jordan Spieth: Tied-for-third in Houston on Sunday, his best result of 2018. In four visits to The Masters, the 2015 champion has also finished second twice. He has won three of the last 12 Majors.
Rory McIlroy: The Masters is the only Major Championship the Northern Irishman has failed to win. There have been top 10s in each of his last four trips to Augusta and he was a winner at Bay Hill last month.
Justin Rose: Twice a runner-up in Georgia, and one of the most consistent golfers of the past 12 months. Looks good for another high finish this week.
Sergio Garcia: The reigning champion. More than capable of making a successful defence, but hasn't stood on a PGA Tour podium since The Masters last year.
Bubba Watson: The two-time champion has returned to form in spectacular fashion this year with a brace of victories - one at Riviera and the other in the WGC Match Play. Is a serious threat this week and a truly battle-hardened competitor.
Phil Mickelson: Can never be ruled out at Augusta where he is a three-time champion. A fourth success would make him the oldest ever Masters winner at 47.
Jason Day: Winner in San Diego during 2018 and twice on the podium at Augusta. Rarely finishes outside the top 20.
Paul Casey: It would be no surprise if the Englishman finished on the podium this week, but is he capable of claiming a first Major title? His last three trips to Augusta have all yielded top-six finishes, and he won in Florida last month.
Matt Kuchar: The Olympic bronze medallist from Rio is another extremely consistent pro - whether it be in the Majors or at a run-of-the-mill PGA Tour event. Top-10s in his most recent two starts on Tour, and three top-five finishes from his last six trips to Augusta. Deserving of a Major title.
Hideki Matsuyama: His last five Major performances read: 4-11-2-14-5. However, the Japanese golfer has struggled a little since failing to win last year's PGA Championship when he led midway through the final round.
Rickie Fowler: Will go into this week's event slightly under the radar. Arguably the best current pro yet to win a Major but his form is not great. No top 10s from his last six events.
Tiger Woods: After a number of years in the injury wilderness, Woods has returned to form during 2018. His last three starts read 12-2-5. However, has not contested a Major since August 2015, and has not made a cut in one since The Masters of that same year. And if Tiger were to win, from a current World Ranking of 103, he would be the highest-ranked Augusta champion since rankings began in 1986. Only two winners have teed-up outside the top 40, with none as low as even No 70.
Lowest Average Positions in The Majors
Last Six Years (2012-17)
Min. No of Events = 8
Average (Majors)
24.79: Adam Scott (24)
28.90: Henrik Stenson (21)
29.04: Jason Day (23)
29.30: Matt Kuchar (23)
29.75: Justin Rose (24)
30.85: Hideki Matsuyama (20)
31.55: Jordan Spieth (20)
32.88: Brooks Koepka (17)
33.09: Rory McIlroy (23)
33.38: Dustin Johnson (21)
36.04: Sergio Garcia (24)
37.96: Rickie Fowler (24)
38.92: Zach Johnson (24)
39.32: Ian Poulter (19)
41.29: Charl Schwartzel (24)
42.86: Francesco Molinari (21)
43.00: Justin Thomas (10)
43.44: Patrick Reed (16)
43.96: Phil Mickelson (23)
The Table Below Shows Performances in Last 10 Major Championships
| Player | 17 PGA | 17 BO | 17 USO | 17 UM | 16 PGA | 16 BO | 16 USO | 16 UM | 15 PGA | 15 BO |
| --- | --- | --- | --- | --- | --- | --- | --- | --- | --- | --- |
| Dustin Johnson | 13 | 54 | MC | | MC | 9 | 1 | 4 | 7 | 49 |
| Justin Thomas | 1 | MC | 9 | 22 | 66 | 53 | 32 | 39 | 18 | |
| Jon Rahm | 58 | 44 | MC | 27 | | 59 | 23 | | | |
| Jordan Spieth | 28 | 1 | 35 | 11 | 13 | 30 | 37 | 2 | 2 | 4 |
| Justin Rose | MC | 54 | MC | 2 | 22 | 22 | MC | 10 | 4 | 6 |
| Hideki Matsuyama | 5 | 14 | 2 | 11 | 4 | MC | MC | 7 | 37 | 18 |
| Rory McIlroy | 22 | 4 | MC | 7 | MC | 5 | MC | 10 | 17 | |
| Rickie Fowler | 5 | 22 | 5 | 11 | 33 | 46 | MC | MC | 30 | 30 |
| Sergio Garcia | MC | 37 | 21 | 1 | MC | 5 | 5 | 34 | 54 | 6 |
| Brooks Koepka | 13 | 6 | 1 | 11 | 4 | | 13 | 21 | 5 | 10 |
| Tommy Fleetwood | 61 | 27 | 4 | MC | | MC | | | MC | MC |
| Jason Day | 9 | 27 | MC | 22 | 2 | 22 | 8 | 10 | 1 | 4 |
| Paul Casey | 13 | 11 | 26 | 6 | 10 | MC | MC | 4 | 30 | 74 |
| Alexander Noren | 67 | 6 | MC | MC | 49 | 46 | MC | | | |
| Henrik Stenson | 13 | 11 | MC | MC | 7 | 1 | Wd | 24 | 25 | 40 |
| Marc Leishman | 13 | 6 | 27 | 43 | 60 | 53 | 18 | MC | MC | 2 |
| Tyrrell Hatton | MC | MC | MC | MC | 10 | 5 | | | 25 | MC |
| Phil Mickelson | MC | MC | | 22 | 33 | 2 | MC | MC | 18 | 20 |
| Pat Perez | 28 | MC | MC | 18 | | | | | MC | |
| Matt Kuchar | 9 | 2 | 16 | 4 | MC | 46 | 46 | 24 | 7 | 58 |
| Bubba Watson | MC | 27 | MC | MC | 60 | 39 | 51 | 37 | 21 | MC |
| Rafa Cabrera-Bello | MC | 4 | 42 | MC | 49 | 39 | 32 | 17 | MC | 40 |
| Brian Harman | 13 | MC | 2 | | | | | | MC | MC |
| Patrick Reed | 2 | MC | 13 | MC | 13 | 12 | MC | 49 | 30 | 20 |
| Kevin Kisner | 7 | 54 | 58 | 43 | 18 | 76 | 49 | 37 | MC | MC |
| Xander Schauffele | MC | 20 | 5 | | | | | | | |
| Francesco Molinari | 2 | MC | MC | 33 | 22 | 36 | | | 54 | 40 |
| Charley Hoffman | 48 | 20 | 8 | 22 | MC | 77 | 37 | 29 | MC | MC |
| Ian Poulter | 22 | 14 | | | | | | 49 | MC | MC |
| Kiradech Aphibarnrat | | | | | 66 | MC | MC | 15 | 68 | MC |
| Gary Woodland | 22 | 70 | 50 | MC | MC | 12 | | | | 58 |
| Branden Grace | MC | 6 | 50 | 27 | 4 | 72 | 5 | MC | 3 | 20 |
| Louis Oosthuizen | 2 | MC | 23 | 41 | 22 | MC | 23 | 15 | 30 | 2 |
| Patrick Cantlay | 33 | | | | | | | | | |
| Tony Finau | 44 | 27 | | | MC | 18 | MC | | 10 | |
| Ross Fisher | MC | 44 | MC | 41 | 42 | MC | | | MC | 68 |
| Matthew Fitzpatrick | MC | 44 | 35 | 32 | 49 | MC | 54 | 7 | | |
| Daniel Berger | MC | 27 | MC | 27 | 73 | | 37 | 10 | MC | MC |
| Kevin Chappell | 33 | MC | 23 | 7 | MC | 53 | MC | | 43 | |
| Brendan Steele | MC | MC | 13 | 27 | MC | MC | 15 | | 12 | |
| Webb Simpson | 33 | 37 | 35 | MC | 13 | 39 | MC | 29 | 54 | 40 |
| Hao Tong Li | MC | 3 | 68 | | | | | | | |
| Adam Hadwin | MC | MC | 60 | 36 | | | | | | |
| Kyle Stanley | MC | MC | | | | | | | | |
| Cameron Smith | MC | MC | | | | | 59 | 55 | 25 | |
| Thomas Pieters | MC | 44 | MC | 4 | 86 | 30 | | | | |
| Satoshi Kodaira | 48 | | 46 | | | MC | | | | |
| Dylan Frittelli | 63 | MC | | | | | | | | |
| Chez Reavie | 22 | | 16 | | | | | | | |
| Jason Dufner | 58 | 14 | MC | 33 | 60 | 22 | 8 | MC | 68 | 58 |
| Si Woo Kim | Wd | MC | 13 | MC | MC | | | | | |
| Jhonattan Vegas | MC | MC | MC | MC | 22 | | | | | |
| Patton Kizzire | | | | | 49 | 68 | MC | | | |
| Yuta Ikeda | MC | MC | MC | MC | 33 | 72 | MC | | | MC |
| Bernd Wiesberger | MC | 74 | 16 | 43 | MC | MC | MC | 34 | MC | 68 |
| Russell Henley | 71 | 37 | 27 | 11 | 22 | MC | | | 12 | 20 |
| Yusaku Miyazato | | MC | 60 | | | MC | 23 | | | |
| Charl Schwartzel | 48 | 62 | MC | 3 | 42 | 18 | 23 | MC | 37 | 68 |
| Zach Johnson | 48 | 14 | 27 | MC | 33 | 12 | 8 | MC | MC | 1 |
| Adam Scott | 61 | 22 | MC | 9 | 18 | 43 | 18 | 42 | MC | 10 |
| Bryson DeChambeau | 33 | MC | MC | | | | 15 | 21 | | |
| Ryan Moore | 13 | MC | | 9 | 70 | 46 | 32 | MC | 37 | MC |
| Shubhankar Sharma | | | | | | | | | | |
| Ted Potter | | | MC | | | | | | | |
| Billy Horschel | 48 | MC | MC | | 79 | MC | 32 | 17 | 25 | 30 |
| Martin Kaymer | | 37 | 35 | 16 | 7 | 36 | 37 | 49 | 12 | 12 |
| Wesley Bryan | MC | MC | MC | | | | | | | |
| Jimmy Walker | MC | 54 | MC | 18 | 1 | MC | MC | 29 | MC | 30 |
| Tiger Woods | | | | | | | | | MC | MC |
| Austin Cook | | | | | | | | | | |
| Danny Willett | MC | 76 | Wd | MC | 79 | 53 | 37 | 1 | 54 | 6 |
| Angel Cabrera | | | MC | MC | | | 37 | 24 | | |
| Mike Weir | | | | MC | | | | MC | | |
| Trevor Immelman | | | | MC | | | | MC | | |
| Jose Maria Olazabal | | | | MC | | | | | | |
| Vijay Singh | 66 | | | MC | MC | MC | | MC | 37 | |
| Doc Redman | | | | | | | | | | |
| Fred Couples | | | | 18 | | | | | | |
| Joaquin Niemann | | | MC | | | | | | | |
| Yuxin Lin | | | | | | | | | | |
| Mark O`Meara | | MC | | MC | | 63 | | MC | | 78 |
| Ian Woosnam | | | | MC | | | | MC | | |
| Larry Mize | | | | 52 | | | | 52 | | |
| Sandy Lyle | | MC | | MC | | MC | | MC | | MC |
| Bernhard Langer | | | | MC | | | | 24 | | 78 |
| Harry Ellis | | MC | | | | | | | | |
| Doug Ghim | | | | | | | | | | |
| Matt Parziale | | | | | | | | | | |
Discover the latest articles
Read past articles