The Greenbrier Classic 2019: Form stats for this week's PGA Tour event in West Virginia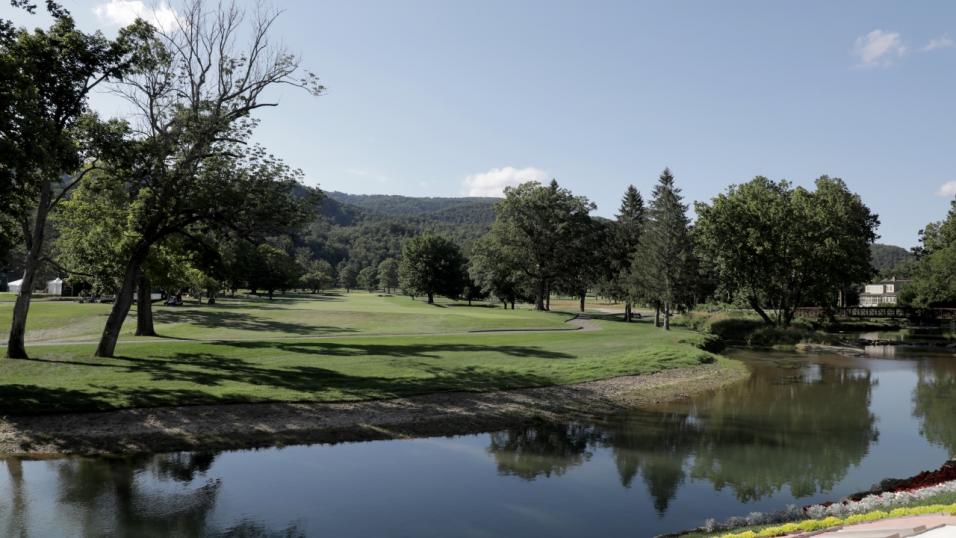 The Old White: Opened more than 100 years ago in the rural state of West Virginia
Andy Swales supplies course and current form stats for this week's PGA Tour event at White Sulphur Springs, which kicks-off the 2019/20 season...
"In his search for a maiden Tour title, Jason Kokrak
should be all revved-up and ready to hit the ground
running in West Virginia."
Never before in the history of the PGA Tour, has a new season teed-off so early in the calendar year.
This week's tournament at White Sulphur Springs in West Virginia marks the opening event of the 2019/20 season - and it's still only early-to-mid September.
Titled A Military Tribute at The Greenbrier, the tournament made its Tour debut a little over nine years ago, at a venue made famous by all-time great Sam Snead.
Low Key Opener
But with just one member of the world's top-20 teeing-up, the new PGA Tour season is certainly making a low-key start.
However, one player who should be up for the challenge is fast-improving Jason Kokrak.
The 34-year-old appears to be one of golf's late developers. He is currently ranked at a career-high 54.
He's posted 12 top-20 finishes, so far, during 2019, including a tie-for-second at the Valspar Championship during March.
Three times he has finished runner-up on Tour, while also standing on the podium at last year's Greenbrier Classic.
In his search for a maiden Tour title, Kokrak should be all revved-up and ready to hit the ground running in West Virginia.
Another golfer hungry to break his PGA Tour duck is world No 114 Harold Varner who tied-third at last month's FedEx Cup Play-Offs opener in New Jersey.
The 29-year-old Ohio-born Varner tasted victory in Australia during 2016 and should be ready to win in his home country, having served a respectable apprenticeship on the PGA Tour.
Course Form
With regards good course form, two players who stand out from the crowd are Russell Henley and Robert Streb, both of whom have carded top-dozen finishes in each of the past three years.
Elsewhere, this week's tournament marks a new beginning for last season's graduates from the Korn Ferry Tour - previously called the Web Tour.
Check out latest betting ahead of this week's event in West Virginia
Among those who should tee-up at the top table in confident mood are Zac Blair and Scottie Scheffler.
Blair was a PGA Tour regular just a few seasons ago, so shouldn't feel overwhelmed at the prospect of playing on the world's most competitive tour.
Others to keep an eye on are Viktor Hovland, Kramer Hickok and Fabian Gomez who all competed on both the PGA and Korn Ferry tours during 2019.
Hovland, in particular, is viewed as a star of the future. The 21-year-old Norwegian has only teed-up 10 times on the PGA Tour but impressed at Pebble Beach in June when he tied-for-12th at the US Open.
The Old White
Opened in 1914, The Old White is one of four layouts at this luxurious Greenbrier complex and has undergone two renovations during the past decade.
The first one was planned ahead of the club's return to the PGA Tour schedule in late July 2010.
However, the second one was forced upon it, following severe flooding which engulfed the local area on June 23rd, 2016, and led to the cancellation of that year's Greenbrier Classic.
Due to considerable damage caused by the floods, all the fairways and putting surfaces had to be re-seeded and re-grown from scratch.
Located approximately 1,800 feet above sea level, and within the lower reaches of the Alegheny Mountains, trees rather than water, are the main hazards at this rural wooded venue.
The tree-lined fairways are generous in width, while the undulating putting surfaces are slightly larger than average.
Water only comes into play on four holes, and should only really be an issue on two.
Twitter: Andy Swales@GolfStatsAlive
MC* - Missed Additional 54-Hole Cut
Note: List contains leading reserves

| Player | W36 | W35 | W34 | W33 | W32 | W31 | W30 | W29 | W28 | W27 |
| --- | --- | --- | --- | --- | --- | --- | --- | --- | --- | --- |
| Bryson DeChambeau | | | 7 | 48 | 24 | | 48 | MC | | 2 |
| Marc Leishman | | | 20 | 19 | MC | | 3 | MC | | |
| Bubba Watson | | | | | MC | | 9 | 51 | | |
| Kevin Na | | | | | 77 | | 43 | | | Wd |
| Keegan Bradley | | | | 43 | 64 | | 61 | MC | | 46 |
| Cameron Smith | | | | | 59 | MC | 12 | 20 | | |
| Byeong Hun An | | | | 28 | 38 | 3 | | 32 | | |
| Jason Kokrak | | | 9 | 19 | 12 | 6 | | 32 | | |
| Sung Jae Im | | | 15 | 11 | 38 | 6 | | MC | 26 | 15 |
| JB Holmes | | | | 65 | 52 | | 54 | 67 | | |
| Tom Lewis | | 1 | 59 | Wd | | | | 11 | 43 | 61 |
| Scott Piercy | | | | 37 | 67 | 36 | | | | 15 |
| Sung Kang | | | | 63 | MC | | 60 | MC | | MC |
| Branden Grace | | | | | 30 | 48 | | 51 | MC | |
| Russell Knox | | | | | MC | 48 | | 41 | MC | 31 |
| Joaquin Niemann | | | | 31 | 30 | 13 | | MC | 10 | 23 |
| Scottie Scheffler | | 7 | 11 | 1 | MC | | | 27 | 29 | |
| Joel Dahmen | | | | 24 | 67 | 53 | | MC | MC | |
| Nate Lashley | | | | 69 | MC | | 20 | MC | 26 | MC |
| Brian Harman | | | | | 52 | 6 | | MC | 26 | 7 |
| Kevin Streelman | | | | | MC | MC | | 57 | | 34 |
| Viktor Hovland | | | 2 | 11 | | 4 | | | 16 | 13 |
| Harold Varner | | | | 68 | 3 | 60 | | | 53 | |
| Adam Long | | | | 65 | MC | MC | 24 | | 53 | MC |
| Jimmy Walker | | | | | | MC | | MC | MC | MC* |
| Beau Hossler | | | 25 | 2 | | MC | 35 | MC | 26 | 34 |
| Zach Johnson | | | | | | 53 | | MC | 37 | |
| Sam Burns | | | | | | | | | MC | 7 |
| Danny Lee | | | | | 81 | Dq | | MC | MC | MC |
| Xin Jun Zhang | | 46 | 30 | 45 | 43 | | MC | MC | 10 | |
| Russell Henley | | | | | 59 | 31 | 15 | | 2 | MC |
| Andrew Landry | | | | | 30 | 19 | MC | | 3 | MC |
| Nick Watney | | | | | 59 | MC | | | 6 | MC |
| Zack Sucher | | MC | MC | 71 | | MC | 54 | 24 | 56 | 58 |
| Harry Higgs | | | 11 | 23 | MC | | 1 | 22 | 3 | |
| Patton Kizzire | | | | | MC | 13 | | MC | | 34 |
| Kristoffer Ventura | | 56 | MC | 53 | 3 | | | 1 | MC | MC |
| Doc Redman | | | | | | MC | | 20 | 37 | MC |
| Bud Cauley | | | | | Wd | 22 | | | 18 | 34 |
| Ryan Armour | | | | | 43 | 22 | | 53 | MC | 42 |
| Robby Shelton | | 39 | | MC | 11 | | | MC | MC | 13 |
| Jason Dufner | | | | | | MC | | 18 | MC | 66 |
| Denny McCarthy | | | | | MC | 22 | 35 | 11 | MC | 23 |
| Brian Stuard | | | | | 52 | 31 | | MC | MC | |
| Brice Garnett | | | | | MC | 6 | | 18 | 37 | 23 |
| JJ Spaun | | | | | MC | 69 | 46 | | | 66 |
| Scott Stallings | | | | | MC | 31 | | | 18 | MC* |
| Matt Jones | | | | | 30 | MC | | 4 | MC | MC |
| Bronson Burgoon | | | 5 | 19 | | MC | 5 | | 47 | 34 |
| Peter Uihlein | | 15 | MC | 37 | | 72 | 18 | 53 | Dq | MC |
| Kramer Hickok | | 3 | 5 | 19 | | MC | MC | 24 | MC | 42 |
| Austin Cook | | | | | | 72 | | 4 | 67 | MC |
| Talor Gooch | | | | | 71 | MC | | | MC* | 73 |
| Sepp Straka | | | | | MC | 39 | 12 | 3 | 26 | MC |
| Mackenzie Hughes | | | | | 67 | 22 | | | MC | 66 |
| Sebastian Munoz | | | | | 43 | 48 | 11 | 9 | 37 | 72 |
| Ted Potter | | | | | | 60 | | 24 | MC* | MC |
| Robert Streb | | | 30 | 5 | | MC | 3 | MC | MC | 34 |
| Sam Ryder | | | | | MC | 60 | 45 | | 18 | 34 |
| Roger Sloan | | | | | 64 | 39 | 7 | | 10 | 15 |
| Kevin Chappell | | | 51 | 62 | | | | | | |
| Adam Schenk | | | | | 24 | MC | | 18 | 6 | MC |
| Martin Trainer | | | | | | MC | MC | | MC | MC |
| Peter Malnati | | | | | MC | MC | | MC* | 56 | 46 |
| Lanto Griffin | | 7 | | 37 | MC | | | 4 | MC | 18 |
| Carlos Ortiz | | | | | 67 | 39 | | | MC | 5 |
| Martin Laird | | | | | 83 | MC | 7 | 6 | 37 | 42 |
| Cameron Davis | | 13 | 25 | 56 | | 22 | MC | 11 | 53 | MC |
| Nelson Ledesma | | MC | MC | 45 | 58 | | | MC | 1 | 13 |
| Patrick Rodgers | | | | | MC | MC* | 59 | MC | | |
| Henrik Norlander | | 7 | MC | 23 | MC | | 12 | | | 13 |
| Chase Seiffert | | | MC | 19 | MC | | | MC | 29 | 3 |
| Fabian Gomez | | 2 | 51 | 45 | 7 | 13 | | 36 | MC | 13 |
| Ryan Brehm | | 46 | 5 | 19 | 18 | MC | | | | 1 |
| Matt Every | | | | | MC | | 38 | | MC | MC* |
| Richy Werenski | | 7 | MC | 37 | | 39 | 41 | 24 | 47 | 46 |
| Wes Roach | | 26 | 61 | MC | | 53 | 46 | 45 | 10 | MC |
| Kyoung-Hoon Lee | | | | | MC | MC | 31 | | MC | MC |
| Brendan Steele | | | | | | MC | 39 | | | 53 |
| Nick Taylor | | | | | MC | MC | | 15 | 33 | 46 |
| Josh Teater | | 74 | MC | MC | | 6 | 13 | 6 | 67 | MC |
| Tyler McCumber | | | | MC | 18 | 53 | 65 | 53 | | |
| Jim Herman | | | | | | | 51 | 1 | MC | |
| Anirban Lahiri | | | 5 | 7 | | 53 | | | 47 | MC* |
| Matthew NeSmith | | MC | 1 | 45 | MC | 8 | MC | MC | | 49 |
| Johnson Wagner | | MC | MC | 14 | | 13 | 25 | MC* | 37 | 23 |
| Scott Brown | | | | | 76 | 60 | | | MC | 15 |
| Rhein Gibson | | MC | MC | 37 | 11 | 60 | | 27 | 16 | MC |
| Cameron Tringale | | | | | MC | | 18 | | 16 | 42 |
| Shawn Stefani | | MC | MC | 37 | | 22 | | 39 | 33 | 15 |
| Mark Anderson | | | 60 | MC | 55 | | | MC | | |
| Michael Gellerman | | | 61 | MC | MC | | MC | MC | 3 | 52 |
| Zac Blair | | | 9 | 45 | 24 | 1 | 10 | 9 | MC | 9 |
| Sebastian Cappelen | | MC | MC | MC | MC | | | MC | MC | 25 |
| Mark Hubbard | | | 4 | 45 | 18 | 14 | | 22 | 37 | 38 |
| Grayson Murray | | 7 | 11 | 23 | | | | | | 29 |
| Scott Harrington | | | 43 | 14 | 2 | 11 | 28 | MC | 3 | |
| Roberto Castro | | | | | | 53 | | 22 | 26 | 46 |
| Doug Ghim | | 19 | 37 | 23 | MC | MC | | MC | 19 | MC |
| Seamus Power | | 51 | MC | MC | | 60 | 25 | 53 | 61 | 60 |
| Bill Haas | | | | | | 53 | 61 | 11 | 10 | MC* |
| Cameron Percy | | MC | 11 | 11 | | | | | 44 | 66 |
| Tyler Duncan | | 4 | 30 | 71 | | 39 | 64 | MC | 26 | MC* |
| Hank Lebioda | | 19 | 11 | MC | | MC* | MC | 70 | MC | 34 |
| Ryan Blaum | | | | | | MC | 54 | 15 | 56 | MC* |
| Bo Hoag | | 39 | | 64 | 1 | 14 | 28 | 22 | MC | MC |
| Harris English | | 26 | MC | 14 | | 39 | 67 | 29 | | MC |
| Jamie Lovemark | | 67 | MC | MC | | MC | | | | |
| Michael Gligic | | | 43 | 53 | MC | | 44 | MC | 10 | 29 |
| Tom Hoge | | | 20 | 7 | | MC* | 6 | 36 | MC | 23 |
| Whee Kim | | 53 | MC | 74 | | MC | | 45 | 63 | MC |
| DJ Trahan | | 7 | MC | 37 | | | 41 | 6 | MC | |
| Dominic Bozzelli | | Wd | MC | 23 | | MC | 25 | 9 | MC | MC |
| Jonathan Byrd | | MC | 20 | MC | | MC | 15 | 64 | MC | |
| Maverick McNealy | | 60 | | MC | 48 | 3 | | MC | 49 | 9 |
| Vince Covello | | 67 | | 69 | MC | MC | | MC | MC | MC |
| Joseph Bramlett | | 26 | 25 | 23 | MC | 23 | | 4 | 16 | MC |
| Chris Baker | | 4 | 37 | MC | MC | 39 | 49 | 35 | MC | 25 |
| Brandon Hagy | | | 2 | 5 | | | | | | |
| Tim Wilkinson | | | | MC | MC | MC | 49 | MC | | 2 |
| Sangmoon Bae | | | | | | MC | 51 | | 47 | MC |
| David Hearn | | 4 | 61 | 32 | | | 54 | 45 | MC | 58 |
| Ben Taylor | | MC | MC | 2 | MC | | MC | 41 | 49 | 43 |
| Vincent Whaley | | 22 | | 23 | MC | 47 | 56 | MC | MC | |
| Rafael Campos | | | MC | MC | 11 | MC | 7 | 35 | MC | MC |
| Brendon Todd | | 67 | 20 | 2 | | | 25 | 53 | 18 | |
| Michael Kim | | | | | | MC | | | MC | MC |
| Ben Crane | | 22 | MC | MC | | | | | | MC |
| Chad Campbell | | | | | 32 | MC | MC | MC | MC* | MC |
| John Huh | | 39 | 37 | MC | | | MC | | | |
| Alex Cejka | | | | | | 60 | 18 | | MC | MC |
| Rob Oppenheim | | 33 | 9 | MC | 6 | 23 | 49 | MC | MC | |
| David Lingmerth | | | MC | | 15 | MC | 48 | MC | MC | MC |
| Robert Garrigus | | | | | MC | 33 | MC | 64 | MC | MC* |
| Billy Hurley | | 22 | 43 | 23 | | | 25 | 24 | 63 | |
| JJ Henry | | | | | | MC | MC | MC | 61 | MC |
| George McNeill | | | | | | | 13 | 53 | MC | |
| DA Points | | | | | | | | | | |
| Arjun Atwal | | | | | | | MC | 72 | MC | 23 |
| Boo Weekley | | | Wd | MC | | 69 | | 69 | MC | |
| Derek Ernst | | | | | 64 | 47 | MC | MC | 37 | MC |
| John Senden | | | | | | | MC | MC | 70 | |
| Daniel Summerhays | | | | | MC | MC | | | 29 | |
| Rod Pampling | | | | | | MC | MC | 53 | | 56 |
| Freddie Jacobson | | MC | MC | MC | | | | 70 | 33 | MC |
| Tim Herron | | | | | | | MC | MC | MC | MC |
| John Merrick | | | | | MC | 64 | MC | MC* | MC | MC |
| Ricky Barnes | | | | | MC | | MC | 45 | MC | MC |
| Morgan Hoffmann | | 67 | MC | MC | | | | | | MC |
| Tommy Gainey | | | | | MC | MC | 61 | 39 | | 56 |
| Stuart Appleby | | | | | | | | | | |
| Parker McLachlin | | | | | | | MC | MC | MC | MC |
| John Daly | | | | | | | 69 | MC | | |
| Brendon de Jonge | | | | | | | MC | MC | | |
| Hayden Springer | | | | | | | | | | |
| Kyle Westmoreland | | | | | | | | MC | | 63 |
| Daniel Chopra | 61 | MC | | | | | MC | 53 | MC | |
| John Rollins | | | | | | | 39 | MC | | |
| Davey Jude | | | | | | | | | | |
| Chris Couch | | | | | | | | 39 | MC | |
| Player | 2018 | 2017 | 2015 | 2014 | 2013 | 2012 | 2011 | 2010 |
| --- | --- | --- | --- | --- | --- | --- | --- | --- |
| Bryson DeChambeau | | 14 | | | | | | |
| Marc Leishman | | | MC | MC | | 73 | MC | 16 |
| Bubba Watson | 13 | 70 | 13 | 16 | 30 | | | |
| Kevin Na | 1 | | 32 | 52 | | 7 | | 36 |
| Keegan Bradley | 13 | 50 | 29 | 4 | | 46 | 43 | |
| Cameron Smith | | | | | | | | |
| Byeong Hun An | | | | | | | | |
| Jason Kokrak | 3 | MC | 54 | | 41 | MC | | |
| Sung Jae Im | | | | | | | | |
| JB Holmes | MC | 9 | 22 | 23 | | 27 | MC | 16 |
| Tom Lewis | | | | | | | | |
| Scott Piercy | 74 | | 29 | | MC | 12 | MC | 16 |
| Sung Kang | | MC | | | | MC | MC | |
| Branden Grace | | | | | | | | |
| Russell Knox | | | | | | 69 | | |
| Joaquin Niemann | 5 | 29 | | | | | | |
| Scottie Scheffler | | | | | | | | |
| Joel Dahmen | 5 | MC | | | | | | |
| Nate Lashley | | | | | | | | |
| Brian Harman | 56 | | | MC | 65 | 69 | | |
| Kevin Streelman | MC | 29 | 77 | | | 56 | | MC |
| Viktor Hovland | | | | | | | | |
| Harold Varner | 5 | 29 | | | | | | |
| Adam Long | | | | | | | | |
| Jimmy Walker | MC | 18 | | MC | 2 | MC | 4 | 4 |
| Beau Hossler | | | | | | | | |
| Zach Johnson | | | | | | | | |
| Sam Burns | | | | | | | | |
| Danny Lee | MC | 9 | 1 | 16 | | MC | | |
| Xin Jun Zhang | MC | | | | | | | |
| Russell Henley | 10 | 5 | 5 | | 30 | | | |
| Andrew Landry | | | | | | | | |
| Nick Watney | 30 | 37 | MC | MC | 23 | | | |
| Zack Sucher | | | MC | | | | | |
| Harry Higgs | | | | | | | | |
| Patton Kizzire | MC | MC | | | | | | |
| Kristoffer Ventura | | | | | | | | |
| Doc Redman | | | | | | | | |
| Bud Cauley | | | | 4 | MC | | | |
| Ryan Armour | 21 | MC | 22 | | | | | |
| Robby Shelton | | | | | | | | |
| Jason Dufner | | | | | | | | |
| Denny McCarthy | 39 | | | | | | | |
| Brian Stuard | | | MC | | 6 | | | MC* |
| Brice Garnett | MC | | 32 | 35 | | | | |
| JJ Spaun | 13 | 29 | | | | | | |
| Scott Stallings | 13 | 58 | 67 | 35 | 23 | 56 | 1 | |
| Matt Jones | MC | 64 | | | 2 | MC | MC | MC |
| Bronson Burgoon | 30 | | | | | | | |
| Peter Uihlein | | | Wd | | | | | |
| Kramer Hickok | | | | | | | | |
| Austin Cook | 5 | | | | | | | |
| Talor Gooch | 21 | | | | | | | |
| Sepp Straka | | | | | | | | |
| Mackenzie Hughes | 13 | 20 | | | | | | |
| Sebastian Munoz | | 3 | | | | | | |
| Ted Potter | MC | 37 | | 26 | 6 | 1 | | |
| Robert Streb | 11 | 2 | 2 | 71 | 41 | | | |
| Sam Ryder | MC | | | | | | | |
| Roger Sloan | | | MC | | | | | |
| Kevin Chappell | 30 | | 37 | 16 | 41 | 17 | MC | |
| Adam Schenk | MC | | | | | | | |
| Martin Trainer | | | | | | | | |
| Peter Malnati | 56 | 29 | | MC | | | | |
| Lanto Griffin | 26 | | | | | | MC | |
| Carlos Ortiz | | | MC | | | | | |
| Martin Laird | | | | | | | | MC |
| Cameron Davis | | | | | | | | |
| Nelson Ledesma | | | | | | | | |
| Patrick Rodgers | MC | 70 | 60 | 45 | | | | |
| Henrik Norlander | | | | | MC | | | |
| Chase Seiffert | MC | | | | | | | |
| Fabian Gomez | 56 | | MC | | MC* | | 43 | |
| Ryan Brehm | | 37 | | | | | | |
| Matt Every | Dq | MC | | | 38 | | | 66 |
| Richy Werenski | 69 | MC | | | | | | |
| Wes Roach | | | | 57 | | | | |
| Kyoung-Hoon Lee | | | | | | | | |
| Brendan Steele | | | | MC* | 41 | | | |
| Nick Taylor | 56 | 9 | MC | | | | | |
| Josh Teater | | | | 45 | MC | MC | 43 | MC |
| Tyler McCumber | | | | | | | | |
| Jim Herman | | MC | MC | MC | 30 | | 61 | |
| Anirban Lahiri | 39 | | | | | | | |
| Matthew NeSmith | | | | | | | | |
| Johnson Wagner | 65 | MC | 32 | 26 | 2 | 64 | 11 | MC |
| Scott Brown | 56 | MC | 37 | MC* | MC* | Wd | | |
| Rhein Gibson | | | | | | | | |
| Cameron Tringale | MC | MC | MC | 4 | 23 | 56 | 4 | MC |
| Shawn Stefani | MC | 37 | 13 | 35 | 59 | | | |
| Mark Anderson | | 50 | MC | | | MC | | |
| Michael Gellerman | | | | | | | | |
| Zac Blair | 65 | 73 | MC | | | | | |
| Sebastian Cappelen | | | | | | | | |
| Mark Hubbard | | 58 | 54 | | | | | |
| Grayson Murray | | Wd | | | | | | |
| Scott Harrington | | | | | | | | |
| Roberto Castro | | 20 | | 73 | MC | 7 | | |
| Doug Ghim | | | | | | | | |
| Seamus Power | MC | 50 | | | | | | |
| Bill Haas | MC | 37 | MC | 23 | 9 | 33 | 2 | |
| Cameron Percy | 56 | MC | 60 | | 30 | | MC | 45 |
| Tyler Duncan | 39 | | | | | | | |
| Hank Lebioda | | | | | | | | |
| Ryan Blaum | MC | 7 | | | MC | | | |
| Bo Hoag | | | | | | | | |
| Harris English | MC | 29 | | | | MC | | |
| Jamie Lovemark | 26 | 3 | | MC* | | MC | | |
| Michael Gligic | | | | | | | | |
| Tom Hoge | 69 | MC | 37 | | | | | |
| Whee Kim | 74 | MC | 67 | | | | | |
| DJ Trahan | | | | | MC* | 56 | MC | MC |
| Dominic Bozzelli | MC | MC | | | | | | |
| Jonathan Byrd | MC | 58 | 22 | MC | MC | 22 | MC | 21 |
| Maverick McNealy | | | 60 | | | | | |
| Vince Covello | | | | | | | | |
| Joseph Bramlett | | | | | | | 71 | |
| Chris Baker | | | | | | | | |
| Brandon Hagy | | 18 | | | | | | |
| Tim Wilkinson | | MC | MC | 57 | | | | |
| Sangmoon Bae | | | 54 | 16 | | 52 | | |
| David Hearn | 30 | 14 | 2 | 64 | MC | 12 | 18 | |
| Ben Taylor | | | | | | | | |
| Vincent Whaley | | | | | | | | |
| Rafael Campos | | | | | | | | |
| Brendon Todd | | | 6 | 4 | | 46 | | |
| Michael Kim | MC | 29 | | | 38 | | | |
| Ben Crane | MC | MC | MC | | MC* | | | 21 |
| Chad Campbell | 69 | 9 | 37 | MC | 41 | | | |
| John Huh | MC | 45 | 54 | MC | | 46 | | |
| Alex Cejka | 13 | 9 | 60 | | | | | MC |
| Rob Oppenheim | 47 | | | | | | | |
| David Lingmerth | 11 | 64 | 6 | 16 | 9 | | | |
| Robert Garrigus | MC | 45 | 37 | | | | | MC |
| Billy Hurley | 47 | MC | 37 | 4 | | MC | | |
| JJ Henry | 21 | 45 | 13 | 57 | MC | MC | MC | 36 |
| George McNeill | 74 | | 22 | 2 | 17 | | MC | MC |
| DA Points | | MC | MC | MC* | 54 | 46 | 49 | 4 |
| Arjun Atwal | | | | | | 76 | MC | 68 |
| Boo Weekley | | MC | | | MC | MC | | 9 |
| Derek Ernst | | | 22 | MC* | | | | |
| John Senden | | | | | 30 | | 14 | 21 |
| Daniel Summerhays | MC | | MC | MC | 9 | 5 | MC | |
| Rod Pampling | | | | | MC | 27 | MC | MC |
| Freddie Jacobson | | | | | | | | |
| Tim Herron | MC | | | | | MC | MC | 51 |
| John Merrick | MC | | MC | | | 64 | 57 | MC |
| Ricky Barnes | MC | MC | 67 | MC | MC | 38 | 39 | MC* |
| Morgan Hoffmann | | MC | 13 | MC | 23 | | | |
| Tommy Gainey | MC | 64 | MC | MC | 41 | 72 | 57 | |
| Stuart Appleby | MC | MC | | MC | MC | MC | MC | 1 |
| Parker McLachlin | MC | | | | | | | |
| John Daly | MC | MC | MC | MC* | Wd | 12 | MC | 77 |
| Brendon de Jonge | MC | MC | 60 | 64 | 17 | 52 | 4 | 3 |
| Hayden Springer | | | | | | | | |
| Kyle Westmoreland | | | | | | | | |
| Daniel Chopra | | | | MC | | MC | | MC |
| John Rollins | | | | MC | | MC | MC | 21 |
| Davey Jude | MC | | | | | | | |
| Chris Couch | MC | | | | | 52 | 11 | 36 |
Discover the latest articles
Read past articles