Dubai Duty Free Irish Open 2017: Form stats for this week's Portstewart test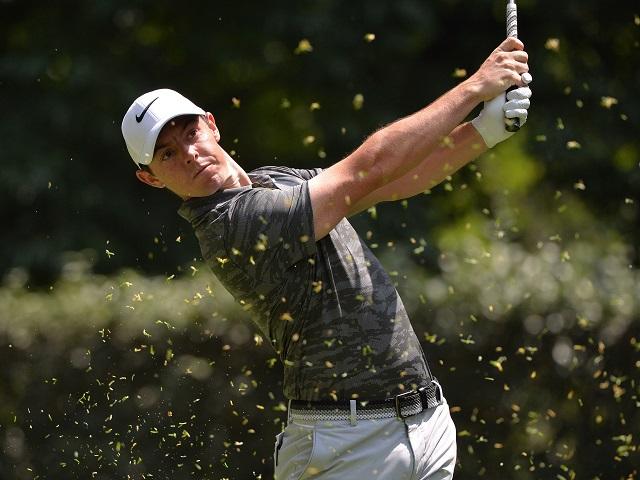 Rory McIlroy is back on home turf to defend his title at the Dubai Duty Free Irish Open.
The European Tour heads to the links of Portstewart, for the prestigious Dubai Duty Free Irish Open. Andy Swales provides the stats for this week's tournament on the famous Causeway Coast...

"Although Rafa Cabrera-Bello is more than capable of winning this week, he does not deliver victories as often as he should, so an each-way bet is probably a better option."
For the next three weeks, the European Tour is all about links golf, starting with the Dubai Duty Free Irish Open which begins on Thursday.

The Tour then moves on to Dundonald in Scotland, before returning south to Royal Birkdale for the season's third major championship.

But for now the focus is on Portstewart, a stunning venue close to Coleraine on the County Londonderry coast.

The club has a long history, dating back to 1894, since when there have been many changes made to this superb golfing location.

This week's tournament is being held on Portstewart's Strand Course which is making its debut on the European Tour.

Three years ago the British Amateur Championship was played at Portstewart and, as with most championship links, some of the attributes required for a high finish this week will include patience, perseverance and a huge dose of finesse.
Homecoming

Northern Ireland's favourite golfing son, Rory McIlroy, is teeing-up in defence of the title he won at The K-Club last year. However, his form has been mediocre this year, not helped by niggling injuries.

This week's tournament will only be McIlroy's fourth start since The Masters in early April.
In-Form

Last week's champion in France, Tommy Fleetwood, tees-up again as he builds towards The Open Championship later this month.

The Englishman has been praised by no lesser golfing god as Nick Faldo who, even before his excellent run at last month's US Open, described Fleetwood as a potential Open champion this year.
Ireland Links

One player who has previously impressed on the links courses of Ireland is Rafa Cabrera-Bello.

Two years ago at Royal County Down the Spaniard tied for fourth while, in 2012 at Royal Portrush, he was joint-second.

However, although Cabrera-Bello is more than capable of winning this week, he does not deliver victories as often as he should, so an each-way bet is probably a better option.
Off The Pace

Earlier in the season you could hardly keep Tyrrell Hatton out of the top 10 - either side of the Atlantic.

The Englishman's excellent run of results took him up to No 14 in the World Ranking but, since early April, there has been a dip in form, leaving Hatton without a T-25 in seven events.

Yet, in 2015, he certainly showed he can play well on links, as he enjoyed a top-five finish at Royal County Down.

One other pro with a liking for links golf is Ireland's own Shane Lowry.

A little off the pace, save a handful of decent results during the past 12 months, it is about time Lowry found himself in contention again.

It is now more than eight years since he stunned the golfing world with his victory in the Irish Open at County Louth - while still an amateur.

Perhaps a week at this superb coastal location will inspire the talented 30-year-old to rediscover his competitive juices in his own national open.

Key for course form table: Adare Manor (2007-08); County Louth (2009); Killarney (2010-11); Royal Portrush (2012); Carton House (2013); Fota Island (2014); Royal County Down (2015); The K Club (2016).
| Player | W26 | W25 | W24 | W23 | W22 | W21 | W20 | W19 | W18 | W17 |
| --- | --- | --- | --- | --- | --- | --- | --- | --- | --- | --- |
| Hideki Matsuyama | | | 2 | | 45 | | | 22 | | 32 |
| Rory McIlroy | | 17 | MC | | | | | 35 | | |
| Jon Rahm | 10 | | MC | | MC | 2 | | 72 | 4 | |
| Justin Rose | | | MC | | | 12 | | 65 | | MC |
| Tyrrell Hatton | MC | | MC | | | 30 | | 41 | | MC |
| Tommy Fleetwood | 1 | 6 | 4 | | MC | MC | | 41 | | |
| Thomas Pieters | 13 | | MC | | | 14 | | | | MC |
| Rafael Cabrera-Bello | | 26 | 42 | 4 | MC | | | 4 | 24 | |
| Matthew Fitzpatrick | MC | | 35 | | 2 | 12 | | MC | | |
| Danny Willett | MC | | Wd | | | 58 | | Wd | | |
| Hideto Tanihara | MC | | MC | | 15 | 3 | | | | 32 |
| Lee Westwood | 10 | | 55 | | 15 | 14 | | 65 | | |
| Chris Wood | Wd | | MC | | 2 | 49 | | | | 4 |
| Jeung-Hun Wang | Wd | | MC | | 8 | MC | | | | 59 |
| Shane Lowry | MC | | 46 | | 15 | 6 | | MC | 24 | |
| Andy Sullivan | 13 | 51 | | | 8 | 30 | | | | |
| Soren Kjeldsen | MC | | | | 71 | 30 | | | MC | 24 |
| Dylan Frittelli | MC | 14 | | 1 | MC | MC | | | | 2 |
| Alexander Levy | 57 | | MC | | 15 | 51 | | | | 1 |
| Joost Luiten | 32 | 14 | | 7 | MC | 24 | | | | 31 |
| Thongchai Jaidee | 62 | MC | | | 53 | 54 | | | | 48 |
| Ian Poulter | 45 | | | 31 | | 40 | 35 | 2 | | 32 |
| Brandon Stone | MC | 31 | 35 | | | MC | | | | 18 |
| Fabrizio Zanotti | 55 | 67 | | | | MC | MC | | | 31 |
| Thorbjorn Olesen | 3 | 34 | | | 4 | MC | | | | 31 |
| Graeme McDowell | MC | | MC | 27 | | 29 | | 69 | 18 | |
| Scott Hend | 32 | | 34 | | 47 | 24 | 6 | | | MC |
| Pablo Larrazabal | 16 | 14 | | | MC | 24 | | | | 3 |
| Dean Burmester | MC | 82 | | | | 9 | | | 22 | 65 |
| Kiradech Aphibarnrat | Dq | 12 | | | 41 | 14 | 6 | | | MC |
| Nicolas Colsaerts | 55 | 26 | | | 8 | 3 | 58 | | | 42 |
| Jordan Smith | 30 | 44 | | | 21 | 40 | 48 | | | MC |
| Andrew Johnston | 23 | | 42 | | | 21 | | | MC | 29 |
| Dave Horsey | | 75 | | 2 | | 51 | 7 | | | |
| Richard Sterne | 50 | 34 | | | 47 | MC | | | | |
| David Lipsky | MC | 10 | | | 30 | MC | 20 | | | 24 |
| Jaco Van Zyl | MC | 20 | | MC | 36 | 14 | | | | 24 |
| Hao Tong Li | 7 | | 68 | | 26 | 30 | 3 | | | 11 |
| Bradley Dredge | 27 | | MC | | 15 | 40 | MC | | | 48 |
| Victor Dubuisson | MC | 34 | | | | 24 | | | | |
| Renato Paratore | MC | 6 | | | 1 | MC | 23 | | | 18 |
| George Coetzee | MC | 14 | MC | | 4 | MC | | | 8 | 8 |
| Graeme Storm | 38 | 67 | | 15 | 41 | 6 | | | | 42 |
| Matt Wallace | MC | | MC | 10 | | MC | 38 | 1 | | |
| Jorge Campillo | MC | 20 | | | MC | 40 | | | | 9 |
| Alexander Bjork | 3 | 34 | | 15 | MC | 14 | 27 | | | MC |
| Sam Brazel | MC | MC | | | 57 | MC | | | | 48 |
| Peter Uihlein | 2 | | MC | 78 | 25 | 30 | | | | 31 |
| Rikard Karlberg | 45 | 5 | | | 47 | MC | MC | | | 18 |
| Brett Rumford | MC | 34 | | 57 | MC | Wd | | | | 59 |
| Padraig Harrington | | 17 | | | 31 | MC | | | | |
| Gregory Bourdy | 57 | | MC | | 21 | 62 | | | | MC |
| Joakim Lagergren | 57 | 14 | | | 68 | MC | | | | MC |
| Ryan Fox | 6 | 26 | | 23 | 21 | MC | MC | | | MC |
| Thomas Aiken | 23 | | 58 | | MC | MC | | | | MC |
| Bernd Ritthammer | MC | MC | | | MC | 40 | MC | | | 48 |
| Paul Dunne | 13 | | MC | | MC | 30 | | | | |
| Marcus Fraser | MC | MC | | | MC | MC | 5 | | | |
| Nacho Elvira | 50 | 8 | | MC | 57 | MC | | | | 36 |
| SSP Chawrasia | | | 15 | | 30 | 58 | | | | 36 |
| Richard Bland | MC | 2 | | 64 | 53 | MC | MC | | | MC |
| Matthieu Pavon | MC | MC | | | 6 | MC | MC | 3 | | |
| James Morrison | MC | 34 | | MC | | MC | 23 | | | 31 |
| Andrew Dodt | MC | | | | 65 | 6 | 38 | | | MC |
| Romain Langasque | 50 | 31 | | MC | MC | MC | MC | | | MC |
| Mike Lorenzo-Vera | 3 | MC | | | | MC | | | | 11 |
| Peter Hanson | MC | 44 | | | 62 | 21 | | | | Wd |
| Alejandro Canizares | MC | MC | | MC | 30 | MC | | | | MC |
| Darren Fichardt | MC | MC | | | | MC | | | | 18 |
| Pep Angles | 50 | MC | | | MC | MC | 4 | MC | | 42 |
| Alexander Knappe | MC | MC | | MC | MC | MC | MC | | | MC |
| Jason Scrivener | 38 | 85 | | | MC | MC | 5 | | | MC |
| Thomas Detry | MC | 2 | | MC | MC | | 65 | | | 48 |
| Lasse Jensen | 32 | MC | | | 62 | MC | MC | | | Wd |
| Soomin Lee | MC | MC | | | MC | MC | 8 | | 8 | 9 |
| Alvaro Quiros | MC | MC | | | | MC | 1 | 22 | | |
| Sam Walker | MC | MC | | MC | MC | MC | | 4 | | 36 |
| Benjamin Hebert | MC | MC | | MC | 8 | 58 | | | | 13 |
| Anthony Wall | Wd | 31 | | MC | MC | 40 | | | | MC |
| Jamie Donaldson | 32 | 14 | | | 7 | MC | 58 | | | MC |
| Ricardo Gouveia | 38 | MC | | | MC | MC | | MC | | 36 |
| Edoardo Molinari | MC | 73 | | | | MC | MC | | | MC |
| Julien Quesne | 62 | 82 | | MC | MC | MC | MC | | | 18 |
| Ashun Wu | MC | MC | | 10 | MC | | MC | MC | | 24 |
| Lucas Bjerregaard | MC | 59 | | 7 | 62 | MC | | | | 56 |
| Scott Jamieson | MC | MC | | | 21 | 14 | 38 | | | |
| Paul Waring | 16 | | | 52 | 36 | MC | | | | |
| Jaco Ahlers | | 59 | | MC | MC | | MC | 59 | 25 | 18 |
| Matteo Manassero | MC | MC | | | 72 | 30 | 48 | | | 36 |
| Matthew Southgate | MC | 51 | | 57 | 65 | MC | MC | | | 42 |
| Shih-Chang Chan | MC | MC | | MC | Wd | 56 | MC | MC | | 45 |
| Raphael Jacquelin | MC | MC | | | MC | MC | 18 | | | 13 |
| Paul Peterson | MC | MC | | | MC | 40 | 67 | | | 42 |
| Chris Paisley | MC | MC | | | MC | MC | 31 | | | 56 |
| Mikko Ilonen | MC | MC | | | MC | 62 | | | | 36 |
| Maximilian Kieffer | 16 | 82 | | 20 | MC | 24 | | | | MC |
| Paul Lawrie | | 44 | | | | MC | | 59 | | |
| Richie Ramsay | MC | | MC | | 36 | 30 | | | | 62 |
| Stephen Gallacher | MC | MC | | 38 | 53 | 21 | | | | MC |
| Chris Hanson | 57 | MC | | MC | MC | MC | MC | | | |
| Robert Rock | 30 | | | MC | MC | MC | | 12 | | 48 |
| Eddie Pepperell | 23 | MC | 16 | 43 | 8 | | 38 | MC | | |
| Marcus Armitage | MC | MC | | 47 | MC | | 38 | 10 | | |
| Johan Carlsson | MC | 67 | | 6 | MC | 58 | 18 | | | 24 |
| Lee Slattery | MC | MC | | MC | MC | MC | 11 | | | MC |
| Joel Stalter | MC | 51 | MC | 34 | MC | | MC | MC | | |
| Romain Wattel | MC | 51 | | | MC | 66 | 31 | | | 24 |
| Florian Fritsch | 45 | 51 | | 28 | MC | 30 | MC | MC | | |
| David Drysdale | 16 | MC | | | MC | 49 | | 48 | | MC |
| Oliver Fisher | 50 | 79 | | 38 | MC | 40 | 27 | 6 | | |
| Felipe Aguilar | 45 | MC | | 10 | 57 | MC | | | | 48 |
| Marc Warren | MC | MC | | Wd | MC | MC | | | | |
| Nino Bertasio | 62 | 34 | | 10 | MC | 14 | MC | | | MC |
| Justin Walters | MC | MC | | | MC | MC | | MC | | 13 |
| Kristoffer Broberg | 16 | MC | | 57 | 30 | MC | | | | |
| Marcel Siem | 27 | MC | | | 8 | MC | 8 | | | 42 |
| Robert Karlsson | MC | MC | | | Dq | MC | 11 | | | MC |
| Magnus A Carlsson | MC | | | | MC | MC | | | | MC |
| Callum Shinkwin | 66 | Wd | | | Dq | Dq | | | | MC |
| Jose-Filipe Lima | MC | MC | | | 26 | | 31 | 22 | | |
| Duncan Stewart | MC | MC | | 34 | MC | | MC | 68 | | |
| Richard McEvoy | 1 | 59 | | 5 | MC | | 48 | MC | | |
| Adrian Otaegui | 7 | 51 | | MC | MC | MC | MC | | | MC |
| David Howell | MC | Wd | | | Wd | 48 | MC | | | 56 |
| Espen Kofstad | | | | | | | | | | |
| Eduardo De La Riva | MC | 26 | | MC | 36 | MC | 18 | | | |
| Haydn Porteous | 32 | MC | | 38 | MC | MC | 38 | | | MC |
| Max Orrin | 57 | MC | | MC | 15 | | Dq | 18 | | |
| Gregory Havret | 23 | 44 | | MC | MC | MC | | | | MC |
| Wade Ormsby | MC | 44 | MC | | MC | MC | 38 | | | |
| Jeff Winther | | 44 | | MC | 53 | | 38 | 68 | 2 | |
| Daniel Brooks | 38 | 67 | | MC | 57 | 54 | MC | | | |
| Damien Perrier | 66 | MC | | MC | MC | | MC | 42 | | |
| Stuart Manley | MC | MC | | MC | MC | | 11 | MC | | |
| Sebastian Heisele | MC | 73 | | MC | MC | MC | 31 | 4 | | |
| Sebastian Soderberg | 60 | MC | | MC | 41 | | 18 | 64 | | |
| Mark Foster | MC | 51 | | 47 | MC | | 8 | 6 | | |
| Daniel Im | 66 | 59 | | 34 | MC | MC | 18 | | | |
| Anton Karlsson | | MC | | MC | MC | | MC | MC | | |
| Tom Lewis | | 44 | | MC | 41 | | 11 | 18 | | |
| Michael Hoey | 13 | | 21 | MC | | 5 | 11 | MC | | |
| Ashley Chesters | MC | 20 | | 28 | MC | | MC | 18 | | |
| Miguel Angel Jimenez | | | | MC | | | | | | |
| Thomas Bjorn | 69 | MC | | | MC | 57 | 23 | | | MC |
| Nathan Kimsey | 38 | MC | | MC | 30 | | 48 | MC | | |
| Jens Fahrbring | 45 | 34 | | MC | 47 | | MC | MC | | |
| Simon Khan | | MC | | 52 | | | MC | 59 | | |
| Steven Tiley | MC | MC | | MC | MC | | MC | MC | | |
| Richard S Johnson | | | | 59 | MC | | 58 | | 8 | |
| Sebastien Gros | 69 | | | MC | 47 | 64 | MC | | | |
| Paul Maddy | MC | 59 | MC | 23 | MC | 47 | 38 | 72 | | |
| Laurie Canter | 33 | 79 | | 57 | 41 | | MC | 26 | | |
| Darren Clarke | MC | | | | | MC | | | | |
| Trevor Immelman | MC | | | | MC | MC | MC | | | |
| Andres Romero | MC | 1 | MC | MC | | | | | | |
| Pontus Widegren | 48 | 59 | | MC | MC | | MC | 12 | | |
| Matthew Nixon | 42 | MC | | MC | MC | | MC | 26 | | |
| Hennie Otto | MC | 8 | | | | MC | | | | |
| Gary Stal | 16 | | | 28 | MC | MC | MC | | | MC |
| Paul McGinley | | | | | | | | | | |
| Niclas Fasth | 32 | 20 | | | MC | 54 | MC | | | |
| Jose Maria Olazabal | MC | MC | | | | | | | | |
| Simon Dyson | MC | MC | | MC | 57 | MC | MC | MC | | |
| Ricardo Gonzalez | | MC | | 10 | MC | | MC | | | |
| Richard Finch | MC | MC | | Wd | MC | | MC | MC | | |
| Simon Thornton | | | | | | | | | | |
| Dermot McElroy | 33 | | 57 | | | | MC | 2 | | 2 |
| Gavin Moynihan | 21 | 28 | | 44 | | 16 | 2 | MC | | 1 |
| Damien McGrane | | | | | | MC | | 25 | | |
| David Higgins | | | | | | | | 17 | | |
| Colm Moriarty | | | | | | | | MC | | |
| Neil O`Briain | 57 | MC | 57 | | MC | MC | | | | |
| Richard Kilpatrick | | | | | | | | | | |
| Player | 2016 | 2015 | 2014 | 2013 | 2012 | 2011 | 2010 | 2009 | 2008 | 2007 |
| --- | --- | --- | --- | --- | --- | --- | --- | --- | --- | --- |
| Hideki Matsuyama | | | | | | | | | | |
| Rory McIlroy | 1 | MC | MC | MC | 10 | 34 | 35 | 50 | 7 | |
| Jon Rahm | | | | | | | | | | |
| Justin Rose | | | | | | | 44 | | | |
| Tyrrell Hatton | 5 | 4 | MC | | | | | | | |
| Tommy Fleetwood | MC | 21 | MC | MC | MC | | | | | |
| Thomas Pieters | MC | MC | 38 | | | | | | | |
| Rafael Cabrera-Bello | 8 | 4 | 26 | 5 | 2 | MC | MC | 20 | | 37 |
| Matthew Fitzpatrick | MC | 8 | 29 | | | | | | | |
| Danny Willett | 23 | 6 | 3 | 10 | MC | MC | | | | |
| Hideto Tanihara | | | | | | | | | | |
| Lee Westwood | 10 | 53 | | | | | | 30 | 3 | 21 |
| Chris Wood | 54 | 16 | 8 | | MC | MC | 3 | 10 | | |
| Jeung-Hun Wang | MC | | | | | | | | | |
| Shane Lowry | 23 | 43 | MC | 5 | 51 | MC | 21 | 1 | | |
| Andy Sullivan | MC | 6 | MC | 22 | MC | | | | | |
| Soren Kjeldsen | 19 | 1 | MC | 18 | MC | | | 30 | 35 | 45 |
| Dylan Frittelli | | | | | MC | | | | | |
| Alexander Levy | Ret | MC | MC | MC | | | | | | |
| Joost Luiten | MC | | | 2 | 66 | 59 | 9 | | | |
| Thongchai Jaidee | 31 | 10 | | | 18 | | | 20 | | |
| Ian Poulter | | | | | | | | | | |
| Brandon Stone | MC | | | MC | | | | | | |
| Fabrizio Zanotti | MC | 40 | 14 | MC | 2 | MC | MC | | MC | |
| Thorbjorn Olesen | 10 | MC | | | 18 | 15 | | | | |
| Graeme McDowell | 65 | 30 | 6 | MC | 16 | 25 | 31 | Ret | MC | 31 |
| Scott Hend | MC | 65 | | | | MC | | | | |
| Pablo Larrazabal | 31 | MC | 26 | 4 | | | MC | 30 | 16 | |
| Dean Burmester | | | | | | | | | | |
| Kiradech Aphibarnrat | | MC | | | | | | | | |
| Nicolas Colsaerts | 23 | MC | | | MC | | 21 | | | |
| Jordan Smith | | | | | | | | | | |
| Andrew Johnston | MC | MC | | | MC | | | | | |
| Dave Horsey | | MC | 49 | | MC | 45 | MC | 14 | MC | |
| Richard Sterne | 10 | | | 22 | 44 | | | MC | | 37 |
| David Lipsky | 43 | MC | | | | | | | | |
| Jaco Van Zyl | 23 | 16 | | MC | MC | 11 | | | | |
| Hao Tong Li | 18 | | 66 | | | | | | | |
| Bradley Dredge | 2 | 10 | | | 24 | MC | MC | MC | 8 | 2 |
| Victor Dubuisson | MC | MC | | MC | | MC | MC | | | |
| Renato Paratore | 58 | MC | | | | | | | | |
| George Coetzee | MC | MC | | | MC | | MC | | | |
| Graeme Storm | MC | MC | 33 | 32 | MC | MC | 21 | 20 | | MC |
| Matt Wallace | | | | | | | | | | |
| Jorge Campillo | 19 | MC | MC | 32 | 44 | | | | | |
| Alexander Bjork | | | | | | | | | | |
| Sam Brazel | | | | | | | | | | |
| Peter Uihlein | | 60 | | 32 | | | | | | |
| Rikard Karlberg | 10 | 21 | | | | MC | | | | |
| Brett Rumford | 36 | Wd | MC | 22 | MC | Ret | 9 | 8 | | 52 |
| Padraig Harrington | MC | 43 | 14 | MC | 7 | MC | 2 | MC | 31 | 1 |
| Gregory Bourdy | 10 | 63 | 8 | | 33 | MC | | MC | | MC |
| Joakim Lagergren | MC | | | MC | MC | | | | | |
| Ryan Fox | | | | | | | | | | |
| Thomas Aiken | | 43 | | | | | MC | MC | 35 | |
| Bernd Ritthammer | | | | | | | | | | |
| Paul Dunne | 60 | | | | | | | | | |
| Marcus Fraser | MC | 43 | | | | 25 | MC | 41 | MC | MC |
| Nacho Elvira | 48 | | MC | | | | | | | |
| SSP Chawrasia | MC | | | MC | MC | MC | MC | 61 | MC | |
| Richard Bland | 23 | 53 | 44 | 30 | 18 | 45 | 5 | 10 | MC | MC |
| Matthieu Pavon | | | | | | | | | | |
| James Morrison | 10 | MC | MC | 42 | 24 | 40 | MC | | | |
| Andrew Dodt | MC | 65 | | 47 | MC | MC | 27 | | | |
| Romain Langasque | | | | | | | | | | |
| Mike Lorenzo-Vera | MC | MC | | | | | | 20 | 31 | |
| Peter Hanson | MC | MC | | | | | | MC | 58 | 7 |
| Alejandro Canizares | 43 | MC | 38 | 10 | 44 | 59 | 44 | MC | 45 | |
| Darren Fichardt | MC | 21 | 63 | MC | MC | | | | | Ret |
| Pep Angles | | | | | | | | | | |
| Alexander Knappe | | | | | | | | | | |
| Jason Scrivener | | | | | | | | | | |
| Thomas Detry | | | | | | | | | | |
| Lasse Jensen | | | | 58 | | | | | | |
| Soomin Lee | MC | | | | | | | | | |
| Alvaro Quiros | MC | Ret | 44 | 5 | | | | | 8 | |
| Sam Walker | | | 58 | | | | | | MC | MC |
| Benjamin Hebert | MC | 63 | | | MC | | MC | | | |
| Anthony Wall | MC | 10 | 49 | | 2 | 34 | 39 | 10 | 10 | MC |
| Jamie Donaldson | 10 | | | 10 | 1 | 45 | 21 | 13 | MC | |
| Ricardo Gouveia | 36 | | | | | | | | | |
| Edoardo Molinari | | | 2 | | | | | | 40 | |
| Julien Quesne | MC | MC | MC | | | | 69 | | | |
| Ashun Wu | 31 | | | | | | | | | |
| Lucas Bjerregaard | MC | 18 | MC | | | | | | | |
| Scott Jamieson | MC | 30 | MC | MC | MC | MC | | | | |
| Paul Waring | | | MC | Ret | 10 | | 18 | 61 | 66 | |
| Jaco Ahlers | | | | | | | | | | |
| Matteo Manassero | MC | MC | MC | | MC | | 21 | | | |
| Matthew Southgate | 4 | | | MC | MC | | | | | |
| Shih-Chang Chan | | | | | | | | | | |
| Raphael Jacquelin | 23 | Ret | MC | 22 | | 25 | | 41 | | 7 |
| Paul Peterson | | | | | | | | | | |
| Chris Paisley | MC | | | 65 | | | | | | |
| Mikko Ilonen | MC | MC | 1 | 32 | 10 | | MC | MC | 16 | Wd |
| Maximilian Kieffer | 5 | 8 | MC | 71 | | | | | | |
| Paul Lawrie | MC | MC | MC | 47 | 33 | | 14 | 30 | MC | MC |
| Richie Ramsay | 54 | 10 | MC | | 16 | 65 | 9 | MC | | |
| Stephen Gallacher | 43 | MC | MC | 47 | 44 | 3 | 27 | MC | 24 | 37 |
| Chris Hanson | | | | | | | | | | |
| Robert Rock | MC | MC | 29 | 2 | 65 | MC | Dq | 2 | MC | MC |
| Eddie Pepperell | 8 | 2 | MC | 22 | | | | | | |
| Marcus Armitage | | | | | | | | | | |
| Johan Carlsson | MC | MC | 58 | | | | | | | |
| Lee Slattery | MC | 43 | MC | MC | 54 | MC | | 25 | MC | MC |
| Joel Stalter | | | | | | | | | | |
| Romain Wattel | 36 | 53 | 21 | 63 | 28 | 59 | | | | |
| Florian Fritsch | | MC | | | | 34 | | | | |
| David Drysdale | MC | MC | MC | 47 | 7 | 25 | 14 | 35 | 63 | MC |
| Oliver Fisher | 54 | MC | 26 | 47 | MC | 45 | MC | MC | 22 | MC |
| Felipe Aguilar | 36 | 53 | MC | MC | MC | 21 | MC | MC | 2 | |
| Marc Warren | 23 | MC | 29 | 18 | 39 | | Dq | 4 | MC | 12 |
| Nino Bertasio | | | | | | | | | | |
| Justin Walters | | | 70 | 53 | | | | | | |
| Kristoffer Broberg | 48 | MC | 3 | MC | | | | | | |
| Marcel Siem | Wd | MC | 14 | | 57 | 17 | 39 | 57 | 54 | MC |
| Robert Karlsson | MC | MC | 44 | | | | | | 3 | |
| Magnus A Carlsson | MC | 35 | 6 | MC | | MC | | MC | MC | |
| Callum Shinkwin | 19 | | | | | | | | | |
| Jose-Filipe Lima | | | MC | | | | MC | | MC | MC |
| Duncan Stewart | | | MC | | | | | | | |
| Richard McEvoy | | 53 | | MC | MC | MC | 35 | | | |
| Adrian Otaegui | 19 | MC | MC | | | | | | | |
| David Howell | | MC | 49 | 71 | 33 | 8 | 44 | MC | MC | |
| Espen Kofstad | | | | MC | | | | | | |
| Eduardo De La Riva | MC | MC | MC | 32 | | | | | | |
| Haydn Porteous | MC | | | | | | | | | |
| Max Orrin | | | | | | | | | | |
| Gregory Havret | MC | Wd | 49 | 15 | | | 39 | 61 | 24 | MC |
| Wade Ormsby | | MC | 49 | | | MC | | | | MC |
| Jeff Winther | MC | | | | | | | | | |
| Daniel Brooks | MC | MC | MC | MC | | | | | | |
| Damien Perrier | | | | | | | | | | |
| Stuart Manley | | | 54 | | | MC | | | 31 | |
| Sebastian Heisele | | | | | | | | | | |
| Sebastian Soderberg | | | | | | | | | | |
| Mark Foster | | 40 | MC | MC | 5 | 45 | 44 | MC | MC | 37 |
| Daniel Im | MC | | MC | | | | | | | |
| Anton Karlsson | | | | | | | | | | |
| Tom Lewis | | 35 | 72 | MC | | | | | | |
| Michael Hoey | MC | MC | 8 | 32 | 28 | 34 | 7 | Dq | MC | MC |
| Ashley Chesters | | | | | | | | | | |
| Miguel Angel Jimenez | MC | 43 | | | | | | MC | | 21 |
| Thomas Bjorn | MC | | | 18 | | | | 25 | | 52 |
| Nathan Kimsey | | | | | | | | | | |
| Jens Fahrbring | MC | | | | | | | | | |
| Simon Khan | MC | MC | 14 | MC | 69 | 52 | 27 | 35 | 40 | 45 |
| Steven Tiley | | | | | | | | | | |
| Richard S Johnson | | | | | | | | | | |
| Sebastien Gros | 10 | | | | | | | | | |
| Paul Maddy | | MC | | | | | | | | |
| Laurie Canter | | | | | | | | | | |
| Darren Clarke | 43 | 28 | 58 | MC | 39 | MC | 12 | 14 | 16 | |
| Trevor Immelman | | | | | | | | | | |
| Andres Romero | | | | | | | | | | 4 |
| Pontus Widegren | | | | | | | | | | |
| Matthew Nixon | | 35 | 14 | MC | MC | MC | | | | |
| Hennie Otto | MC | MC | Wd | MC | MC | MC | MC | MC | | |
| Gary Stal | MC | MC | 8 | MC | | | | | | |
| Paul McGinley | 63 | Wd | MC | MC | 54 | MC | 14 | 67 | 16 | 58 |
| Niclas Fasth | 31 | 10 | | MC | MC | 59 | MC | 41 | | |
| Jose Maria Olazabal | | | 54 | 5 | MC | | | 50 | | |
| Simon Dyson | | Wd | MC | MC | 10 | 1 | MC | 41 | MC | 7 |
| Ricardo Gonzalez | | 43 | 21 | MC | MC | | MC | MC | MC | MC |
| Richard Finch | | MC | 8 | 53 | MC | MC | 31 | MC | 1 | MC |
| Simon Thornton | | 60 | MC | 18 | 33 | 21 | MC | MC | | MC |
| Dermot McElroy | | | MC | | MC | MC | | | | |
| Gavin Moynihan | 36 | MC | MC | MC | | | | | | |
| Damien McGrane | | MC | MC | MC | 64 | 21 | 35 | 57 | MC | 12 |
| David Higgins | MC | | MC | MC | MC | MC | MC | | MC | 37 |
| Colm Moriarty | MC | | | | | 45 | MC | | MC | |
| Neil O`Briain | MC | MC | | | | | | | | |
| Richard Kilpatrick | | | | | | | | | | |
Discover the latest articles