The CJ Cup 2018: Form guide for this week's event in South Korea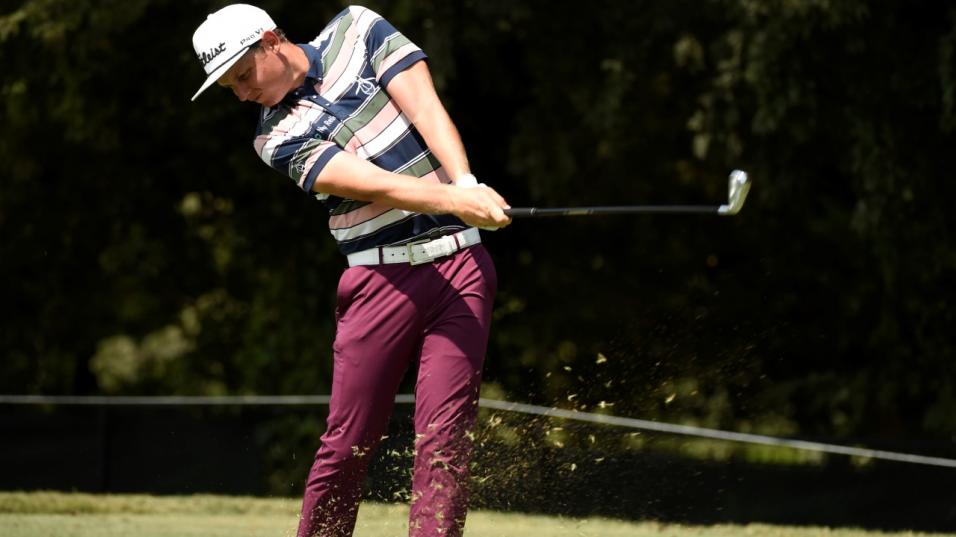 Cameron Smith: The 25-year-old Aussie was third in Korea last year
Andy Swales supplies the stats for The CJ Cup on Jeju Island, as the PGA Tour tees-up in Asia for a second straight week...
"Cameron Smith stood on the podium in 2017 and is moving ever closer to a first individual title on the PGA Tour."
The PGA Tour has journeyed more than 2,600 miles, from Malaysia to South Korea, for this week's CJ Cup at Nine Bridges.
The rolling fairways of this exquisite venue are located on Jeju Island, which sits around 80 miles south of the Korean Peninsula.
Opened in 2001, Nine Bridges made its PGA Tour debut last year having previously staged four tournaments on the ladies' equivalent.
This holiday resort is situated close to the centre of the volcanic island, around 600 metres up Mount Halla, and surrounded by a national park.
Nine Bridges is a lush, parkland venue, with beautifully contoured fairways, but is certainly no pushover.
Major Americans
Two top-10 Americans are teeing-up, with Brooks Koepka and defending champion Justin Thomas topping the bill.
Thomas will be chasing his fourth title on Asian soil, and remains in the Far East following last week's top-five finish in Kuala Lumpur.
Five of his last eight starts have yielded top-10s and he will probably begin this week's tournament as the bookies' favourite.
Hideki Matsuyama, who didn't play in last year's inaugural CJ Cup, should figure highly following a three-week break.
Japan's leading golfer registered a brace of top-five finishes during the FedEx Cup Play-Offs in the States.
Aussie Challenge
Marc Leishman, an impressive winner in Malaysia last week, was runner-up to Thomas in Korea 12 months ago.
Another Aussie, Cameron Smith, also stood on the podium in 2017 and is moving ever closer to a first individual title on the PGA Tour.
The 25-year-old, who won the Zurich-sponsored two-man team event in Louisiana last year, posted a brace of top-three finishes during this summer's FedEx Cup Play-Offs.
Mexico's Abraham Ancer continues to make steady progress on the world's top golf tour.

The 27-year-old Texas-born pro tied-fifth in Malaysia at the weekend, which was his fourth top-10 in nine starts, since the beginning of July.

American Kyle Stanley is starting to show a high level of consistency, following a handful of low-key seasons, and is now No 27 in the World Ranking - at the start of 2017 he was outside the top 250.
And young Indian Shubhankar Sharma could be a decent shout to finish leading Asian golfer this week, and outshine some of the bigger names such as Byeong Hun An and Si Woo Kim who are teeing-up on home soil.
Twitter: Andy Swales@GolfStatsAlive
MC* - Missed Additional 54-Hole Cut
| Player | W41 | W40 | W39 | W38 | W37 | W36 | W35 | W34 | W33 | W32 | W31 | W30 |
| --- | --- | --- | --- | --- | --- | --- | --- | --- | --- | --- | --- | --- |
| Brooks Koepka | | 7 | | 26 | | 19 | 12 | 8 | | 1 | 5 | MC |
| Justin Thomas | 5 | | | 7 | | 12 | 24 | 8 | | 6 | 1 | |
| Jason Day | | | | 18 | | 24 | MC | 20 | | 19 | 10 | |
| Xander Schauffele | 25 | | | 7 | | 3 | 49 | MC | | 35 | 68 | |
| Alexander Noren | | | | | | 24 | 43 | MC | | MC | 31 | |
| Paul Casey | 13 | | | 11 | | Wd | 21 | 60 | | MC | 31 | 7 |
| Hideki Matsuyama | | | | 4 | | 15 | 4 | 15 | 11 | 35 | 39 | |
| Tyrrell Hatton | | 2 | | | | 29 | 12 | 20 | | 10 | 28 | |
| Marc Leishman | 1 | | | 21 | | 41 | 21 | 34 | | 71 | 14 | |
| Kyle Stanley | 13 | | | 15 | | 45 | 12 | 28 | | MC | 2 | |
| Rafa Cabrera-Bello | 50 | | | | | 41 | 7 | 60 | 11 | 10 | 17 | |
| Cameron Smith | 22 | | | 20 | | 65 | 3 | 3 | | 56 | 23 | |
| Ian Poulter | | | | | | 51 | MC | 48 | | 31 | 10 | 12 |
| Billy Horschel | 33 | | | 2 | | 3 | Wd | 3 | 11 | 35 | | MC |
| Louis Oosthuizen | 5 | 32 | | | | 58 | 31 | 28 | | | 24 | |
| Gary Woodland | 5 | | | 11 | | 12 | 24 | 48 | | 6 | 17 | 22 |
| Brian Harman | | | | | | 68 | 49 | 48 | | 71 | 62 | |
| Adam Scott | 50 | | | | | 51 | 49 | 5 | | 3 | 57 | |
| Kevin Na | 19 | | | 25 | | 12 | MC | 15 | | 19 | 31 | |
| Charley Hoffman | | | | | | | 74 | 20 | | MC | 53 | 29 |
| Brandt Snedeker | 66 | 2 | | | | 67 | 31 | | 1 | 42 | | 8 |
| Branden Grace | 50 | 55 | | | | | 43 | MC | | 27 | 63 | |
| Byeong Hun An | 13 | | | | 8 | 29 | 31 | 40 | | 56 | 57 | 2 |
| Satoshi Kodaira | 43 | | 17 | | | | MC | MC | MC | 59 | 63 | |
| Pat Perez | 63 | | | | | 55 | Wd | 40 | | 35 | 63 | MC |
| Si Woo Kim | 10 | | | | | 41 | 35 | 76 | MC | MC | 10 | 29 |
| Russell Knox | | MC | | | | | 43 | MC | | 35 | 48 | |
| Adam Hadwin | | MC | | | | 19 | 21 | 11 | | MC | | MC |
| Ryan Moore | 66 | 2 | | | | | 71 | MC | 6 | 59 | | |
| Emiliano Grillo | 2 | 41 | | | | 61 | 7 | 48 | | 31 | 66 | |
| Kevin Chappell | 10 | | | | | | 35 | MC | | 65 | 39 | |
| Chez Reavie | 43 | 33 | | | | 38 | MC | 20 | | 12 | | MC |
| Charl Schwartzel | MC | | | 40 | | 8 | | MC | | 42 | 31 | 9 |
| Peter Uihlein | 69 | MC | | | | 38 | 12 | 48 | MC | MC | | |
| Jason Dufner | 43 | MC | | | | | MC | MC | 66 | MC | | |
| Stewart Cink | 13 | | | | | | 62 | MC | | 4 | | 37 |
| Jimmy Walker | 39 | | | | | | 71 | 71 | | 42 | | 29 |
| Chesson Hadley | 2 | MC | | | | 61 | MC | 56 | 45 | MC | | |
| Andrew Putnam | 50 | | | | | 16 | 49 | 78 | | 59 | 1 | 8 |
| Charles Howell | 5 | | | | | 24 | 58 | MC | | 71 | | |
| Andrew Landry | | 66 | | | | 35 | 58 | 76 | | 50 | 57 | |
| Beau Hossler | 30 | MC | | | | 33 | 35 | 60 | | MC | | |
| JB Holmes | 13 | 9 | | | | | 49 | MC | | MC | | 61 |
| Kevin Tway | 27 | 1 | | | | | 43 | 56 | 11 | | 23 | 17 |
| Patton Kizzire | | | | 21 | | 61 | 71 | 60 | | MC | 31 | |
| Sung Jae Im | | 4 | | | 43 | | 16 | 51 | 1 | 42 | 43 | 21 |
| Brendan Steele | 54 | 53 | | | | 64 | MC | MC | MC | MC | 60 | |
| Jhonattan Vegas | | 53 | | | | | MC | 15 | MC | 59 | 53 | 29 |
| Ted Potter | 54 | MC | | | | 35 | 66 | 40 | | 71 | 48 | |
| CT Pan | 30 | | | | | 38 | 4 | 60 | 2 | | 11 | |
| Jason Kokrak | 43 | | | | | 19 | 24 | 40 | 57 | 19 | | 12 |
| Ryan Palmer | 33 | | | | | 65 | MC | 5 | | | 26 | 22 |
| Austin Cook | 13 | | | | | 29 | 62 | 60 | | 50 | 53 | |
| Ryan Armour | 33 | | | | | 51 | 35 | 78 | 8 | MC | | MC |
| Brian Gay | 69 | | | | | 45 | 62 | 70 | 6 | 79 | | |
| Whee Kim | 59 | 33 | | | | | 75 | 48 | MC | MC | | 2 |
| Shubhankar Sharma | 10 | MC | 42 | | MC | MC | | | | MC | 69 | |
| James Hahn | 59 | MC* | | | | | 35 | MC | | MC | | 50 |
| Sang Hyun Park | 50 | 30 | 9 | 4 | 1 | 42 | MC | | 4 | | | |
| Danny Lee | 33 | 10 | | | | | 49 | 34 | 24 | | | 6 |
| Abraham Ancer | 5 | | | | | 51 | 7 | MC | 24 | | | 5 |
| Nick Watney | 19 | MC | | | | | 62 | 11 | MC | 71 | | 29 |
| Jamie Lovemark | 39 | MC | | | | | 76 | 34 | 24 | MC | | 50 |
| Ollie Schniederjans | 74 | MC | | | | | MC | MC | 57 | 59 | 5 | MC |
| Brice Garnett | 39 | | | | | 35 | 12 | MC | 20 | 50 | | |
| Keith Mitchell | 22 | | | | | 45 | 20 | MC | 41 | | | 65 |
| JJ Spaun | 72 | 41 | | | | 45 | 66 | 60 | | 35 | 3 | MC |
| Sung Kang | | MC* | | | | | | 75 | 53 | | | MC |
| Joaquin Niemann | | MC* | | | | | | | 33 | 71 | | 37 |
| Kelly Kraft | 33 | MC | | | | | MC | MC | | MC | | 50 |
| Troy Merritt | 54 | 4 | | | | | MC | MC | | MC | | 50 |
| Scott Stallings | 75 | | | | | | 49 | 28 | MC | | 22 | 45 |
| Hyun-Woo Ryu | 36 | 30 | 17 | 26 | 4 | 13 | 14 | MC | | | | |
| Joel Dahmen | 26 | 46 | | | | | MC | MC | | | 54 | 8 |
| Tom Hoge | 63 | 17 | | | | | 66 | MC | 20 | | 35 | MC |
| Graeme McDowell | | MC | | | | | | | 57 | | 44 | 17 |
| Michael Kim | 62 | 73 | | | | | MC | MC | | MC | | |
| Scott Piercy | 27 | MC | | | | 45 | Dq | 48 | 45 | MC | | |
| Brian Stuard | 39 | 53 | | | | | 31 | 25 | MC | | MC | 37 |
| Kyoung-Hoon Lee | | MC | | 60 | MC | | 32 | MC | MC | | 14 | 49 |
| Hyung-Joon Lee | | | | 19 | 6 | | 13 | | 3 | | | |
| Dong-Seop Maeng | | | | 27 | 62 | | 21 | | 24 | | | |
| Danny Willett | MC | MC | | 44 | | 59 | MC | 18 | | MC | | |
| Minchel Choi | 71 | 62 | 26 | MC | MC | | 26 | | 45 | | MC | |
| Do-Yeob Mun | | MC | | 12 | 4 | | 26 | | 12 | | | |
| Tae-Hee Lee | | | | 8 | 15 | | MC | | 29 | | | |
| Ernie Els | 43 | 48 | | | | | | | MC | | 3 | |
| Rod Pampling | | | | | | | | | MC | | 58 | 77 |
| Player | 2017 |
| --- | --- |
| Brooks Koepka | |
| Justin Thomas | 1 |
| Jason Day | 11 |
| Xander Schauffele | 72 |
| Alexander Noren | |
| Paul Casey | 19 |
| Hideki Matsuyama | |
| Tyrrell Hatton | |
| Marc Leishman | 2 |
| Kyle Stanley | 19 |
| Rafa Cabrera-Bello | 11 |
| Cameron Smith | 3 |
| Ian Poulter | 15 |
| Billy Horschel | |
| Louis Oosthuizen | |
| Gary Woodland | 40 |
| Brian Harman | 5 |
| Adam Scott | 25 |
| Kevin Na | 47 |
| Charley Hoffman | |
| Brandt Snedeker | |
| Branden Grace | 15 |
| Byeong Hun An | 11 |
| Satoshi Kodaira | |
| Pat Perez | 5 |
| Si Woo Kim | 44 |
| Russell Knox | |
| Adam Hadwin | 47 |
| Ryan Moore | |
| Emiliano Grillo | 40 |
| Kevin Chappell | |
| Chez Reavie | 15 |
| Charl Schwartzel | 28 |
| Peter Uihlein | |
| Jason Dufner | |
| Stewart Cink | 33 |
| Jimmy Walker | |
| Chesson Hadley | |
| Andrew Putnam | |
| Charles Howell | 19 |
| Andrew Landry | |
| Beau Hossler | |
| JB Holmes | 67 |
| Kevin Tway | 28 |
| Patton Kizzire | |
| Sung Jae Im | |
| Brendan Steele | |
| Jhonattan Vegas | 54 |
| Ted Potter | |
| CT Pan | 47 |
| Jason Kokrak | |
| Ryan Palmer | |
| Austin Cook | |
| Ryan Armour | |
| Brian Gay | |
| Whee Kim | 4 |
| Shubhankar Sharma | |
| James Hahn | 40 |
| Sang Hyun Park | |
| Danny Lee | 71 |
| Abraham Ancer | |
| Nick Watney | |
| Jamie Lovemark | 5 |
| Ollie Schniederjans | 19 |
| Brice Garnett | |
| Keith Mitchell | |
| JJ Spaun | |
| Sung Kang | 54 |
| Joaquin Niemann | |
| Kelly Kraft | 44 |
| Troy Merritt | |
| Scott Stallings | |
| Hyun-Woo Ryu | |
| Joel Dahmen | |
| Tom Hoge | |
| Graeme McDowell | 64 |
| Michael Kim | |
| Scott Piercy | |
| Brian Stuard | |
| Kyoung-Hoon Lee | 47 |
| Hyung-Joon Lee | 60 |
| Dong-Seop Maeng | |
| Danny Willett | |
| Minchel Choi | |
| Do-Yeob Mun | |
| Tae-Hee Lee | |
| Ernie Els | |
| Rod Pampling | 61 |
Discover the latest articles
Read past articles