Spanish Open 2018: Latest course and form guides for this week's event in Madrid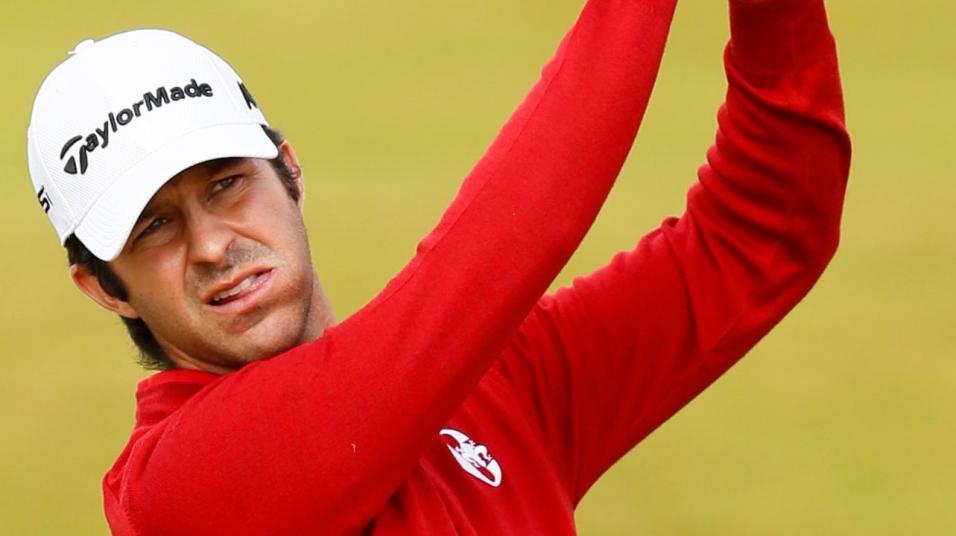 Jorge Campillo: Seeking a maiden Tour title on home soil
Before placing your bets for the Spanish Open, check out our form stats compiled by Andy Swales...
"Many of this week's competitors will be chomping at the bit, having not teed-up competitively for around a month, following a lull in the European Tour schedule"
After a wait of almost nine years, Centro National de Golf in Madrid makes its return to the European Tour schedule to host this week's Spanish Open.
Opened in March 2006, and situated north of the city centre, the venue is home to the Royal Spanish Golf Federation.
This modern-looking, superbly-crafted layout, has twice staged events on the European Tour.
It made its debut in 2007, when it was chosen to host the national open, and two years later welcomed the Madrid Masters.
Centro National de Golf is undulating and exposed, and when it staged the Spanish Open and Madrid Masters around a decade ago, the course demanded accuracy from the tee, due to fairways that were slightly narrower than normal.
Tour Interlude
Many of this week's competitors will be chomping at the bit, having not teed-up competitively for around a month, following a lull in the European Tour schedule.
Since the Indian Open, which ended on March 11, the only two events have been in the United States - the WGC Match Play and The Masters - and neither of these tournaments are for run-of-the-mill pros, just the elite of world golf.
Home Coming
Spain's top-ranked player Jon Rahm is in the field, having made the journey from Georgia to the country of his birth to tee-up in the national open.
The world No 4 overcame a slow start at Augusta to finish a highly credible fourth but in the low-key surroundings of a Spanish Open, may struggle to raise his game following his strong run at the year's first Major championship.
On his most recent trip to Spain last October, Rahm missed the cut at Valderrama by three shots.
The other leading Spaniard to travel across the Atlantic is Rafa Cabrera-Bello who played all four days at Augusta and will now return to Madrid where, on this course nine years ago, he finished in a tie-for-43rd.
Cabrera-Bello first came to prominence as a 17-year-old amateur in 2002 when he finished fourth in the Spanish Open behind champion Sergio Garcia.
This will be his 10th event in 13 weeks so could be a little tired, especially after a long flight back to Europe.
Other Spaniards
Two other Spanish golfers who will fancy their chances on home soil are Pablo Larrazabal and Jorge Campillo.
Larrazabal's last four Tour starts read 4th-4th-44th-3rd, while Campillo has posted a brace of top-five finishes during the early months of 2018.
The 31-year-old, who tied-10th on this course in 2009, would love to secure a maiden Tour title this week following four runner-up finishes during his career.
Foreign Challenge
Meanwhile, among the many non-home players teeing-up on Thursday are Paul Dunne, Stephen Gallacher, Richie Ramsey and Mikko Korhonen.
Dunne has just returned from the PGA Tour where he registered back-to-back top 10 finishes, including an impressive T-8 in Houston.
Gallacher, who is showing signs of improved form, has had a brace of top-10s in his last three starts, and was eighth when contesting the Spanish Open at this course 11 years ago.
Ramsey, though not in great form, has a decent record in Spain while many followers of golf are waiting for Korhonen to make that breakthrough following four podium finishes on the European Tour during the past 18 months.
The most recent of these came at the Tshwane Open in March.
| Player | W14 | W13 | W12 | W11 | W10 | W9 | W8 | W7 | W6 | W5 | W4 | W3 |
| --- | --- | --- | --- | --- | --- | --- | --- | --- | --- | --- | --- | --- |
| Jon Rahm | 4 | | 52 | | | 20 | | | 26 | 11 | 29 | 1 |
| Rafael Cabrera-Bello | 38 | MC | 36 | | | 3 | 29 | 26 | 26 | | 6 | 40 |
| Yusaku Miyazato | MC | | 52 | | | 60 | | | 11 | 27 | 5 | 40 |
| Paul Dunne | | 8 | 5 | | | 55 | | | MC | | MC | 19 |
| Hideto Tanihara | | | | | 12 | | 28 | | 65 | 5 | MC | 68 |
| Seung-Su Han | | 52 | 5 | | | | 13 | 4 | 58 | | 29 | 27 |
| Eddie Pepperell | | | | | | | 1 | 44 | | MC* | MC | MC |
| Matt Wallace | | | | | 1 | | 19 | 44 | | MC | 37 | 32 |
| George Coetzee | | | | | | 1 | 8 | 13 | | | MC | MC |
| Thorbjorn Olesen | | | | | | | MC | | 10 | MC | 29 | 53 |
| Jorge Campillo | | | | | | 27 | | 4 | | 2 | MC | 14 |
| Fabrizio Zanotti | | | 50 | | | | 45 | 7 | | 60 | MC | 9 |
| Victor Dubuisson | | | | | | | | | | | | |
| Ryan Fox | | | | | | MC | | | 26 | 3 | MC | 32 |
| Pablo Larrazabal | | | | | 4 | | 4 | 44 | | 3 | MC | MC |
| Dave Horsey | | | | | | | 13 | MC | | 34 | 22 | MC |
| Alexander Bjork | | | | | | MC | 19 | 12 | | MC | 6 | MC |
| Jordan Smith | | | | | | | MC | 26 | | 69 | MC | 61 |
| Dean Burmester | | | | 3 | | 30 | | 4 | | MC | 22 | 40 |
| Andrew Johnston | | | | | 2 | | | 12 | MC | 27 | 45 | 9 |
| Nicolas Colsaerts | | | | | | | 34 | | | | 51 | 32 |
| Darren Fichardt | | | | 1 | | 70 | MC | MC | MC | | MC | 40 |
| Mike Lorenzo-Vera | | | | | | | 10 | MC | | 17 | MC | 40 |
| Richie Ramsay | | | | | | | MC | | | 62 | 6 | 40 |
| Scott Jamieson | | | | | MC | 7 | 61 | | | 17 | 51 | MC |
| Andy Sullivan | | | | | | | 34 | 16 | | 17 | 6 | 53 |
| Jeung-Hun Wang | | | | | 40 | | MC | 26 | | 62 | 6 | 15 |
| Soren Kjeldsen | | | | | | | | MC | | 39 | MC | 48 |
| Adrian Otaegui | | | | | | | 10 | 12 | | 39 | 22 | 40 |
| Richard Sterne | | | | | | 21 | 45 | 37 | | | 67 | 19 |
| Erik Van Rooyen | | | | | MC | 10 | 59 | 18 | 52 | | | |
| David Lipsky | | | | | | 48 | | | 77 | 17 | 6 | MC |
| Renato Paratore | | | | | MC | | 4 | MC | | MC | MC | MC |
| Matthew Southgate | | | | | | | MC | 9 | | 62 | 57 | MC |
| Jason Scrivener | | | | | 40 | | 19 | MC | 26 | MC | 6 | 48 |
| Matthieu Pavon | | | | | | | 28 | 31 | | 11 | Dq | MC |
| Graeme Storm | | | | | 60 | | | MC | | 50 | MC | MC |
| Gavin Green | | | | | 16 | 64 | | 68 | | 39 | 45 | 8 |
| Daisuke Kataoka | | | | | | | | 56 | 40 | 23 | MC | MC |
| Julien Guerrier | | | | | MC | 38 | MC | 3 | 33 | | | |
| Phachara Khongwatmai | | | | | MC | | MC | 37 | | 17 | 57 | MC |
| Marcus Kinhult | | | | | MC | MC | 3 | 16 | | | | |
| Aaron Rai | | | | | 9 | MC | 19 | 37 | 26 | | MC | |
| Callum Shinkwin | | | | | | | 19 | 56 | | | MC | MC |
| Tapio Pulkkanen | | | | | | MC | MC | 23 | | | | |
| Adam Bland | | | | | | 18 | MC | MC | 73 | MC | | MC |
| Andrew Dodt | | | | | MC | 45 | | | 65 | 55 | 29 | MC |
| Thomas Detry | | | | | | | 39 | 31 | | 23 | 22 | 9 |
| Mikko Korhonen | | | | | | 3 | MC | MC | | | 61 | 22 |
| Clement Sordet | | | | | 12 | 54 | MC | 37 | | | | |
| Jin Ho Choi | | | | | 9 | 29 | 72 | MC | | | | |
| Nacho Elvira | | | | | 40 | | 39 | MC | | MC | MC | MC |
| Robert Rock | | | | | 12 | | MC | 7 | | MC | MC | MC |
| Stephen Gallacher | | | | | 7 | | 39 | 9 | | 39 | 57 | 61 |
| Marc Warren | | | | | 53 | | 53 | 63 | | 67 | MC | MC |
| Brandon Stone | | | | | | 60 | MC | MC | | MC | MC | 61 |
| Oliver Fisher | | | | | Wd | | 2 | 44 | | MC | MC | MC |
| Austin Connelly | | | | | | | | | 80 | 62 | MC | MC |
| Paul Waring | | | | | | | 19 | 44 | | MC | MC | MC |
| Ryan Evans | | | | | 34 | 21 | 61 | 53 | 33 | | | |
| Pedro Oriol | | | | | | 8 | | MC | | | | |
| Nino Bertasio | | | | | MC | MC | MC | 51 | | 5 | 45 | 53 |
| Anthony Wall | | | | | 25 | | MC | MC | | | 22 | MC |
| Thongchai Jaidee | | | | | MC | | 53 | 51 | | 39 | MC | MC |
| Joakim Lagergren | | | | | | | 45 | MC | | MC | MC | 53 |
| Lee Slattery | | | | | | | MC | 31 | | MC | 64 | 61 |
| Alejandro Canizares | | | | | | | | | MC | | 22 | 48 |
| Richard Bland | | | | | | MC | 74 | MC | | | MC | MC |
| Adrien Saddier | | | | | 62 | | MC | MC | MC | | | |
| Chase Koepka | | | | | | Wd | 53 | MC | 58 | | | |
| James Morrison | | | | | 16 | | 45 | MC | | | MC | MC |
| Gregory Bourdy | | | | | | 54 | MC | 31 | | MC | MC | 61 |
| Marcus Fraser | | | | | 60 | 29 | | | 13 | MC | MC | 63 |
| Sam Horsfield | | | | 14 | | 2 | MC | MC | 4 | | MC | |
| David Drysdale | | | | | MC | MC | MC | 23 | | | | MC |
| Jacques Kruyswijk | | | | | | 29 | 39 | MC | 8 | | | 69 |
| Jens Dantorp | | | | | 16 | 21 | MC | 59 | 73 | | | |
| Jamie Donaldson | | | | | 34 | | 59 | MC | | | 45 | MC |
| Robert Karlsson | | | | | | | 76 | MC | | MC* | 51 | 32 |
| Ashun Wu | | | | | 53 | | 28 | MC | | | 37 | 22 |
| Sihwan Kim | | | | | 3 | MC | | | | 62 | 21 | MC |
| Chris Hanson | | | | | MC | | 53 | MC | | MC* | 6 | MC |
| Bradley Dredge | | | | | | | 45 | MC | | | | |
| Maximilian Kieffer | | | | | | 48 | MC | 23 | | 11 | 32 | MC |
| Sebastian Heisele | | | 44 | | | | 8 | MC | MC | | | |
| Oliver Farr | | | | | MC | MC | 39 | 59 | | | | |
| Thomas Aiken | | | | | | 8 | MC | MC | | | 51 | MC |
| Nick Cullen | | | 25 | | | 7 | | MC | 18 | 7 | | |
| Trevor Fisher | | | 8 | 7 | | MC | | 27 | | | | |
| Steven Brown | | | | | 16 | MC | 39 | MC | 49 | | | |
| Lorenzo Gagli | | | 1 | | | 29 | 34 | MC | MC | | | |
| Brett Rumford | | | | | | 62 | | MC | 40 | | 37 | |
| Florian Fritsch | | | | | | | MC | 24 | | | | |
| Edoardo Molinari | | | | | 57 | | 72 | 16 | | MC | 45 | MC |
| Ricardo Gouveia | | | | | 16 | 29 | 61 | MC | | | MC | 53 |
| Matthias Schwab | | | 8 | | 4 | 29 | 61 | MC | 33 | | | |
| Lasse Jensen | | | | | Wd | | MC | MC | | | 37 | 27 |
| Richard McEvoy | | | | | | MC | | 65 | MC | | | |
| Gregory Havret | | | | | 23 | | 4 | MC | | | 37 | 67 |
| Carlos Pigem | | | | | MC | | MC | MC | | MC* | MC | 53 |
| Jeff Winther | | | | | | 21 | MC | 21 | | | | |
| Gavin Moynihan | | | MC | | | MC | MC | MC | MC | | | |
| Charlie Ford | | | | | | 66 | MC | 26 | 65 | | | |
| Tano Goya | | | Wd | | | | | | | | | |
| Alvaro Quiros | | | | | | | 19 | MC | | MC | MC | 61 |
| Jason Norris | | | | | MC | MC | | | MC | 70 | MC | MC |
| Tom Lewis | | | MC | | | | | | MC | | | |
| Zander Lombard | | | | | | MC | MC | 65 | 21 | | MC | MC |
| Matteo Manassero | | | | | 57 | | MC | 31 | | 55 | MC | 30 |
| Felipe Aguilar | | | 53 | | | 4 | MC | MC | MC | | | |
| Ashley Chesters | | | | | 30 | MC | 45 | MC | | | 51 | MC |
| Daniel Brooks | | | | | | Wd | MC | Wd | | | MC | MC |
| Ben Evans | | | 14 | | | MC | MC | MC | MC | | | |
| Scott Fernandez | | | | | 34 | MC | 19 | 37 | MC | | | |
| Bradley Neil | | | | | | MC | MC | 63 | 77 | | | |
| Birgir Hafthorsson | | | MC | | | | | | | | | |
| Adri Arnaus | | | MC | | | | 21 | | | | | |
| Julien Quesne | | | 18 | | | 63 | | | | | | |
| Gonzalo F`dez-Castano | | MC | MC | | | | 4 | MC | 8 | MC | 4 | MC |
| Daniel Im | | | | | MC | | 77 | 53 | | 73 | 65 | Dq |
| Paul Lawrie | | | | | | | 61 | 61 | | | MC | MC |
| Nico Geyger | | | 3 | | | MC | 34 | 12 | MC | | | |
| Marco Iten | | | 63 | | | | 15 | MC | | | | |
| Pep Angles | | | | | | MC | MC | 69 | 40 | | | |
| Christofer Blomstrand | | | 60 | | | 38 | | MC | MC | | | |
| Mark Foster | | | | | | MC | 13 | MC | 79 | | | |
| James Heath | | | | | | MC | MC | MC | MC | | | |
| Christiaan Bezuidenhout | | | MC | | | 17 | 28 | 44 | MC | | | |
| Laurie Canter | | | 8 | | | 21 | MC | MC | 49 | | | |
| Andrea Pavan | | | | | | MC | 13 | 16 | 15 | | | |
| Raphael Jacquelin | | | | | MC | MC | 53 | 44 | | | | MC |
| Henric Sturehed | | | MC | | | MC | MC | MC | | | MC | |
| Tom Murray | | | MC | | | MC | | | MC | | | |
| Pontus Widegren | | | | | | MC | 78 | MC | MC | | | |
| Jonathan Thomson | | | MC | | | 72 | MC | 65 | MC | | | |
| Stuart Manley | | | 28 | | | | | | | | | |
| Soomin Lee | | | | | 53 | 48 | 74 | 37 | | 39 | MC | MC |
| Eduardo De La Riva | | | | | | | | | | | | |
| Samuel Del Val | | MC | MC | | MC | | | | MC | MC | 16 | 9 |
| Matthew Baldwin | | | 28 | | | 38 | 10 | MC | MC | | | |
| David Howell | | | | | MC | 21 | 61 | | | | | |
| Connor Syme | | | MC | | | 11 | MC | 37 | MC | | MC | |
| Simon Khan | | | | | | | MC | | | | | |
| Ross McGowan | | | 14 | | | MC | MC | MC | MC | | | |
| Matthew Nixon | | | 44 | | | MC | 13 | MC | MC | | | |
| Niclas Fasth | | | | | | | | | | | | |
| Rak Hyun Cho | | | | | | MC | 34 | MC | 65 | | | |
| Javi Colomo | | | | | MC | | | | MC | 34 | MC | MC |
| Sebastien Gros | | | | | 25 | 4 | 45 | MC | 40 | | | |
| Marcel Schneider | | | MC | | | MC | 70 | MC | MC | | | |
| Sebastian R Garcia | | | | | | | | | | | | |
| Santiago Tarrio | | | | | | | 19 | 32 | | | | |
| Josh Geary | | | | | | MC | MC | MC | MC | MC | | |
| Angel Hidalgo | | | | | | | | | | | | |
| Oscar Serna | | | | | | | | | | | | |
| Alfredo Garcia-Heredia | | | | | | | | | | | | |
| Javier Sainz | | | | | | | | | | | | |
| Alejandro Del Rey | | | | | | | | | | | | |
| Player | 2009 | 2007 |
| --- | --- | --- |
| Jon Rahm | | |
| Rafael Cabrera-Bello | 43 | MC |
| Yusaku Miyazato | | |
| Paul Dunne | | |
| Hideto Tanihara | | |
| Seung-Su Han | | |
| Eddie Pepperell | | |
| Matt Wallace | | |
| George Coetzee | | |
| Thorbjorn Olesen | | |
| Jorge Campillo | 10 | |
| Fabrizio Zanotti | 10 | |
| Victor Dubuisson | | |
| Ryan Fox | | |
| Pablo Larrazabal | Ret | |
| Dave Horsey | 37 | |
| Alexander Bjork | | |
| Jordan Smith | | |
| Dean Burmester | | |
| Andrew Johnston | | |
| Nicolas Colsaerts | | 65 |
| Darren Fichardt | | MC |
| Mike Lorenzo-Vera | 10 | |
| Richie Ramsay | MC | |
| Scott Jamieson | | |
| Andy Sullivan | | |
| Jeung-Hun Wang | | |
| Soren Kjeldsen | | |
| Adrian Otaegui | | |
| Richard Sterne | | |
| Erik Van Rooyen | | |
| David Lipsky | | |
| Renato Paratore | | |
| Matthew Southgate | | |
| Jason Scrivener | | |
| Matthieu Pavon | | |
| Graeme Storm | MC | 14 |
| Gavin Green | | |
| Daisuke Kataoka | | |
| Julien Guerrier | | |
| Phachara Khongwatmai | | |
| Marcus Kinhult | | |
| Aaron Rai | | |
| Callum Shinkwin | | |
| Tapio Pulkkanen | | |
| Adam Bland | | |
| Andrew Dodt | | |
| Thomas Detry | | |
| Mikko Korhonen | | |
| Clement Sordet | | |
| Jin Ho Choi | | |
| Nacho Elvira | | |
| Robert Rock | | MC |
| Stephen Gallacher | | 8 |
| Marc Warren | 61 | |
| Brandon Stone | | |
| Oliver Fisher | 23 | 44 |
| Austin Connelly | | |
| Paul Waring | 37 | |
| Ryan Evans | | |
| Pedro Oriol | MC | |
| Nino Bertasio | | |
| Anthony Wall | 7 | |
| Thongchai Jaidee | 67 | |
| Joakim Lagergren | | |
| Lee Slattery | 53 | Ret |
| Alejandro Canizares | 32 | MC |
| Richard Bland | 43 | 23 |
| Adrien Saddier | | |
| Chase Koepka | | |
| James Morrison | | |
| Gregory Bourdy | 53 | 8 |
| Marcus Fraser | MC | 58 |
| Sam Horsfield | | |
| David Drysdale | 3 | 44 |
| Jacques Kruyswijk | | |
| Jens Dantorp | | |
| Jamie Donaldson | MC | |
| Robert Karlsson | | |
| Ashun Wu | | |
| Sihwan Kim | | |
| Chris Hanson | | |
| Bradley Dredge | 23 | 17 |
| Maximilian Kieffer | | |
| Sebastian Heisele | | |
| Oliver Farr | | |
| Thomas Aiken | | |
| Nick Cullen | | |
| Trevor Fisher | | |
| Steven Brown | | |
| Lorenzo Gagli | | |
| Brett Rumford | MC | |
| Florian Fritsch | | |
| Edoardo Molinari | | |
| Ricardo Gouveia | | |
| Matthias Schwab | | |
| Lasse Jensen | | |
| Richard McEvoy | | 66 |
| Gregory Havret | MC | |
| Carlos Pigem | | |
| Jeff Winther | | |
| Gavin Moynihan | | |
| Charlie Ford | | |
| Tano Goya | MC | |
| Alvaro Quiros | 37 | MC |
| Jason Norris | | |
| Tom Lewis | | |
| Zander Lombard | | |
| Matteo Manassero | | |
| Felipe Aguilar | MC | |
| Ashley Chesters | | |
| Daniel Brooks | | |
| Ben Evans | | |
| Scott Fernandez | | |
| Bradley Neil | | |
| Birgir Hafthorsson | | |
| Adri Arnaus | | |
| Julien Quesne | | |
| Gonzalo F`dez-Castano | 37 | 44 |
| Daniel Im | | |
| Paul Lawrie | 53 | 31 |
| Nico Geyger | | |
| Marco Iten | | |
| Pep Angles | | |
| Christofer Blomstrand | | |
| Mark Foster | | 4 |
| James Heath | | MC |
| Christiaan Bezuidenhout | | |
| Laurie Canter | | |
| Andrea Pavan | | |
| Raphael Jacquelin | 21 | |
| Henric Sturehed | | |
| Tom Murray | | |
| Pontus Widegren | | |
| Jonathan Thomson | | |
| Stuart Manley | | |
| Soomin Lee | | |
| Eduardo De La Riva | MC | |
| Samuel Del Val | | |
| Matthew Baldwin | | |
| David Howell | MC | |
| Connor Syme | | |
| Simon Khan | 32 | MC |
| Ross McGowan | 1 | |
| Matthew Nixon | | |
| Niclas Fasth | 23 | 31 |
| Rak Hyun Cho | | |
| Javi Colomo | | |
| Sebastien Gros | | |
| Marcel Schneider | | |
| Sebastian R Garcia | | |
| Santiago Tarrio | | |
| Josh Geary | | |
| Angel Hidalgo | | |
| Oscar Serna | | |
| Alfredo Garcia-Heredia | MC | |
| Javier Sainz | | |
| Alejandro Del Rey | | |
Discover the latest articles
Read past articles