South African Open 2018: Latest course and form guides for this week's event in Johannesburg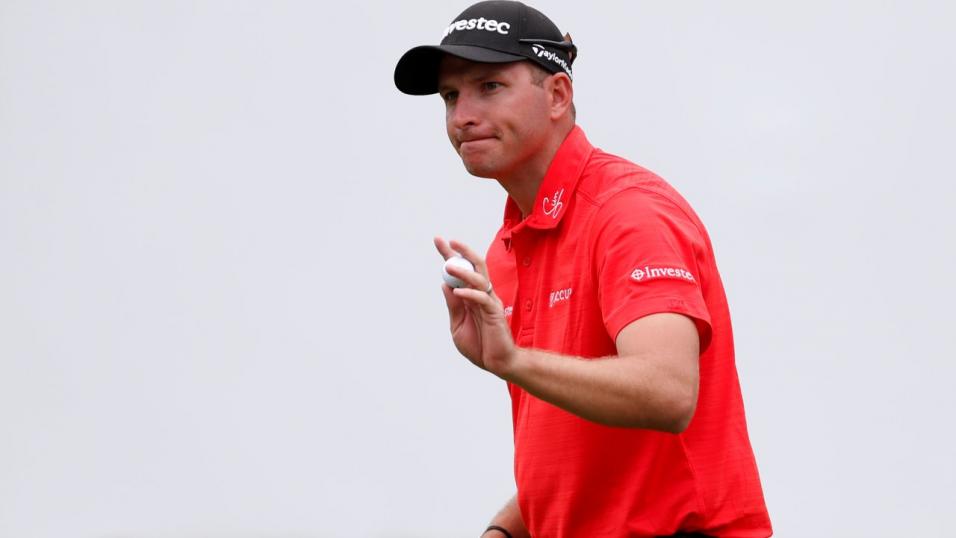 Dean Burmester: All seven of his career victories have come in southern Africa
Check out the stats ahead of this week's South African Open at Randpark, with course and current form guides compiled by Andy Swales...
"Dean Burmester tied-fourth at last month's DP World Tour Championship in Dubai and usually plays well on home soil."
Most of South Africa's leading pros are teeing-up in Johannesburg to contest the country's national open.
Dylan Frittelli, Branden Grace, Louis Oosthuizen and Charl Schwartzel are all in action and part of a massive 240-player field taking part over Randpark's two courses - Firethorn and Bushwillow.
In fact, the leading 10 South Africans in the current World Ranking are among the entries for this historic open which was first staged in 1903.
On Thursday and Friday, the golfers will play one round on each course, before the longer and tougher Firethorn becomes the sole focus for rounds three and four.
This will be the same format as used for last year's Joburg Open, which was held at Randpark and featured another hefty-size field.
Home Strength
In addition to the four golfers mentioned above, there may be better value from the likes of Dean Burmester, Darren Fichardt, Justin Harding and Erik Van Rooyen.
Burmester tied-fourth at last month's DP World Tour Championship in Dubai and usually plays well on home soil.
Another usually strong performer in home-based tournaments is 43-year-old Fichardt, a five-time winner on the European Tour.
Fichardt was runner-up at Randpark when the South African Open was held here 18 years ago.
Harding, meanwhile, has won four times during 2018, twice on Africa's Sunshine Tour and twice in Asia.
As for Van Rooyen, the 28-year-old has been a little off form of late but was second at Randpark when it hosted the Joburg Open 12 months ago.
One other home player to consider is Thomas Aiken, whose form has improved recently despite being 294 in the world.
Aiken tied-10th in Turkey last month and might well be a sound each-way bet.
Overseas Challenge
Matt Wallace is the highest-ranked non-South African teeing-up on Thursday, while Chris Paisley defends the title he won at Glendower in January.
American Sean Crocker continues to rise up the World Ranking and is currently at 184, having started 2018 outside the top 750.
He travels to Johannesburg from the Gold Coast, where he tied-ninth at the Australian PGA Championship on Sunday.
And heading even further down the list you'll find Tapio Pulkkanen who stood on the podium at Randpark last December and during the last couple of months has posted a brace of top-10s on the European Tour.
Open History
This will be the third South African Open to be staged at Randpark, and first since 2000.
When the club hosted the Joburg Open 12 months ago, Firethorn measured almost 7,600 yards, more than 450 yards longer than Bushwillow.
Randpark Golf Club, which opened its doors in 1940, is a lush, parkland venue located in the norther suburbs of Johannesburg.
Twitter: Andy Swales@GolfStatsAlive
MC* - Missed Additional 54-Hole Cut
Note: List contains leading reserves
Note: Course Form Is From 2017 Joburg Open held at Randpark
| Player | W48 | W47 | W46 | W45 | W44 | W43 | W42 | W41 | W40 | W39 | W38 | W37 |
| --- | --- | --- | --- | --- | --- | --- | --- | --- | --- | --- | --- | --- |
| Louis Oosthuizen | | | | 3 | | | 29 | 5 | 32 | | | |
| Matt Wallace | | | 2 | 5 | 47 | 50 | | 16 | 28 | | 44 | |
| Branden Grace | | | 34 | 11 | | 41 | 48 | 50 | 55 | | | |
| Shaun Norris | 15 | MC | 53 | 3 | 1 | | | 2 | 14 | 9 | 4 | |
| Dylan Frittelli | 5 | | 7 | 21 | | 54 | | | 25 | | 39 | 9 |
| Charl Schwartzel | | | | 41 | | | 70 | MC | | | 40 | |
| Justin Harding | 4 | 14 | | | | 46 | | 43 | 10 | 4 | 2 | 65 |
| John Catlin | MC | 62 | | | | 54 | | 22 | 1 | 17 | 9 | 8 |
| Brandon Stone | | | 57 | 60 | 72 | 46 | | MC | 10 | | | 10 |
| Joachim B Hansen | 36 | 45 | | | 13 | | MC | 10 | | | 28 | 14 |
| Victor Perez | 14 | 3 | | | 2 | | 1 | 7 | | | 4 | 14 |
| Erik Van Rooyen | | | 26 | 60 | 35 | 22 | | MC | MC | | | 11 |
| Dean Burmester | | | 4 | 11 | 47 | | | 48 | MC | | | |
| Chris Paisley | | | 34 | 9 | 33 | | | | 24 | | 8 | MC |
| Scott Vincent | | | 59 | | | 37 | | 66 | | 7 | 13 | 2 |
| Dimitrios Papadatos | 19 | | 2 | 9 | Dq | | 42 | 50 | | | MC | 37 |
| Darren Fichardt | | | 55 | 9 | 23 | | 71 | 29 | 48 | | | 74 |
| Bernd Wiesberger | MC | | | | | | | | | | | |
| Kurt Kitayama | 1 | 45 | | | | | | | | 13 | 4 | 19 |
| Kim Koivu | 47 | | | | 17 | | MC | | MC | | 7 | MC |
| George Coetzee | 28 | | | 41 | 58 | 50 | | MC | MC | | 20 | 44 |
| Sean Crocker | 9 | | | | 5 | | 3 | 3 | 17 | | | 3 |
| Jack Singh Brar | MC | 30 | | | 17 | | 5 | 37 | | | | 41 |
| Pablo Larrazabal | | | | 27 | 18 | | MC | 56 | 56 | | MC* | 11 |
| Paul Peterson | 55 | MC | | | | | 16 | | MC | | MC | 41 |
| Scott Jamieson | | | | | | | | 63 | MC | | 20 | 68 |
| Kalle Samooja | | MC | | | 32 | | MC | 1 | MC | | 17 | 57 |
| Grant Forrest | 7 | 36 | | | 10 | | 26 | 2 | | | 10 | MC |
| Sebastian Soderberg | | | | | 22 | | 18 | 10 | | | MC | 24 |
| Masahiro Kawamura | 5 | MC | | | | 2 | 2 | 38 | | 51 | 16 | |
| Liam Johnston | MC | 72 | | | 17 | | MC | 32 | MC | | | 1 |
| Hyo Won Park | 39 | 20 | | 38 | 1 | 2 | | | | | 27 | 11 |
| Stuart Manley | 44 | | | | 42 | | 26 | MC | 46 | | 24 | MC |
| Tapio Pulkkanen | | | | 50 | 10 | | MC | MC | 4 | | 63 | MC |
| Khalin H Joshi | MC | | | | | 1 | | | 41 | MC | | 56 |
| Richard Sterne | MC | | | 21 | 60 | | Wd | 22 | MC | | 16 | |
| Peter Karmis | | | | | | 11 | | | 48 | 24 | | 10 |
| Ajeetesh Sandhu | 28 | 57 | | | | 3 | | | MC | | 60 | MC |
| David Drysdale | 65 | 5 | | | | | 29 | 63 | MC | | MC | 6 |
| Alex Haindl | 28 | | | | 27 | 11 | MC | | | 1 | | MC |
| Matthieu Pavon | 2 | | | 60 | 68 | | | MC | 20 | | 44 | MC |
| Adilson Da Silva | 20 | 30 | | | | 8 | | | 27 | 1 | 9 | MC |
| Oliver Wilson | MC | | | | 22 | | 12 | 26 | 1 | | | Wd |
| Callum Shinkwin | | | | | | | 29 | MC | MC | | MC | |
| Haydn Porteous | 47 | 36 | | | | | MC | 56 | MC | | 20 | 28 |
| Thomas Aiken | 23 | 19 | | 55 | 10 | | 16 | 68 | MC | | MC* | |
| Lorenzo Gagli | MC | 20 | | | 30 | | MC | MC | | | MC | MC |
| Steven Brown | | MC | | | | | 42 | 16 | MC | | MC | MC |
| Robert MacIntyre | MC | 57 | | | 6 | | 2 | 47 | 4 | | MC | MC |
| Neil Schietekat | MC | | | | | 11 | 24 | | | 2 | | 1 |
| David Lipsky | MC | 45 | | | | | 22 | 34 | MC | | 63 | MC |
| Clement Sordet | 11 | MC | | | | | 58 | 16 | 28 | | 40 | MC |
| Jaco Ahlers | 47 | | | | | 33 | MC | | MC | 4 | | 5 |
| Berry Henson | 28 | 20 | | | | | | 72 | 57 | 2 | | 47 |
| Pedro Figueiredo | 23 | | | | 13 | | 35 | 32 | MC | | 24 | 33 |
| Marc Warren | | | | | | | 11 | 34 | MC | | 63 | MC |
| Jose-Filipe Lima | MC | | | | 6 | | 58 | MC | | | 58 | 13 |
| Jeung-Hun Wang | 28 | 45 | | | 64 | | 29 | 29 | MC | | | 36 |
| Connor Syme | MC | | | | | | 58 | | MC | | MC | 57 |
| Mink Yu Kim | MC | | | | 21 | | 26 | 62 | | | | 20 |
| Romain Langasque | 23 | | | | 4 | | 35 | MC | | | 1 | 5 |
| Daniel Van Tonder | MC | | | | 10 | 9 | 31 | | | 43 | | 32 |
| Juvic Pagunsan | | MC | | 51 | 46 | 43 | | 13 | 27 | 4 | MC | |
| Oliver Farr | 40 | | | | | | 22 | 9 | MC | | MC | MC |
| Tom Murray | 9 | | | | 25 | | MC | 15 | | | MC | 2 |
| Jacques Kruyswijk | | | | | | | MC | | MC | | 34 | 46 |
| Malcolm Kokocinski | 36 | MC | | | | | | | 30 | MC | 37 | MC |
| Louis De Jager | MC | | | | | 1 | MC | | MC | | | 2 |
| Austin Connelly | 34 | | | | | | MC | 42 | MC | | MC | 11 |
| Joel Girrbach | 55 | | | | 10 | | 42 | 37 | | | 2 | MC |
| Niklas Lemke | | | | | 6 | | 26 | 4 | 3 | | 28 | 33 |
| Viraj Madappa | 55 | 67 | | | | 39 | | | 4 | MC | MC | MC |
| Yikeun Chang | 20 | 20 | | | | | | | | MC | 16 | 19 |
| Michael G Palmer | MC | | | | 15 | 38 | MC | | | | | 27 |
| Trevor Immelman | | | | 27 | 47 | | | 34 | 44 | | | |
| Zander Lombard | MC | 67 | | | 4 | | MC | 67 | MC | | MC | MC |
| Marcel Schneider | | | | | 25 | | MC | 37 | | | 36 | 53 |
| Justin Walters | MC | | | | | | MC | | MC | | MC | 53 |
| Miguel Carballo | | | | | | MC | | | 27 | MC | | MC |
| Jake Roos | MC | | | | 33 | 19 | MC | | | 2 | | 3 |
| Christofer Blomstrand | 28 | | | | | | MC | | | | MC | MC |
| Rhys Enoch | MC | | | | | 44 | MC | | 9 | | 59 | MC |
| Gonzalo F`dez-Castano | 44 | MC | | | | | 5 | 42 | MC | | 27 | MC |
| Adrien Saddier | MC | | | | | | 29 | 34 | 44 | | 16 | Wd |
| Robert Karlsson | | | | | | | 58 | 34 | MC | | | |
| Edoardo Molinari | MC | 57 | | | | | 22 | 16 | 24 | | | MC |
| Nick Cullen | MC | | | | | | | | | | MC | MC |
| Jeff Winther | | | | | | | 42 | | | | MC | MC |
| Ryan Evans | 64 | | | | | | 42 | Wd | MC | | MC | MC |
| Marco Iten | MC | | | | 13 | | 16 | 32 | 2 | | 53 | MC |
| Keith Horne | 23 | MC | | | 10 | 5 | 4 | | | | MC | MC |
| Max Orrin | | | | | 30 | | 3 | 55 | | | MC | 5 |
| Ewen Ferguson | MC | | | | 35 | | 10 | 15 | 38 | | 13 | 26 |
| JJ Senekal | MC | | | | 38 | MC | 39 | | | | | MC |
| Marcel Siem | MC | | | | | | MC | 42 | MC | | MC | MC |
| Jack Senior | MC | | | | 6 | | MC | 15 | 31 | | 10 | 26 |
| Wen-Chong Liang | MC | | | | | | | | | | | |
| Kristian Krogh Johannessen | MC | | | | 37 | | 26 | MC | | | 6 | MC |
| David Borda Antonana | | | | | | | | | | | | |
| Scott Fernandez | | 30 | | | | | MC | | MC | | MC | MC |
| Guido Migliozzi | MC | | | | | | | | | | | |
| Pavit Tangkamolprasert | 8 | MC | | | | | | | 14 | MC | MC | MC |
| Andre De Decker | MC | | | | | | | | | | | MC |
| Michael Hoey | MC | | | | 22 | | 18 | 26 | MC | | Wd | 5 |
| Matias Calderon | MC | | | | | | | MC | | | | |
| Jacques Blaauw | | | | | 4 | 38 | MC | | | 16 | | 5 |
| Jack Harrison | 36 | | | | | 10 | | | 48 | MC | | 19 |
| Gavin Moynihan | 11 | | | | | | 8 | | 31 | | 40 | 20 |
| Jbe Kruger | 17 | MC | | | 15 | 24 | MC | | 57 | MC | 63 | 25 |
| Rourke Van der Spuy | 47 | | | | | MC | MC | | | | | MC |
| Matteo Manassero | MC | | | | | | MC | 22 | MC | | MC | 57 |
| Alejandro Canizares | | 36 | | | | | 16 | | 59 | | 56 | MC |
| Eirik Tage Johansen | | | | | 10 | | 55 | 21 | | | MC | 26 |
| Ernie Els | 47 | | 37 | 65 | | | 36 | 43 | 48 | | | |
| Henric Sturehed | MC | | | | | | MC | | | | MC | 73 |
| Trevor Fisher | 17 | | | | | MC | 10 | | | MC | | 3 |
| Gregory Bourdy | MC | 70 | | | | | 11 | 34 | MC | | MC | 57 |
| Simon Forsstrom | | | | | 43 | | MC | 37 | | | 17 | 65 |
| Per Langfors | MC | | | | | | | | | | | |
| Christiaan Bezuidenhout | 15 | | | | | | 29 | | 48 | | MC* | MC |
| Jake Higginbottom | MC | 9 | MC | 35 | | 47 | | | 11 | 18 | | 47 |
| Deyen Lawson | MC | 30 | | | | | MC | | 28 | | | |
| Gregory Havret | 39 | | | | | | MC | 22 | MC | | 34 | 41 |
| Borja Virto | | | | | 35 | | 18 | MC | | | MC | MC |
| Vaughn Groenewald | MC | | | | 18 | MC | 31 | | | 16 | | 21 |
| Steve Surry | MC | | | | 1 | | | | | 34 | | MC |
| Jean Hugo | 28 | | | | MC | 19 | 24 | | | 13 | | 7 |
| Merrick Bremner | 63 | | | | | 11 | MC | | | 20 | | MC |
| Matthew Nixon | MC | | | | | | 8 | | | | 44 | 46 |
| Ben Evans | MC | 30 | | | | | 18 | 60 | 31 | | MC | 9 |
| Mathieu Fenasse | | | | | | | 48 | MC | 38 | | MC | 50 |
| Chase Koepka | | | | | | | 58 | MC | MC | | MC | 28 |
| Bryce Easton | MC | | | | | 23 | 10 | | 57 | | | |
| Ockie Strydom | MC | | | | MC | 27 | 10 | | MC | | | 14 |
| Bowen Xiao | 64 | MC | | | | 77 | MC | | 41 | MC | MC | 56 |
| Lyle Rowe | MC | | | | 46 | MC | MC | | | MC | | |
| Hennie Du Plessis | MC | | | | 18 | | MC | | | 34 | | MC |
| Colin Nel | | | | | MC | 44 | MC | | | 24 | | MC |
| Chris Hanson | | | | | | | MC | 48 | MC | | 70 | MC |
| Jarin Todd | MC | 45 | | | | | | | 21 | MC | | MC |
| Ross McGowan | 3 | | | | 40 | | 35 | MC | 48 | | 63 | 53 |
| Combrinck Smit | | | | | MC | MC | 10 | | | MC | | MC |
| Alexander Knappe | 56 | | | | | | MC | MC | MC | | 40 | 41 |
| Keenan Davidse | MC | | | | 27 | 44 | MC | | | 24 | | 12 |
| Tyrone Ryan | 39 | | | | | 27 | | | | | | MC |
| Yan Wei Liu | 28 | 57 | | | | 73 | | 5 | 69 | MC | | |
| Luke Joy | | | | | 10 | 4 | 39 | 34 | | | | MC |
| Laurie Canter | | | | | | | 42 | | MC | | MC | MC |
| Jaco Prinsloo | MC | | | | 43 | 33 | 5 | | | | | 12 |
| Pep Angles | | | | | | | 29 | | 32 | | 12 | MC |
| Ivan Cantero Gutierrez | MC | | | | | | | | | | | |
| Max Schmitt | 7 | | | | | | | | 17 | | Wd | 26 |
| Hennie Otto | 55 | | | | Wd | 5 | 5 | | | 16 | | MC |
| Jean-Paul Strydom | MC | | | | | 44 | MC | | MC | | | MC |
| Garth Mulroy | MC | | | | | 38 | 1 | | | | | |
| Jared Harvey | MC | | | | | MC | MC | | | | | MC |
| Christiaan Basson | | | | | 22 | MC | MC | | | | | 27 |
| Bernd Ritthammer | MC | | | | | | 75 | | 50 | | | |
| S Chikkarangappa | 2 | MC | | | | 19 | | | 52 | MC | | MC |
| Anthony Michael | | | | | 10 | | | | MC | | 17 | 67 |
| Doug McGuigan | MC | | | | 18 | 27 | 31 | | | 11 | | 21 |
| Titch Moore | | | | | 43 | MC | MC | | | 4 | | 36 |
| Ugo Coussaud | | | | | | | | | MC | | MC | MC |
| Duncan Stewart | MC | | | | | | MC | | 38 | | MC | MC |
| Riekus Nortje | | | | | MC | | MC | | | | | MC |
| Cormac Sharvin | MC | | | | | | | | MC | | MC | 53 |
| Daniel Greene | | | | | | | | | | 4 | | 32 |
| Joseph Dean | | | | | | | | | 31 | | | |
| Breyten Meyer | | | | | MC | 2 | MC | | | MC | | MC |
| Martin Wiegele | | | | | | | | | | | MC | 66 |
| Matthew Stieger | 19 | | 28 | MC | | 6 | | | 62 | | | |
| Andre Nel | | | | | 22 | MC | MC | | | 9 | | Wd |
| David Gleeson | MC | | MC | | MC | 71 | | | 30 | | | |
| Toto Thimba | MC | | | | | | | | | | | |
| Jaco Van Zyl | 23 | | | | | | 10 | MC | MC | | MC* | 28 |
| Morten Orum Madsen | | | | | | | | | MC | | MC | MC |
| Jonathan Agren | | | | | 8 | 38 | 8 | | | 37 | | 17 |
| Philip Eriksson | 47 | | | | 3 | MC | MC | | | | | |
| Casey O`Toole | MC | 20 | | | | | | | 48 | | | 44 |
| Fredrik From | | | | | MC | MC | 2 | | | | | |
| Christian Braeunig | | | | | | | | | MC | | 17 | MC |
| Udayan Mane | 61 | | | | | MC | | | MC | | | |
| Ulrich Van Den Berg | MC | | | | 22 | 19 | 35 | | MC | 28 | | |
| Neil O`Briain | | | | | | | | | 55 | | | |
| Carlos Pigem | MC | 62 | | | | | MC | 63 | MC | 40 | MC | MC |
| Tyrone Ferreira | | | | | | 11 | 35 | | | | | 27 |
| Heinrich Bruiners | | | | | MC | MC | 17 | | | MC | | 14 |
| Dawie Van Der Walt | 44 | | | | 38 | MC | 24 | | | | | |
| CJ Du Plessis | | | | | MC | 2 | 24 | | | 7 | | |
| Daniel Gavins | MC | | | | | | | | | | | |
| Christopher Cannon | | | | | 27 | MC | 2 | | | 20 | | |
| Stephen Ferreira | | | | | 27 | MC | 35 | | | | | MC |
| Lionel Weber | 47 | MC | | | | 45 | | | | 18 | | 56 |
| Mark Williams | | | | | | | Wd | | | | | |
| Filippo Bergamaschi | MC | | | | | | | | MC | | 16 | MC |
| Thriston Lawrence | | | | | | 23 | 31 | | | 20 | | |
| Derick Petersen | MC | | | | 2 | MC | MC | | | 44 | | MC |
| Lars Keunen | | | | | | | | | | | | |
| MJ Viljoen | MC | | | | | | | | | MC | | 27 |
| Andrew Curlewis | | | | | | MC | | | | 16 | | MC |
| Ruan De Smidt | MC | | | | 33 | MC | MC | | | MC | | MC |
| Allister De Kock | | | | | 33 | MC | MC | | | MC | | MC |
| Herman Loubser | | | | | 18 | 23 | 38 | | | 11 | | 21 |
| Ryan Cairns | | | | | | 11 | 42 | | | | | |
| Scott Gregory | MC | | | | | | | | | | | |
| Marc Cayeux | MC | | | | | 44 | MC | | | Wd | | 7 |
| Anton Haig | | | | | 47 | 19 | | | | 13 | | MC |
| Kristoffer Reitan | | | | | | | | | | | | |
| Kyle Pilgrim | | | | | | | | | | | | |
| Luke Jerling | | | | | MC | 38 | 5 | | | 20 | | 17 |
| Espen Kofstad | MC | | | | | | | | | | | |
| Jake Redman | | | | | MC | 11 | 10 | | | 29 | | Wd |
| Mathias Gronberg | | | | | | | | | | | | |
| Matt Saulez | | | | | | | | | | | | |
| Jovan Rebula | | | | | | | | | | | | |
| Raphael De Sousa | | | | | | | | | | | | |
| Pieter Moolman | | | | | MC | 38 | MC | | | 24 | | 7 |
| Louis Albertse | | | | | MC | 9 | 24 | | | 29 | | MC |
| Christo Lamprecht | | | | | MC | | | | | | | |
| Clement Berardo | MC | | | | | | | | | | | |
| James Kamte | MC | | | | 22 | 27 | MC | | | 37 | | MC |
| Bae Jong Park | MC | | | | | | | | | | | |
| Wynand Dingle | | | | | 10 | MC | MC | | | | | MC |
| David Boote | MC | | | | | | | | | | | |
| Musiwalo Nethunzwi | | | | | | | MC | | | | | |
| Yubin Jung | | | | | 38 | MC | 17 | | | | | MC |
| Matthew Jordan | MC | | | | | | | | 32 | | MC | 68 |
| Madalitso Muthiya | MC | | | | 4 | 33 | 24 | | | | | |
| Ruan Conradie | | | | | MC | MC | 39 | | | 41 | | MC |
| Rhys West | MC | | | | 4 | MC | MC | | | | | 14 |
| Wallie Coetsee | | | | | MC | 5 | 24 | | | 13 | | MC |
| Player | 2017 |
| --- | --- |
| Louis Oosthuizen | |
| Matt Wallace | 30 |
| Branden Grace | |
| Shaun Norris | 3 |
| Dylan Frittelli | 42 |
| Charl Schwartzel | |
| Justin Harding | MC |
| John Catlin | |
| Brandon Stone | |
| Joachim B Hansen | 6 |
| Victor Perez | 13 |
| Erik Van Rooyen | 2 |
| Dean Burmester | 19 |
| Chris Paisley | |
| Scott Vincent | 30 |
| Dimitrios Papadatos | |
| Darren Fichardt | MC |
| Bernd Wiesberger | |
| Kurt Kitayama | |
| Kim Koivu | |
| George Coetzee | 30 |
| Sean Crocker | |
| Jack Singh Brar | |
| Pablo Larrazabal | |
| Paul Peterson | 8 |
| Scott Jamieson | |
| Kalle Samooja | MC |
| Grant Forrest | MC |
| Sebastian Soderberg | |
| Masahiro Kawamura | MC |
| Liam Johnston | |
| Hyo Won Park | |
| Stuart Manley | 42 |
| Tapio Pulkkanen | 3 |
| Khalin H Joshi | |
| Richard Sterne | |
| Peter Karmis | MC |
| Ajeetesh Sandhu | |
| David Drysdale | MC |
| Alex Haindl | MC |
| Matthieu Pavon | |
| Adilson Da Silva | MC |
| Oliver Wilson | |
| Callum Shinkwin | |
| Haydn Porteous | 49 |
| Thomas Aiken | MC |
| Lorenzo Gagli | MC |
| Steven Brown | 19 |
| Robert MacIntyre | 42 |
| Neil Schietekat | MC |
| David Lipsky | |
| Clement Sordet | |
| Jaco Ahlers | 19 |
| Berry Henson | |
| Pedro Figueiredo | |
| Marc Warren | |
| Jose-Filipe Lima | MC |
| Jeung-Hun Wang | |
| Connor Syme | MC |
| Mink Yu Kim | |
| Romain Langasque | MC |
| Daniel Van Tonder | MC |
| Juvic Pagunsan | |
| Oliver Farr | 49 |
| Tom Murray | MC |
| Jacques Kruyswijk | 49 |
| Malcolm Kokocinski | |
| Louis De Jager | MC |
| Austin Connelly | |
| Joel Girrbach | MC |
| Niklas Lemke | |
| Viraj Madappa | |
| Yikeun Chang | |
| Michael G Palmer | MC |
| Trevor Immelman | |
| Zander Lombard | Dq |
| Marcel Schneider | MC |
| Justin Walters | MC |
| Miguel Carballo | |
| Jake Roos | MC |
| Christofer Blomstrand | 8 |
| Rhys Enoch | |
| Gonzalo F`dez-Castano | |
| Adrien Saddier | 57 |
| Robert Karlsson | |
| Edoardo Molinari | |
| Nick Cullen | |
| Jeff Winther | 27 |
| Ryan Evans | |
| Marco Iten | 30 |
| Keith Horne | MC |
| Max Orrin | |
| Ewen Ferguson | |
| JJ Senekal | 57 |
| Marcel Siem | |
| Jack Senior | |
| Wen-Chong Liang | |
| Kristian Krogh Johannessen | 49 |
| David Borda Antonana | |
| Scott Fernandez | MC |
| Guido Migliozzi | |
| Pavit Tangkamolprasert | |
| Andre De Decker | MC |
| Michael Hoey | |
| Matias Calderon | MC |
| Jacques Blaauw | MC |
| Jack Harrison | MC |
| Gavin Moynihan | MC |
| Jbe Kruger | MC |
| Rourke Van der Spuy | 61 |
| Matteo Manassero | |
| Alejandro Canizares | |
| Eirik Tage Johansen | 30 |
| Ernie Els | |
| Henric Sturehed | MC |
| Trevor Fisher | |
| Gregory Bourdy | |
| Simon Forsstrom | |
| Per Langfors | |
| Christiaan Bezuidenhout | 30 |
| Jake Higginbottom | 27 |
| Deyen Lawson | |
| Gregory Havret | |
| Borja Virto | |
| Vaughn Groenewald | 19 |
| Steve Surry | Dq |
| Jean Hugo | 57 |
| Merrick Bremner | |
| Matthew Nixon | MC |
| Ben Evans | MC |
| Mathieu Fenasse | |
| Chase Koepka | |
| Bryce Easton | MC |
| Ockie Strydom | 30 |
| Bowen Xiao | |
| Lyle Rowe | Dq |
| Hennie Du Plessis | 13 |
| Colin Nel | Dq |
| Chris Hanson | |
| Jarin Todd | MC |
| Ross McGowan | 13 |
| Combrinck Smit | MC |
| Alexander Knappe | MC |
| Keenan Davidse | 67 |
| Tyrone Ryan | 42 |
| Yan Wei Liu | MC |
| Luke Joy | |
| Laurie Canter | MC |
| Jaco Prinsloo | 49 |
| Pep Angles | 49 |
| Ivan Cantero Gutierrez | |
| Max Schmitt | |
| Hennie Otto | 13 |
| Jean-Paul Strydom | MC |
| Garth Mulroy | MC |
| Jared Harvey | MC |
| Christiaan Basson | MC |
| Bernd Ritthammer | |
| S Chikkarangappa | |
| Anthony Michael | MC |
| Doug McGuigan | MC |
| Titch Moore | MC |
| Ugo Coussaud | |
| Duncan Stewart | MC |
| Riekus Nortje | MC |
| Cormac Sharvin | |
| Daniel Greene | 8 |
| Joseph Dean | |
| Breyten Meyer | MC* |
| Martin Wiegele | MC |
| Matthew Stieger | |
| Andre Nel | 72 |
| David Gleeson | |
| Toto Thimba | MC |
| Jaco Van Zyl | |
| Morten Orum Madsen | |
| Jonathan Agren | MC |
| Philip Eriksson | |
| Casey O`Toole | MC |
| Fredrik From | |
| Christian Braeunig | |
| Udayan Mane | |
| Ulrich Van Den Berg | MC |
| Neil O`Briain | |
| Carlos Pigem | 72 |
| Tyrone Ferreira | MC |
| Heinrich Bruiners | Dq |
| Dawie Van Der Walt | MC |
| CJ Du Plessis | |
| Daniel Gavins | |
| Christopher Cannon | 49 |
| Stephen Ferreira | 69 |
| Lionel Weber | 63 |
| Mark Williams | MC |
| Filippo Bergamaschi | |
| Thriston Lawrence | |
| Derick Petersen | |
| Lars Keunen | |
| MJ Viljoen | 30 |
| Andrew Curlewis | 67 |
| Ruan De Smidt | MC |
| Allister De Kock | |
| Herman Loubser | MC |
| Ryan Cairns | MC |
| Scott Gregory | |
| Marc Cayeux | MC |
| Anton Haig | |
| Kristoffer Reitan | |
| Kyle Pilgrim | |
| Luke Jerling | MC |
| Espen Kofstad | MC |
| Jake Redman | MC* |
| Mathias Gronberg | |
| Matt Saulez | |
| Jovan Rebula | |
| Raphael De Sousa | |
| Pieter Moolman | |
| Louis Albertse | |
| Christo Lamprecht | |
| Clement Berardo | |
| James Kamte | MC |
| Bae Jong Park | |
| Wynand Dingle | MC |
| David Boote | |
| Musiwalo Nethunzwi | MC |
| Yubin Jung | |
| Matthew Jordan | |
| Madalitso Muthiya | MC |
| Ruan Conradie | |
| Rhys West | MC |
| Wallie Coetsee | MC |