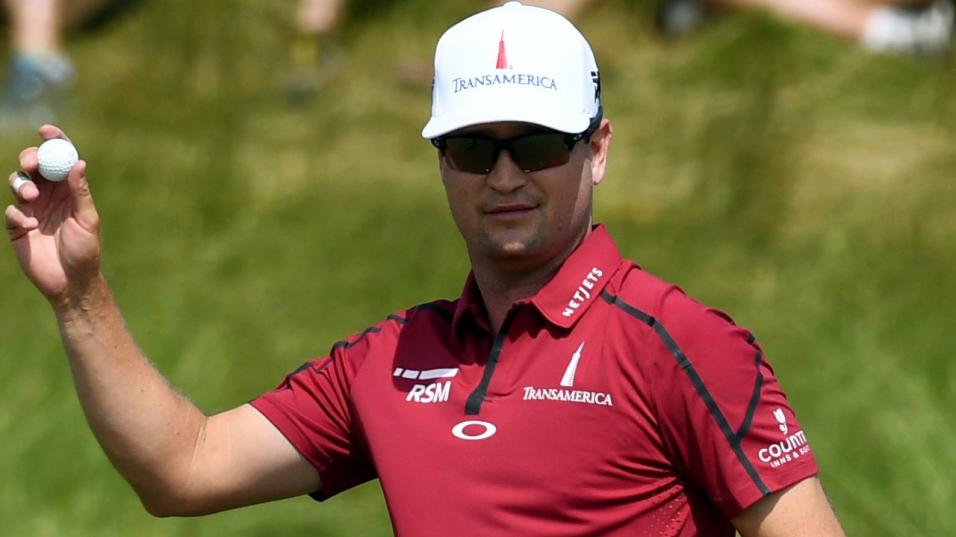 Zach Johnson: A former winner at Waialae and tied-sixth last year
Andy Swales supplies course and current form stats for this week's Sony Open, as the PGA Tour tees-up in Hawaii for a second straight week...
"Waialae has never been a venue where the shorter drivers on Tour have been disadvantaged"
The PGA Tour remains in Hawaii, swapping the island of Maui for Oahu, as it travels around 110 miles north-west to the state capital Honolulu.
The Sony Open of Hawaii, which has been part of the Tour's schedule since 1965, will once again be played at Waialae Country Club - one of the lowest-scoring venues on the calendar.
Designed by Seth Raynor and opened 91 years ago, Waialae's total par was reduced by two strokes, from 72 to 70 in 1999, since when the winning total has only once exceeded 269.
In each of the last two years, more than 30 players have broken 270 at Waialae, with defending champion Justin Thomas setting a new all-time PGA Tour record for 72 holes.
Twelve months ago the young American opened with a 59, before adding further rounds of 64-65-65, for a total of 253 - and an impressive seven-stroke victory.
Last Year's Winner
Thomas is here again on the back of last week's disappointing display at Kapalua - where he was also the defending champion.
He is joined in Honolulu by Jordan Spieth who has also made the journey from Maui where he sneaked into the top 10 on Sunday, following a poor first round at the Tournament of Champions.
Because of the break for Christmas and New Year, those who competed last week over the Plantation Course should hold a distinct advantage over the rest of the field, most of whom haven't swung a competitive club since November.
Brian Harman, who is becoming one of the most consistent performers on the PGA Tour, may be of interest having posted three top-20 finishes on his last three trips to Waialae.
Another who falls into this 'consistency' category is Kevin Kisner who tied-fourth in the Sony Open 12 months ago, and finished in the middle of the pack last week.
Shorter Hitters
Waialae has never been a venue where the shorter drivers on Tour have been disadvantaged.
Among those with good course records are Zach Johnson, who makes a first start in seven weeks, and Charles Howell.
Johnson is a former champion while Howell has had seven top-five finishes but without a win.
One big hitter who does play well here is Gary Woodland, although the 33-year-old from Kansas has not teed-up in almost two months.
In Form
Young Aussie Cameron Smith remains in decent shape, as he attempts to build on his excellent year in 2017 - when he reached a career-high No 56 in the world.
| Player | W1 | W52 | W51 | W50 | W49 | W48 | W47 | W46 | W45 | W44 |
| --- | --- | --- | --- | --- | --- | --- | --- | --- | --- | --- |
| Jordan Spieth | 9 | | | | | 3 | 8 | | | |
| Justin Thomas | 22 | | | | | 11 | | | | |
| Marc Leishman | 7 | | | | | 4 | | | | |
| Xander Schauffele | 22 | | | | | | | 2 | | |
| Kevin Kisner | 17 | | | | | 12 | | 4 | | |
| Brian Harman | 3 | | | | | | | 4 | | |
| Daniel Berger | 11 | | | | | 14 | | | | |
| Tony Finau | | | | | | | | | | 16 |
| Jason Dufner | 11 | | | | | | | | | |
| Si Woo Kim | 10 | | | | | | | MC | 3 | |
| Webb Simpson | | | | | | | | Wd | | 20 |
| Russell Henley | 17 | | | | | | | | | |
| Zach Johnson | | | | | | | | 8 | 23 | |
| Kyle Stanley | 30 | | | | | | | | | |
| Yusaku Miyazato | | | | 4 | | 1 | 8 | 19 | 2 | 12 |
| Satoshi Kodaira | | | | | | 21 | 8 | Wd | 1 | 20 |
| Peter Uihlein | | | | | | | | 10 | Wd | 14 |
| Gary Woodland | | | | | | | | | 34 | 18 |
| Bill Haas | | | | | | | | MC | | |
| Cameron Smith | 17 | | | | | 1 | 4 | | | |
| Charles Howell | | | | | | | | MC | 4 | |
| Wesley Bryan | 27 | | | | | | | 9 | | |
| Jimmy Walker | | | | | | | | | | MC |
| Keegan Bradley | | | | | | | | | | |
| Emiliano Grillo | | | | | | | | | 9 | |
| Russell Knox | | | | | | | | 37 | 9 | 72 |
| James Hahn | | | | | | | | | | 77 |
| Shugo Imahira | | | | | | 8 | 13 | 6 | 8 | MC |
| William McGirt | | | | | | | | 8 | | 10 |
| Kevin Na | | | | | | | | | | |
| Hudson Swafford | 27 | | | | | | | 29 | | |
| Jamie Lovemark | | | | | | | | MC | | MC |
| Chez Reavie | | | | | | | | | 14 | |
| Sean O`Hair | | | | | | | | MC | | |
| Scott Brown | | | | | | | | MC | 6 | 63 |
| Danny Lee | | | | | | | | MC | 25 | |
| Whee Kim | | | | | | | | MC | 45 | 2 |
| JJ Spaun | | | | | | | | 2 | 14 | 10 |
| Ollie Schniederjans | | | | | | | | MC | | |
| Patton Kizzire | 15 | | | | | | | 45 | 1 | 4 |
| Scott Piercy | | | | | | | | | | 32 |
| Jason Kokrak | | | | | | | | MC | 45 | 20 |
| Luke List | | | | | | | | | MC | 20 |
| Luke Donald | | | | | | | | | | 32 |
| Harold Varner | | | | | | 6 | 41 | 19 | | 63 |
| Austin Cook | 22 | | | | | | | 1 | 50 | 20 |
| Mac Hughes | | | | | | | | MC | MC | |
| Stewart Cink | | | | | | | | 25 | MC | |
| Daisuke Kataoka | | | | 51 | | 28 | 26 | 56 | MC | 29 |
| Robert Streb | | | | | | | | MC | | MC |
| Patrick Rodgers | | | | | | | | MC | 14 | MC |
| Andrew Landry | | | | | | | | 4 | Wd | MC |
| Jim Herman | | | | | | | | 54 | MC | |
| Ryan Armour | 20 | | | | | | | 37 | 55 | 20 |
| Chris Kirk | | | | | | | | 4 | | MC |
| Chris Stroud | 11 | | | | | | | 49 | MC | |
| Morgan Hoffmann | | | | | | | | MC | | MC |
| Kevin Tway | | | | | | | | MC | | 32 |
| Ryan Palmer | | | | | | | | | | |
| Brian Gay | | | | | | | | 3 | 25 | MC |
| Brice Garnett | | | | | | | | 29 | 25 | MC |
| Kelly Kraft | | | | | | | | 22 | | 47 |
| Talor Gooch | | | | | | MC | | MC | 41 | 16 |
| Aaron Baddeley | | | | | | | | MC | 74 | 10 |
| Ted Potter | | | | | | | | 13 | MC | MC |
| Brian Stuard | | | | | | | | 22 | 9 | 57 |
| Aaron Wise | | | | | | | | 13 | MC | 32 |
| Billy Hurley | | | | | | | | MC | MC | MC |
| Smylie Kaufman | | | | | | | | MC | MC | MC |
| Robert Garrigus | | | | | | | | MC | | 32 |
| Ben Silverman | | | | | | | | 8 | MC | 47 |
| Rob Oppenheim | | | | | | | | 61 | 34 | MC |
| Chad Campbell | | | | | | | | MC | | 72 |
| Jonathan Randolph | | | | | | | | 73 | | Wd |
| Dominic Bozzelli | | | | | | | | | | |
| Ben Martin | | | | | | | | 22 | MC | MC |
| Harris English | | | | | | | | MC | MC | MC |
| Sam Ryder | | | | | | | | 61 | MC | MC |
| Sam Saunders | | | | | | | | MC | MC | 57 |
| Matt Jones | | | | | | 30 | 2 | | 50 | MC |
| Stephan Jaeger | | | | | | | | 29 | MC | 20 |
| Abraham Ancer | | | | | | | | Wd | 9 | MC |
| Richy Werenski | | | | | | | | MC | 41 | 51 |
| Vaughn Taylor | | | | | | | | 8 | 41 | MC |
| Nate Lashley | | | | | | | | 49 | MC | MC |
| Jonas Blixt | 31 | | | | | MC | 2 | | | MC |
| Jonathan Byrd | | | | | | | | MC | 61 | MC |
| JT Poston | | | | | | | | MC | 14 | 4 |
| Xin Jun Zhang | | | | | | | | 68 | 20 | MC |
| DA Points | 33 | | | | | | | MC | 75 | MC |
| Martin Piller | | | | | | | | MC | 4 | MC |
| David Hearn | | | | | | | | 17 | | MC |
| Beau Hossler | | | | | | | | 70 | 34 | 7 |
| Adam Schenk | | | | | | | | MC | 34 | 20 |
| Nicholas Lindheim | | | | | | | | 13 | 41 | Wd |
| Cody Gribble | | | | | | | | 27 | | |
| Cameron Tringale | | | | | | | | MC | 25 | MC |
| Michael Thompson | | | | | | | | 17 | | 72 |
| Tyrone Van Aswegen | | | | | | | | 45 | 25 | MC |
| Marty Dou Ze Cheng | | | | | | | | MC | Wd | MC |
| Michael Kim | | | | | | | | MC | | MC |
| Seamus Power | | | | | | | | MC | MC | 41 |
| Kyle Thompson | | | | | | | | MC | MC | MC |
| Johnson Wagner | | | | | | | | 17 | 61 | |
| Blayne Barber | | | | | | | | 25 | 45 | |
| Trey Mullinax | | | | | | | | 37 | | 20 |
| Tatsuya Kodai | | | | | | 23 | 33 | 23 | 47 | 33 |
| Brandon Harkins | | | | | | | | 49 | 25 | 20 |
| Ricky Barnes | | | | | | | | MC | 77 | MC |
| Keith Mitchell | | | | | | | | 54 | 68 | MC |
| Andrew Putnam | | | | | | | | MC | MC | MC |
| Lanto Griffin | | | | | | | | MC | 61 | MC |
| Conrad Shindler | | | | | | | | MC | 50 | |
| Vijay Singh | | | | | | | | | | MC |
| Ryan Blaum | | | | | | | | MC | Wd | 20 |
| Rory Sabbatini | | | | | | | | MC | 77 | MC |
| Tyler Duncan | | | | | | | | 25 | 50 | MC |
| Tom Lovelady | | | | | | | | MC | MC | MC |
| Cameron Percy | | | | | | | | 70 | | |
| Tom Hoge | | | | | | | | 25 | 61 | 7 |
| Zac Blair | | | | | | | MC | MC | 55 | MC |
| Hyung-Sung Kim | | | | | | | 45 | 27 | 36 | 15 |
| Andrew Yun | | | | | | | | MC | MC | MC |
| Matt Atkins | | | | | | | | MC | MC | MC |
| John Huh | | | | | | | | 37 | 25 | 57 |
| Ben Crane | | | | | | | | MC | | MC |
| Fabian Gomez | | | | | | | | 61 | 45 | MC |
| Bronson Burgoon | | | | | | | | 70 | MC | |
| Greg Chalmers | | | | | | 11 | MC | MC | 68 | MC |
| Jon Curran | | | | | | | | MC | MC | MC |
| Jerry Kelly | | | | | | | | | | |
| Ethan Tracy | | | | | | | | MC | 55 | 32 |
| Troy Merritt | | | | | | | | 54 | MC | 51 |
| Joel Dahmen | | | | | | | | 49 | 23 | MC |
| JJ Henry | | | | | | | | 45 | MC | |
| Colt Knost | | | | | | | | | | MC |
| Steve Wheatcroft | | | | | | | | MC | MC | MC |
| Roberto Diaz | | | | | | | | 61 | 25 | 68 |
| KJ Choi | | | | | | | | 37 | | |
| Brett Stegmaier | | | | | | | | MC | 61 | 47 |
| Corey Conners | | | | | | | | 37 | 75 | 68 |
| Peter Malnati | | | | | | | | MC | MC | 32 |
| Matt Every | | | | | | | | MC | 61 | MC |
| John Peterson | | | | | | | | | | |
| Sangmoon Bae | | | | | | | | | MC | MC |
| Mark Wilson | | | | | | | | MC | MC | |
| Omar Uresti | | | | | | | | | | |
| Eric Dugas | | | | | | | | | | |
| Tyler Ota | | | | | | | | | | |
| Player | 2017 | 2016 | 2015 | 2014 | 2013 | 2012 | 2011 | 2010 | 2009 | 2008 |
| --- | --- | --- | --- | --- | --- | --- | --- | --- | --- | --- |
| Jordan Spieth | 3 | | | MC | | | | | | |
| Justin Thomas | 1 | MC | 6 | | | | | | | |
| Marc Leishman | 20 | 28 | 37 | 5 | 9 | | 27 | 20 | 12 | |
| Xander Schauffele | MC | | | | | | | | | |
| Kevin Kisner | 4 | 5 | MC* | MC | | MC | MC | | | |
| Brian Harman | 20 | 13 | 13 | 32 | MC | 59 | | | | |
| Daniel Berger | 45 | 42 | 13 | | | | | | | |
| Tony Finau | 20 | 64 | MC | | | | MC | | | |
| Jason Dufner | MC | 9 | | 29 | | MC | 56 | 20 | MC | |
| Si Woo Kim | | 4 | | | | | | | | |
| Webb Simpson | 13 | 13 | 13 | | 20 | 38 | 46 | MC* | 9 | |
| Russell Henley | 13 | MC | 17 | 51 | 1 | | | | | |
| Zach Johnson | 6 | 9 | 64 | 8 | MC | 54 | MC | 12 | 1 | 32 |
| Kyle Stanley | 36 | 13 | | | 67 | 23 | MC | | | |
| Yusaku Miyazato | MC | 70 | MC | MC | | | | | | 40 |
| Satoshi Kodaira | 49 | MC* | | | | | | | | |
| Peter Uihlein | | | | | | | | | | |
| Gary Woodland | 6 | 13 | 3 | | | | MC | | MC | |
| Bill Haas | 13 | | | | | | | MC | 9 | MC |
| Cameron Smith | 27 | MC* | | | | | | | | |
| Charles Howell | 8 | 13 | 26 | 8 | 3 | 2 | MC | 5 | 4 | MC |
| Wesley Bryan | MC | | | | | | | | | |
| Jimmy Walker | MC | 13 | 1 | 1 | 26 | MC | 4 | MC | 32 | 61 |
| Keegan Bradley | MC | MC | | | 49 | 13 | MC | | | |
| Emiliano Grillo | | 33 | | | | | | | | |
| Russell Knox | 11 | MC | 13 | MC | MC | MC | | | | |
| James Hahn | 36 | 28 | 26 | 46 | 67 | | | | | |
| Shugo Imahira | | | | | | | | | | |
| William McGirt | 49 | 13 | MC* | 46 | | 19 | MC | | | |
| Kevin Na | 36 | 28 | 64 | 8 | MC | MC | 20 | 52 | 5 | 4 |
| Hudson Swafford | 13 | 9 | MC | 8 | | | | | | |
| Jamie Lovemark | 4 | 7 | | MC | | | MC | | | |
| Chez Reavie | 8 | 42 | 26 | | MC | | | MC | 23 | 32 |
| Sean O`Hair | 11 | 42 | MC | MC | | 2 | | MC* | 12 | 50 |
| Scott Brown | 64 | | MC | 68 | | MC | | | | |
| Danny Lee | | 33 | MC | MC | 13 | MC | | | | |
| Whee Kim | MC* | MC* | | | | | | | | |
| JJ Spaun | MC | | | | | | | | | |
| Ollie Schniederjans | 27 | | | | | | | | | |
| Patton Kizzire | | MC | | | | | | | | |
| Scott Piercy | 57 | 13 | 2 | MC | 15 | 23 | | MC | 12 | |
| Jason Kokrak | | | 17 | 20 | 72 | MC* | | | | |
| Luke List | 13 | MC | | | MC | | | | | |
| Luke Donald | | 28 | 51 | | | | | MC | 23 | |
| Harold Varner | MC | 13 | | | | | | | | |
| Austin Cook | | | | | | | | | | |
| Mac Hughes | 27 | | | | | | | | | |
| Stewart Cink | 36 | 42 | 37 | 20 | MC | 29 | | 52 | 32 | |
| Daisuke Kataoka | MC | 33 | | | | | | | | |
| Robert Streb | 49 | | 17 | 68 | 73 | | | | | |
| Patrick Rodgers | MC | | | | | | | | | |
| Andrew Landry | | | | | | | | | | |
| Jim Herman | 10 | MC* | MC* | MC | MC | | MC | | | |
| Ryan Armour | | | | | | | | | | MC |
| Chris Kirk | MC | MC | 26 | 2 | 5 | 38 | 30 | | | |
| Chris Stroud | | MC | MC | 20 | MC | 13 | | | 45 | |
| Morgan Hoffmann | MC | 13 | 51 | 65 | 67 | | | | | |
| Kevin Tway | MC | | | MC | | | | | | |
| Ryan Palmer | MC | 13 | 17 | 8 | 66 | MC | 52 | 1 | | |
| Brian Gay | 13 | MC | | 32 | 31 | 6 | 13 | 25 | 5 | 40 |
| Brice Garnett | | | MC | 38 | | | | | | |
| Kelly Kraft | 27 | | | | | | | | | |
| Talor Gooch | | | | | | | | | | |
| Aaron Baddeley | | | | | | | 34 | | | MC |
| Ted Potter | | | | MC | MC | 13 | | | | |
| Brian Stuard | 45 | | MC | 6 | 5 | | | 25 | | |
| Aaron Wise | | | | | | | | | | |
| Billy Hurley | 20 | | MC | 38 | | MC* | | | | |
| Smylie Kaufman | MC | | | | | | | | | |
| Robert Garrigus | | 33 | | | | | MC | | MC | MC |
| Ben Silverman | | | | | | | | | | |
| Rob Oppenheim | | MC | | | | | | | | |
| Chad Campbell | MC* | 67 | MC | | 41 | MC* | 13 | 8 | | 10 |
| Jonathan Randolph | | | MC* | | | | | | | |
| Dominic Bozzelli | | | | | | | | | | |
| Ben Martin | 36 | 50 | 51 | 38 | | | MC | | | |
| Harris English | MC | 56 | 3 | 4 | 9 | 67 | | | | |
| Sam Ryder | | | | | | | | | | |
| Sam Saunders | | MC | MC | | | | | | | |
| Matt Jones | | | 70 | | 15 | | MC | MC | | 17 |
| Stephan Jaeger | | | | | | | | | | |
| Abraham Ancer | | | | | | | | | | |
| Richy Werenski | 49 | | | | | | | | | |
| Vaughn Taylor | 57 | | | | | | | | MC | 25 |
| Nate Lashley | | | | | | | | | | |
| Jonas Blixt | MC | MC | | | MC | 54 | | | | |
| Jonathan Byrd | | | | MC | | MC | 34 | MC* | | MC |
| JT Poston | 64 | | | | | | | | | |
| Xin Jun Zhang | | | | | | | | | | |
| DA Points | | | | 51 | | 6 | | MC | 76 | |
| Martin Piller | | | | | | | MC | | | |
| David Hearn | MC | MC* | 51 | 38 | 31 | 10 | MC | | | |
| Beau Hossler | | | | | | | | | | |
| Adam Schenk | | | | | | | | | | |
| Nicholas Lindheim | MC | | | | | | | | | |
| Cody Gribble | MC | | | | | | | | | |
| Cameron Tringale | | | | MC | MC | MC | MC | MC | | |
| Michael Thompson | 20 | 56 | | MC | MC | 6 | MC | | | |
| Tyrone Van Aswegen | MC | 64 | | 61 | | | | | | |
| Marty Dou Ze Cheng | | | | | | | | | | |
| Michael Kim | 20 | MC | | | | | | | | |
| Seamus Power | 49 | | | | | | | | | |
| Kyle Thompson | | | | | | MC | | | | MC |
| Johnson Wagner | MC | MC | MC | MC | MC | Won | MC | MC | MC | |
| Blayne Barber | | | 60 | | | | | | | |
| Trey Mullinax | 57 | | MC | | | | | | | |
| Tatsuya Kodai | | | | | | | | | | |
| Brandon Harkins | | | | | | | | | | |
| Ricky Barnes | MC | 56 | MC | 38 | 20 | MC | | 62 | MC | |
| Keith Mitchell | | | | | | | | | | |
| Andrew Putnam | | | MC | | | | | | | |
| Lanto Griffin | | | | | | | | | | |
| Conrad Shindler | | | | | | | | | | |
| Vijay Singh | 57 | 50 | MC | MC | 20 | 46 | MC | 52 | | 45 |
| Ryan Blaum | MC* | | | | | | | | | |
| Rory Sabbatini | 45 | MC | 6 | MC | 59 | 29 | 13 | 39 | 12 | 2 |
| Tyler Duncan | | | | | | | | | | |
| Tom Lovelady | | | | | | | | | | |
| Cameron Percy | MC* | | MC | | 59 | | | MC | | |
| Tom Hoge | | MC | MC* | | | | | | | |
| Zac Blair | 57 | 3 | 6 | | | | | | | |
| Hyung-Sung Kim | MC* | MC | 30 | 65 | | | | | | |
| Andrew Yun | | | | | | | | | | |
| Matt Atkins | | | | | | | | | | |
| John Huh | 27 | 33 | MC* | MC* | 31 | 53 | | | | |
| Ben Crane | MC | MC | | | | | | | | |
| Fabian Gomez | 72 | 1 | MC* | | 67 | | MC | | | |
| Bronson Burgoon | | MC* | | | | | | | | |
| Greg Chalmers | MC | | | 51 | | | | | MC | |
| Jon Curran | 69 | MC | MC | | | | | | | |
| Jerry Kelly | MC | 9 | 6 | 3 | MC | 29 | 9 | Wd | 23 | 3 |
| Ethan Tracy | | | | | | | | | | |
| Troy Merritt | MC | MC | 30 | MC | | | MC | 20 | | |
| Joel Dahmen | | | | | | | | | | |
| JJ Henry | MC | 70 | 30 | | MC | | | | | |
| Colt Knost | MC | MC* | 17 | | MC | 23 | 34 | | MC | |
| Steve Wheatcroft | | 67 | MC | | | MC* | | MC | | |
| Roberto Diaz | | | | | | | | | | |
| KJ Choi | MC | 50 | 44 | 20 | MC | 38 | MC | 39 | 12 | 1 |
| Brett Stegmaier | | MC | | | | | | | | |
| Corey Conners | | | | | | | | | | |
| Peter Malnati | 27 | MC* | | 38 | | | | | | |
| Matt Every | MC | | Dq | 8 | MC | 6 | | | | |
| John Peterson | MC | | 37 | 20 | | | | | | |
| Sangmoon Bae | | | 51 | 32 | 58 | 29 | | | MC | |
| Mark Wilson | | MC | MC* | 51 | MC | MC | 1 | 20 | MC | 25 |
| Omar Uresti | | | | | | | | 8 | | MC |
| Eric Dugas | | | | MC* | | MC | | | | |
| Tyler Ota | | | | | | | | | | |