Sky Sports British Masters 2018: European Tour form guide ahead of Walton Heath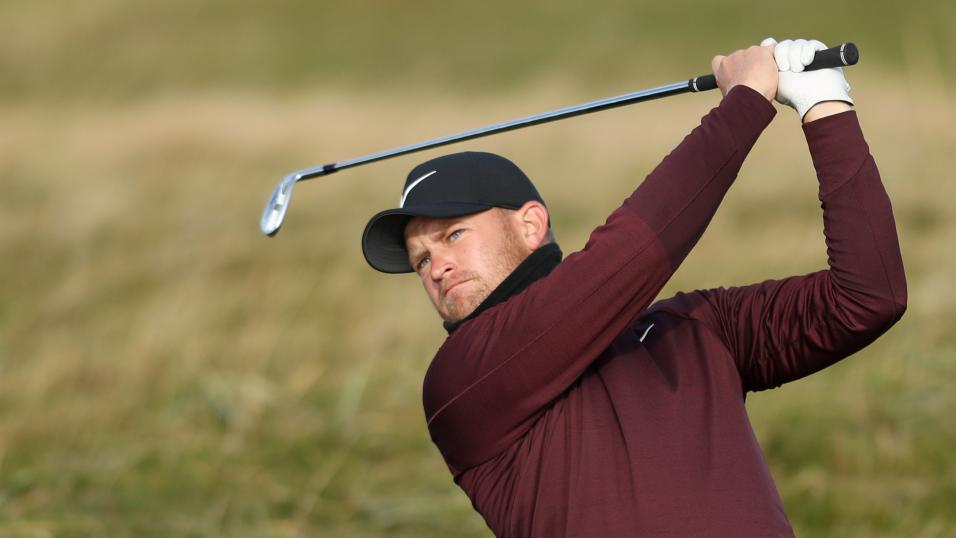 Tom Lewis brings some very strong form to Walton Heath
Andy Swales supplies the stats for this week's Sky Sports British Masters in Surrey ...
"Tommy Fleetwood's high level of consistency has been relentless during 2018 but has been without a victory since Abu Dhabi in January."
The European Tour returns to Walton Heath for the first time in more than 25 years.
Located deep in the Surrey countryside, just inside the M25 and around 20 miles south of central London, this famous old course will host this week's Sky Sports British Masters.
Despite not being part of the Tour schedule since the early 1990s, Walton Heath is a course familiar with many of today's leading golfers.
For the past 14 years, it has been used as a venue for US Open qualifying and in 2005 New Zealander Michael Campbell successfully survived 36 holes over Walton Heath's Old and New courses before lifting the trophy at Pinehurst in North Carolina.
In existence since 1903, the Old Course is not overly laden with sand, although its bunkers are certainly strategically positioned.
Water is not an issue but with a number of subtle doglegs, as well as plenty of scrubland and trees to penalise any errant shots, accuracy from the tee will be of paramount importance this week.
That said, low scores will certainly be up for grabs for anyone who successfully navigates their way around this heathland layout.
Return Of The Hero
After one week's well-earned rest, Francesco Molinari is back in action and the Italian will be warmly received by the Surrey crowds.
During a momentous year for the 35-year-old, he has claimed The Open, the prestigious PGA at Wentworth, tasted glory on American soil and, more recently, won all five matches as Europe regained the Ryder Cup.
His playing partner in France, Tommy Fleetwood, also tees-up. The Englishman's high level of consistency has been relentless during 2018 but has been without a victory since Abu Dhabi in January.
Meanwhile, a rejuvenated Tom Lewis, now 27, continues to make up for lost time.
Combining results on the European and Challenge tours, Lewis has posted six top 10s from his last eight starts, which include a victory on each tour.
Finding His Tour Feet
Another talented pro is Andrea Pavan who is starting to show he can perform well on all types of courses, following his top-six finish at last week's Dunhill Links event where he tied-for-fifth alongside Hao Tong Li.
It was the young Chinese golfer's first top 10 since winning in Dubai at the start of the year.
Andrew Johnston may not be in the best of form, but could find inspiration in the knowledge he has qualified for the last three US Opens thanks to some strong performances at Walton Heath.
Matt Wallace has also recently twice qualified for the US Open via the Surrey route, while South African Brandon Stone remains in good shape since winning the Scottish Open in July.
Twitter: Andy Swales@GolfStatsAlive
MC* - Missed Additional 54-Hole Cut
List Includes Reserves
| Player | W40 | W39 | W38 | W37 | W36 | W35 | W34 | W33 | W32 | W31 | W30 | W29 |
| --- | --- | --- | --- | --- | --- | --- | --- | --- | --- | --- | --- | --- |
| Justin Rose | | | 4 | | 2 | 2 | MC | | 19 | | | 2 |
| Francesco Molinari | | | 21 | | 8 | | MC | | 6 | 39 | | 1 |
| Tommy Fleetwood | 2 | | 11 | | 8 | 24 | 20 | | 35 | 14 | 6 | 12 |
| Matthew Fitzpatrick | MC | | | | 1 | 7 | | 36 | MC | 48 | | MC |
| Thorbjorn Olesen | | | 20 | | | 20 | | 4 | 56 | 3 | | 12 |
| Eddie Pepperell | 44 | | 2 | 6 | | 56 | 9 | | 59 | | | 6 |
| Hao Tong Li | 5 | | 27 | 24 | MC | | | | Wd | 39 | | 39 |
| Matt Wallace | 28 | | 44 | | 51 | 1 | 36 | | 19 | | | MC |
| Charl Schwartzel | | | 40 | | 8 | | MC | | 42 | 31 | 9 | MC |
| Ross Fisher | 32 | | 40 | MC | 59 | | | | 65 | 17 | | 39 |
| Julian Suri | | | 21 | 53 | | 16 | 35 | 41 | 19 | | | 28 |
| Chris Wood | MC | | 12 | 2 | 23 | | | | MC | | | 28 |
| Ryan Fox | 24 | | 27 | MC | 30 | | | | 27 | | | 39 |
| Shane Lowry | MC | | 6 | | | | | MC | 12 | 15 | 12 | MC |
| Adrian Otaegui | MC | | | 24 | MC | 10 | | | 65 | | 68 | |
| Alexander Bjork | MC | | | | Wd | | | MC | MC | 48 | | MC |
| Alexander Levy | 32 | | MC | 20 | 56 | | | | MC | | 13 | MC |
| Lucas Bjerregaard | 1 | | 20 | | 2 | 6 | 9 | Wd | | | 39 | |
| Paul Dunne | MC | | 44 | MC | MC | | | | MC | 66 | | 67 |
| Mike Lorenzo-Vera | MC | | | MC | 3 | | | | 65 | | 19 | |
| Joost Luiten | | | | | | | | | | | | |
| Brandon Stone | 10 | | | 10 | | | | | 12 | 53 | | 61 |
| Tom Lewis | 10 | | 1 | 3 | 1 | 65 | 6 | 29 | | 3 | MC | 47 |
| Lee Westwood | | | | 36 | 12 | 2 | 61 | | | | | 61 |
| Mikko Korhonen | | | 12 | 24 | 45 | | MC | | MC | | | |
| Lucas Herbert | 7 | | 2 | 28 | | MC | 44 | 5 | | 18 | 29 | 51 |
| Erik Van Rooyen | MC | | | 11 | 35 | 5 | | | MC | | | 17 |
| Andy Sullivan | 10 | | 20 | 28 | 30 | | | | MC | | | MC |
| Richard McEvoy | MC | | MC | 15 | 16 | 37 | | 34 | | | 1 | 1 |
| Andrea Pavan | 5 | | | 20 | MC | | 1 | 6 | | | | |
| Hideto Tanihara | MC | | MC | 3 | 6 | 37 | | MC | | | 5 | MC |
| Marcus Kinhult | 20 | | 4 | | 56 | 49 | | 45 | | | | 61 |
| Darren Fichardt | 48 | | | 74 | 8 | | 2 | | | | | |
| Dean Burmester | MC | | | | MC | MC | MC | | | | | |
| Martin Kaymer | MC | | | 15 | MC | MC | | 61 | 42 | | | MC |
| George Coetzee | MC | | 20 | 44 | 35 | | | | | | | MC |
| Jordan Smith | 32 | | 27 | 10 | | 20 | 36 | | MC | | 64 | MC |
| Matthew Southgate | MC | | MC | 24 | 30 | 20 | | 10 | | | | 67 |
| Joakim Lagergren | MC | | MC | MC | MC | 45 | | 34 | | | | |
| Benjamin Hebert | 32 | | MC | 11 | 23 | | 44 | 24 | | | | |
| Harold Varner | 14 | | | | | | 40 | 53 | | | 17 | |
| Wade Ormsby | MC | | | 20 | MC | | | | | 39 | | |
| Thomas Detry | 48 | | MC | 3 | MC | 7 | | 13 | | | 13 | |
| Kim Koivu | MC | | 7 | MC | MC | | 1 | 68 | 1 | 29 | 64 | |
| Andrew Johnston | | | 34 | MC | 35 | | MC | 10 | | | | |
| Scott Jamieson | MC | | 20 | 68 | 35 | | 4 | 42 | | | 13 | MC |
| Nicolas Colsaerts | 10 | | 40 | 64 | 23 | 27 | MC | MC | | | MC | MC |
| Paul Waring | | | MC | MC | MC | | MC | 1 | | | | |
| Gavin Green | MC | | MC | MC | 12 | MC | 3 | | | 64 | | 61 |
| Pablo Larrazabal | 56 | | MC* | 11 | 16 | | | | | | | |
| Nacho Elvira | 10 | | MC* | MC | 4 | | 18 | 24 | | | 54 | |
| Aaron Rai | MC | | MC | MC | MC | | 24 | 24 | | | MC | |
| Soren Kjeldsen | 48 | | 56 | 6 | 12 | 12 | MC | 45 | | | 22 | |
| Padraig Harrington | 7 | | MC | 5 | | | 2 | MC | MC | 50 | | MC |
| Lee Slattery | 20 | | | | 51 | MC | 4 | 10 | | | | |
| Graeme McDowell | MC | | | | | | | 57 | | 44 | 17 | |
| Julien Guerrier | 32 | | 34 | 36 | 23 | MC | 9 | MC | | | 54 | |
| Scott Hend | MC | | MC | Wd | 45 | MC | 70 | | | MC | 19 | |
| Sam Horsfield | MC | | MC | 64 | MC | 10 | | | | | 48 | |
| Renato Paratore | 32 | | 27 | 36 | MC | | 36 | MC | | | 2 | |
| Richie Ramsay | MC | | MC | 46 | MC | 12 | | MC | | | 39 | |
| Dave Horsey | MC | | 44 | 68 | 23 | 56 | | | | | 39 | |
| Jason Scrivener | 24 | | 12 | 15 | MC | 69 | 18 | 61 | | | | |
| Richard Sterne | MC | | 16 | | 43 | 17 | | | | | 39 | |
| Haydn Porteous | MC | | 20 | 28 | 16 | 37 | 36 | 6 | | | MC | |
| Matthieu Pavon | 20 | | 44 | MC | 59 | | MC | 29 | | | 54 | |
| Callum Shinkwin | MC | | MC | | 16 | 20 | 65 | | | | 48 | |
| Robert Rock | 20 | | 34 | | MC | 17 | | 6 | | | | |
| Jens Dantorp | MC | | MC | Wd | MC | MC | | MC | | | | MC |
| Matthias Schwab | 10 | | 27 | MC | MC | MC | 9 | MC | | | 7 | |
| Jeung-Hun Wang | MC | | | 36 | 12 | MC | MC | MC | | | 13 | |
| Phachara Khongwatmai | MC | | 44 | MC | 8 | 12 | 9 | MC | | 25 | 14 | |
| Oliver Fisher | 32 | | 7 | MC | MC | 71 | MC | | | | 39 | |
| Stephen Gallacher | 10 | | 44 | | 23 | 27 | 24 | MC | | | MC | |
| Adam Bland | MC | | | 46 | MC | MC | 18 | 13 | | | | |
| David Lipsky | MC | | 63 | MC | 35 | MC | 50 | | | | 13 | |
| Lorenzo Gagli | | | MC | MC | MC | | 8 | | | | MC | |
| David Drysdale | MC | | MC | 6 | 30 | 34 | MC | MC | | | 9 | |
| Steven Brown | MC | | MC | MC | MC | 2 | MC | MC | | | 54 | |
| Maximilian Kieffer | MC | | MC | 36 | 35 | | 29 | 3 | | | 29 | |
| Romain Wattel | MC | | MC | MC | 43 | 27 | MC | | | | 5 | |
| Jacques Kruyswijk | MC | | 34 | 46 | MC | MC | 7 | 42 | | | | |
| Thomas Aiken | MC | | MC* | | 30 | 71 | MC | 2 | | | 29 | |
| Mikko Ilonen | 32 | | | Wd | MC | | | | | | MC | |
| Connor Syme | MC | | MC | 57 | MC | MC | 50 | 21 | | | 22 | |
| Nino Bertasio | MC | | 69 | 46 | 16 | | 29 | 17 | | | MC | |
| Danny Willett | MC | | 44 | | 59 | MC | 18 | | MC | | | 24 |
| Austin Connelly | MC | | MC | 11 | 45 | MC | 50 | MC | | | MC | |
| Alvaro Quiros | MC | | MC | MC | | | | | | | | |
| Clement Sordet | 28 | | 40 | MC | MC | MC | MC | 17 | | | 64 | |
| Tapio Pulkkanen | 4 | | 63 | MC | MC | MC | 44 | 34 | | | 48 | |
| Marc Warren | MC | | 63 | MC | MC | MC | MC | 17 | | | 22 | |
| Ashley Chesters | 44 | | 16 | 28 | MC | 9 | 59 | 29 | | | MC | |
| Andrew Dodt | MC | | | 46 | MC | MC | MC | | | 6 | 54 | |
| Justin Walters | MC | | MC | 53 | 35 | 27 | 29 | 45 | | 67 | 45 | |
| Jin Ho Choi | MC | | 27 | 57 | MC | 49 | 68 | 42 | | | 29 | |
| Zander Lombard | MC | | MC | MC | MC | MC | | 1 | | | MC | 67 |
| Ryan Evans | MC | | MC | MC | MC | 12 | 50 | 29 | | | MC | |
| Adrien Saddier | 44 | | 16 | Wd | 65 | 56 | MC | MC | | | 54 | |
| Oliver Farr | MC | | MC | MC | MC | 45 | MC | MC | | | 64 | |
| Bradley Dredge | MC | | 16 | 6 | MC | 49 | | 34 | | | 29 | |
| Pedro Oriol | MC | | MC | MC | 59 | 27 | MC | 34 | | | MC | |
| Luke Donald | MC | | | | | | | | | | | |
| Robert Karlsson | MC | | | | 66 | MC | | 17 | | MC | | |
| Trevor Immelman | 44 | | | | | | | | | | | |
| Marcel Siem | MC | | MC | MC | MC | MC | MC | MC | | | 54 | |
| Raphael Jacquelin | MC | | 7 | MC | MC | | 50 | MC | | | MC | |
| Thongchai Jaidee | 32 | | MC | MC | MC | | | | | | 36 | |
| James Morrison | 56 | | MC | MC | 56 | 34 | 36 | 61 | | | 68 | |
| Brett Rumford | MC | | | Wd | MC | 65 | | MC | | | | 61 |
| Jamie Donaldson | MC | | MC | | MC | 65 | 44 | | | | MC | |
| Marcus Fraser | 10 | | | | MC | 56 | | | | 33 | | |
| Edoardo Molinari | 24 | | | MC | 51 | MC | | 68 | | | MC | |
| Scott Fernandez | MC | | MC | MC | MC | 20 | MC | MC | | | 63 | |
| Ricardo Gouveia | MC | | 7 | MC | MC | 37 | MC | 45 | | | MC | |
| Chase Koepka | MC | | MC | 28 | 35 | MC | 61 | MC | | | MC | |
| Sam Brazel | MC | | MC | 28 | MC | MC | MC | | | | | |
| Gonzalo F`dez-Castano | MC | | 27 | MC | MC | | | 60 | 46 | 36 | MC | |
| Daniel Brooks | MC | | MC* | Wd | 5 | MC | MC | MC | | | MC | |
| Matteo Manassero | MC | | MC | 57 | MC | | MC | MC | | | MC | |
| Chris Hanson | MC | | 70 | MC | MC | 45 | 65 | 45 | | | MC | |
| Richard Bland | MC | | 20 | 44 | MC | 56 | 44 | 61 | | | MC | |
| Peter Hanson | 10 | | MC | MC | | MC | 50 | Wd | | | 72 | |
| Gregory Havret | MC | | 34 | 41 | 51 | MC | | 74 | | | MC | |
| Lasse Jensen | MC | | 34 | MC | MC | MC | | MC | | | 29 | |
| Soomin Lee | MC | | 4 | 53 | MC | MC | 29 | MC | | 43 | | |
| Gregory Bourdy | MC | | MC | 57 | MC | MC | MC | MC | | | MC | |
| Jason Norris | MC | | 56 | MC | MC | MC | MC | | | 55 | | |
| Sebastien Gros | MC | | MC | MC | Wd | MC | 70 | 13 | | | 48 | |
| Bradley Neil | MC | | MC | 68 | MC | Wd | 69 | 21 | | | | |
| Jaco Van Zyl | MC | | MC* | 28 | 59 | MC | | MC | MC | | | |
| Rak Hyun Cho | | | MC | MC | MC | MC | 24 | 56 | | | 29 | |
| Thomas Bjorn | | | | | | 69 | | MC | | | MC | |
| Carlos Pigem | MC | 40 | MC | MC | MC | | MC | 61 | | | MC | |
| Daniel Im | MC | | MC | 41 | MC | MC | MC | MC | | MC | | |
| Johan Edfors | | | 70 | 64 | | | 65 | 45 | | | | |
| David Howell | MC | | 63 | MC | MC | MC | 36 | 24 | | | | |
| Pelle Edberg | MC | | MC | | MC | | | | | | | |
| Paul O`Hara | | | | | | | | | | | | |
| Robert Coles | | | | | | | | | | | | |
Discover the latest articles
Read past articles