Shot Clock Masters 2018: Latest course and form stats for this week's event in Austria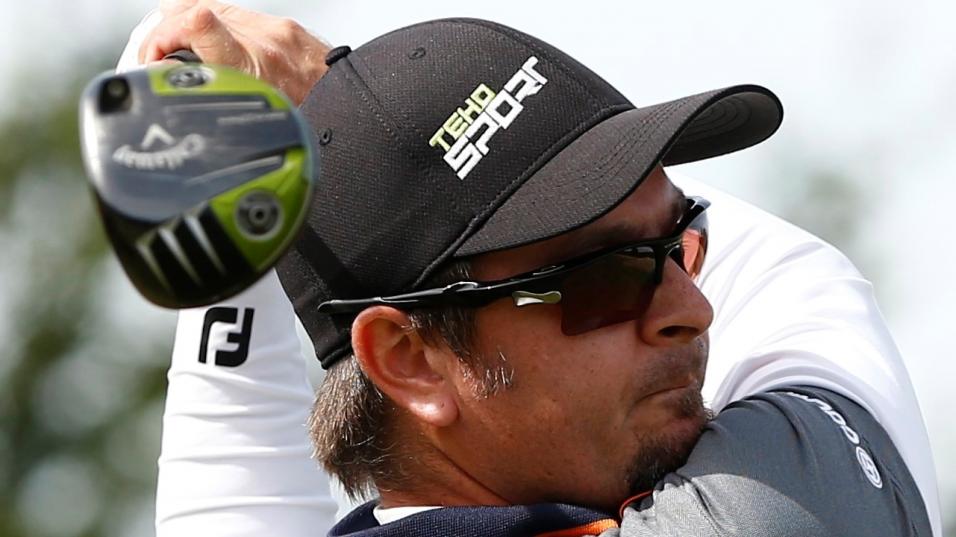 Mikko Korhonen will have less time than normal to enjoy the lush Austrian scenery this week ...
Before placing your bets for the Shot Clock Masters, take a look at our course and current form stats, compiled by Andy Swales ...
"The aim of this event is to try and speed up tournament golf, although whether these rules will have the desired response from spectators and TV viewers alike, remain to be seen."
The European Tour unveils yet another new invention this week, with the inaugural Shot Clock Masters in Austria.
Following in the footsteps of the Perth Super Six and Belgian Knockout tournaments, the Tour takes another step into the unknown with a brand new largely untested format.
As the title of the tournament suggests, all competitors will be subject to the rule of the clock, when given a maximum time frame in which to play their shots.
Any golfer who fails to play a stroke within the allotted period will receive a penalty.
According to the European Tour's website: 'The Shot Clock Masters will be the first tournament in professional golf to use a shot clock on every shot.
'Each player in the 120-man field will have 50 seconds for the first player in a group to play any given shot, 40 seconds for subsequent players.
'Players will incur a one-shot penalty for each bad time incurred and these will be shown as a red card against their name on the leaderboard.
'Each player will have the right to call two 'time-outs' during a round which will permit them twice the usually allotted time to play the shot.
'It is hoped the move will cut round times by around 45 minutes.'
And these rules will be active for all 72 holes.
Brave New World
What is unknown is how these brave guinea pigs, walking the lush fairways of Austria this week, will cope with the added pressure.
It will be interesting to see how many penalty strokes will be slapped on competitors over four days and whether it improves golf's presentation and appeal - or conversely make the sport too error-strewn and sloppy?
The aim of this event is to try and speed up tournament golf, although whether these rules will have the desired response from spectators and TV viewers alike, remain to be seen.
In a bid to win over new young fans, will the organisers end up simply alienating the older and ultimately more long-term followers of the sport?
The only constant this week will be the course, Diamond Country Club, situated around 40 miles north-west of the Austrian capital, and which is staging a Tour event for the ninth time.
Located in Atzenbrugg, this flat parkland course opened in 2000 and now has water coming into play on as many as 13 holes.
Low Quality Field
Unfortunately, partly due to the presence of next week's US Open in New York, the Shot Clock Masters has not attracted a strong field.
The number of golfers inside the world's top 180 teeing-up, does not even reach double figures - that's how mediocre it is.
Good Course Form
Among those who have enjoyed decent performances at Diamond Country Club in the past are Mikko Korhonen, Ashun Wu, Richard McEvoy and Gregory Bourdy.
World No 200 Korhonen has shown plenty of promise in recent years but remains without a victory - on either the European or Challenge tours.
The 37-year-old Finn was runner-up at Diamond last year, one of his four top-25 finishes at the venue.
He also tied-15th at Wentworth two weeks ago, which was a pretty good return in a high-quality field.
Senior Promise
You may also be interested in Miguel Angel Jimenez who plays much of his golf on the senior tours.
From time to time, the 54-year-old Spaniard travels back to the European Tour and last week in Italy tied-14th thanks to a closing 63.
His most recent four events on the European Tour - covering a seventh month period - have all yielded top-20 finishes. So I don't think you can rule him out this week.
Current Form
On current form, Joachim B Hansen and Oscar Lengden have played well in recent Challenge Tour events, while Lee Slattery - third in Italy on Sunday - has posted a brace of top-10s at Diamond.
One other name to conjure with is Italian Lorenzo Gagli who tied-14th on home soil over the weekend.
In addition to some consistent European Tour performances in recent weeks, he has also finished first and second on the Challenge Tour this year.
But the big question this week is whether the members of the European Tour will lovingly embrace a radical new way to stage professional golf, or whether it will simply be a case of Goodnight Vienna. Sorry about that.
MC* - Missed Additional 54-Hole Cut
Twitter: Andy Swales@GolfStatsAlive

| Player | W22 | W21 | W20 | W19 | W18 | W17 | W16 | W15 | W14 | W13 | W12 | W11 |
| --- | --- | --- | --- | --- | --- | --- | --- | --- | --- | --- | --- | --- |
| Dean Burmester | 30 | 12 | | 3 | | MC | Dq | 71 | | | | 3 |
| Wade Ormsby | 71 | MC | | | | MC | 52 | | | | | |
| Erik Van Rooyen | 42 | 20 | 46 | | | MC | 7 | 21 | | | | |
| Dave Horsey | MC | MC | | MC | | | 36 | MC | | | | |
| Nicolas Colsaerts | MC | MC | 7 | | | MC | MC | 28 | | | | |
| Soren Kjeldsen | 42 | MC | 17 | Wd | | | MC | MC | | | | |
| Mikko Korhonen | MC | 15 | | 26 | | | 41 | MC | | | | |
| Ajeetesh Sandhu | | | | MC | 5 | MC | 10 | | | | | |
| Joachim B Hansen | 37 | 7 | 12 | | 9 | Won | | 2 | | | MC | |
| Phachara Khongwatmai | MC | MC | MC | | 12 | 56 | 66 | MC | | | | |
| Daisuke Kataoka | 38 | 27 | 16 | MC | | MC | MC | MC | | | | |
| Oscar Lengden | 4 | 31 | | 35 | 1 | 9 | | 31 | | | 18 | |
| Tapio Pulkkanen | MC | MC | | 63 | | 56 | 36 | 21 | | | | |
| Shiv Kapur | | | | | 29 | 66 | 53 | | | | | |
| Dimitrios Papadatos | 20 | 31 | 17 | 1 | | | | | | | | |
| Paul Waring | MC | 52 | | 11 | | | 9 | 63 | | | | |
| Jin Ho Choi | MC | MC | 31 | | 20 | 7 | MC | 58 | | | | |
| Adam Bland | 23 | MC | 28 | | | MC | MC | MC | | | | |
| Miguel Tabuena | | | | | 55 | 37 | 14 | | | | | |
| Austin Connelly | 51 | MC | MC | 11 | | MC | 13 | 63 | | | | |
| Ryan Evans | 60 | MC | 59 | 11 | | | 46 | MC | | | | |
| Lorenzo Gagli | 14 | | 20 | 20 | | 2 | 36 | MC | | | 1 | |
| Nino Bertasio | MC | 60 | | 70 | | 32 | 59 | 34 | | | | |
| Pedro Oriol | MC | MC | 46 | MC | | | 29 | 39 | | | | |
| Ashun Wu | 60 | 64 | MC | | | 7 | 29 | 34 | | | | |
| Andrea Pavan | MC | 52 | MC | 9 | | 11 | 3 | 21 | | | | |
| Lee Slattery | 3 | MC | | 58 | | MC | 32 | MC | | | | |
| Matthias Schwab | 42 | 10 | 28 | 20 | | | MC | 28 | | | 8 | |
| Chase Koepka | MC | MC | MC | 34 | | | MC | MC | | | | |
| Sebastian Heisele | MC | | MC | MC | | 4 | MC | MC | | | 44 | |
| Matthew Millar | | 31 | MC | 58 | | | | | | | | |
| Marcus Fraser | MC | MC | 34 | MC | | 32 | 22 | 46 | | | | |
| Jbe Kruger | | | MC | 41 | 75 | Wd | 49 | | | | | 5 |
| Oliver Farr | MC | MC | 25 | 26 | | | MC | MC | | | | |
| Mink Yu Kim | 57 | 1 | MC | 35 | 48 | 61 | | MC | | | MC | |
| Jose-Filipe Lima | | 10 | 8 | 2 | | MC | | MC | | | 63 | |
| Grant Forrest | MC | 7 | 2 | MC | | MC | MC | 31 | | | 38 | |
| Nick Cullen | | | 34 | 26 | | | | MC | | | 25 | |
| Jeff Winther | MC | MC | 17 | 14 | | | MC | 34 | | | | |
| Liam Johnston | | MC | 1 | MC | | 17 | | | 25 | 22 | | |
| Gregory Bourdy | MC | MC | | 74 | | MC | 62 | 46 | | | | |
| Trevor Fisher | | | MC | 63 | | | 20 | 67 | | | 8 | 7 |
| Bradley Dredge | 23 | MC | MC | MC | | | 13 | 52 | | | | |
| Richard McEvoy | | | 15 | MC | 34 | | | MC | | | | |
| Tom Lewis | | MC | 59 | 14 | | 9 | | MC | | | MC | |
| Florian Fritsch | 16 | | MC | 63 | | | | MC | | | | |
| Jason Norris | MC | MC | MC | | | 27 | Wd | 58 | | | | |
| Marcus Armitage | MC | | MC | 41 | | 42 | | 2 | | | 58 | |
| Nicholas Fung | | | | MC | 64 | MC | 14 | | 19 | | | |
| Peter Hanson | MC* | MC | MC | | | | MC | | | | | |
| Justin Walters | | | 22 | 34 | | | MC | | | | 66 | 9 |
| Charlie Ford | 23 | MC | MC | MC | | | MC | 63 | | | | |
| Gavin Moynihan | | Wd | MC | | | MC | MC | MC | | | MC | |
| Tano Goya | | | 46 | MC | 15 | 57 | | MC | | | Wd | |
| Johan Carlsson | MC | | MC | MC | MC | | | | | | | |
| Miguel Angel Jimenez | 14 | | | | | | | | | | | |
| Scott Fernandez | MC | 43 | 26 | 34 | | | MC | MC | | | | |
| Ashley Chesters | MC | MC | MC | | | 20 | MC | MC | | | | |
| Bernd Ritthammer | 11 | | MC | 55 | MC | 38 | | 27 | | | 44 | |
| Daan Huizing | 41 | | MC | 35 | MC | | | 12 | | | 28 | |
| Carlos Pigem | MC | MC | | | 20 | MC | MC | MC | | | | |
| Nico Geyger | MC | | 20 | MC | 23 | 4 | MC | MC | | | 3 | |
| Felipe Aguilar | MC | | 59 | MC | 65 | 17 | MC | 28 | | | 53 | |
| Christiaan Bezuidenhout | MC | | 26 | 26 | | 46 | 22 | 28 | | | MC | |
| Siddikur Rahman | | | 43 | 26 | | 6 | MC | | | | | |
| Zander Lombard | MC | MC | MC | 34 | | | MC | MC | | | | |
| Henric Sturehed | | | | Wd | | | 52 | 5 | | | MC | |
| Ben Evans | | | MC | MC | MC | | MC | MC | | | 14 | |
| Jarand Ekeland Arnoy | MC | | MC | MC | MC | 61 | | MC | | | MC | |
| Kim Koivu | 20 | | MC | 13 | MC | 17 | | 1 | | | 14 | |
| Daniel Brooks | 73 | 67 | MC | 48 | | MC | 66 | MC | | | | |
| Johan Edfors | | | | | | | | | | | MC | |
| Bradley Neil | MC | 58 | MC | MC | | MC | MC | 58 | | | | |
| Francesco Laporta | MC | | MC | 7 | MC | 9 | | 27 | | | MC | |
| Mikael Lundberg | | | 35 | MC | 62 | MC | | MC | | | MC | |
| Laurie Canter | 36 | | 31 | 26 | | | 29 | MC | | | 8 | |
| Daniel Im | MC* | MC | MC | 48 | | MC | MC | MC | | | | |
| Ross McGowan | 51 | 46 | MC | MC | 2 | | MC | MC | | | 14 | |
| Kalle Samooja | 11 | | 38 | 58 | MC | MC | | 16 | | | 3 | |
| Pep Angles | MC | | MC | 14 | 48 | | MC | 46 | | | | |
| Lukas Nemecz | 27 | | | 14 | 15 | 61 | | | | | MC | |
| Christopher Mivis | | 40 | 41 | MC | 23 | MC | | 59 | | | MC | |
| Mark Tullo | | | MC | 20 | | | | | | | | |
| Matthew Baldwin | MC | | 9 | 55 | | | MC | 52 | | | 28 | |
| Oscar Stark | MC | | MC | MC | MC | MC | | MC | | | MC | |
| Sebastien Gros | MC | 27 | MC | 48 | | | MC | 12 | | | | |
| Mark Foster | MC | | MC | MC | | | MC | MC | | | | |
| Christofer Blomstrand | 4 | | MC | MC | | | MC | MC | | | 60 | |
| Arnond Vongvanij | | | 63 | 14 | 55 | | MC | | | | | |
| Steve Webster | | | 14 | 26 | | 26 | | | | | | |
| Matt Ford | MC | | 54 | MC | 15 | 32 | | 7 | | | 44 | |
| Duncan Stewart | 33 | | 46 | MC | MC | 53 | | 36 | | | 38 | |
| Raphael Jacquelin | MC | MC | MC | | | | 41 | MC | | | | |
| Pontus Widegren | MC | | MC | Dq | | | 41 | MC | | | | |
| Jonathan Thomson | | | MC | MC | | MC | 66 | 39 | | | MC | |
| Rak Hyun Cho | MC | 64 | 41 | MC | | MC | MC | 12 | | | | |
| Kristian Krogh Johannessen | 2 | | | 34 | MC | MC | | 24 | | | 14 | |
| Connor Syme | MC | | MC | MC | | | 74 | MC | | | MC | |
| Anders Hansen | | | 46 | | | | | | | | | |
| Richard Green | MC | | | | | | | | | | | |
| Josh Geary | 51 | | 10 | MC | | 26 | 46 | MC | | | | |
| David Howell | 42 | MC | | MC | | | 36 | 39 | | | | |
| Marcel Schneider | 1 | 25 | 46 | MC | | MC | 66 | 58 | | | MC | |
| Sepp Straka | 27 | 42 | 56 | MC | | 36 | MC | | | 62 | MC | |
| Jack Munro | | MC | MC | MC | MC | | MC | 43 | | | 28 | |
| Gary Stal | 20 | | MC | MC | 15 | 32 | | MC | | | 18 | |
| Eirik Tage Johansen | | 40 | 19 | 48 | | 42 | | | | | 25 | |
| Matthew Nixon | 16 | | MC | 48 | | 26 | 46 | MC | | | 44 | |
| Ruaidhri McGee | 4 | | 17 | MC | 23 | MC | | | | | MC | |
| Simon Khan | | | | 26 | 38 | 42 | | | | | | |
| Bernard Neumayer | | | | | | | | 70 | | 42 | | |
| Kristoffer Reitan | | | | | | | | | | | | |
| Maarten Lafeber | MC | | MC | MC | | MC | | | | | MC | |
| Markus Brier | | | | | | | | | | | | |
| Petr Dedek | | MC | | | | MC | | | | | | |
| Petr Gal | | MC | | MC | | MC | | | | | | |
| Jeppe Pape Huldahl | 3 | | MC | MC | 23 | 38 | | 18 | | | MC | |
| Berni Reiter | | | | | | 8 | | | | | | |
| Oscar Serna | MC | MC | MC | MC | MC | MC | | | | | | |
| Ben Stow | MC | 55 | | 41 | MC | 53 | | 56 | | | MC | |
| Maximilian Steinlechner | | | | | | | | | | 12 | | |
| Tom McKibbin | | | | | | | | | | | | |
| Player | 2017 | 2016 | 2015 | 2014 | 2013 | 2012 | 2011 | 2010 |
| --- | --- | --- | --- | --- | --- | --- | --- | --- |
| Dean Burmester | | 38 | | | | | | |
| Wade Ormsby | | | | | | 33 | MC | |
| Erik Van Rooyen | | | | | | | | |
| Dave Horsey | 2 | 31 | 38 | 9 | MC | MC | | |
| Nicolas Colsaerts | | | 66 | | | | | MC |
| Soren Kjeldsen | | | | MC | MC | | | |
| Mikko Korhonen | 2 | | 9 | 24 | 45 | | 19 | |
| Ajeetesh Sandhu | | | | | | | | |
| Joachim B Hansen | | MC | | 55 | 47 | | | |
| Phachara Khongwatmai | 28 | | | | | | | |
| Daisuke Kataoka | | | | | | | | |
| Oscar Lengden | | | | | | | | |
| Tapio Pulkkanen | | | | | | | | |
| Shiv Kapur | | MC | | | 10 | MC | | 65 |
| Dimitrios Papadatos | | MC | | | | | | |
| Paul Waring | 52 | | | | 5 | 60 | | |
| Jin Ho Choi | | | | | | | | |
| Adam Bland | | | | | | | | |
| Miguel Tabuena | 47 | | | | | | | |
| Austin Connelly | 20 | | | | | | | |
| Ryan Evans | 38 | MC | 32 | | | | | |
| Lorenzo Gagli | MC | | | | 10 | MC | | |
| Nino Bertasio | 10 | 19 | | | | | | |
| Pedro Oriol | | 51 | 11 | | | | MC | |
| Ashun Wu | 10 | 1 | | | | | | |
| Andrea Pavan | | | MC | | | 58 | | |
| Lee Slattery | MC | 42 | 32 | 4 | 9 | | 54 | |
| Matthias Schwab | 43 | | | | 14 | MC | 45 | 32 |
| Chase Koepka | | | | | | | | |
| Sebastian Heisele | MC | | | | | | | |
| Matthew Millar | | 26 | | | | | | |
| Marcus Fraser | | | | | | | | |
| Jbe Kruger | 2 | 42 | MC | MC | MC | | | |
| Oliver Farr | MC | | | | | | | |
| Mink Yu Kim | | | | | | | | |
| Jose-Filipe Lima | | MC | | MC | | | | MC |
| Grant Forrest | | | | | | | | |
| Nick Cullen | | 10 | | | | | | |
| Jeff Winther | MC | MC | | | | | | |
| Liam Johnston | | | | | | | | |
| Gregory Bourdy | | 6 | 6 | | 8 | 18 | | |
| Trevor Fisher | 52 | | | | 63 | | | |
| Bradley Dredge | | | | 55 | 43 | MC | | |
| Richard McEvoy | 5 | 3 | 38 | | 47 | MC | | |
| Tom Lewis | MC | 26 | | | 30 | | 10 | |
| Florian Fritsch | 28 | 51 | 45 | 17 | | | MC | MC |
| Jason Norris | | | | | | | | |
| Marcus Armitage | 47 | | | | | | | |
| Nicholas Fung | | | | | | | | |
| Peter Hanson | | | | | | | | |
| Justin Walters | | MC | 45 | | MC | | | |
| Charlie Ford | 65 | | | | | | | |
| Gavin Moynihan | | | | | | | | |
| Tano Goya | | 66 | | 32 | | | | Ret |
| Johan Carlsson | 6 | 38 | 32 | MC | | | | |
| Miguel Angel Jimenez | MC | | | 5 | 19 | | 14 | 15 |
| Scott Fernandez | | | | | | | | |
| Ashley Chesters | 28 | | | | | | | |
| Bernd Ritthammer | | | MC | | | MC | | |
| Daan Huizing | | | | | | | | |
| Carlos Pigem | 28 | 26 | 52 | | | | | |
| Nico Geyger | | | MC | | | | | |
| Felipe Aguilar | 10 | | | | | 18 | | |
| Christiaan Bezuidenhout | | | | | | | | |
| Siddikur Rahman | | | | | | | | |
| Zander Lombard | 43 | 5 | | | | | | |
| Henric Sturehed | | | | | | | | |
| Ben Evans | MC | 63 | MC | | | | | |
| Jarand Ekeland Arnoy | | | | | | | | |
| Kim Koivu | | | | | | | | |
| Daniel Brooks | MC | 55 | MC | | MC | | | |
| Johan Edfors | MC | MC | MC | Wd | MC | | | |
| Bradley Neil | | | | | | | | |
| Francesco Laporta | | MC | | | | | | |
| Mikael Lundberg | | 31 | 22 | 1 | 60 | 30 | Ret | |
| Laurie Canter | 57 | MC | | | | | | |
| Daniel Im | 34 | 51 | 70 | 7 | MC | | | |
| Ross McGowan | | Wd | | 48 | | 40 | | |
| Kalle Samooja | | | | | | | | |
| Pep Angles | | | | | | | | |
| Lukas Nemecz | MC | 38 | 73 | 42 | 43 | 49 | MC | MC |
| Christopher Mivis | | | | | | | | |
| Mark Tullo | | | MC | MC | 36 | | | |
| Matthew Baldwin | 23 | MC | | 12 | 25 | | | |
| Oscar Stark | 38 | | | | | | | |
| Sebastien Gros | MC | | | | | | | |
| Mark Foster | 47 | 19 | | MC | | | | |
| Christofer Blomstrand | | | | | | | | |
| Arnond Vongvanij | | | | | | | | |
| Steve Webster | 63 | 19 | Ret | | 25 | 26 | 30 | |
| Matt Ford | MC | 59 | MC | | | | | |
| Duncan Stewart | 34 | | MC | | | | | |
| Raphael Jacquelin | | | | | | | | 9 |
| Pontus Widegren | MC | | | | | | | |
| Jonathan Thomson | | | | | | | | |
| Rak Hyun Cho | | | | | | | | |
| Kristian Krogh Johannessen | | | | | | | | |
| Connor Syme | | | | | | | | |
| Anders Hansen | | | | 32 | | | | |
| Richard Green | MC | | | | MC | | | 11 |
| Josh Geary | | | | | | | | |
| David Howell | | 31 | | | | | | |
| Marcel Schneider | | | 38 | | | MC | | |
| Sepp Straka | 7 | MC | MC | | MC | | | |
| Jack Munro | | | | | | | | |
| Gary Stal | 28 | 6 | 9 | 25 | 52 | | | |
| Eirik Tage Johansen | | | | | | | MC | MC |
| Matthew Nixon | MC | | 22 | 48 | 52 | | MC | |
| Ruaidhri McGee | | | | 25 | | | | |
| Simon Khan | 52 | MC | 22 | | | | | |
| Bernard Neumayer | | MC | | | | | | |
| Kristoffer Reitan | | | | | | | | |
| Maarten Lafeber | | | | | MC | Ret | MC | |
| Markus Brier | MC | | | | MC | MC | MC | 45 |
| Petr Dedek | MC | MC | MC | | | | | |
| Petr Gal | MC | MC | | MC | MC | MC | Ret | |
| Jeppe Pape Huldahl | | | 45 | | | | MC | |
| Berni Reiter | | MC | MC | MC | | | | |
| Oscar Serna | | | | | | | | |
| Ben Stow | | | | | | | | |
| Maximilian Steinlechner | | MC | | | | | | |
| Tom McKibbin | | | | | | | | |
Discover the latest articles
Read past articles