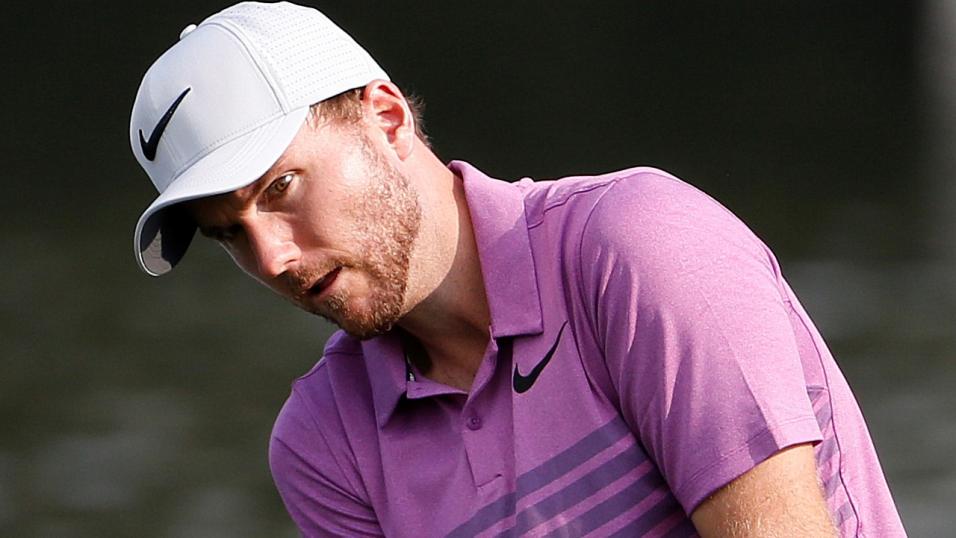 No one teeing-up this week has a better recent record in Houston than defending champ Russell Henley
Andy Swales supplies course and current form stats for this week's Shell Houston Open in Texas ...
"Justin Rose has played extremely well for the past seven months, during which time his 15 starts have produced three victories worldwide, plus 10 other top-10s"
The countdown to The Masters continues, as the PGA Tour remains routed in Texas for this week's Shell Houston Open.
First staged 72 years ago, this long-standing event has been played over the Tournament Course, at the Golf Club of Houston, since 2006.
Opened in August 2005, the Tournament Course can be found 16 miles north-east of downtown Houston, and five miles from George Bush International Airport.
In a bid to attract golf's leading players, tournament organisers have made a conscious effort over the years to provide a course that will replicate many of the conditions the competitors will face when they travel to Augusta National next week.
Fast, smooth putting surfaces, as well as finely cut slopes and banks around the greens, are just some of the features which officials will try to provide for those who tee-up this Thursday.
Laid out in woodland, and open to the public, the course will attempt to scrutinise the short games of all those heading to Georgia the following week.
And similar to Augusta National, water and sand is likely to play a significant role during this week's proceedings.
Water comes into play on around half of the holes, with sizeable bunkers being another feature of this Rees Jones/David Toms-designed layout.
Austin Stay-Aways
Last week's matchplay absentees, Justin Rose, Rickie Fowler and Henrik Stenson, all tee-up on Thursday.
Fowler was tied-for-third 12 months ago, while Stenson has stood on the podium three times at the Tournament Course since 2009.
Rose, meanwhile, has played extremely well for the past seven months during which time his 15 starts have produced three victories worldwide, and 10 other top-10s.
Defending Champion
Last year's winner Russell Henley has a brilliant record at this venue. His last four visits have all yielded top-seven finishes.
Henley also registered highly in three of the main tournament categories last year. He was inside the top six for both Driving Accuracy and Greens in Regulation, while finishing top of the Putting stats.
Another former champion, Phil Mickelson, combines a good course history, with great current form.
Leftie followed up his 2011 triumph with five straight top-20s and, during the current calendar year, his most recent four strokeplay starts have all ended in top-six finishes, including a victory at the WGC event in Mexico.
Texan Star
The only member of the world's top 10 to make the journey from Austin to Houston this week is Texas resident Jordan Spieth.
The 24-year-old from Dallas is yet to post a top-six finish during 2018, but is certainly not performing badly.
Three other golfers to keep an eye on are Daniel Berger, Luke List and Keegan Bradley.
World No 37 Berger has had back-to-back top-fives in Houston; List - who lost a play-off to Justin Thomas in Florida last month - was third here last year; while Bradley is another course specialist who is inside the top-25 for both Driving Accuracy and Greens in Regulation on the PGA Tour this season.
Most PGA Tour Top-25s in Texas since start of 2012
14: Matt Kuchar
13: Ryan Palmer
12: Jordan Spieth
9: Jason Dufner
9: John Huh
9: Phil Mickelson
9: Scott Piercy
8: Bud Cauley
8: Charles Howell
8: Chris Kirk
7: Keegan Bradley
7: Danny Lee
7: Chris Stroud
MC* - Missed Additional 54-Hole Cut
| Player | W12 | W11 | W10 | W9 | W8 | W7 | W6 | W5 | W4 | W3 | W2 | W1 |
| --- | --- | --- | --- | --- | --- | --- | --- | --- | --- | --- | --- | --- |
| Jordan Spieth | 17 | | MC | 14 | | 9 | 20 | MC | | | 18 | 9 |
| Justin Rose | | 3 | 5 | 37 | | | | | 8 | 22 | | |
| Rickie Fowler | | 14 | | 37 | MC | | | 11 | MC | | | 4 |
| Henrik Stenson | | 4 | MC | | | | | 60 | 6 | 8 | | |
| Phil Mickelson | 17 | | | 1 | | 6 | 2 | 5 | 45 | MC | | |
| Matt Kuchar | 9 | | 40 | 58 | | 26 | 62 | 5 | | 32 | | |
| Rafa Cabrera-Bello | 36 | | | 3 | 29 | 26 | 26 | | 6 | 40 | | |
| Daniel Berger | 59 | | | 14 | 29 | MC | | 11 | | | 14 | 11 |
| Tony Finau | 17 | | MC | 27 | | 2 | | MC | 6 | | 32 | |
| Thomas Pieters | 52 | | | 37 | 13 | 68 | | | 32 | 5 | | |
| Jason Dufner | 17 | | MC | 55 | 17 | | | | | 36 | 18 | 11 |
| Chez Reavie | 29 | | MC | 52 | | 73 | 2 | 2 | | 36 | 18 | |
| Jhonattan Vegas | 52 | | | 20 | 72 | MC | | | MC | 11 | | 7 |
| Yuta Ikeda | 29 | MC | | 46 | | | | 39 | 35 | MC | | |
| Russell Henley | 36 | | | 58 | 24 | | 15 | MC | | | MC | 17 |
| James Hahn | 36 | 58 | | | | 14 | 26 | 11 | 45 | 36 | 2 | |
| Peter Uihlein | 17 | 66 | | 37 | MC | 26 | | 52 | MC | 17 | MC | |
| Ian Poulter | 5 | 41 | MC | | MC | | | 52 | 6 | MC | | |
| Charles Howell | 9 | 14 | 40 | | MC | 37 | | | 6 | 20 | 32 | |
| Luke List | 59 | 7 | 16 | | 2 | 26 | | 26 | 12 | MC | MC | |
| Shubhankar Sharma | 59 | | 7 | 9 | MC | MC | | 1 | 61 | 48 | | |
| Keegan Bradley | 36 | 26 | 31 | | 49 | MC | | 43 | 5 | | 39 | |
| Bill Haas | | | 49 | | | | | 26 | 54 | MC | MC | |
| Chesson Hadley | | 49 | MC | | MC | | 35 | 5 | 23 | 42 | | |
| Emiliano Grillo | 50 | 26 | 6 | | 8 | | | 57 | 12 | | 47 | |
| Brandt Snedeker | | MC | 31 | | MC | | 20 | 23 | 45 | MC | | |
| Shane Lowry | | MC | 49 | | 49 | MC | 43 | 65 | MC | | | |
| Byeong Hun An | | 14 | MC | | 5 | | | 23 | 6 | 40 | | |
| Martin Kaymer | | | | | Wd | 53 | | | 19 | 27 | | |
| Lee Westwood | | | | | | | 40 | 11 | MC | MC | | |
| JB Holmes | | 41 | 46 | | 49 | 60 | MC | MC | 4 | | | |
| Jamie Lovemark | | 41 | 16 | | 7 | 26 | | 52 | MC | | MC | |
| Lucas Glover | | 49 | 74 | | 17 | MC | | 43 | 67 | 29 | | |
| Sung Kang | | 58 | 73 | | MC | 16 | | MC | 69 | 63 | | |
| Russell Knox | | 73 | 16 | | MC | | 15 | MC | 29 | 29 | 10 | |
| Ryan Palmer | | | 28 | | MC | | | MC | 2 | 20 | 58 | |
| Sean O`Hair | | 7 | 12 | | MC | 64 | 73 | | 69 | 50 | MC | |
| Jason Kokrak | | MC | 8 | | | 20 | 35 | 31 | | 8 | 47 | |
| William McGirt | | 26 | 16 | | 33 | MC | 26 | MC | | | 65 | |
| Grayson Murray | | 14 | MC | | MC | | 8 | 70 | 75 | 14 | | 22 |
| Bud Cauley | | 14 | MC | | Wd | 20 | | MC | 58 | 14 | | |
| Steve Stricker | | | 12 | | | | 26 | 31 | | | | |
| Scott Piercy | 60 | MC | | | 17 | | 20 | MC | | 6 | 25 | |
| Kevin Streelman | | 41 | MC | | | 41 | 6 | 40 | 29 | 29 | | |
| Patrick Rodgers | 22 | 7 | 59 | | 33 | 26 | 8 | MC | MC | | Wd | |
| Scott Stallings | | MC | 31 | | 29 | 4 | 7 | 23 | MC | MC | | |
| Whee Kim | | MC | 49 | | | MC | | MC | MC | MC | MC | |
| Scott Brown | | MC | 64 | | 46 | MC | MC | MC | | 63 | 65 | |
| Chris Kirk | | 13 | 49 | | 33 | | MC | 11 | 35 | MC | 10 | |
| Ryan Armour | | 77 | 40 | | MC | 64 | 20 | MC | | MC | 39 | 20 |
| Danny Lee | | MC | MC | | Wd | MC | | MC | 58 | MC | MC | |
| Chris Stroud | | | | | 33 | MC | 35 | MC | | 69 | MC | 11 |
| CT Pan | | 41 | MC | | 17 | MC | | 62 | 35 | MC | | |
| Mackenzie Hughes | | 54 | MC | | 59 | | MC | MC | MC | MC | MC | |
| Harold Varner | 45 | | 78 | | 72 | 60 | | 38 | MC | MC | MC | |
| Tom Hoge | | 26 | MC | | MC | 53 | MC | MC | 12 | 57 | 3 | |
| Padraig Harrington | | MC | MC | | MC | 64 | MC | | MC | | | |
| Rory Sabbatini | 43 | | 5 | | 17 | | 72 | 31 | 20 | 69 | 32 | |
| Kelly Kraft | 3 | | 31 | | 8 | 63 | MC | MC | MC | | MC | |
| Aaron Wise | | 41 | 68 | | 33 | MC | 15 | | MC | 17 | MC | |
| Sam Saunders | | MC | 49 | | MC | 26 | 26 | | | 8 | 25 | |
| Robert Streb | MC | MC | MC | | MC | MC | MC | MC | 66 | | MC | |
| Brandon Harkins | | 36 | MC | | | 41 | 15 | MC | 12 | 8 | 25 | |
| Nick Taylor | | MC | MC | | | 41 | MC | 52 | 75 | 20 | | |
| Talor Gooch | | 26 | MC | | MC | 20 | MC | | 51 | 67 | 18 | |
| Beau Hossler | | 66 | MC | | | MC | 43 | 17 | 35 | 20 | MC | |
| Brice Garnett | 1 | | 31 | | MC | MC | 35 | | 35 | 63 | MC | |
| Harris English | 5 | 22 | MC | | 33 | MC | | MC | 8 | 11 | 64 | |
| Brian Stuard | | 36 | MC | | MC | MC | MC | 65 | | MC | 4 | |
| Robert Garrigus | MC | | 31 | | MC | | MC | 52 | 8 | 57 | | |
| Aaron Baddeley | | | 49 | | | 14 | 55 | 26 | MC | | MC | |
| John Huh | | 26 | MC | | 24 | 26 | | 38 | 45 | 3 | MC | |
| Kevin Tway | 28 | 58 | MC | | MC | MC | | 57 | 35 | | 69 | |
| Morgan Hoffmann | | | | | 49 | Wd | | MC | MC | | MC | |
| Alex Cejka | | MC | 40 | | Wd | | 75 | Wd | MC | 50 | | |
| Abraham Ancer | 13 | | 16 | 52 | MC | 68 | | | 20 | 76 | MC | |
| Dominic Bozzelli | | | 31 | | 13 | 26 | MC | MC | | MC | 39 | |
| Martin Piller | | MC | MC | | 67 | 67 | MC | | MC | 3 | MC | |
| Vaughn Taylor | | | | | 59 | 20 | 55 | 11 | | MC | 76 | |
| Rob Oppenheim | 35 | | | | MC | MC | 47 | | MC | 42 | MC | |
| Chad Campbell | | | 31 | | MC | 49 | | 43 | MC | MC | MC | |
| Derek Fathauer | MC | | MC | | 13 | 16 | 62 | 48 | MC | 36 | | |
| Ben Silverman | | | MC | | MC | 53 | MC | 48 | 67 | 77 | MC | |
| Jonas Blixt | | | | | | 41 | MC | MC | MC | | MC | 31 |
| Matt Jones | 28 | | | | | | MC | | MC | MC | 39 | |
| Jonathan Randolph | | | MC | | 68 | MC | 66 | | MC | Wd | 39 | |
| Martin Flores | 13 | | 77 | | 74 | MC | | 21 | 35 | MC | | |
| Adam Schenk | 35 | | 59 | | 29 | 53 | MC | | MC | MC | 39 | |
| Stephan Jaeger | 54 | | 49 | | MC | MC | 43 | | MC | MC | 54 | |
| Jonathan Byrd | 54 | | | | | | 62 | | MC | MC | 25 | |
| Nate Lashley | 28 | | | | MC | | MC | | MC | 29 | 39 | |
| Rod Pampling | | | 59 | | | | 47 | | MC | MC | | |
| Smylie Kaufman | MC | MC | MC | | MC | MC | | MC | MC | 69 | MC | |
| Tom Lovelady | 5 | | MC | | 17 | | MC | MC | 45 | 29 | MC | |
| Tyrone Van Aswegen | | 72 | 28 | | 68 | 68 | 26 | 69 | MC | 36 | 58 | |
| Ryan Blaum | | | 16 | | MC | 60 | 73 | MC | | MC | 10 | |
| Sam Ryder | MC | | 68 | | | | 68 | | MC | 50 | 58 | |
| Nicholas Lindheim | | | MC | | | Wd | MC | | MC | MC | 32 | |
| Richy Werenski | 45 | | MC | | MC | | MC | MC | MC | 29 | MC | |
| DA Points | MC | MC | MC | | | MC | MC | MC | | | 73 | 33 |
| Xin Jun Zhang | 5 | | MC | | MC | MC | 43 | | MC | MC | 25 | |
| Nick Watney | | | 59 | | 33 | | 47 | 26 | 58 | 50 | | |
| JT Poston | 19 | | | | | | 68 | | 73 | MC | | |
| Retief Goosen | 35 | | MC | | MC | 53 | | MC | 12 | | 20 | |
| Michael Thompson | | | | | 24 | | | | MC | | MC | |
| Cody Gribble | | MC | | | MC | MC | MC | 70 | 35 | | MC | |
| Lanto Griffin | 28 | | | | MC | | MC | | 12 | MC | 58 | |
| Seamus Power | 5 | | MC | | MC | | MC | | MC | 11 | 54 | |
| Michael Kim | 43 | | MC | | 57 | MC | | MC | 23 | 50 | MC | |
| Keith Mitchell | 2 | | | | MC | | 47 | | 63 | 69 | 25 | |
| Geoff Ogilvy | 22 | | MC | | | MC | | MC | MC | MC | | |
| Blayne Barber | | | 16 | | MC | | | 67 | | MC | 67 | |
| Cameron Tringale | MC | | | | MC | MC | 47 | MC | 58 | MC | MC | |
| Troy Merritt | 35 | | MC | | 49 | 41 | 8 | | MC | MC | MC | |
| Tyler Duncan | MC | MC | MC | | 24 | MC | MC | MC | MC | MC | MC | |
| Andrew Putnam | 5 | | MC | | MC | | MC | | 54 | 17 | 69 | |
| Shawn Stefani | 13 | | | | MC | MC | MC | | MC | MC | | |
| Kyle Thompson | MC | | | | | | MC | | MC | MC | MC | |
| Johnson Wagner | 70 | | | | | | 55 | | MC | MC | | |
| Camilo Villegas | | MC | MC | | 68 | MC | | 57 | 77 | MC | | |
| Marty Dou Ze Cheng | MC | | MC | | | MC | 55 | | MC | MC | MC | |
| Conrad Shindler | MC | | MC | | | | MC | | MC | MC | 47 | |
| Bronson Burgoon | MC | | | | MC | | 47 | | MC | 42 | MC | |
| Greg Chalmers | MC | | MC | | 17 | 68 | MC | MC | | MC | MC | |
| Ben Crane | 45 | | | | 74 | | MC | | | 42 | | |
| Matt Atkins | 22 | | 56 | | | | MC | | MC | MC | MC | |
| Andrew Yun | MC* | | MC | | | | MC | | MC | MC | MC | |
| JJ Henry | 65 | | 74 | | MC | MC | MC | | 23 | MC | MC | |
| Corey Conners | 13 | | 16 | | 59 | | MC | | 29 | 50 | 39 | |
| Roberto Diaz | MC | | 39 | | 33 | | MC | | 72 | MC | 47 | |
| Joel Dahmen | 13 | | | | 33 | MC | 55 | | MC | MC | 73 | |
| Ethan Tracy | 54 | | | | MC | | MC | | MC | MC | MC | |
| Fabian Gomez | 22 | | 68 | | MC | MC | MC | MC | | MC | MC | |
| Ernie Els | | 49 | 64 | | | MC | MC | | MC | MC | 31 | |
| Jon Curran | | | | | MC | MC | | | | MC | MC | |
| Peter Malnati | | | MC | | 49 | MC | 35 | MC | MC | MC | MC | |
| Steve Wheatcroft | 28 | | | | | | MC | | MC | MC | MC | |
| Hunter Mahan | 35 | MC | | | | | MC | MC | 69 | 42 | | |
| Denny McCarthy | 4 | | | | MC | | 66 | | MC | MC | | |
| KJ Choi | 5 | | | MC | | MC | 26 | MC | MC | | MC | |
| Brett Stegmaier | 60 | | | | | | MC | | MC | 57 | MC | |
| Matt Every | 35 | MC | 68 | | 66 | MC | MC | MC | MC | 69 | 75 | |
| Andrew Loupe | | | | | | MC | | MC | MC | MC | | |
| Kris Blanks | | | | | | | | | | | | |
| Bob Estes | | | 49 | | MC | | | | | | | |
| Bobby Gates | | | | | | | MC | | | | | |
| JJ Wood | | | | | | | | | | | | |
| Paul Dunne | 5 | | | 55 | | | | MC | | MC | 19 | |
| KJ Choi | 5 | | | MC | | | MC | 26 | MC | MC | | MC |
| Seung Su Han | 5 | | | | | 13 | 4 | 58 | | 29 | 27 | |
| Ricky Barnes | 60 | | | | | | | 62 | MC | MC | 20 | MC |
| Trey Mullinax | 22 | | 8 | | | | | 47 | | MC | 57 | |
| Player | 2017 | 2016 | 2015 | 2014 | 2013 | 2012 | 2011 | 2010 | 2009 | 2008 |
| --- | --- | --- | --- | --- | --- | --- | --- | --- | --- | --- |
| Jordan Spieth | MC | 13 | 2 | MC | 50 | | | | | |
| Justin Rose | 15 | | 37 | | | | | 14 | 52 | |
| Rickie Fowler | 3 | 10 | 71 | 6 | | 63 | | 65 | | |
| Henrik Stenson | MC | 2 | | 54 | 2 | 21 | | | 3 | |
| Phil Mickelson | 55 | 13 | 17 | 12 | 16 | 4 | 1 | 35 | MC | 23 |
| Matt Kuchar | MC | | 70 | 2 | | | 8 | 8 | | |
| Rafa Cabrera-Bello | MC | 4 | | | | | | | | |
| Daniel Berger | 5 | 5 | 25 | | | | | | | |
| Tony Finau | 34 | MC | 42 | | | | | | | |
| Thomas Pieters | | | | | | | | | | |
| Jason Dufner | 12 | | | | | | | | 77 | |
| Chez Reavie | MC | 7 | 37 | | 31 | | MC* | MC | MC | 34 |
| Jhonattan Vegas | 15 | 19 | 55 | 72 | | 47 | MC | | | |
| Yuta Ikeda | | | | | | | | | | |
| Russell Henley | 1 | 5 | 4 | 7 | 45 | | | | | |
| James Hahn | 49 | MC | | 36 | 56 | | | | | |
| Peter Uihlein | 23 | | | MC | | | | | | |
| Ian Poulter | | | | MC | | | | | | |
| Charles Howell | 39 | 7 | 5 | MC | 10 | | 19 | MC | 58 | 47 |
| Luke List | 3 | 27 | | | MC | | | | | |
| Shubhankar Sharma | | | | | | | | | | |
| Keegan Bradley | 15 | MC | 5 | 43 | 10 | 4 | 51 | | | |
| Bill Haas | | | MC | 37 | 10 | | | | MC | MC |
| Chesson Hadley | | 38 | 50 | | | | | | | |
| Emiliano Grillo | | | | | | | | | | |
| Brandt Snedeker | | | | | MC | | | MC | | |
| Shane Lowry | | MC | | | MC | | | | | |
| Byeong Hun An | | | | | | | | | | |
| Martin Kaymer | | | MC | MC | | | | MC | 42 | |
| Lee Westwood | MC | MC | MC | 17 | 10 | 21 | 30 | 8 | 11 | |
| JB Holmes | MC | | 1 | 12 | | 8 | 42 | | 2 | |
| Jamie Lovemark | MC* | 18 | | MC | | 51 | Wd | | | |
| Lucas Glover | MC | 57 | | MC | MC | MC* | MC | 55 | 31 | 14 |
| Sung Kang | 2 | 69 | | | | MC | | | | |
| Russell Knox | | | | | | MC | | | | |
| Ryan Palmer | MC | 38 | | 7 | MC | 21 | MC | MC | 19 | |
| Sean O`Hair | 49 | 10 | | Wd | Wd | 42 | | | | |
| Jason Kokrak | MC* | 68 | MC | MC | 9 | MC | | | | |
| William McGirt | | MC | | | MC | MC* | MC | MC | | |
| Grayson Murray | 55 | | | | | | | | | |
| Bud Cauley | MC | | | | 16 | 8 | | | | |
| Steve Stricker | | MC | | 24 | 38 | 36 | 4 | | MC | 11 |
| Scott Piercy | | 19 | 10 | | | 21 | 42 | 72 | 42 | |
| Kevin Streelman | 49 | MC | 42 | MC | | MC | | MC | | 14 |
| Patrick Rodgers | | MC | | | | | | | | |
| Scott Stallings | MC | MC | MC | MC | 45 | | MC | | | |
| Whee Kim | MC | 64 | 25 | | | | | | | |
| Scott Brown | MC* | 71 | 37 | | MC | | | | | |
| Chris Kirk | | | | 65 | 22 | | 2 | | | |
| Ryan Armour | | | | | | | | | | 14 |
| Danny Lee | 20 | | MC | | | 36 | | | | |
| Chris Stroud | MC | 27 | 17 | 12 | 38 | MC* | MC | MC | 31 | MC |
| CT Pan | MC | | | | | | | | | |
| Mackenzie Hughes | 23 | | | | | | | | | |
| Harold Varner | 23 | MC | | | | | | | | |
| Tom Hoge | 65 | | 65 | | | | | | | |
| Padraig Harrington | | MC | 67 | MC | | MC* | 8 | 40 | 26 | 26 |
| Rory Sabbatini | | | | | | | | | | |
| Kelly Kraft | MC | | | | 50 | | | | | |
| Aaron Wise | | | | | | | | | | |
| Sam Saunders | 20 | | 65 | | | | | | | |
| Robert Streb | 34 | | MC | | 22 | | | | | |
| Brandon Harkins | | | | | | | | | | |
| Nick Taylor | 44 | 46 | MC | | | | | | | |
| Talor Gooch | | | | | | | | | | |
| Beau Hossler | 39 | | | | | | | | | |
| Brice Garnett | | | MC | 7 | | | | | | |
| Harris English | 61 | 57 | | | 50 | 18 | | | | |
| Brian Stuard | | | | MC | MC | | | MC* | | |
| Robert Garrigus | 20 | | Wd | 61 | | | 66 | | 64 | 62 |
| Aaron Baddeley | 15 | MC | MC | MC | 31 | MC | 4 | 50 | MC | 14 |
| John Huh | 39 | MC | 17 | 37 | MC | 14 | | | | |
| Kevin Tway | | | | | | | | | | |
| Morgan Hoffmann | 39 | MC | | MC | | | | | | |
| Alex Cejka | Dq | Wd | 11 | | | | 36 | 50 | 64 | MC |
| Abraham Ancer | | | | | | | | | | |
| Dominic Bozzelli | | | | | | | | | | |
| Martin Piller | | | | | | | MC | | | |
| Vaughn Taylor | 23 | MC | | | | 21 | 30 | 2 | 49 | MC |
| Rob Oppenheim | | | | | | | | | | |
| Chad Campbell | 34 | MC | MC | | 60 | 47 | 13 | 25 | 49 | 2 |
| Derek Fathauer | MC* | MC* | MC | | | | | | MC | |
| Ben Silverman | | | | | | | | | | |
| Jonas Blixt | MC | MC* | 25 | MC | MC | 29 | | | | |
| Matt Jones | 49 | MC | MC | 1 | 38 | | MC | MC | | MC |
| Jonathan Randolph | | | MC | | | | | | | |
| Martin Flores | MC | | MC | 17 | MC | MC | | MC | | |
| Adam Schenk | | | | | | | | | | |
| Stephan Jaeger | | | | | | | | | | |
| Jonathan Byrd | | | MC | 19 | MC | | | MC | 14 | |
| Nate Lashley | | | | | | | | | | |
| Rod Pampling | | | | | | 29 | | | | 23 |
| Smylie Kaufman | MC | | MC | | | | | | | |
| Tom Lovelady | | | | | | | | | | |
| Tyrone Van Aswegen | 55 | 52 | | 71 | | | | | | |
| Ryan Blaum | 34 | | | | | | | | | |
| Sam Ryder | | | | | | | | | | |
| Nicholas Lindheim | | | | | | | | | | |
| Richy Werenski | MC* | | | | | | | | | |
| DA Points | 23 | MC* | MC | MC | 1 | MC | 60 | 62 | 14 | |
| Xin Jun Zhang | | | | | | | | | | |
| Nick Watney | MC | | 25 | | 27 | | | | | |
| JT Poston | 55 | | | | | | | | | |
| Retief Goosen | MC | 66 | | 7 | MC | | 60 | | | |
| Michael Thompson | 12 | | 67 | 61 | MC | MC | 24 | | | |
| Cody Gribble | 65 | | 42 | | | | | | | |
| Lanto Griffin | | | | | | | | | | |
| Seamus Power | | | | | | | | | | |
| Michael Kim | 12 | 27 | | | | | | | | |
| Keith Mitchell | | | | | | | | | | |
| Geoff Ogilvy | 23 | 46 | | MC | MC | | | MC | 6 | 2 |
| Blayne Barber | 44 | MC | 57 | | | | | | | |
| Cameron Tringale | MC* | 57 | 5 | 4 | 16 | 8 | 73 | | | |
| Troy Merritt | 55 | | MC | | | | 42 | MC | | |
| Tyler Duncan | | | | | | | | | | |
| Andrew Putnam | | | 25 | MC | | | | | | |
| Shawn Stefani | MC | MC | 25 | 5 | MC | 36 | | | | |
| Kyle Thompson | | | | | | | | | | MC |
| Johnson Wagner | 49 | 13 | 2 | MC | MC | 29 | 36 | 71 | MC | 1 |
| Camilo Villegas | | MC | | 43 | | MC | | | 42 | |
| Marty Dou Ze Cheng | | | | | | | | | | |
| Conrad Shindler | | | | | | | | | | |
| Bronson Burgoon | | | | | | | | | | |
| Greg Chalmers | MC | | | 69 | MC | | 8 | MC | | |
| Ben Crane | 68 | MC | 37 | 43 | 4 | 29 | 24 | 25 | MC | 20 |
| Matt Atkins | | | | | | | | | | |
| Andrew Yun | | | | | | | | | | |
| JJ Henry | 61 | MC* | 57 | 72 | MC | MC | 19 | 25 | 42 | 26 |
| Corey Conners | | | | | | | | | | |
| Roberto Diaz | | | | | | | | | | |
| Joel Dahmen | | | | | | | | | | |
| Ethan Tracy | | | | | | | | | | |
| Fabian Gomez | MC | | MC | | MC | | 75 | | | |
| Ernie Els | MC | 38 | 57 | 43 | | 12 | 51 | 44 | 14 | |
| Jon Curran | | 70 | MC | 31 | | | | | | |
| Peter Malnati | MC | MC | | | | | | | | |
| Steve Wheatcroft | | 52 | MC | | 22 | 63 | | MC | | |
| Hunter Mahan | MC | MC | 25 | 31 | MC | 1 | 8 | MC | 6 | MC |
| Denny McCarthy | | | | | | | | | | |
| KJ Choi | MC | MC | 50 | | | | | | MC | 11 |
| Brett Stegmaier | MC | Wd | | | | | | | | |
| Matt Every | 65 | MC* | | | MC | MC | | MC | | |
| Andrew Loupe | 10 | 46 | | MC | | | | | | |
| Kris Blanks | | | | | | MC* | 57 | MC | | |
| Bob Estes | MC | | | | 38 | MC | | 44 | 74 | 6 |
| Bobby Gates | | | | MC | MC | MC | MC | | | |
| JJ Wood | | | | | | | | | | |
| Paul Dunne | | | | | | | | | | |
| KJ Choi | MC | MC | 50 | | | | | | MC | 11 |
| Seung Su Han | | | | | | | | | | |
| Ricky Barnes | MC* | Wd | MC | 43 | 69 | 67 | | 40 | MC | |
| Trey Mullinax | MC | | | | | | | | | |