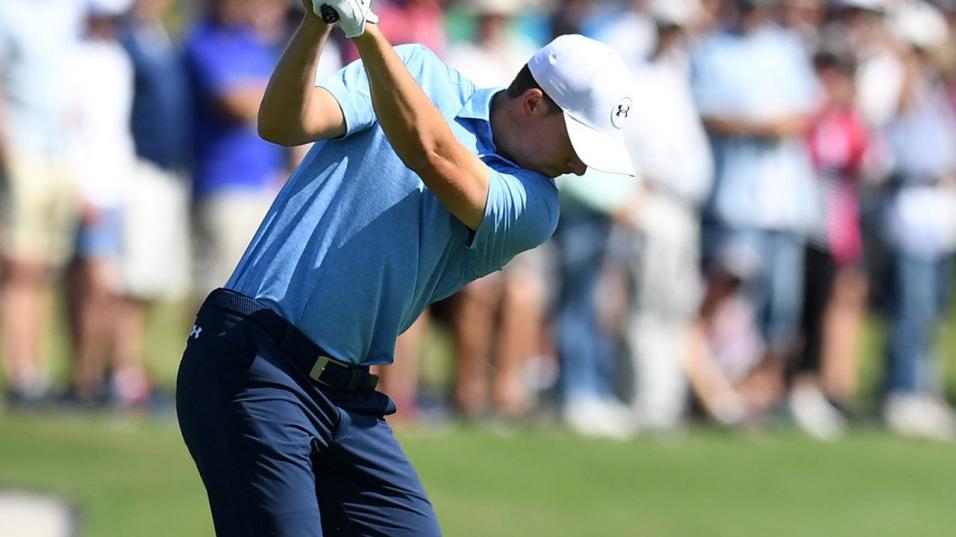 Jordan Spieth has always finished on the podium at Kapalua
We're back for another year of golf stats from the PGA and European tours. Check out course and current form ahead of this week's Sentry Tournament of Champions, compiled by Andy Swales...
"DJ and Spieth are past champions over the Plantation Course, with the latter posting a podium finish in all three previous visits"
The Hawaiian island of Maui is the location for the opening event of the 2018 calendar year on the PGA Tour.

Kapalua's Plantation Course will, once again, host the Sentry Tournament of Champions where Justin Thomas will defend his title.

To receive an invitation to this elite event, a player must have won an official FedEx Cup event between January 1st and December 31st the previous year.

For the 2018 instalment, 37 pros qualified to tee-up in Hawaii, although Sergio Garcia, Justin Rose and Henrik Stenson have decided not to compete.

Although this tournament has been in existence since 1953, it was first staged at Kapalua in 1999, but none of those who played 19 years ago are taking part this week.

Co-designed by Bill Coore and Ben Crenshaw, the Plantation Course was opened in 1991.

At the height of his powers, Crenshaw was arguably the finest putter of his generation and the greens at this coastal venue will certainly provide a testing challenge.

The putting surfaces are large and undulating, and will certainly pose questions for a field in which most of the players will be making their first competitive appearances since early December (Week 48).

However, to counter this, the fairways are fairly generous in width, and provide dramatic ocean views from virtually every hole.

And because of its island and coastal location, wind is normally a factor most days of the year.
Reigning champion Thomas went on to win more FedEx Cup events during 2017 than any other golfer - five in all.
In recent years, defending champions have tended to finish inside the top 10. In fact, seven of the last eight winners have finished no lower than tied-7th on their return to Kapalua 12 months later. The other champion, since 2009, chose not to defend.
The Main Men
Thomas, whose spectacular season included a maiden major victory at the PGA Championship in August, will be joined by Dustin Johnson, Jordan Spieth, Jon Rahm, Hideki Matsuyama, Rickie Fowler and Brooks Koepka.
DJ and Spieth are past champions over the Plantation Course, with the latter posting a podium finish in all three previous visits.
Trying to select a winner from 34 slightly rusty pros is always a challenge during the first week of January.
Many use this event as an ideal opportunity to iron out any inconsistencies in their swing and putting stroke.
Past Champions
One trend usually consistent at Kapalua, is that the eventual champion is normally well placed after 18 and 36 holes.
Consider this: Nine of the last 15 winners were either leading or tied-for-the lead at the half-way mark.
And only three of the 19 Plantation Course tournaments have been won by a player who was more than two strokes off the pace after 18 holes.
| Player | W48 | W47 | W46 | W45 | W44 | W43 | W42 | W41 | W40 | W39 |
| --- | --- | --- | --- | --- | --- | --- | --- | --- | --- | --- |
| Dustin Johnson | 14 | | | | | 2 | | | | |
| Jordan Spieth | 3 | 8 | | | | | | | | |
| Justin Thomas | 11 | | | | | | 1 | 17 | | |
| Jon Rahm | | | 1 | | | 36 | MC | 15 | | |
| Hideki Matsuyama | 5 | | 5 | | | 50 | | 5 | | |
| Rickie Fowler | 1 | | | 2 | | | | | | |
| Brooks Koepka | 18 | | 1 | | | 2 | | | | |
| Marc Leishman | 4 | | | | | 38 | 2 | | | |
| Pat Perez | | | | 34 | | 24 | 5 | 1 | | |
| Xander Schauffele | | | 2 | | | 46 | 72 | 3 | | |
| Kevin Kisner | 12 | | 4 | | | | | | | |
| Brian Harman | | | 4 | | | 8 | 5 | | | |
| Daniel Berger | 14 | | | | | 24 | 54 | | | |
| Kevin Chappell | 14 | | | MC | 20 | | | | | |
| Jason Dufner | | | | | | | | 74 | | |
| Patrick Cantlay | | | | | 1 | 15 | | | | |
| Si Woo Kim | | | MC | 3 | | 69 | 44 | 77 | | |
| Jhonattan Vegas | | | | 61 | | 20 | 54 | 39 | | |
| Brendan Steele | | | | | | | | 13 | 1 | |
| Russell Henley | | | | | | 36 | 33 | | | |
| Kyle Stanley | | | | | | 5 | 19 | 21 | | |
| Adam Hadwin | | | | | | 65 | 47 | 51 | | |
| Cameron Smith | 1 | 4 | | | | | 3 | 5 | | |
| Wesley Bryan | | | 9 | | | 62 | 36 | 32 | | |
| Billy Horschel | | | | | Wd | | | | | |
| Hudson Swafford | | | 29 | | | 50 | 28 | 54 | | |
| Bryson DeChambeau | | | | 14 | 7 | | | | 17 | |
| Grayson Murray | | | | | | | 76 | 69 | 9 | |
| Patton Kizzire | | | 45 | 1 | 4 | 10 | | | MC | |
| Austin Cook | | | 1 | 50 | 20 | 25 | | | | 8 |
| Ryan Armour | | | 37 | 55 | 20 | 1 | | | MC | |
| Chris Stroud | | | 49 | MC | | | 47 | 75 | MC | |
| Jonas Blixt | MC | 2 | | | MC | | 64 | 72 | 54 | |
| DA Points | | | MC | 75 | MC | | | 78 | MC | |
| Player | 2017 | 2016 | 2015 | 2014 | 2013 | 2012 | 2011 | 2010 | 2009 | 2008 |
| --- | --- | --- | --- | --- | --- | --- | --- | --- | --- | --- |
| Dustin Johnson | 6 | 10 | | 6 | 1 | | 9 | 16 | 11 | |
| Jordan Spieth | 3 | 1 | | 2 | | | | | | |
| Justin Thomas | 1 | 21 | | | | | | | | |
| Jon Rahm | | | | | | | | | | |
| Hideki Matsuyama | 2 | | 3 | | | | | | | |
| Rickie Fowler | | 5 | | | 6 | | | | | |
| Brooks Koepka | | 3 | | | | | | | | |
| Marc Leishman | | | | | 23 | | | | | |
| Pat Perez | 3 | | | | | | | 10 | | |
| Xander Schauffele | | | | | | | | | | |
| Kevin Kisner | | 9 | | | | | | | | |
| Brian Harman | | | 17 | | | | | | | |
| Daniel Berger | 14 | | | | | | | | | |
| Kevin Chappell | | | | | | | | | | |
| Jason Dufner | 21 | | | 5 | 18 | | | | | |
| Patrick Cantlay | | | | | | | | | | |
| Si Woo Kim | 30 | | | | | | | | | |
| Jhonattan Vegas | 30 | | | | | 27 | | | | |
| Brendan Steele | 6 | | | | | 25 | | | | |
| Russell Henley | | | 3 | 27 | | | | | | |
| Kyle Stanley | | | | | 30 | | | | | |
| Adam Hadwin | | | | | | | | | | |
| Cameron Smith | | | | | | | | | | |
| Wesley Bryan | | | | | | | | | | |
| Billy Horschel | | | 22 | 6 | | | | | | |
| Hudson Swafford | | | | | | | | | | |
| Bryson DeChambeau | | | | | | | | | | |
| Grayson Murray | | | | | | | | | | |
| Patton Kizzire | | | | | | | | | | |
| Austin Cook | | | | | | | | | | |
| Ryan Armour | | | | | | | | | | |
| Chris Stroud | | | | | | | | | | |
| Jonas Blixt | | | | 21 | 18 | | | | | |
| DA Points | | | | 28 | | 12 | | | | |
| No. of Starters: | 32 | 32 | 34 | 30 | 30 | 27 | 33 | 28 | 33 | 31 |